How to Record a Teams Meeting with or without the Built-in Feature
This guide will show you how to record a Microsoft Teams meeting easily. Microsoft Teams is a popular cooperation toolkit based on cloud. With Teams, users can record their meetings and group calls either to review later or share with someone else. However, there are several questions around the service, such as who can record meeting, whether Teams notifies other participants, etc. This article will answer these questions in detail.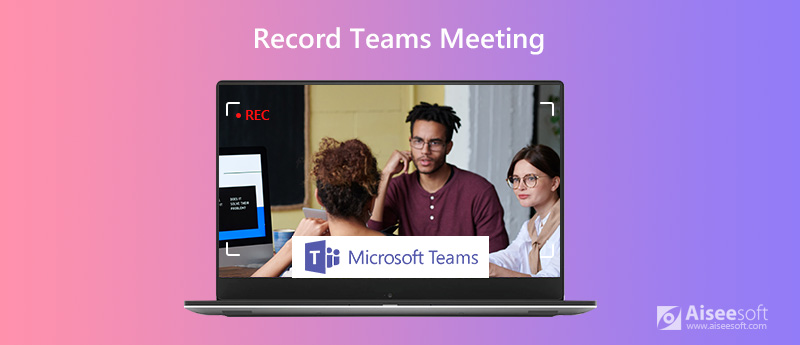 Part 1: How to Record a Meeting in Teams with Built-in Feature
Before recording a Teams meeting, you should know some rules:
1. Not everyone in the meeting can record it. Only the meeting organizer or person from the same organization has such privilege.
2. The admin can control the recording ability to each participant. If a user is disabled, he or she cannot record a meeting.
3. The recording length maximum is four hours.
4. Once you start recording a Teams meeting, other members will get the notification.
5. The recording feature is not available in Microsoft Teams free plan.
If you meet the rule, follow the steps below to start recording a meeting in Microsoft Teams.
Step 1.
Once you in a meeting or create a meeting, click the
More
button on the toolbar with a three-dot icon.
Step 2.
Choose
Start recording
on the context menu. Then you and all members will see a message at the top of the window.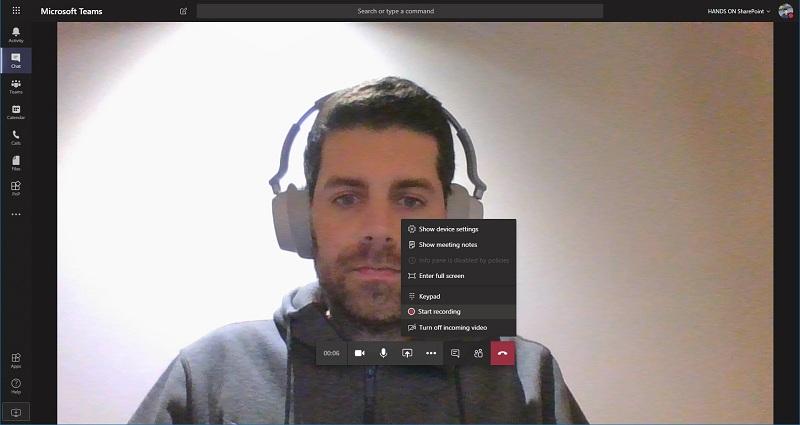 Step 3.
When you want to stop the meeting recording manually, go to the
More
option and choose
Stop recording
.
Tip: The recording will stop automatically if the last person leaves the meeting.

Step 4.
It is fairly easy to start a recording in Teams, but downloading is tricky since there are three situations
1. If your organization still uses Microsoft Stream, open the recording in Microsoft Stream, and download it from the portal.
2. The recording is saved to SharePoint if it is a channel meeting. The recording link are available for seven days in the channel conversation.
3. For other types of meetings, it will be saved to One Drive, and you can download the recording in your One Drive.
Note: Only the host of the meeting can download the recording. Other participants can only view it online.
Part 2: The Easiest Ways to Record Teams Meetings Secretly
Method 1: Record a Teams Meeting on Desktop
Can you break the rule and record a meeting in Microsoft Teams as you wish? Aiseesoft Screen Recorder is the answer.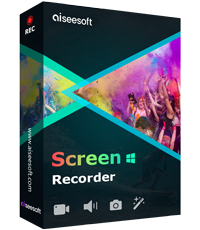 Downloads
How to Record a Teams Meeting Secretly
Step 1. Set up meeting recorder
Launch the best meeting recorder once you install it on your computer, and choose
Video Recorder
. Then you will get several options in the interface. Set the recording region in the
Display
section, such as
Full
screen or
Custom
region. Turn on System Sound and adjust the volume. To add your reactions, enable
Webcam
and
Microphone
. Other options can be found on the
Preferences
dialog, and you can open it by hitting the
Settings
button.

Step 2. Record a Teams meeting
Join a meeting in Teams or create a new meeting. Turn to the recorder and click on the REC button to begin recording it manually. Alternatively, click Take Schedule and set the options according to your need. Then the recorder will work automatically.

Step 3. Save meeting recording
When you want to stop recording Teams meeting, click the Stop button. Then the preview window will pop up. Check the meeting record and click the Save button if you are satisfied. The Clip tool is able to remove unneeded frames.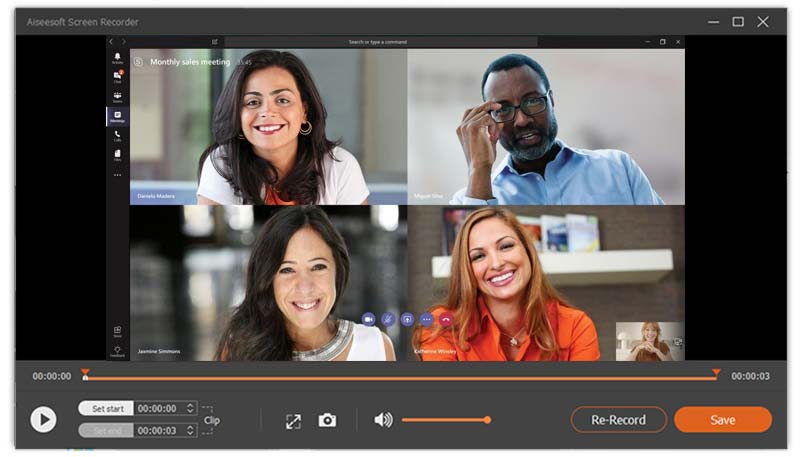 Method 2: Record a Teams Meeting Online
Sometimes, you just need to record one meeting in Teams or do not convenient to install software recorder. Aiseesoft Free Online Screen Recorder can meet your need.
1. Record Teams meeting without installing any software.
2. Totally free of charge with no payment.
3. No watermark or other limit, like length.
4. Support multiple sources at the same time.
How to Record a Teams Meeting Online

Step 2.
Click
Recording area
and set it based on the meeting. Enable Speaker and test the volume. The
Camera
and
Microphone
can add your face and voice to the recording. You can decide whether to enable them or not. Hit
REC
to start recording a Teams meeting.

Step 3.
To stop recording, press the
Stop
button on the toolbar and the recording will be saved to your hard drive.
Part 3: FAQs about Microsoft Teams Meeting Record
Can Teams detect meeting recording?
If you use the built-in feature, Teams will know meeting recording and tells everyone involved. For third-party recorders, it does not have such ability.
Does Teams know if you screenshot?
Generally speaking, Teams does not know if you take screenshots on your computer. However, it is difficult to screenshot animated meeting screen.
Where is the recording saved in Teams?
Since 2021 Q1, Microsoft Teams won't save meeting recordings to Stream. Instead, the channel meeting will be stored in SharePoint and the chat meeting will go to One Drive of the starter.
Conclusion
Now, you should learn three methods to record a meeting in Microsoft Teams. The built-in feature is suitable to organizers who do not care about the notification. Other participant cannot use the recording feature in Teams. Aiseesoft Screen Recorder is a good option to record meetings secretly and get more advanced tools. If you just record a meeting occasionally or do not like software installation, Aiseesoft Free Online Screen Recorder is an alternative solution. If your encounter other troubles about Microsoft Teams, please feel free to leave your message in the comment area below this post.

Leave your comment and join our discussion