Ultimate Guide to Record Lync Meetings and Calls
Lync is a popular Microsoft conversation platform where you can send instant messages, make video/audio calls and create online meetings with ease. It provides a great place for visual conference and work-flow communication. In fact, Microsoft tended to replace Lync with the Skype for Business since 2015. But still now, there are still lots of users using Lync 2013.
Microsoft Lync is equipped with a built-in recorder to capture Lync meetings and video calls. This post will show you how to record Lync meeting in details. Moreover, we like to share a better way to help you capture Lync meetings, calls and other activities with high quality.
Part 1. How to Record Lync Meetings or Calls
At the first part, we like to tell the regular way to record your Lync meeting. Before you do that, you should get a hosted Lync account and have Microsoft Lync client installed on your Windows computer. Now you can follow the steps below to record Lync meeting or video/audio call.
Step 1.
You are allowed to record your Lync meeting during the meeting process. So when you are in a Lync meeting and want to capture it, you can click … icon and then select the Start Recording option to prepare making the recording.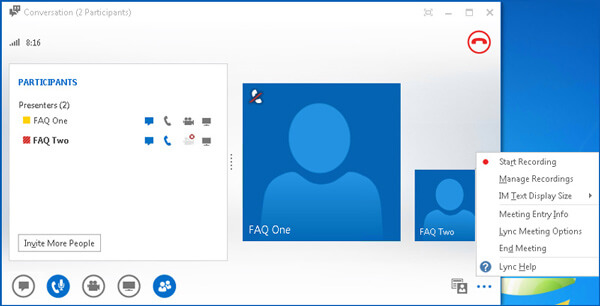 You should know that, when you perform a Lync meeting recording, all participants will receive a notification that you are recording the online meeting.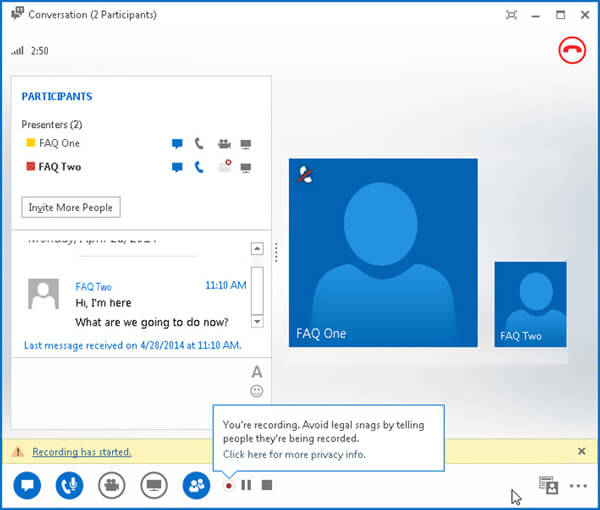 Step 2.
After clicking the Start Recording, the recording process will immediately start. You are offered some basic control buttons like Pause, Start and Stop to manage the Lync recording process.
Step 3.
When the recording is finished, the recorded Lync meeting file will be saved in MP4 and added to
Microsoft Lync Recording Manager
.
Step 4.
Now you can click the
…
icon again and select the
Manage Recordings
option.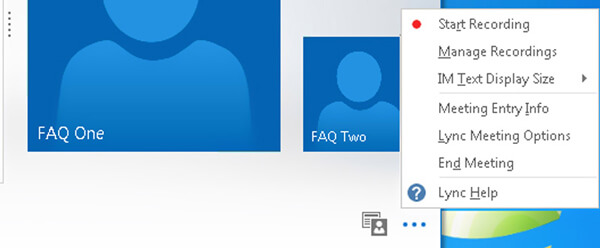 Step 5.
You can easily locate the captured Lync recording in the Lync Recording Manager. Choose and right click on the recording file, and then you can play, browse, rename or delete it, or copy the file location according to your need.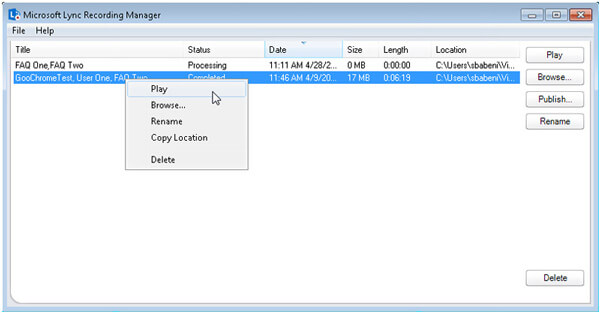 Step 6.
Click the
Publish
button to enter a
Save and Publish
window. Here you can better manage the captured Lync meeting. After your operations, you can simply click
OK
to save it on your computer.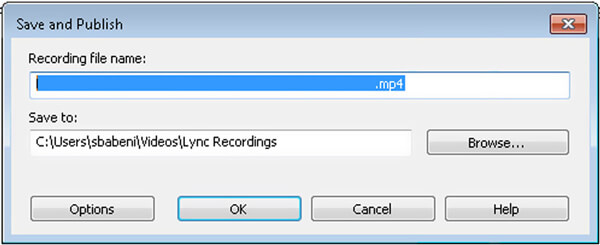 Lync offers a simple way to record its meeting and call. But you should know that, the old Lync 2013 can only give you a low-quality screen recording. You are only allowed to capture a low resolution of 800×600 recording and 10 fps frame rate.
Part 2. Professional Way to Record Lync Meeting and Conversation
If you want to record Lync meetings or calls with a higher quality, you can give the professional Screen Recorder a try. It is specially designed to deal with various screen and audio recordings. It has the capability to record high resolution video even up to 4K.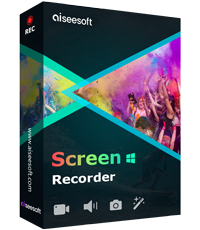 Downloads
Record any Lync meeting or video/audio call with high image and sound quality.
Capture high-quality 4K video with full screen, specific window or custom region.
Record online video/music/meeting, webcam, live streaming video, gameplay, and more.
Edit the recorded file and save recording in MP4, MOV, AVI, MP3, AAC, M4A, etc.
Advanced Blue-light real-time HD video encoding and accelerate technology.
Step 1.
First, you need to free install and run this powerful Lync recording software on your computer. Here you can double click the download button above to quickly install it.
Step 2.
When you have the need to record Lync meeting, you can choose the
Video Recorder
feature. Or you can select the Audio Recorder option to capture the audio track only.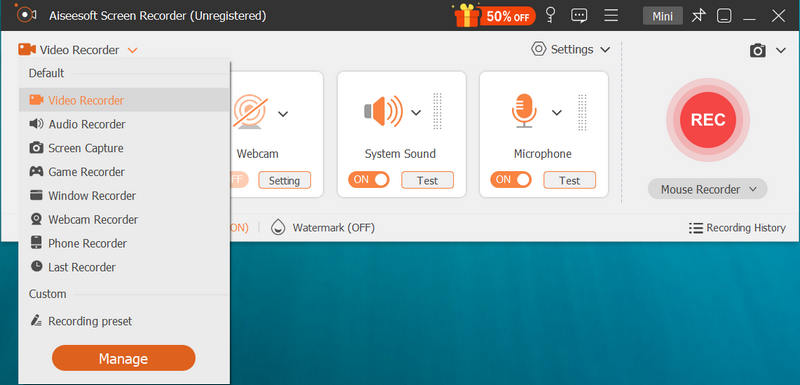 Step 3.
Before the final Lync recording, you can adjust the recording area based on your need. Also, you should choose the audio recording source. During this step, you can turn on
System Sound
and
Microphone
to record both the meeting audio and your voice. To record your face, remember to enable the
Webcam
feature.

Step 4.
After all these operations, you can click
REC
button to start the Lync meeting recording process. When you want to stop the recording, just simply click on the
Stop
button.
Step 5.
When the recording process is over, you will be guided to preview and edit window. You are allowed to preview the Lync recording and edit it. Then click
Save
button to save it on your computer. The recorded Lync meeting will be saved in
MP4
format. If you want to output another format or do other settings, you can go to
Preferences
window.
Part 3. FAQs of Recording Lync Meeting
Question 1. What is the Microsoft Lync recording manager?
Microsoft Lync Recording Manager is a built-in tool which mainly used to manage the recorded Lync conversations and meeting files. You can easily click … icon in the bottom-right corner to open the Recording Manager.
Question 2. Where are captured Lync meetings saved?
Lync will save your recorded meetings and calls in the "Videos" folder > "Lync Recordings" folder. If you want to change the Lync recording folder, you can change it in the Lync Recording Manager.
Question 3. How to edit the Lync recordings?
The editing features in Lync only allows you to rename, copy, or delete the Lync recordings. If you want more editing functions, you can turn to some real video editor.
When you have the need to record Lync meeting or conversion, you can rely on the 2 methods above to save your Lync contents to computer. If you still have any questions, you can leave us a message in the comment.

Leave your comment and join our discussion