Part 2. Top 5 Photo Size Reducers You Must Have This 2022
1. Aiseesoft Free Image Compressor Online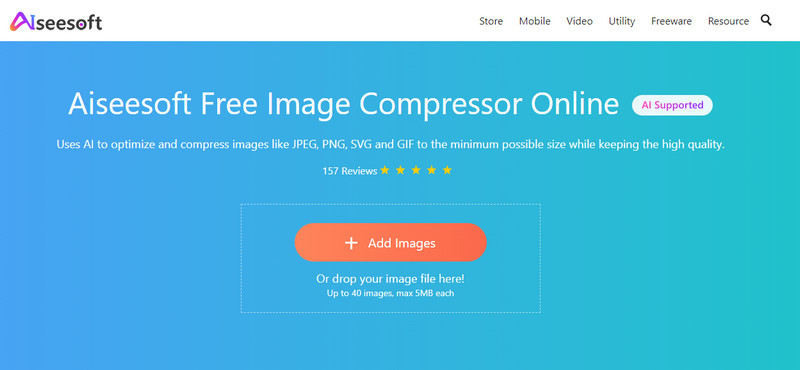 Aiseesoft Free Image Compressor Online is our recommended online photo size reducer you must use. It can downsize the image you capture with the AI tech this tool supports. Another advantage of this tool is that you wouldn't need to go into trouble downloading it because it is accessible to us, and no installer is needed. Also, because it is a web service, this tool is compatible with any device. It compresses fast, is reliable, and is safe to use. Though the online tool looks simple, don't be deceived by it, because it can handle the task of compressing unexpectedly excellent.
Furthermore, this online jpg photo size reducer became superior because of what Aiseesoft added: the advanced AI-tech. You wouldn't need to do the tweaking because the advanced AI tech this tool supports will do the work for you. Suppose you are thinking of using this software to your advantage. In that case, we can assure you that it does the job effectively while retaining the high-quality image you import.
PROS
It supports compressing JPG/JPEG, PNG, BMP, and other image formats.
It has advanced AI technology to compress imported images.
It is suitable for advanced and beginners who need to compress images.
Shrink the image file size with a single click.
Accessible on the web for free and without any limitations.
2. Caesium Image Compressor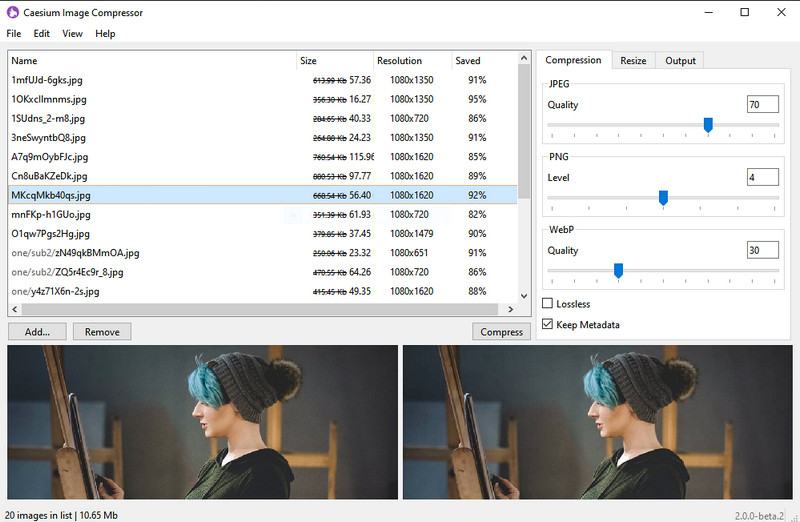 On Windows, Caesium Image Compressor is a small, reduced photo size app you can get on your desktop for free. With its minimal GUI, you will not have any trouble with how this tool works. This app has three sections, allowing you to do the compression, resizing, and see the output folder. Also, you can upload images here with the extension of .jpg, .png, and .bmp. Before exporting the image, you can view the compressed version by clicking the Preview. Additional options are available to help you reduce the file size of the image you import here even more. However, there are things that this app needs to improve, like the GUI of it. So, if you want to try this out, you can download it now on your Windows desktop to use it.
PROS
It allows you to compress bulk image format simultaneously.
It supports a preview to view the compressed version of the image.
You can customize the compression options here.
It supports JPG, PNG, WMF, and BMP image formats.
It has a Windows and Mac version you can download on.
3. Preview App
Doesn't want to download an app to reduce photo size on Mac? If so, you must try using the built-in image viewer, the Preview App. This app allows every Mac user to view the image in different types of formats easily and it also supports editing features to help you improve the image. Despite of being a built-in app, it still can do other things that you usually can't have on other built-in apps. Unlike other compressors we mention here, you will need to change the resolution of your image to downsize. It could cause the quality of the image, but the file size will be lower than the original version. If you are about to use this app, you will need to be careful using it to avoid having a lousy image quality. Overall, the tool is excellent to be used by any Mac user.
PROS
It is pre-built on Mac operating system.
You can use this software on macOS for free.
It supports additional features that you can use for free.
Maneuvering the compression isn't hard if you use this.
4. Photo Compressor and Resizer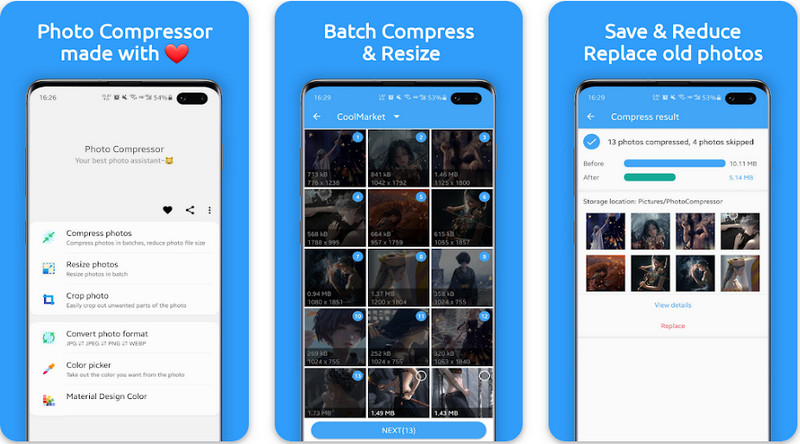 To reduce photo size on Android, you must use the Photo Compressor and Resizer. Visit this app on your Google Play Store to download the software to start shrinking the image's file size. With this app, you can do multiple other things to your photos, such as resizing images, converting, cropping, color picking, and material design color. Also, you can process the files simultaneously. After processing them, you can replace the photo with the compressed version. However, the app does contain ads, and there are still other issues with this app. But in general, the app is excellent and reliable if you need one.
PROS
You can download this app at no cost.
It can process multiple image files at the same time.
It does have a Replace feature.
Additional image editing features are available here.
5. Photo Compress – Shrink Pics 4+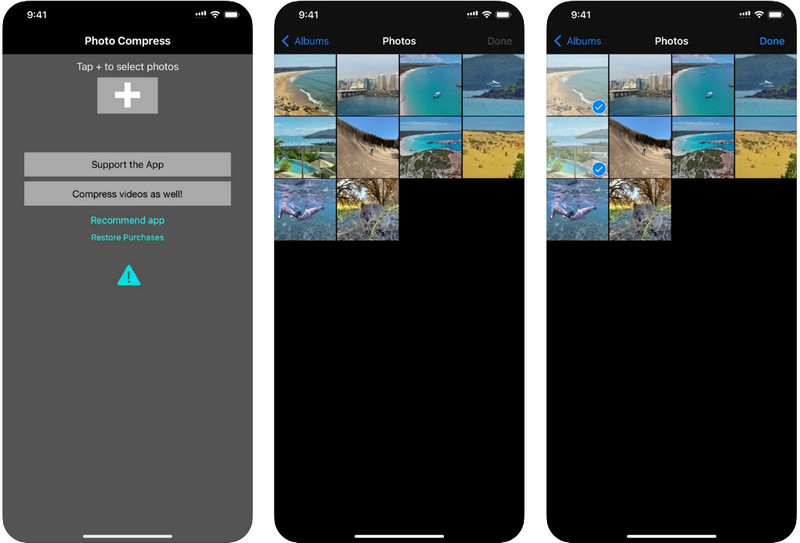 Need to reduce the photo size on iPhone 11? Well, you can download the Photo Compress – Shrink Pics 4+. Free up some disk space on your iOS with this app. It is a solution you must get on App Store for free, but it does additional purchasable items if you need one. It is a dedicated JPG compressor that can compress multiple files at the same time. With it, you can customize the compression strength that applies to your selected image. You will not have much trouble handling this app because it is simple and intuitive.
Also, it supports a preview to check out the compressed version of the JPG before exporting it. Though it says it supports batch compressing, there are times that it fails to compress multiple files, and it only supports .jpg or .jpeg extension. Even though this app has complications, it is still a great app you can download for free on your iOS 8 version or up.
PROS
This app can shrink the image you have on your Camera Roll.
Adjustable JPG compressor.
It supports Preview to view the image quality.
This app does have a simple and intuitive interface to maneuver it easily.
Part 4. FAQs about the Photo Size Reducers
Why does compressing an image lower the quality?
Before you compress an image, you'll need to know that this process doesn't just cut out the file size of your image. But it digitally removes some of the resolution, bitrate, sample rate, and such to make the image you have digitally shrink.
Why does the image format change after compressing?
Most compressors support importing different image format types, but not all can export the same format. You can avoid this by going to the tool's setting or output, changing the format there, and saving the settings. With that, you can export the image format with the format you select earlier.
Are there any limitations on compressing images?
There is! If you overdo the compression to your image, the final output will become blurry. Compression is easy, but you can't revert what happens, especially if the compressed image is replaced. Take compressing seriously to evade this problem.
Conclusion
Indeed the software, app, and online photo kb reducer we include in this article can take up the job of compressing the image size without compromising the quality. You can select which tool you think fits you the best, and use it now on your device. Suppose you have additional queries, recommendations, suggestions, or comments about this topic; you can leave a comment below, and let's discuss it there!

Leave your comment and join our discussion