Three Ways to Transfer Contacts from iPhone to iPhone
Did you one time or another try to create a contacts group on your iPhone? Or have you tried to manage contact group on your iPhone? Or have you been looking for how to edit or merge iPhone contact groups on your iPhone? Then you have discovered one of the big ways to do all this on your almighty Smartphone. It is impossible to create and manage a contact group to your iPhone without having to use a 3rd party app or service. That's why this article will show you a good and nice app that will allow you to create and manage contact groups to your iPhone, it will also show you how to edit and delete iPhone contacts groups. Using FoneTrans application it can create, edit iPhone contacts.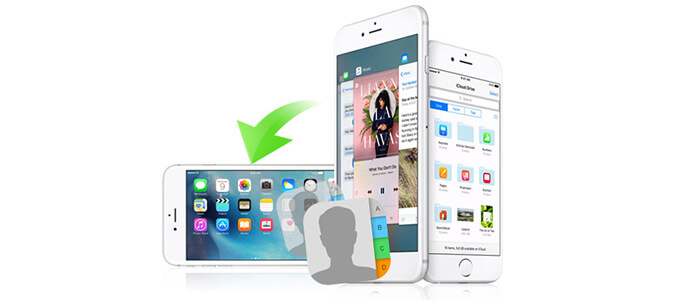 The new handset of iPhone released by Apple always attracts people's attention from all over the world, especially those who want to change their devices to the latest iphone. It sounds very good to upgrade to new iPhone SE or iPhone 6s Plus, however, but it may be a troublesome headache for many iPhone users when they transfer contacts from old iPhone to a new one, in case there would be some contacts loss during the transferring process. Unlike the situation that Android phone users can easily transfer their contacts from the present phone to another phone by moving the SIM card with contacts imported, syncing iPhone contacts to a new iPhone is not easy but a tiresome process. In this article, three methods are provided on how to transfer contacts from iPhone to iPhone.
Part 1. Transfer iCloud contacts backup to a new iPhone
To transfer contacts to a new iPhone, you need an iCloud contacts backup of your old iPhone.
Make an iCloud contacts backup
Step 1 Make sure a good network or Wi-Fi network to connect the old device with Internet.
Step 2 On your iPhone, you need to tap on "Setting" > "iCloud" > turn on the button of "Contacts" > tap "Storage & Backup" (for iOS 7 and earlier versions) or "Backup" (for iOS 8 and higher versions) to turn on the "iCloud Backup"> click "Back Up Now".
Step 3 Tap "Manage Storage". The latest backup and size of your iPhone should appear with your device backup.
1. Make sure your iPhone is in good network during the process.
2. You need to sign in your iCloud account to make operation confirm (iCloud password forgot?).
Sync your iCloud contacts backup to a new iPhone
Step 1 Be sure a good network or WiFi network with your new device.
Step 2 After booting the device, follow several steps with Setup Assistant, then you will see a screen of "Apps & Data", tap "Restore from iCloud Backup", then you can sign in your iCloud account of your old device and transfer iCloud contacts backup to your new iPhone.
Notes: In this method, you have to move all your old iPhone contacts to new device instead of choosing some of them.
Part 2. Move contacts backup to another iPhone with iTunes
Make iTunes backup files
Step 1 Download iTunes of the latest version.
Step 2 Connect your old iPhone with computer via USB cable.
Step 3 Select your iPhone in the top left of the menu bar.
Step 4 Click the button of "Back Up Now".
Step 5 Tap "Encrypt Backup" and create a password. If you do want.
Step 6 Make sure your device data is successfully backed up in iTunes "Preference" > "Devices".
Then your old iPhone data will be backed up on iTunes, including your contacts.
Tip:
Make sure your old iPhone is fully charged and connected well with computer during the backup process.
Transfer contacts from iTunes to another one iPhone
If you want to transfer contacts to another iPhone but not a brand new iPhone, you have to reset you the latter iphone (tab "Settings"> "General"> "Reset"> "Reset All Content and Settings") to enter the interface of "Set Up iPhone", then choose "Restore from iTunes Backup" > connect iPhone to computer while launching iTunes. And iTunes will detect your iPhone, and give you the drop-down option to restore backup from iTunes. And wait minutes for transferring contacts from old iPhone to another iPhone. In this process, your iPhone will be restarted. You need to wait patiently.
1. When you restore contacts from iTunes in this way, the contacts on the another iPhone will be wiped and replaced with the contacts of old iPhone.
2. If you make encrypted backup with iTubes, then here you will be required to input your password to unlcok the backup. iTunes password forgot? Fix it now.
Part 3. How to Sync an Old iPhone Contacts to a New iPhone with iPhone Contacts Transfer
"I always change my iDevice as long as Apple releases a product. Now I've got an iPhone SE. When it came to move the old iPhone contacts or messages, I would use iTunes or iCloud to do that. They are good, but I think, both transferring process are a little complicated, and there would be some contacts loss if you do some wrong actions. Is there a simple and safe tool to help me deal with such a headache?" - Jeff
Though iTunes and iCloud do a great favor when it comes to transferring contacts and other data files from one iPhone to another one, just as Jeff says, the complex transferring process may cause data loss. You'd better back up your iPhone contacts. To safely transfer your contacts to another iPhone, you deserve a reputable iOS Transfer tool. So here another easy and efficient method will be introduced to transfer contacts from one iPhone to another with FoneTrans, the professional iPhone Contacts Transfer tool.
FoneTrans - Best iOS Data Manager
For Mac
Aiseesoft FoneTrans is the professional iPhone sync tool to transfer data between iOS devices, move data from iPhone to Mac/iTunes, and sync data from Mac to iPhone.
Transfer local files, like video/music/picture etc. between iPad & PC.
Sync iPhone/iPad/iPod photos, music, playlist, etc. to iTunes directly.
Get contacts, calendar, photos, etc. from iPhone to computer (Windows and Mac).
Transfer data from computer to iPhone/iPad/iPod.
Compatible with any Apple product like iPhone, iPad Pro/Air/mini and iPod touch with iOS.
Step 1 Download and install FoneTrans
Install the software on your PC or Mac and launch the application. Connect your old and new iPhones to your computer via USB cables at the same time. Wait for seconds until your iPhones are successfully detected and the interface will see like this: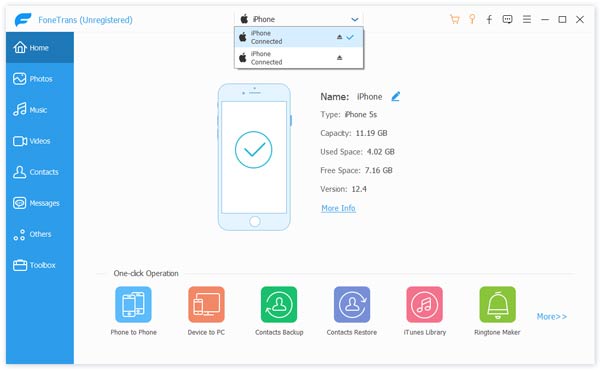 Notes: This smart iPhone contacts assistant can detect and work with more than one iPhone at the same time.
Step 2 Select contacts on old iPhone
Select the old iPhone and click on "Contacts" on the left navigation tree of the application to load all the contacts on your old iPhone.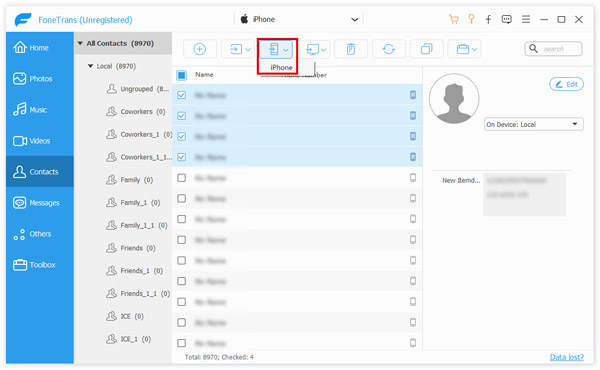 The software gives you the opportunity to remove duplicate contacts with just one click. Tab "De-duplicate", click on the match type from the pop-up window and click "Merge". With the program, you can also edit your contact details. To do this, you can check the contacts and click "Edit". You can add/delete the contact's name, group, and photo. Click on "Save" when you finish editing it.
Step 3 Export the contact to the new iPhone
Click on "All Contacts", or select what you need of the contacts listed, then click on "Import/Export"> "Export selected contacts" or "Export All Contacts". And choose the new device from the drop down as the destination. For seconds, the whole transferring process will be successfully done.
Providing two versions for users, the full-featured software supports Windows 10/8/7/Vista/XP, as well as Mac OS X 10.5 and Mac OS X 10.11 Capitan. With that, you can also save your contacts as an EXCEL file to local folder on computer or Mac. And if you get a registered iPhone Contacts Transfer, you can enjoy more functions without any limited transferring frequency.
Besides transferring iPhone contacts, this brilliant iPhone Transfer Tool enables you to import local songs from computer to iPhone iPad, and iPod. What's more, it can transfer iPhone music, messages, photos, movies and other data files to PC or Mac, or even move files between different iOS Devices, like iPhone 7/SE, iPhone 6s/6 Plus, iPhone X/8/7/SE/6/5/4S, iPad Pro/Air, iPod touch. In addition, it can also be used to sync your Google contacts to your iPhone.
In this article, we mainly talk about how to transfer contacts from iPhone to iPhone. Hope you can manage to move contacts from iPhone to iPhone.