Bigjpg Review and Best Image Upscaler Alternative
When you search for an image upscaler on the internet, you may find some searching results linked to Bigjpg. It is a popular image enlarging and upscaling tool. This post will give you a detailed Bigjpg review to tell all its key features and how to use it. Moreover, you can get a great Bigjpg alternative to enlarge your photo and enhance the quality.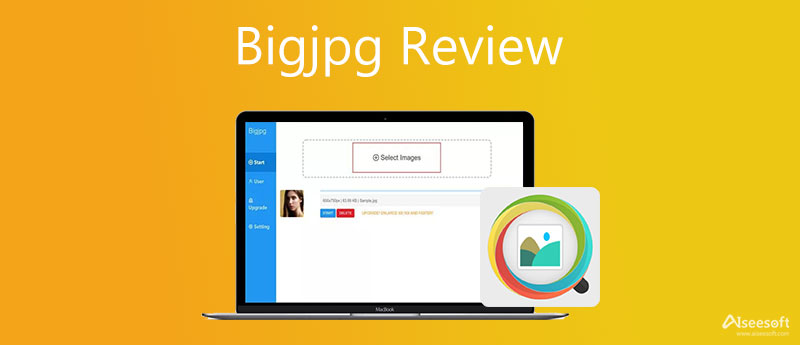 Part 1. Bigjpg Review - What Is Bigjpg and How to Use It
Bigjpg is an image editor that is specially designed for reducing image noise and serration, and enlarging images losslessly. This AI image enlarger offers a simple way to enlarge the size of your pictures without losing quality. It enables you to upscale images online. Moreover, it provides desktop versions for you to use on a Windows PC or a Mac. You can also install its app from App Store or Google Play.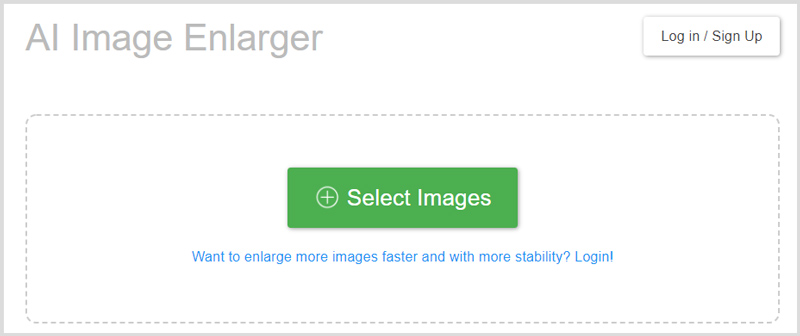 Bigjpg supports most commonly-used image formats like JPG and PNG. If you are using a free version, the file size of your uploaded image is limited to 5MB. Also, there are other feature limitations. You need to upgrade to a paid version to break the limits.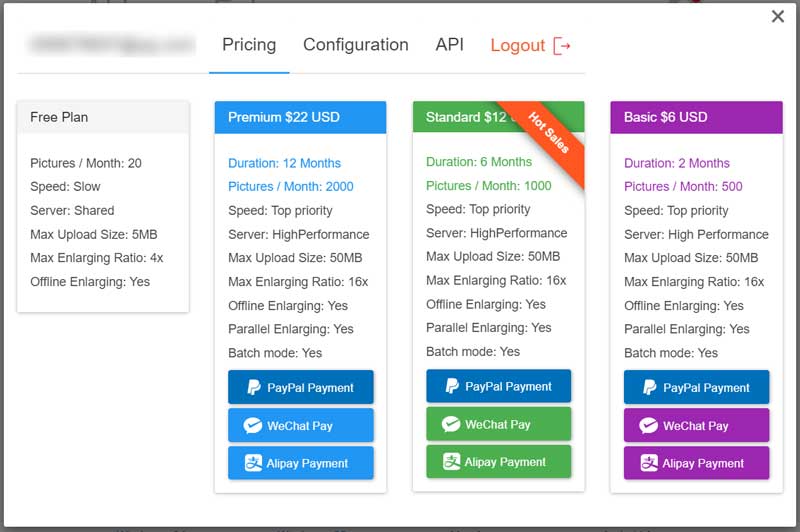 How to use Bigjpg online
When you want to directly enlarge or upscale a photo like JPG online, you can go to the Bigjpg AI Image Enlarger page, and then click on the Select Images button to upload your photo.
Click on the Start button to arise the Configuration window. Now you can select the Image type, set the Upscaling as 2x, 4x, 8x, or 16x, and customize the Noise Reduction. After all these options, you can click on the OK button to confirm your operation.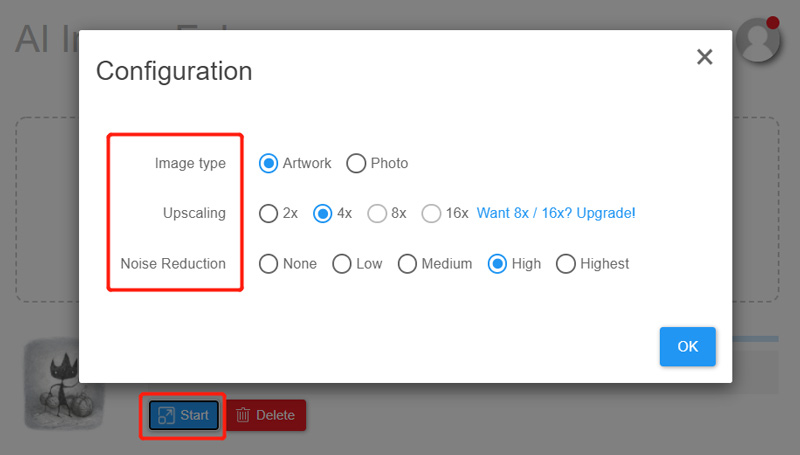 Even as a new Bigjpg user and for the first online image upscaling, you may get an alert saying that the number of images you have enlarged has reached to the limit. In that case, you have to upgrade to a paid version to use it.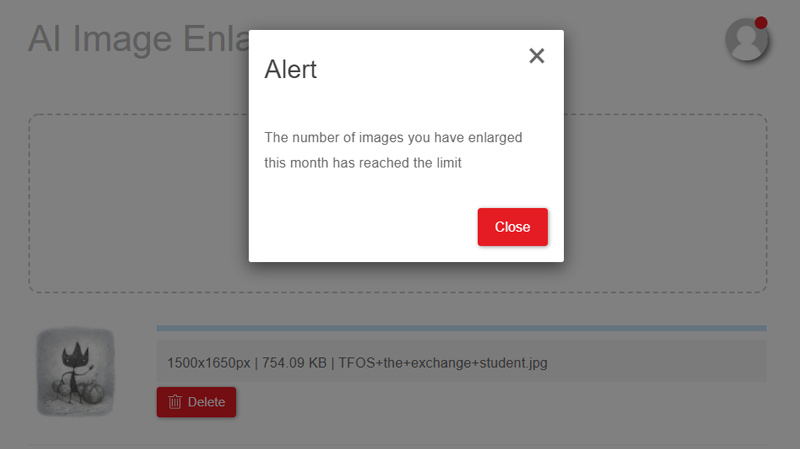 Part 2. Best Bigjpg Alternative to Enlarge Image and Enhance Quality
If you just can't free use Bigjpg, or you are not satisfied with the image upscaling or enlarging result, you can try the best Bigjpg alternative, Aiseesoft Image Upscaler Online. It is a totally free and easy-to-use image enhancer and enlarger tool. Compared with Bigjpg, it can give you a better user experience.
Step 1:
Open your web browser like Chrome, Safari, Edge, IE, or Firefox, and go to this Free Image Upscaler Online site. It highly supports all popular image formats, such as JPG, JPEG, PNG, BMP, TIF, TIFF, and others. You can simply click on the
Upload Photo
button to browse and upload your photo.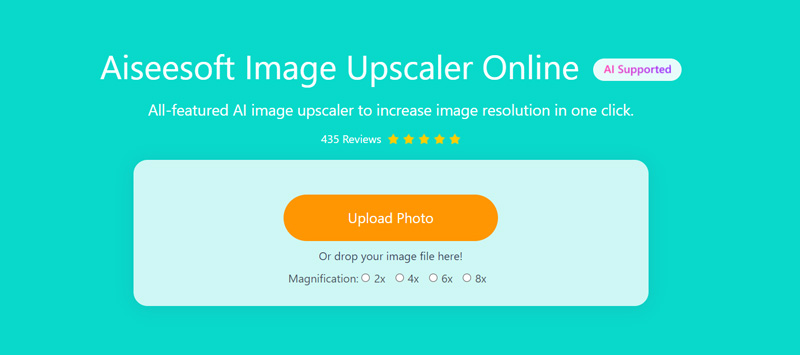 Step 2:
After the image file uploading, it will automatically reduce noise, fix the blurred space, and optimize the image for you. You can preview the source and output image. If you want to enlarge the photo, you can select 2x, 4x, 6x, or 8x from the Magnification based on your need. It displays the source and output image resolution.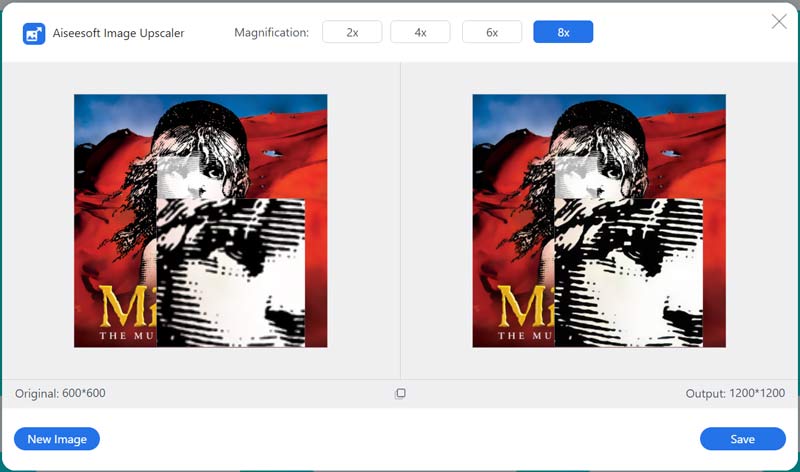 Step 3:
When you are satisfied with the output image, you can click the
Save
button to save it on your computer. This Bigjpg alternative won't add any watermark to your enlarged or upscaled images. Also, you won't see any ads while using the Free Image Upscaler Online.
Part 3. FAQs of Bigjpg and Image Enlarging
1. Is Bigjpg safe to use on a Windows PC?
You can safely use Bigjpg online on a Windows PC and Mac. However, when you use its desktop software and want to open it, your anti-virus software will stop it from launching and prompt you to remove it from the computer.
2. Does Bigjpg support offline image enlarging?
Yes, Bigjpg allows you to enlarge PNG images offline. But you are required to sign into your account. If you have not logged in, you should keep your web browser open. Otherwise, your enlarged image will be lost.
3. Can I free enlarge a photo on my Mac?
Yes, besides the recommended Free Image Upscaler Online tool above, you can also rely on the pre-installed Preview on your Mac to free enlarge images. You can open the picture in Preview, click on the Show Markup Toolbar button, and then use the Adjust Size feature to do that.
Conclusion
You can learn more useful information about Bigjpg after reading this post. Through the Bigjpg review, you can know its key features and how to use it. When you need to upscale a picture, you can choose either the Bigjpg or its alternative.

Leave your comment and join our discussion