7 Best Photo Enhancer Apps to Improve Your Photo Quality
Want to quickly enhance photo resolution and search for a good photo enhancer?
There are many photos enhancement software offered on the market that can help you effectively improve the photo quality and beautify selfies. If you are tired of using these built-in editing features on your phone, you can try 7 great photo quality enhancer apps below.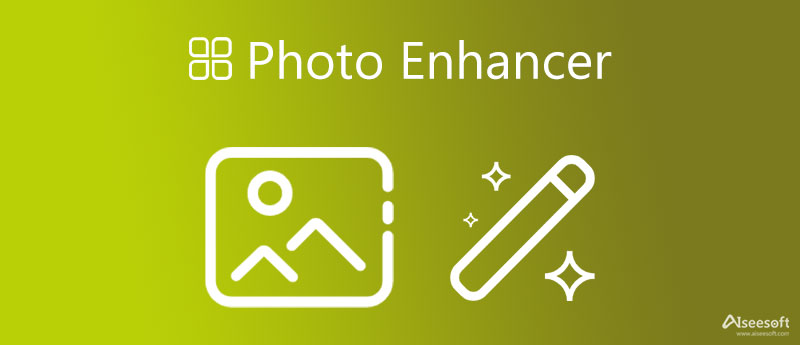 Part 1. Top 3 Online Photo Enhancers to Enhance Photo Resolution
If you prefer to free enhance photo resolution and quality, you can try using some online photo enhancer tools first. Here in the first part, we like to introduce you to 3 great online photo enhancers. Compared with other online photo enhancement software, they perform better.
Free Image Upscaler Online
Aiseesoft Image Upscaler Online is an easy-to-use photo quality enhancer that can automatically increase image resolution in one click. It is designed with advanced AI Super Resolution technology to upscale images without reducing quality. This free photo enhancer can analyze your image file and output relatively the best quality through learning millions of details and performing complex adjustments. You are allowed to preview the details of your enhanced photo.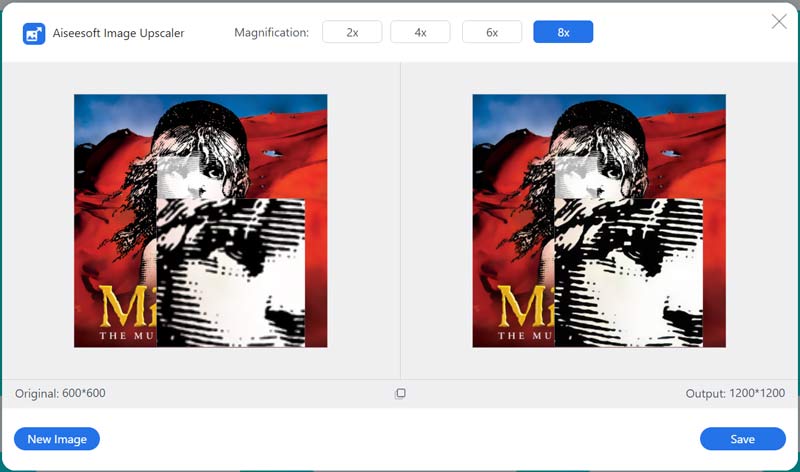 It can fix your blurry images by detecting the blurred space and filling in more details. So, these lost pixels, colors, textures, and details on your photos will be easily recovered. Moreover, this online image upscaler can automatically enhance the low-resolution photos and upgrade them to higher resolutions. It allows you to enlarge photos by up to 800% for printing or other usage.
Aiseesoft Image Upscaler Online is totally free to use to increase the resolution of images. Unlike other online photo enhancers, it requires no account sign in, sign up, subscribe, and other limits. You can go to its official site, upload your photo, and then directly download the enhanced image file. It won't add any watermark to your pictures. Also, you won't see annoying ads while improving photo quality.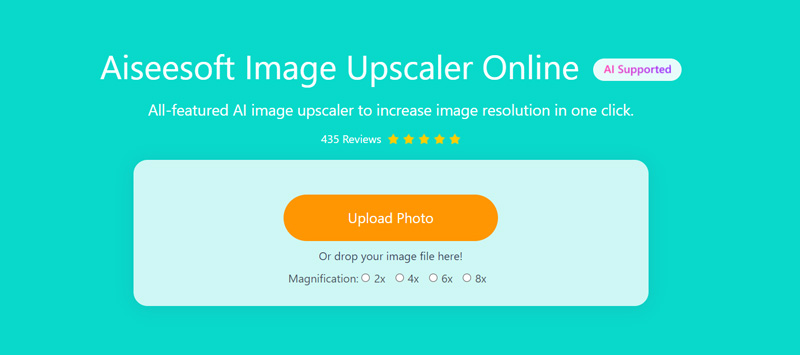 Almost all image formats are supported, such as JPG, JPEG, PNG, BMP, TIF, TIFF, and more. The only disadvantage of this free photo enhancer is that, your uploaded image file is limited to 10MB.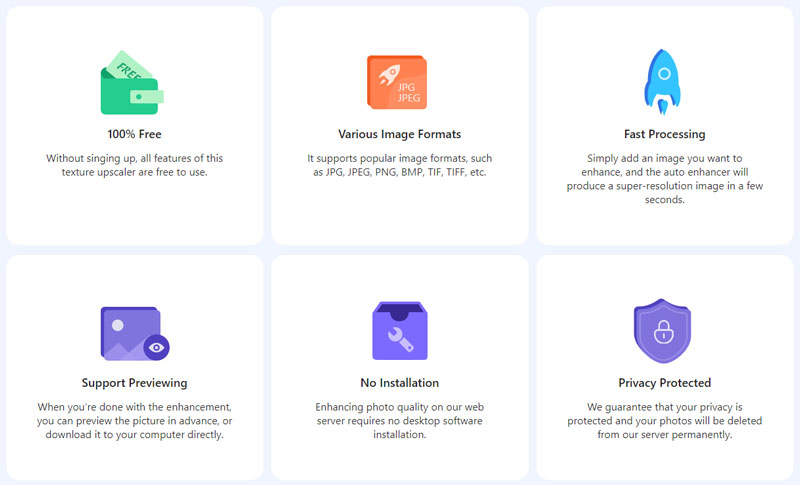 BeFunky Photo Enhancer
BeFunky Photo Enhancer is an all-featured online image editor that can help you improve your photo quality. It is designed with the AI Image Enhancer feature to ensure you can easily edit photos and enhance the quality. Moreover, it carries Sharpen DLX, HDR DLX, Denoise DLX, Vibrant Colors DLX, and more to optimize images. You need to sign in with a Facebook account, Google account, or email to start using it.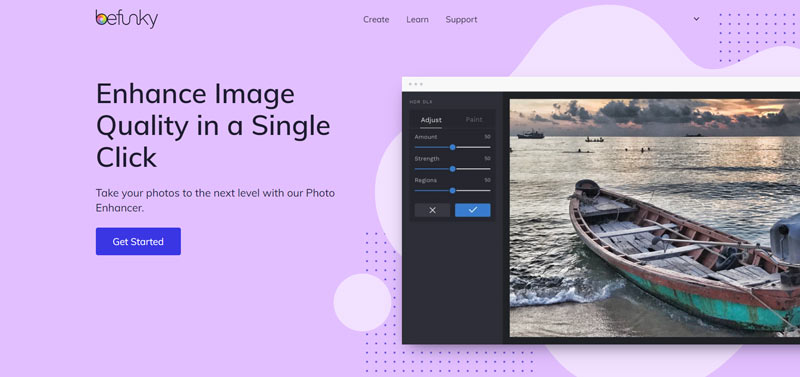 Besides these advanced photo enhancing features, it also offers many commonly-used image editing functions, such as Crop, Rotate, Cutout, Resize, Fill Light, Remove Background, Exposure, Beauty, and many more. We have to admit that, BeFunky Photo Enhancer is a very powerful image editor.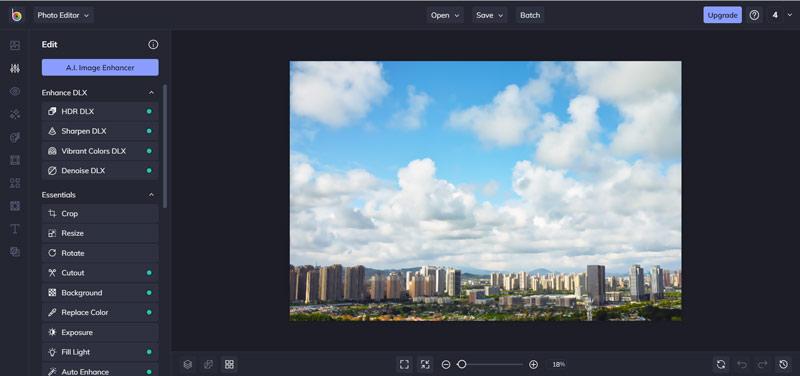 BeFunky Photo Enhancer is not a totally free online photo quality enhancer. Many functions are limited to its free trial version. You need to upgrade to BeFunky Plus to break the limits and use them. You can go to its web page, upload your photo, view the photo enhancing result, and then decide if you want to upgrade your account. One big disadvantage of this online photo enhancer is, it doesn't allow you to directly view the source image file and the enhanced result.
Fotor Free Online Photo Enhancer
Fotor Free Online Photo Enhancer provides you with a simple way to enhance photo quality instantly. For the photo quality enhancement, it can enhance colors, increase sharpness, remove haze, reduce blur, and more. It is equipped with a 1-Tap Enhance feature for you to improve your image quality within one click. But this feature is limited to the Fotor Pro users. You can start a 3-days free trial to access it and other functions.

Fotor Free Online Photo Enhancer carries many useful image editing and enhancement features. It allows you to preview the original and result of your uploaded photo. Based on that, you can try various enhancement options and better improve the photo quality. You can easily crop your photo, rotate or resize it, and do other editing operations. If you want to enhance a selfie, you can choose its Beauty feature and then use the Blemish Fix, Weight Loss, Wrinkle Remover, Smoothing, and other options.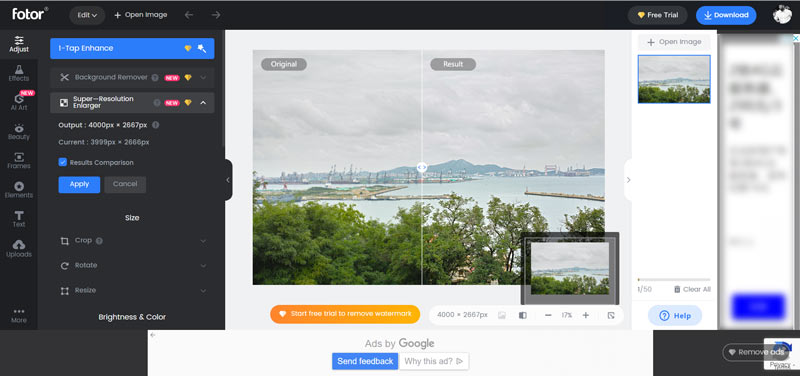 As mentioned above, many advanced features are not free to use. What's worse, if you are under a free trial, you will see many ads around the editing window. The output image file will be inserted into a fotor watermark.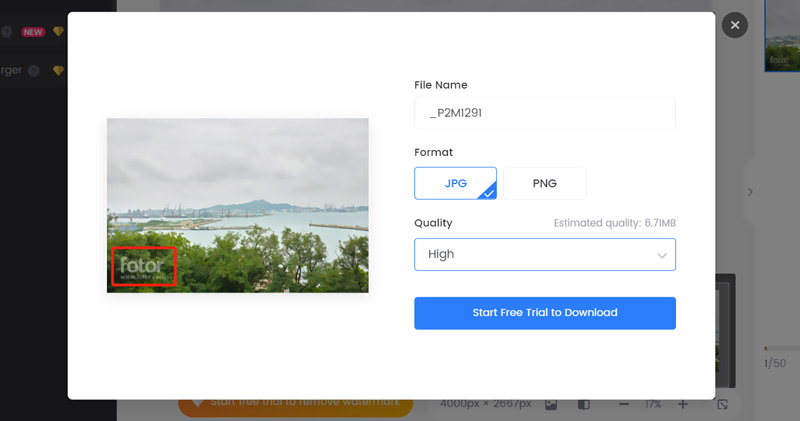 Part 2. Top 4 Photo Enhancer Apps for iPhone and Android Phone
If you want to directly edit your photos and enhance quality after capturing them on your iOS or Android device, besides the built-in picture editing features, you can choose to use some photo enhancer apps.
Remini AI Photo Enhancer
Remini AI Photo Enhancer is a cross-platform photo enhancer app for both iOS and Android. You can easily find and install it from App Store and Google Play. In fact, it also offers a Remini Professional version for users to enhance photo resolution directly online. It uses movie-grade AI technology to quickly turn low-resolution, blurred, pixelated, old, and damaged photos into high quality.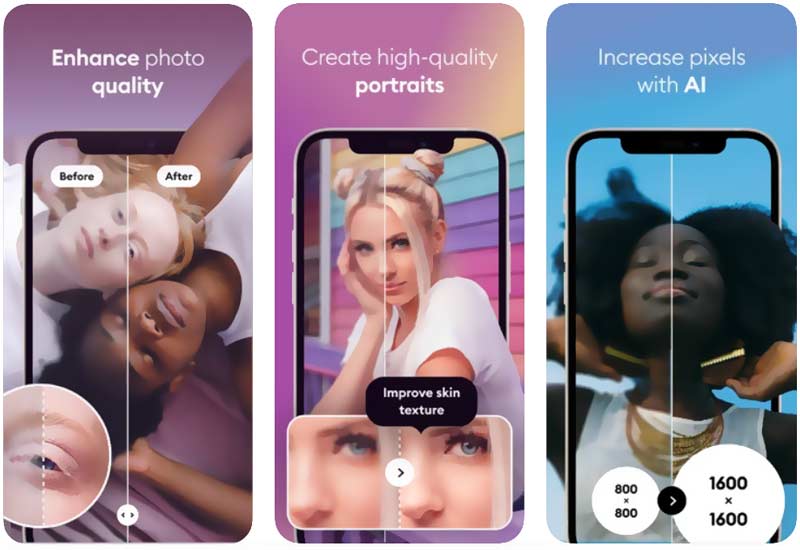 You can free install the Remini AI Photo Enhancer app on your iPhone, iPad, and Android phone. It offers a convenient way to improve photo quality and turn it into HD. It can easily beautify your portraits and selfies. One cool feature is that, Remini AI Photo Enhancer allows you to repair old, blurry, or scratched photos.
While using the free version of this photo enhancement app, you will see some ads. Moreover, some premium features can only be accessed in a paid version. It offers in-app purchases to get different subscription lengths like weekly, monthly, or yearly.
Vividit Photo Enhancer
Vividit Photo Enhancer is a popular AI photo enhancer, sharper, and cartoonizer app. With the adoption of incredible AI technology, it can automatically improve the photo quality for you. It is equipped with many useful photo enhancement features, such as photo sharpener, color correction, background blur, black and white photo colorizer, cartoon selfie, portrait animer, and more. You can free install this app on your iOS and Android device. It also has a web version called Cutout.Pro.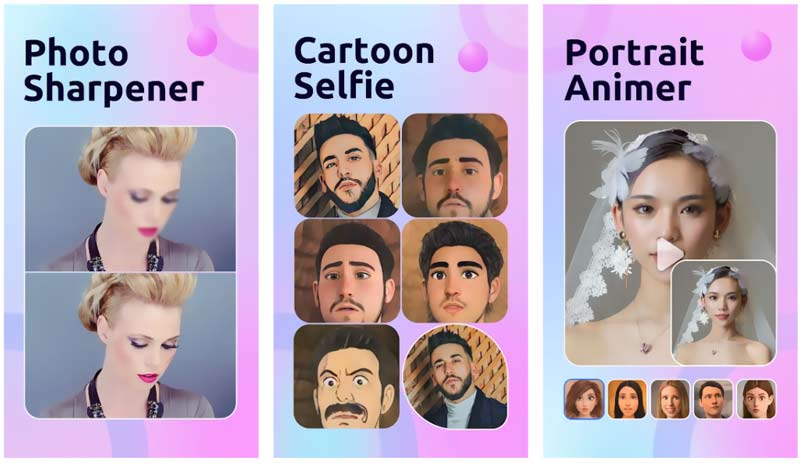 You can free use this photo quality enhancer app for 3 days. After that, it offers two subscriptions, $4.99/month and $29.99/year. When you use it to edit your images, you will see some ads. To remove them, you need to pay $39.99 for a one-time purchase, permanently ad-free. A lot of features in the Vividit Photo Enhancer app require a premium subscription.
Picsart Photo & Video Editor
Picsart Photo & Video Editor is a free photo and video editing app for iOS, Android, and Windows users. It provides different options to adjust your photo effects and improve its quality. Moreover, it enables you to create professional-level collages, remove unwanted backgrounds, design and add stickers, and more.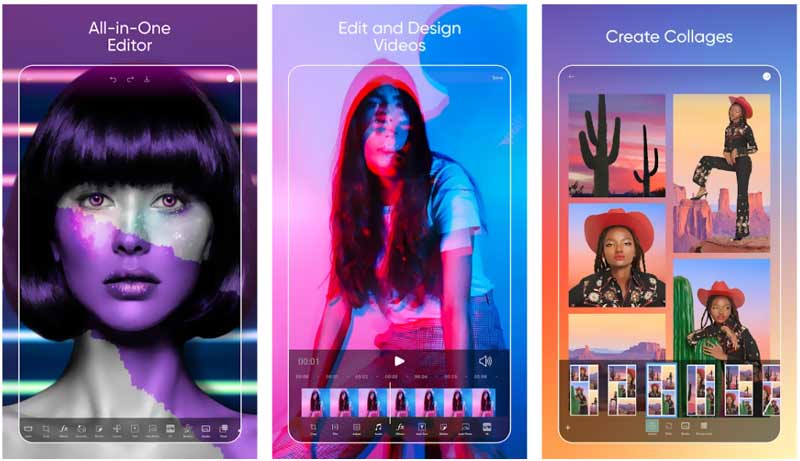 As a photo editor, Picsart app collects many trending filters and effects for you to apply to your pictures. You can use various editing features to edit your images. What's more, you are allowed to add text to pictures with over 200 designer fonts. For the selfies enhancement, it can change your hair color, makeup, and more.
As mentioned above, Picsart can also work as a video editor and collage maker. You can free install it from App Store or Google Play and start the Picsart Gold membership free trial. But you should know that, most free downloadable content offered in Picsart is not professionally made.
YouCam Perfect
YouCam Perfect is a free photo editing app that enables you to edit your photos and make collages. It is available for both iPhone and Android phone. It has a wide variety of effects, animations, blending, frames, and more for you to adjust photo effects and enhance quality. Hundreds of photo effects and filters are offered to help you customize images.
It offers face beautification, teeth whitening, face shape editing, and other features for you to easily beautify a photo. When you shoot a picture, you can use it to remove blemishes, smooth wrinkles and skin, and shape facial. Moreover, it is designed with a magical object remover to help you erase anything you don't want in your photo with ease.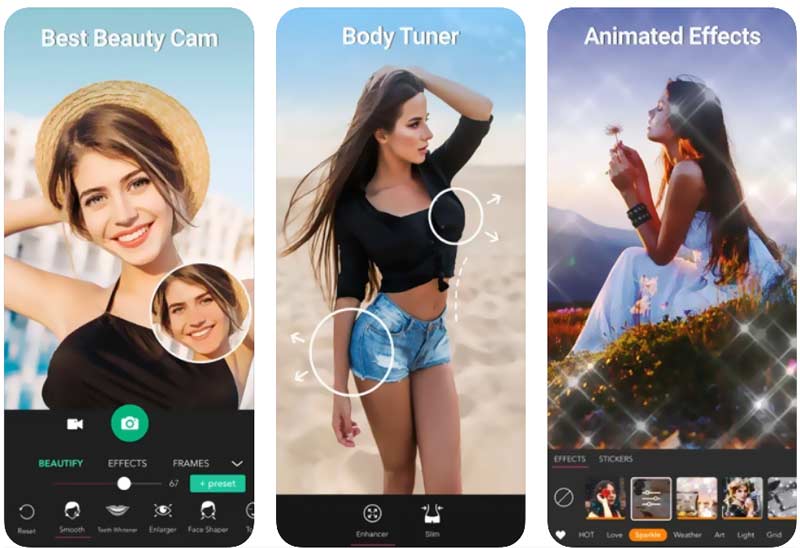 As a free photo enhancer app, YouCam Perfect offers in-app purchases. You can upgrade to a Premium paid version to access more features, animated effects, templates, stickers, and face retouch tools. All your edited files will be saved to your cloud backup. In that case, you can handily access them across multiple devices.
Part 3. FAQs of Photo Quality Enhancer
1. How do you edit a photo and enhance its quality on an iPhone?
Before you use some third-party photo quality enhancer apps, you can choose to use the built-in image editing features in iOS first. You can open a photo in the Photos app on your iPhone, tap the Edit button to access them. Besides several commonly-used editing features, it also offers some photo enhancement options. You can use them to enhance your photo quality with ease.
2. How do I enhance Google photos?
Open the Google Photos app and find the picture you want to edit. Tap on the Edit button to display various editing options. It is designed with a built-in Enhance feature. You can simply choose it to enhance your photo.
3. Can I free increase image resolution on a Mac?
Yes, the default photos viewing software, Preview on your Mac can help you free edit photos and increase image resolution. After you open a picture in Preview, you can click on the Markup Toolbar icon, and then choose the Adjust Size feature. Now you are allowed to freely adjust the Width and Height to the desired amounts. By doing so, you can easily increase the image resolution on your Mac.
Conclusion
ConclusionAll smart phones have built-in apps to help you do some basic editing on your captured photos. You can use them to crop a photo, rotate it to the right angle, apply filters, and more. But that may be only a tiny part of what you want to do. In some cases, you prefer an easier and more effective way to enhance image quality. Considering that, this post shares the 7 best photo enhancer apps to help you improve your photo quality easily, whether you like to do it on your portable device or computer.

Leave your comment and join our discussion