Part 1. Top 7 Photo Enlarger Tools
Here are some online and offline image enlargers you may utilize to help you improve the resolution of your photo. You will also find tools for a desktop and a smartphone. Let's have a look at them below.
1. Aiseesoft Image Upscaler Online
One of the practical AI image enlargers you can find on the internet. You read it right Aiseesoft Image Upscaler Online. It features an AI Super Resolution Technology that aids in recovering the lost colors, pixels, details, and textures from the photo. It can detect the blurred space automatically and fills it in with more details resulting in an amazing output. Aside from that, it also provides different levels of upscaling. That means you can enlarge the images up to 200%, 4000%, 600%, and 800%. On top of that, it retains the highest image quality. Thus, if you want to increase your image's resolution in just a click, consider using Aiseesoft Image Upscaler Online.
PROS
AI-powered photo enhancer.
It comes with several photo magnifier levels.
It supports the drag-and-drop feature.
Maintain the high quality of the image file.
CONS
It does not support batch processing.
Internet and a browser are required to use it.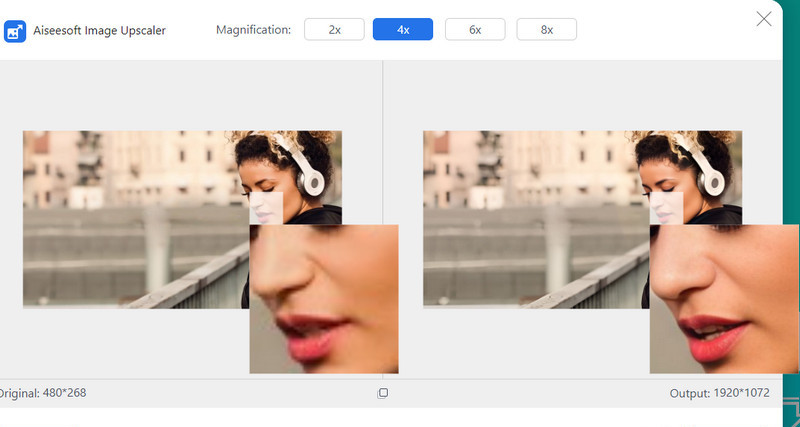 2. Image Upscaler
Another photo enlarger online you can depend upon is Image Upscaler. In the same manner, this tool utilizes Artificial Intelligence that makes blurry spaces sharp for a better-looking photo. Also, it does not matter if you are processing a JPG or PNG file. The program can enlarge it for you with great ease and without compromising quality. This tool is so remarkable because it can give you upscale results four times. All in all, Image Upscaler is a must-have if you are looking for a reliable image expander.
PROS
Swift image uploading and downloading.
It supports almost any image format.
Upscale photos four times.
CONS
Max of 5MB or 1200×1200 image upload.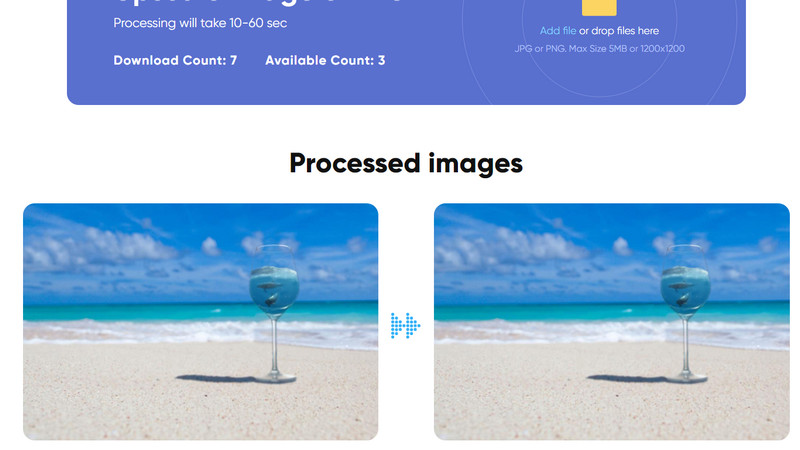 3. PicsArt
PicsArt boasts many cool features, such as adding effects, stickers, changing background, enhancing photos, and a lot more. Apart from that, it also comes with a feature that will allow you to enhance the resolution of your photo that has a small file size. Using this program, you can refine your photos, so you do not need any camera equipment. This program can fix grainy, low-resolution, and distorted photos. Beyond that, photo enlargement sizes can be done by setting the height and width of the tool from its editing interface. Whether you are amateur or an advanced user, you can easily navigate the program.
PROS
Improve the resolution of low-quality photos.
It uses AI to enlarge images without any quality loss.
Upscale multiple photos in one transaction.
Extensive collection of elements: text, effects, stickers.
CONS
It takes a little while to upload a photo.
It leaves a watermark on the edited photo.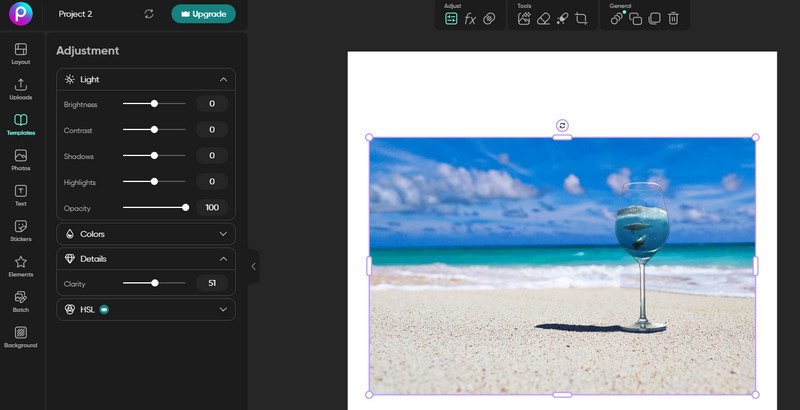 4. Image Enlarger
If you prefer to use another image enlarger online, you can rely on Image Enlarger. The tool supports various file types, including JPG, PNG, BMP, and GIF. In addition, you can upload an image with a maximum dimension of 4100 × 4100, which is not usual for most image upscalers online. Furthermore, you set the dimension for the enlarged photo, allowing you to enhance the zoom factor, width, and height. Besides this, it lets you select an output format for your photo. In essence, you get to enlarge your photo and convert it as well.
PROS
It has a straightforward user interface.
It provides several resampling methods.
Select the preferred upscaled version from the results.
CONS
It does not support a drag-and-drop feature.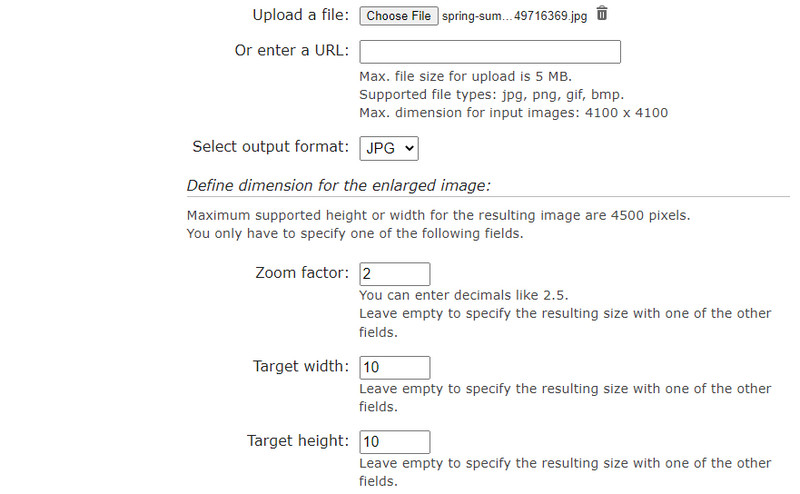 5. Photoshop
Perhaps you want to accomplish your tasks offline. Adobe is a flexible program with great features for amending professional photos. There are a lot of filters to choose from, create layers, apply effects, and so much more. More than these, the tool enables you to enlarge images with high quality. However, if you are a beginner, you may have a learning curve.
PROS
Professional and flexible photo enlarger.
Edit photos by applying effects and filters.
Authoritative photo editing tools.
CONS
It demands a space for your disk space.
Quite challenging for amateurs or newbies.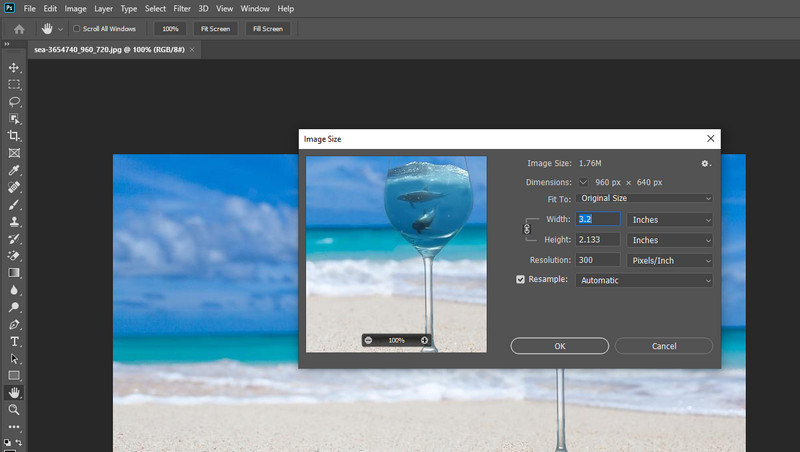 6. GIMP
Next on the list is GIMP. It is a desktop tool for editing photos and works as an image enlarger. Actually, you can use it as a free alternative to Photoshop. In other words, it has professional editing functions similar to Adobe Photoshop. Likewise, there are selection and montage features and multiple ways to retouch images. Most of all, the app's interface is highly customizable, and it comes with plugins free to download. Advanced users may only benefit from this tool because of its complicated setup of functionalities. Nevertheless, you can circumnavigate the program. It is just that it may take you a while to get a hand with the tool.
PROS
Easily customizable user interface.
Loaded with features similar to Photoshop.
It accepts almost any image file format.
CONS
The functions are all over the place or cluttered.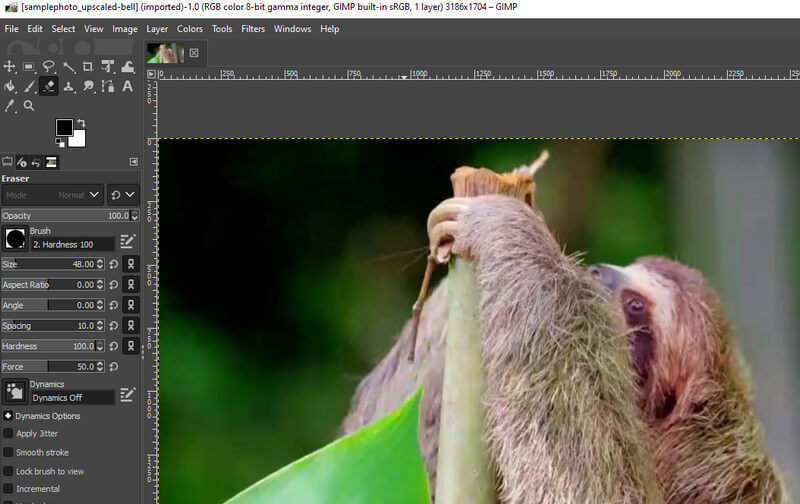 7. Remini
If you are always on your phone doing almost all your tasks, you could utilize Remini to enlarge photos on your mobile device. This image expander is also infused with AI technology, just like the previously mentioned programs. Therefore, it will automatically enhance and restore your blurred photos. It can surely deliver satisfying and impressive results. Whether the photo is pixelated, old, or damaged, Remini can salvage it for you. See the pros and cons of this tool for your further scrutiny.
PROS
AI generative technology is applied to photos.
It can enhance photos taken with old phones or cameras.
High-quality image output.
CONS
The mobile app contains ads.
Other features are available in in-app purchases.