How to Remove Shutterstock Watermark from Image and Video
Download some Shutterstock pictures with watermark? Looking for a good Shutterstock watermark remover to get rid of these Shutterstock logos?
Shutterstock is a popular online repository for top quality images, footage and music. It allows you to view and download pictures, recordings and audio files. However, the free media come with a watermark. So, you need to remove Shutterstock watermark for using either personally or commercially.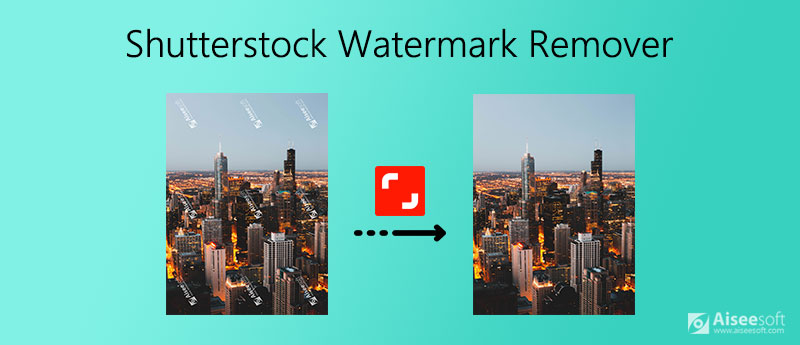 This post will mainly talk about how to remove Shutterstock watermark for photos or videos. You can get free online and professional Shutterstock watermark removing tools to get rid of the watermark.
Part 1. How to Remove Shutterstock Watermark Online from Images
First, we like to show you how to remove watermark from Shutterstock pictures online and free. To do that, you can rely on the popular watermark removing software, Aiseesoft Free Watermark Remover Online. It has the capability to erase the Shutterstock logo accurately on your download pictures.
Step 1.
Open your web browser like Chrome, IE, Firefox or Safari and go to the
Watermark Remover Online
page. Click on
Upload Photo
button to add your picture to this online Shutterstock watermark remover. It supports any popular image formats including JPG, PNG, TIFF, BMP, and more.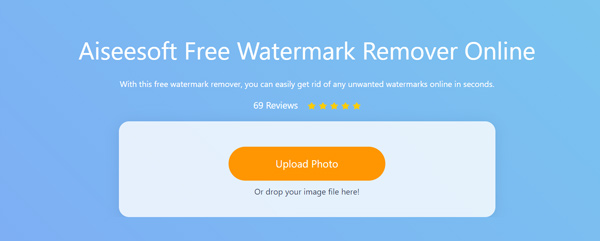 Step 2.
Use
Lasso
or
Brush
tool to select the Shutterstock logo, and then click on the
Remove
button to simply remove Shutterstock watermark online.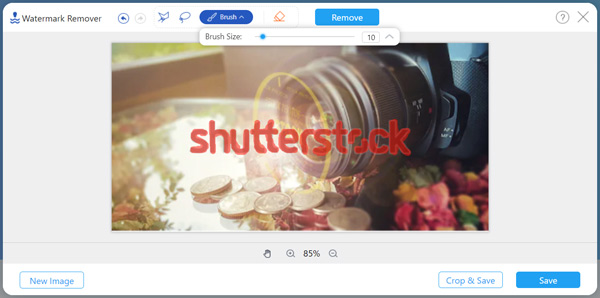 Step 3.
If you are satisfied with the edited picture, you can click the
Save
button to download it on your computer. Here you can also use the
Crop
feature to remove the Shutterstock watermark.
Part 2. How to Remove Watermark from Shutterstock Video Clips
Relatively speaking, removing watermark from Shutterstock video is much harder than Shutterstock logo removing on image. Here we strongly recommend the all-featured video editor and converter software, Video Converter Ultimate for you to remove Shutterstock watermark. It enables you to crop Shutterstock video to remove its logo, replace the Shutterstock logo with a new watermark, or directly blur the watermark with advanced AI technology.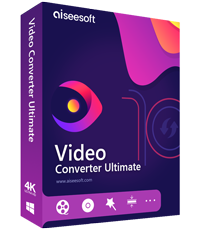 Downloads
Shutterstock Watermark Remover
Remove watermark from video in MP4, MOV, WMV, AVI, MKV, and more 500 formats.
Remove Shutterstock watermark through blurring, cropping or watermark feature.
Powerful editing functions like cut, rotate, crop, enhance, effect, 3D, compress, and more.
Convert video from SD, HD, 4K, 5K, 8K, to lossless/lossy audio.
Unprecedented hardware accelerating technology to offer fast editing and converting speed.
Step 1.
When you want to remove watermark from Shutterstock video clip, you should free download this watermark remover software on your computer first. It allows you to remove Shutterstock watermark on both Windows 11/10/8/7 PC and Mac. You can double click on its download button above, and then follow the instructions to get it installed with ease.
Step 2.
When you enter this Shutterstock watermark remover, click
Toolbox
and locate the
Video Watermark Remover
option. Then upload the video that you want to remove the watermark.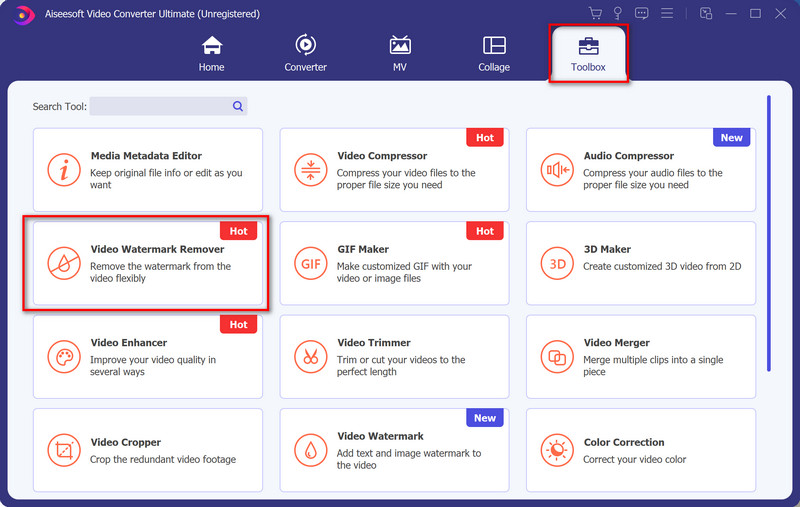 Step 3.
Now you can use the
Blur
feature to remove the watermarked region. When you use this method to remove Shutterstock watermark, please click the
Add watermark removing area
button below. Then you will see a rectangle on the video. You can enlarge, shrink, drag, and move the area according to the position and size of the watermark.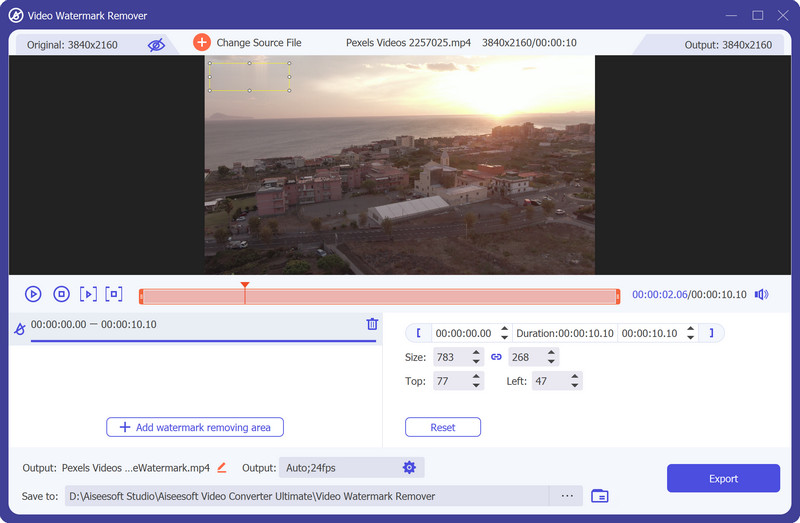 Step 4.
You can add the removing area to any segment of the video. Once you finish editing, just click the
Export
button to save the video with no watermark on your computer.
Step 5.
You can also crop the video watermark or use a new watermark to cover the original Shutterstock logo. Just go the
Converter
tab, upload the video, click the
Edit
button, and select the Watermark feature. You are allowed to use a text watermark or image to replace the original one. You can freely adjust the new added watermark according to your need.
As it mentioned above, this powerful video editor and converter also carries many other useful editing features. So, you can use them to adjust the output video effects and enhance quality.
Part 3. FAQs of Shutterstock Watermark Remover
Question 1. How to remove Shutterstock watermark using Photoshop?
Adobe Photoshop is a professional image editing tool that allows you to add and remove watermark. But Photoshop doesn't offer a specific watermark remover for you to directly erase the Shutterstock watermark.
You can open Shutterstock picture in Photoshop, and then use its autofill feature to edit the image file and remove its watermark. Just select the Shutterstock logo and then right click on it, choose autofill option to remove watermark. Photoshop can't remove watermark from a Shutterstock video.
Question 2. How to remove watermark from a PDF file?
There are many PDF watermark remover tools offered on the market that can help you get rid of the watermark from PDF document. For detailed information, read How to remove watermark from PDF here.
Question 3. What kind of content on Shutterstock has a watermark?
Shutterstock allows you to free download 10 pictures with no watermark. After that, free downloads will come with a watermark. When you free download video clips from Shutterstock, the downloaded videos will have a Shutterstock logo. Also, all free music come with an audio watermark.
Conclusion
This post shares 3 useful methods to remove Shutterstock watermark, one from Question 1. You can choose your preferred Shutterstock watermark remover to delete the Shutterstock logo from image or video files. If you want to remove audio watermark from Shutterstock music, you can use the Cut feature in the recommended Video Converter Ultimate.

Leave your comment and join our discussion