The Best Sansa Media Converter
"I often listen to music with my Sansa Clip Zip when running. It is a great MP3 player. Here comes a problem, I want to convert some awesome videos to MP3 format that is compatible with my Sansa. I used to convert them with Zamzar Online Converter. However, I waited for a long time and the output MP3 were not satisfying. I am looking for a reliable video to MP3 converter to deal with such a headache." – Linda

What is Sansa family
SanDisk Sansa is line of portable media players based on flash memory, which has discontinued models like Sansa Express, Sansa Shaker, Sansa Clip, Sansa Fuze, and current model, such as Sansa Clip+, Sansa Fuze+, Sansa Clip Zip. For recent years, SanDisk has announced Clip Sport and Clip Jam. They are first two SanDisk media players not carrying the name of Sansa. SanDisk Sansa has acquired a lot of popularities of most portable media player users, which now supports several popular audio formats, such MP3, WAV, AAC, WMA, OGG, and FLAC.
When it comes to download music to portable devices, many people, like Linda, want to convert high-quality videos to output audio formats. But it is not always easy to find the professional Sansa audio converters. In this article, we will help you how to find the best Sansa media converter to let you entertain a high quality listening.
How to convert video to Sansa with Zamzar Online Converter
There are numbers of free online video converter websites that can help you to change videos to audios. However, these free online converters have their disadvantages and risks, like Zamzar. Why? Keep reading.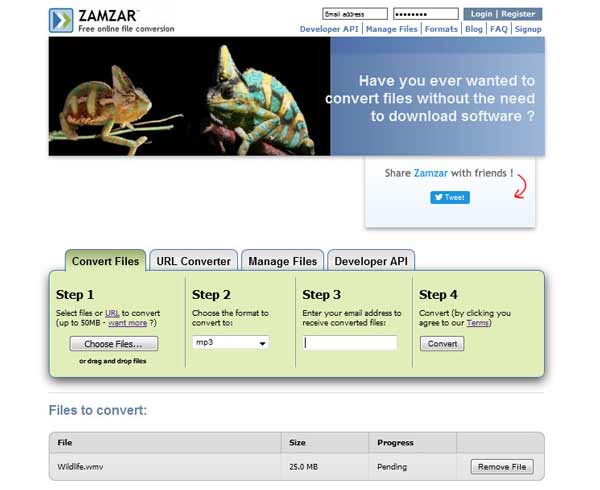 Step 1 Go to the website of www.zamzar.com.
Notes: Make sure your computer is in a good Internet connection.
Step 2 Upload video files or paste URL of video source. Or you can directly drag the video to the interface.
Notes: The storage of the video files you need to convert is up to 50MB. If you want to convert more, you need to purchase its other Zamzar versions.
Step 3 Select the output format by clicking the arrow of "Convert files to". There are various image formats, video formats, audio formats, document formats and more on the drop-down list for you to choose from. And here, we choose MP3 format.
Step 4 Input your email address to get the converted MP3 audio.
Step 5 Click "Convert" to wait for the accomplishment of the conversion.
Step 6 Download the converted audio file and move it to Sansa.
Pros: As a free online file converter, Zamzar provides more than 1200 file formats to satisfy users' demands and you don't need to download anything. You can get what you want to convert with Zamzar with several clicks. It's a user-friendly free online file converter that attracts many people's attention.
Cons: It's an online tool, so you must ensure your computer is in a good Internet connection. The storage of the file you upload is up to 50MB, so you need to buy paid Zamzar version if you want to convert big file. The servers of Zamzar are often busy so you have to wait for a long time for the conversion. You need to download the output conversion from the mailbox, so it's not very safe to do that as virus can exist from this way. From many users' reviews, the output video or audio may not satisfy their needs.
The best Sansa Media Converter app
From the analysis of Zamzar, we can see that disadvantages and risks exist when we convert video to audio online. Is there any simple and safe way to change video formats like MP4, WMV, AVI, etc to Sansa media formats? Follow us, and find the best choice for video-to-audio conversion from this part within a reputable and useful Total Sansa Audio Converter introduced.
Total Sansa Audio Converter is a professional video to Sansa converting software, which applies to numbers of Sansa users. It can convert any popular video files, including MPEG, WAV, HD, AVI, MP4, RM, WMV, MKV, VOB, etc. to output formats that can be played by Sansa music players. Besides, it supports 4K UHD, 1080p/720p HD videos. After you get videos, you can easily convert them to compatible audio formats for Sansa media player, such as MP3, WMA, WMV, OGG, FLAC, and AAC. In addition, you can clip your videos into several parts by adjusting the starting and ending time or the duration. It can also change one video format to another, like converting WMV to SWF. The full-featured software enables you merge video segments into one file. In addition, it supports batch conversion.
How to convert video to Sansa with Total Sansa Audio Converter
Total Sansa Audio Converter can save your precious time to the large extent when you convert video to audio formats. Taking WMV to MP3 conversion for example, the following is the detailed tutorial of how to use this Total Sansa Audio Converter.
Step 1 Install Total Sansa Audio Converter.
Free download and install the software on your computer of Windows 10/8/7/XP/Vista.
Step 2 Add video file(s)
Click the drop-down arrow of "Add File", choose to add file(s) or folder to upload your video.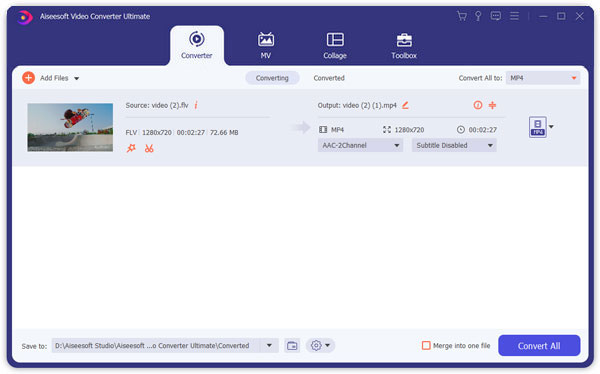 Step 3 Customize the uploaded video(s)
Choose "Clip" to customize the source video(s) by adjusting the starting and ending point of the video. During the process, it enables you to preview the videos. In addition, you can merge the clipped segments into one file.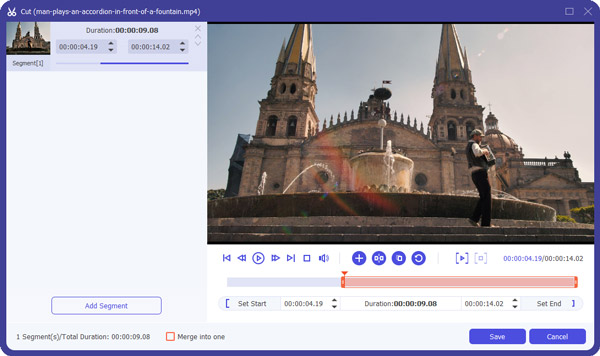 Step 4 Select output audio format
Click the drop-down arrow from "Profile", and enter "MP3". Then use the mouse to choose the target MP3 format.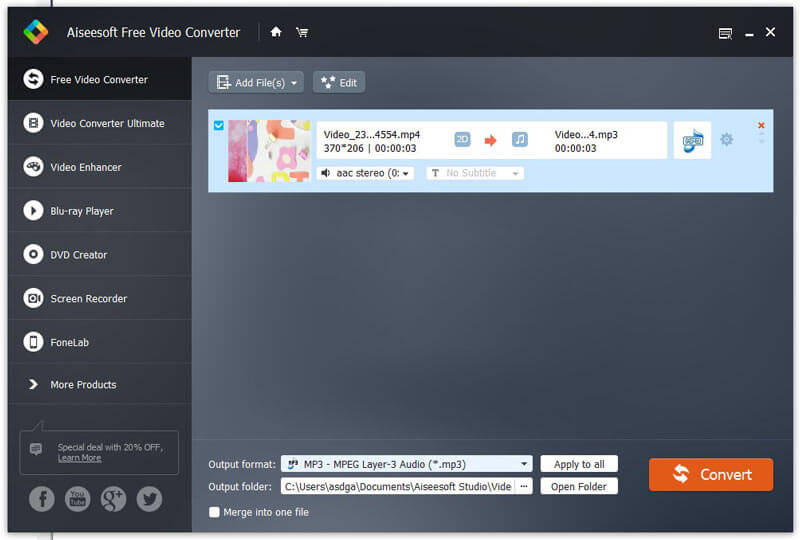 Step 5 Choose the destination folder
Click "Browse" to find a destination to storage the output MP3 audio. You can convert directly and put it in your Sansa music folder.
Step 6 Convert WMV to MP3
Finally, tab the button of "Convert". The software provides super fast converting speed, so you don't need to wait too much time to get the output audio for your Sansa.
You may also want to know how to convert FLAC to MP3.
Apart from all the functions mentioned above, the brilliant software has the capability to convert 2D videos to 3D videos. You can also enhance the source video quality by upscaling or rotating the video, adjusting its brightness, hue, contrast, and so on. It also supports to convert files between audio formats. The output audio or video can be playable on VLC, Windows Media Player and other popular media player. Additionally, you can also enjoy them on other portable devices, such as iPhone, iPad, iPod, Samsung, HTC, Sony, HUAWEI, PSP, etc.