Best popular video to MP3/MP4 Video Converter for Android iPhone
"I have got an AVI video. How can I play them on my new iPhone X/8/7?"
"I get some popular videos. When I put those videos on my Android phone, I found they fail to play. Did I do something wrong?"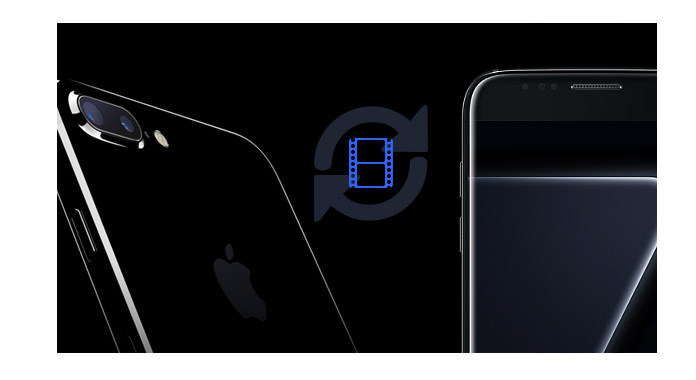 When mobile becomes the part of life, you will always see people watch the videos and listen to music with the mobile phone in the subway or bus station. Commonly, watching videos on computer is very easy. However, when it comes to mobile phone like iPhone X/8/7/6/5/4 or Samsung or LG, you will find it troublesome. Why? Mobile phone is not compatible with all video or music formats, so you had better get the mobile video converter to convert the popular video, we will share you phone video converters to make video convert for iPhone or Android phone.
Part one: Mobile phone video and audio formats
Before you start to convert video to Android or iPhone, you need to know that what video and audio formats that common mobile phone support. Because mobile phones mainly focuses on Android and iPhone throughout the world, and different Android phones vary from different formats, here we only list the common video and audio formats from Android and iPhone.
Mobile Phone
Video Format
Audio Format
Android
3GPP (.3gp)
MPEG-4 (.mp4)
WebM (.webm)
MKV (.mkv)
FLAC (.flac)
AAC (.aac)
MP3 (.mp3)
WAVE (.wav)
Ogg (.ogg)
AMR (.amr)
iPhone
H.264 MP4 (.mp4)
H.264 MOV (.mov)
H.264 M4V (.m4v)
AAC (.aac)
ALAC (.alac)
MP4 (.mp4)
M4A (.m4a)
Part two: Mobile phone video converter
After getting the information about mobile phone and iPhone video and audio formats, you may know what formats you will convert from your downloaded video or songs. So here we will share you two ways of converting videos and audio files to iPhone or Andorid, free video converter app and online mobile video converters.
Free Popular Video to MP3/MP4 Converter
Free Video Converter is the free Android and iPhone video converter, which converts any popular video compatible formats like MP4, AVI, MOV, 3GP, WMV, and more. This free app also lets you convert songs to MP3, WAV, ALAC, FLAC, and more for portable enjoyment. Now free download this video converter to your Windows computer or Mac.
Click "Add File(s)" to import your videos or audio files to this software. You could add many files at one time to convert for saving your time.
Click "Output format" to choose the converted formats like MP3, MP4, MOV, WMV, AVI, etc. You can set one by one file. Also, you can make the same output format for all files by clicking "Apply to all".
Click "Convert" to start to convert video for Android and iPhone.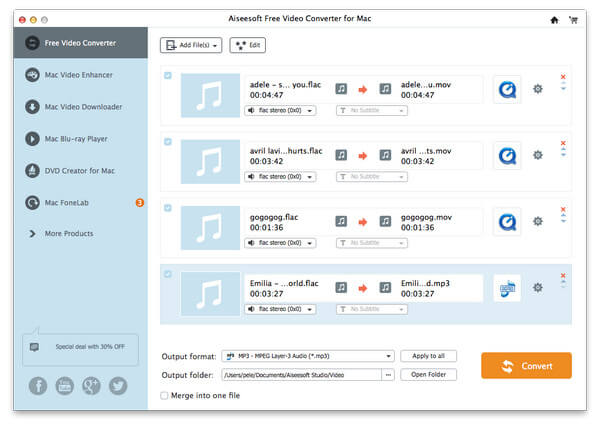 1. This free video converter also lets you edit video by adding the opening and ending themes to animate your videos.
2. Free Video Converter enables you to merge files into one file, which can let you watch a collection your favorite videos or listen to a long song.
3. After making the video converting for Android or iPhone, you could transfer video and music from computer to Android phone or iPhone.
Online phone video converter
Apart from the video converter software on computer, you could also find many online video converter that let you convert popular video to MP3, MP4 and more for Android or iPhone.
http://video.online-convert.com/convert-to-3gp
http://video.online-convert.com/convert-to-mp4
https://www.onlinevideoconverter.com/start\
https://www.onlinevideoconverter.com/video-converter
https://www.onlineconverter.com/mobile-video
Take http://www.convertfiles.com/convert/video/MP4-to-3GP.html for example to convert popular video or local video to MP4 or MP3 for Android or iPhone.
Step 1Click "Browse" to add the video from your computer to this online site. After importing the video to thi site, it will detect your original video to audio format.
Step 2Click "Output format" from MOV, MP4, 3GP, MKV, AVI, MP3, OGG, etc.
Step 3Click "Convert" to start to upload and convert the video format.
Step 4 After success converting, it will show the download link for you, and you need to right click the link or select "Save Link As" or "Save Target As" to download your converted videos or audio. After you download that, you can permanently delete your video by clicking the offered link of "Delete output file".

With this online video converter, you have to convert the video and audio files one by one. And the converting speed is limited by your internet connection.
This post aims at showing you how to convert video to iPhone or Android compatible formats.