Top 5 Online Mic Recorders to Record Your Voice into MP3 for Free
Windows 10 users can use the Voice Recorder app to record voice through the microphone for free. However, the free Voice Recorder app is not available for Windows 8.1/8/7 and earlier users. If you rarely record sound from a microphone, there is no need to download voice recording software. Actually, you can record yourself with an online mic recorder directly.
There are so many online free voice recorders in the market. You can make a voice recording on your Windows or Mac computer with ease. The question is what is the best online microphone recorder in 2021? If you have no idea which one to choose, you can continue reading to get the latest recommendations here.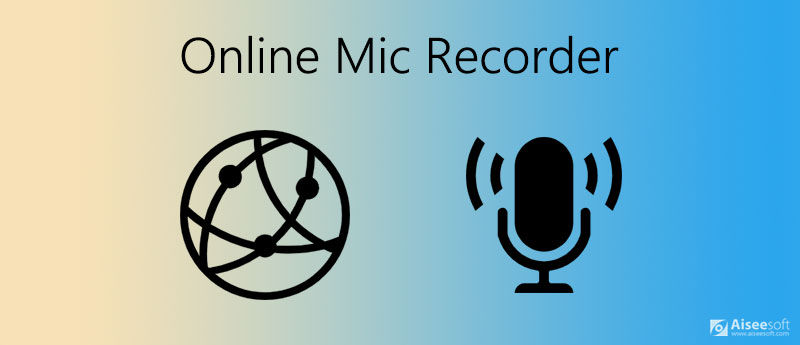 Part 1: Top 5 Free Online Mic Recorders
Top 1: Aiseesoft Free Online Audio Recorder
For most beginners, Aiseesoft Free Online Audio Recorder is the first choice. The intuitive interface has simplified all audio recording features into options. You can quickly start and stop recording microphone voice and computer sound.
There is no need to spend money on recording time limits. You can record your voice and sound through a microphone for hours. Later, the free mic recorder can save the voice recording file into the MP3 format automatically. By the way, you can free record microphone voice and browser/app sound at the same time.
Pros
Record yourself in a microphone with the best quality.
100% free and safe to use.
Detect the internal or external microphone accurately.
Auto download your voice recording into MP3 immediately.
Manage all audio recordings within the built-in audio library.
Cons
The current free mic recorder online version support Windows only.
Not able to trim the recorded audio file.

Top 2: 123Apps Online Voice Recorder
It is a completely online mic recorder for Chrome, Safari, and Firefox users. You can record your voice using a microphone and save into the MP3 format on your Windows and Mac computer for free. There are no hidden purchases or annoying ads.
Pros
Record microphone voice online to MP3 for free.
Adjust microphone settings via the Adobe Flash Player tools.
Crop the recording audio clip to extract what you really need.
Detect and skip silent fragments during mic recording automatically.
Cons
The online mic recorders are not compatible with mobile browsers.
The maximum mic recording file size limit reaches 500MB per day.

Top 3: Virtual Speech Online Voice Recorder
Virtual Speech Online Voice Recorder can record narration and conversions into OGG files. You can click its Start Recording button to control the entire sound recording online. If you don't want to save the microphone recording, you can play it through the browser directly.
Pros
Start and stop recording voice through a microphone online in one click.
There is no need to register a user account for online voice recording.
Provide a free tool to transcribe audio to text under 60 seconds for the first time.
Cons
There is no pause option in the online mic recorder.
The first voice recording is free. Later, you need to pay $5 for further recording in 1 year.
If you want to convert your OGG recording to MP3 format, you need to send your recording file to its server.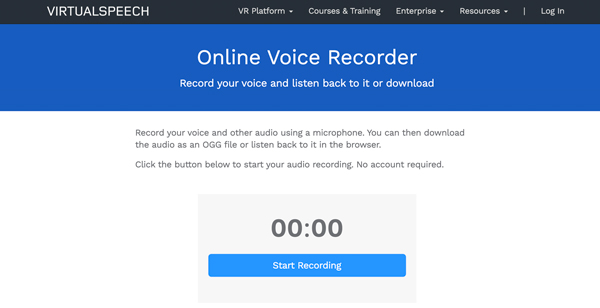 Top 4: Rev Online Voice Recorder
Rev Online Voice Recorder is compatible with Google Chrome on Windows, Mac, and Android. Thus, it can be your online mic recorder for Android as well. Moreover, you can use Rev as your iPhone online mic recorder due to its Safari compatibility.
Pros
Record voice and save it into an MP3 file via Google Chrome on desktop and Android for free.
Record and download microphone voice into MP3 via Safari on iPhone.
There is a free Rev voice recorder app for iPhone and Android users.
Cons
The Rev voice to text transcription function is paid.
Cannot auto download your MP3 recording.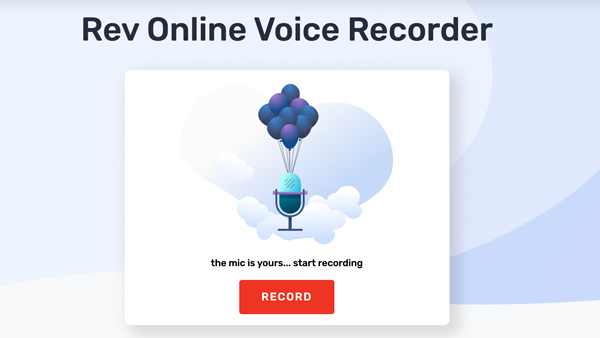 Top 5: Vocaroo
Vocaroo is a super simple online voice recorder. There are no extra tools or descriptions on its page. Just hit its huge Record button to record voice from your microphone. Once you finish recording, you can get the URL of the recorded audio file. Thus, you can share voice recordings via links directly.
Pros
Record and download online voice recording into MP3 format.
Scan the QR code to download the voice recording.
Generate a sharable link for Facebook, Twitter, WhatsApp, etc.
Cons
The in-browser voice recording doesn't support iOS and Android devices. (Find iPhone voice recorder here.)
Vocaroo collects your IP address and web browser details while recording with the computer microphone.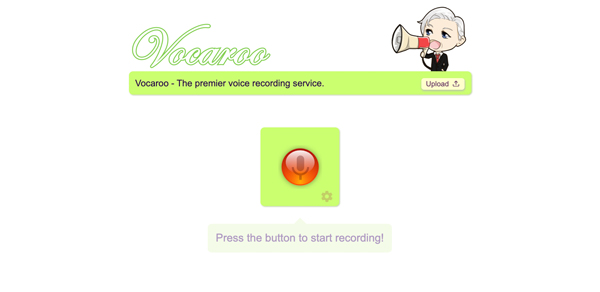 Part 2: FAQs of Online Mic Recorders
How to record microphone voice online?
Visit Aiseesoft Free online Audio Recorder on your browser. Click Start Recording and install its launcher first. Select the microphone audio source. Later, click REC to start recording voice from Windows microphone.
Is there an online voice recorder with noise cancellation?
No. If you want to reduce background noise and stop audio echo, you can upgrade to Aiseesoft Screen Recorder. The built-in audio recorder can optimize and record microphone voice with the best quality.
These are the top 5 popular free online mic recorders for Windows and Mac users. You can record your voice through the Windows or Mac microphones successfully. Check the specific time limit and platform restrictions before recording. As for Windows audio recording, it is suggested to record with Aiseesoft Free Online Audio Recorder to get unlimited voice recordings.

Leave your comment and join our discussion