How to Make Ringtones on iTunes for iPhone
How to make ringtones on iTunes?
Tired of using the same ringtone with other iPhone users? Sometimes, even you hear the classic iPhone ringtone, you still can't make sure it is the call for you immediately. Especially when more and more people around you choose to use iPhone. The old same iPhone ringtone must bother you now and then. For many times, you want to change iPhone ringtone, and want to make ringtones for iPhone as easy as Android phone does.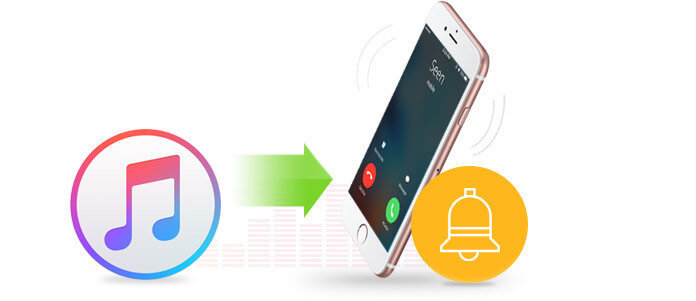 However, iPhone does not allow you to freely pick a song as your ringtone. If you are unwilling to choose the ringtone iPhone provided, you have to purchase and download ringtones from iTunes store. What if you want to make some personal ringtones for iPhone? In this article, we will show you how to free make ringtones for iPhone on iTunes. If you are eager to create your own iPhone ringtones, just keep reading to find the best answer.
Make iPhone ringtones for iPhone on iTunes
We all know that iTunes is a very powerful tool for iOS user to manage iPhone/iPad/iPod files and deal with iOS device issues. So at the first part, we will tell the free way to make ringtone in iTunes.
Step 1 Launch iTunes
Launch the latest iTunes on your computer. Make sure your iTunes version is 12.0 or higher.
Step 2 Choose AAC Encoder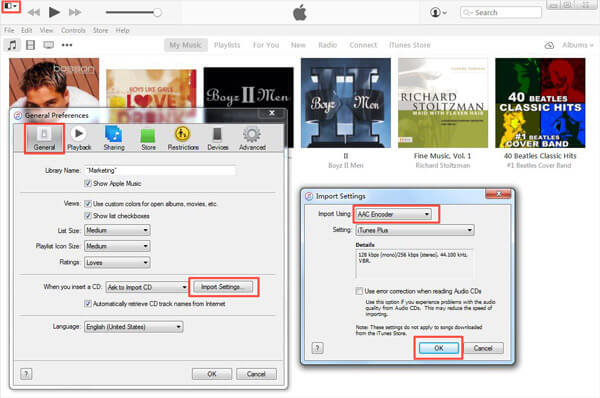 Click the "Edit" button on the upper left corner and click "Preferences" from the drop-down list.
Click "General" > "Import Settings" > "Import Using" > "AAC Encoder" > "OK".
Before you make ringtones for iPhone, you should first follow the steps to set "AAC Encoder". Because iPhone only allows you to add ringtones in M4R format. Though iTunes supports AAC, AIFF, MP3, WAV, M4A, you need to convert other audio formats to M4A.
Step 3 Clip song to get the ringtone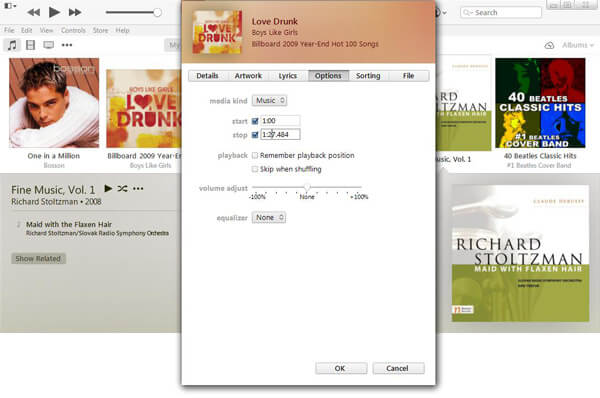 After putting the songs you want to make iPhone ringtones to iTunes, you need to click "Music" to locate the song in the interface. Right click the song and then choose "Get Info" on the pop-up window. You are led to another window to check the detail information of this song, click "Options". Now you can set start and stop time to trim the audio file. The iPhone ringtone you make should be less than 40 seconds.
Step 4 Convert M4A ringtone to M4R format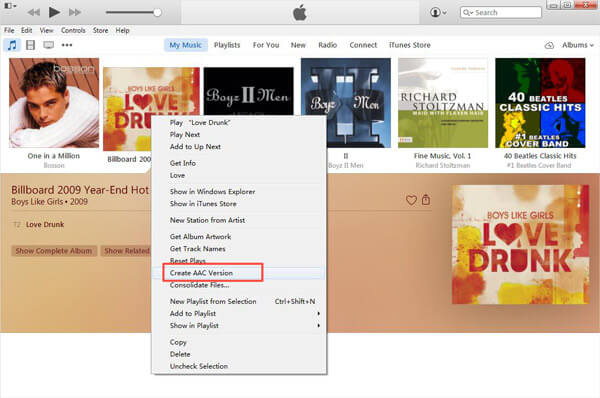 Back to the main interface, find the chosen song and right click it. Click "Create AAC Version". Then you can see the audio clip you just made appears beneath the original song. Drag this ringtone to your desktop. Right click the clip in the interface and choose "Delete File" to remove it from iTunes. Cause iPhone only supports ringtone in M4R format. You need to convert M4A to M4R. You can rename its extension to make iPhone ringtone from M4A to M4R. Also, you can use the Free Audio Converter to do that for you.
Step 5 Make ringtones for iPhone
Drag this M4R ringtone into iTunes, and it will be added to the ringtones folder in iTunes. You can click "Tones" to check it. Then all things you need to do is to connect your iPhone to iTunes and sync this ringtone to iPhone.
Step 6 Change iPhone ringtone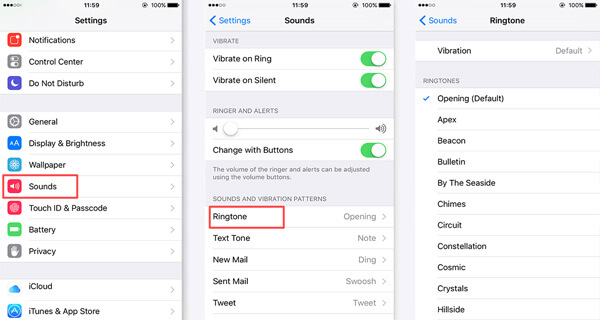 In case you don't know how to change ringtone on iPhone, here we show you the way. Unlock your iPhone and tap "Settings" > "Sounds" > "Ringtone", then choose the iPhone ringtone you've made.
After you make ringtones, you may need this post to help you put ringtone on iPhone.
Make iPhone ringtones for iPhone with iPhone Ringtone Maker
With the first method, you can make ringtones on iTunes. But it is not a simple method to take, even for the regular iOS users. So in this part, we will show you the easier way to make ringtones for iPhone. First, you need to download and install the professional iPhone Ringtone Maker on your computer.
Step 1 Launch iPhone Ringtone Maker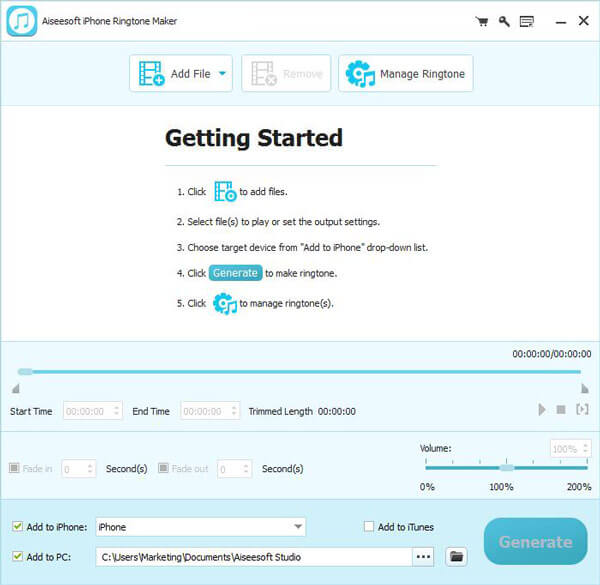 Open this iPhone ringtones creating software on your computer and connect iPhone to it with USB cable.
Step 2 Add audio file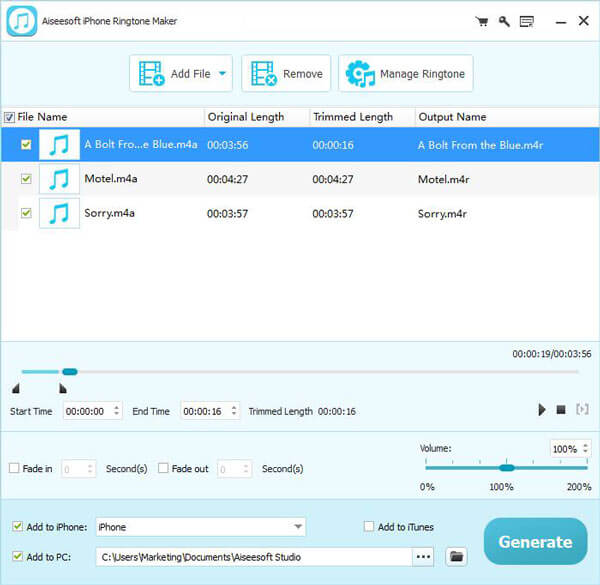 Click "Add File" on the top list to load your songs to this application.
Step 3 Create iPhone ringtones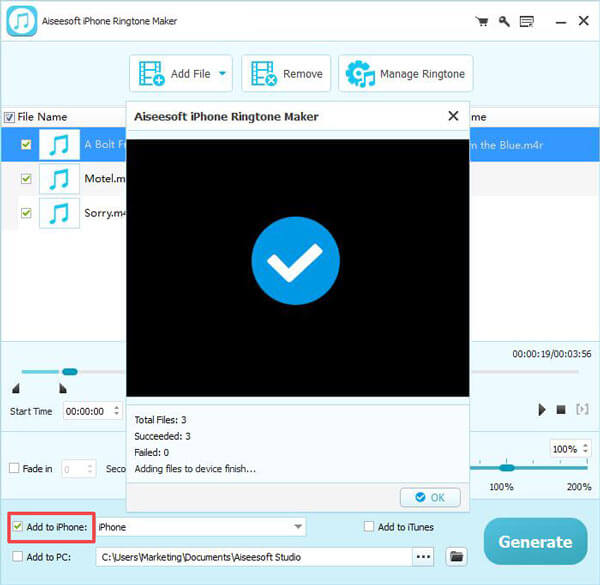 This powerful ringtone maker for iPhone enables you to clip song into parts to only save the parts you like. After editing audio files, you can directly transfer these ringtones to iPhone. Make sure you select all the ringtones and mark the "Add to iPhone", then click "Generate" to import ringtones to iPhone. In addition, you can use it to remove the unnecessary ringtones from iPhone.
Within just a few seconds, the iPhone ringtones transferring will be finished. Then you can navigate to "Ringtone" on iPhone to choose your favorite ringtone.
In this article, we mainly talk about two ways to make ringtones for iPhone. You can choose the preferred one to create your personal ringtone. Here we sincerely suggest you to free download the iPhone Ringtone Maker and have a try. Though it isn't a totally free program, it still allows you to free make 10 ringtones for iPhone.