JPEG, also known as JPG, is a compressed image format. JPEG stands for Joint Photographic Experts Group. It is widely used to store images captured by digital cameras and smartphones.
HEIC is a modern photo type that is inspired by JPEG. HEIC is the codec of HEIF image, which stands for High Efficiency Image File. Now, Apple uses HEIC as the native photo format on iPhone and iPad since iOS 11.
HEIC vs. JPEG

The differences between HEIC and JPEG comes from four points:

1. File Size. It is well-known that JPEG is a compressed image format, so the file size is small. However, HEIC achieves even more compression. The file size of a HEIC photo is estimated to be half of a JPG in the same condition. That is why Apple replaced JPG with HEIC on iPhone. iOS users can store twice as many photos in the same space.

2. Photo Quality. In most cases, small file size of a photo means quality loss. However, it is another story for HEIC. Although HEIC images are more compressed than JPG, the quality is higher. HEIC photos tend to display more detail than JPG.

3. Photo Color. HEIC uses 16-bit color while JPG uses 8-bit color. That makes HEIC photos look more vibrant and keep the real colors you are shooting. As Apple improve lens on new iPhone, the color gap between HEIC and JPG will bigger.

4. Transparency. Though HEIC is the successor of JPG, the former is able to store transparency. Therefore, you can store logo in HEIC but not JPG.

5. Compatibility. Another difference between HEIC and JPG is the compatibility. HEIC is widely used on Apple devices including iPhone, iPad, Mac OS X, and more. Some systems have added the HEIC codec, like Windows 10 April 2018 Updates and later, Android 10 and up. However, most social media, photo editor software and old systems do not support HEIC.
Part 2: How to Convert between HEIC and JPEG
Option 1: Ultimate Way to Convert HEIC to JPG on Desktop
Aiseesoft HEIC Converter is one of the best HEIC converter software. For beginners, the clear interface enables you to find what you want quickly. Advanced users can produce desired results with the custom options.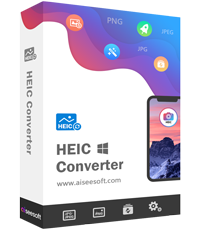 Downloads
How to Convert HEIC to JPEG in Batch
The best HEIC to JPG converter offers two versions, one for Windows 10/8/7 and the other for Mac OS X. Install the right one on your computer, and click the Add HEIC menu in the home interface. Select Add HEIC File(s) to add the HEIC images that you want to convert. If you have put the HEIC images in a single folder, choose Add HEIC Folder from the menu. It will open all photos in bulk. You need to transfer HEIC photos to your computer from iPhone.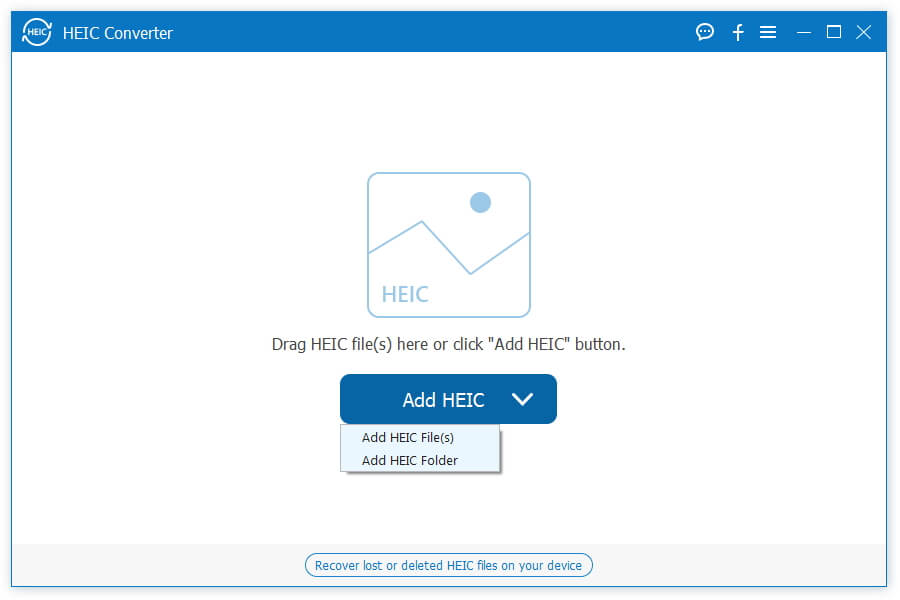 Step 2:
Set JPG as output format
Once HEIC loading is done, locate the right panel, pull down the Format option and choose JPG/JPEG. If you wish to keep the transparency in HEIC, select PNG instead. Tick the checkbox next to Keep Exif Data in order to maintain the metadata.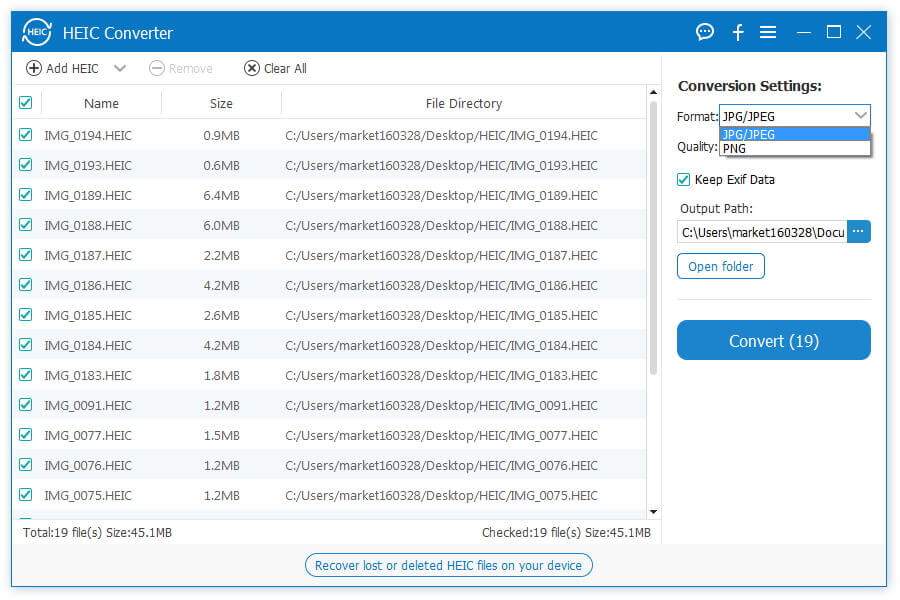 Step 3:
Convert HEIC to JPG
The custom options also allow you to adjust the photo quality. Click the Open Folder button and set a specific folder for saving the output. At last, click on the Convert button to begin changing HEIC to JPEG.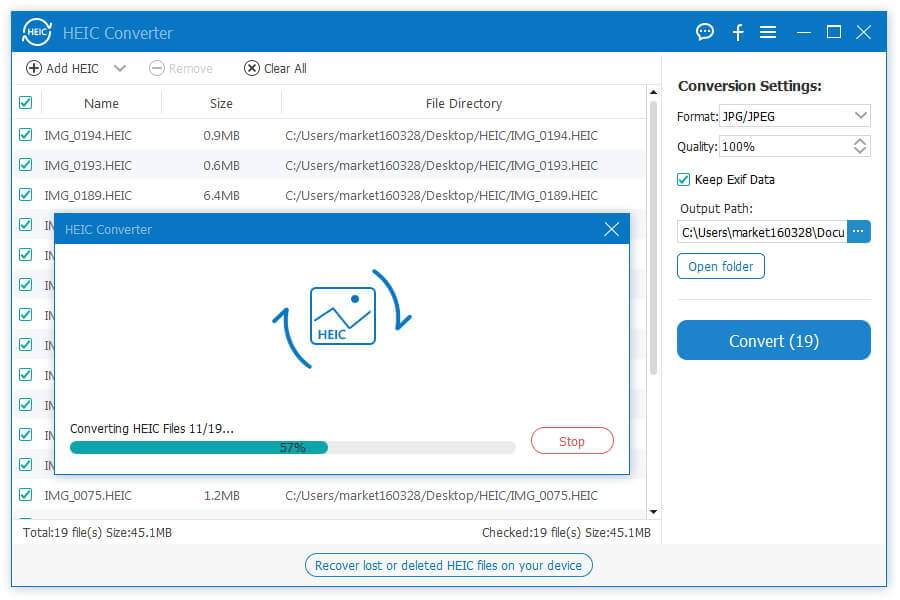 Option 2: How to Convert HEIC to JPEG Online
Aiseesoft Free Online HEIC Converter is the online way to convert your HEIC images to JPEG format. It is free of charge and does not require signup. Moreover, you can change HEIC to JPEG without installing any software.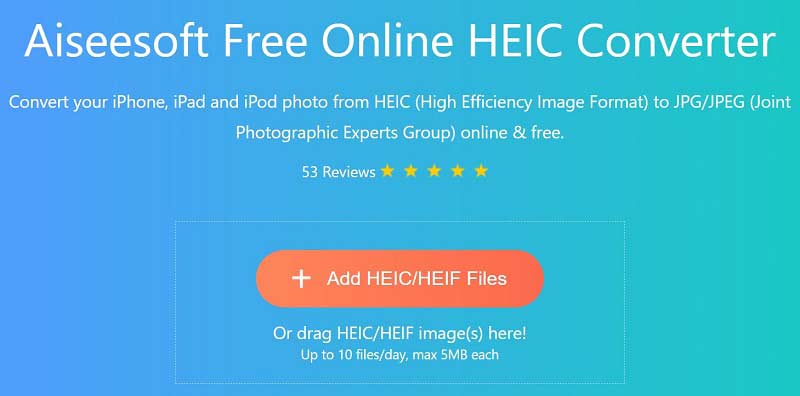 Step 2:
After uploading, the web app will convert your photos online automatically. Wait for the process to finish and click the
Download
button to get each JPG file.