Part 1: What Is HEIC?
HEIC is the file extension of HEIF images, which stands for High Efficiency Image File. It is the file container that stores higher quality images with smaller file size compared with JPG format. Now, the photos shot on iPhone and iPad are saved in HEIC format by default.
The new systems, like Windows 10 April 2018 Update and up, Android 10 and above, support HEIC too. However, social media and most photo editor software are not compatible with HEIC.
Part 2: How to Open HEIC
As mentioned previously, the new systems have added the support for HEIC. Therefore, you can open HEIC photos on Windows 10 April 2018 Update and Android 10 directly.
For the earlier versions of Windows 10, you cannot open HEIC directly. Microsoft released a HEIF Image Extensions to read HEIC images on PC. You can install the extension from Microsoft Store for free. Then the HEIC images in Explorer will display as thumbnails and you can open them in the Photos app or MS Paint.
Since Apple adopted HEIC, many services have added the codec support, such as Google Photos. It enables you to open HEIC images on old PCs and Android phones. Back up your photos to the cloud service if you have a Gmail account. Then you can view the HEIC photo one by one in thumbnail or full screen in a web browser or with Google Photos app.
Part 3: How to Convert HEIC to JPG
HEIC is still a new image format compared to JPEG. It makes sense that you encounter troubles when opening HEIC on ecosystem outside of Apple. The best solution is converting HEIC to popular photo formats, like JPEG.
Way 1: Ultimate Way to Convert HEIC to JPEG
HEIC provides better photo quality than JPEG. Many people worry about quality loss. That is why you need a powerful HEIC converter, such as Aiseesoft HEIC Converter. It designs pro-level features in the way that everyone can master in a few seconds.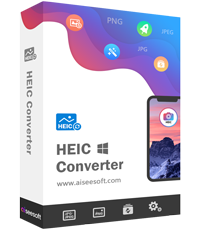 Downloads
Aiseesoft HEIC Converter – Best HEIC Converter
Re-encode HEIC files and change to other image formats.
Batch process hundreds of HEIC photos at one time.
Use hardware acceleration to improve the performance.
Provide a variety of custom options to make desired effects.
Needless to say, it is the best choice to convert HEIC photos without quality loss.
How to Convert HEIC Photos in Batch
Install the best HEIC converter on your PC and launch it. There is another version for Mac OS X. Transfer the HEIC photos from iPhone to the same computer. Click the Add HEIC menu in the home interface, and choose Add HEIC File(s) or Add HEIC Folder to import the HEIC photos. The latter will open all HEIC images in the folder directly.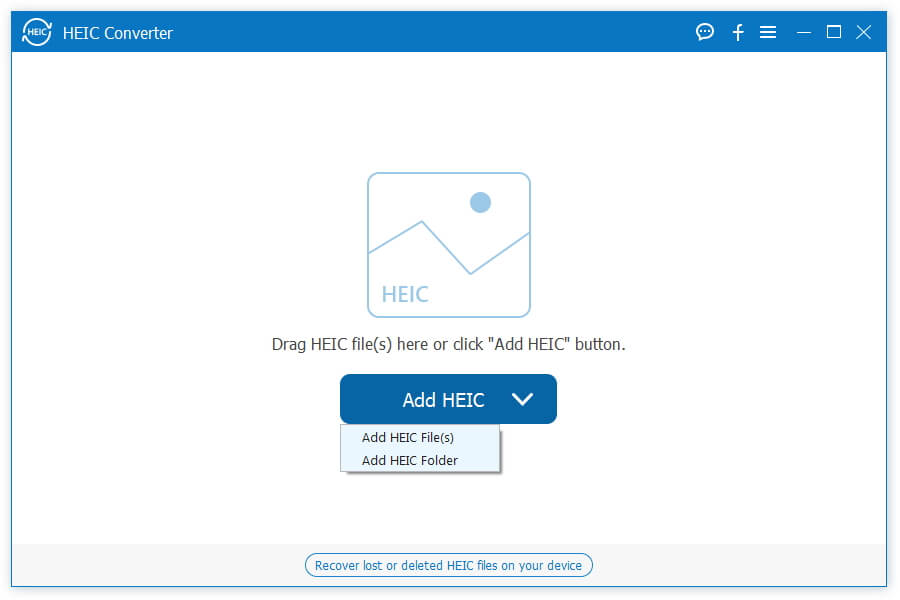 Step 2:
Customize options
Go to the right panel, pull down the Format option and choose JPG/JPEG or PNG. If you intend to protect the transparency in HEIC, select PNG as the output format. Adjust the photo quality in the Quality option. Check the box next to Keep Exif Data if you wish to protect the metadata.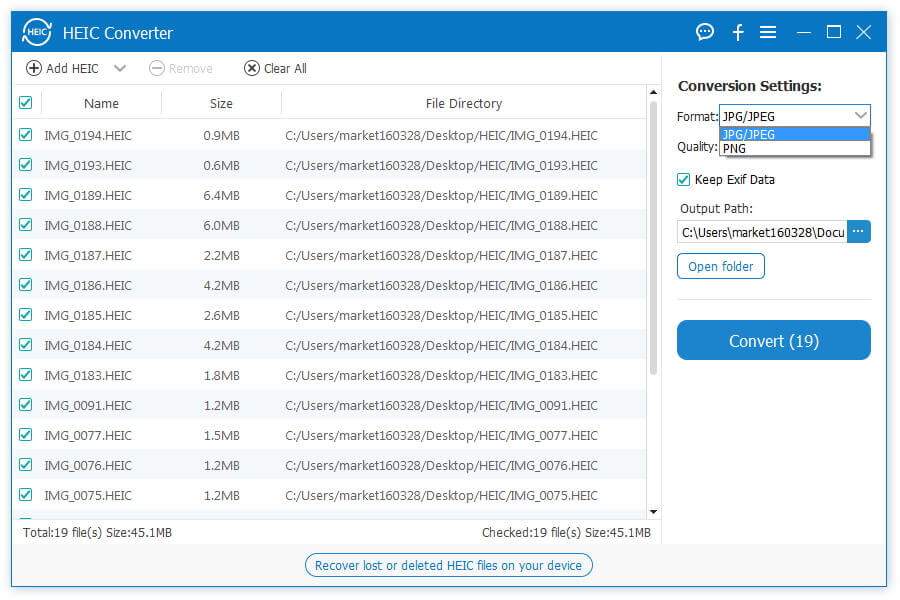 Step 3:
Convert HEIC photos
After setting, click the Open Folder button and set a specific folder to save the converted images. At last, click on the Convert button to begin converting HEIC immediately. According to our research, it only takes a few seconds to process dozens of photos.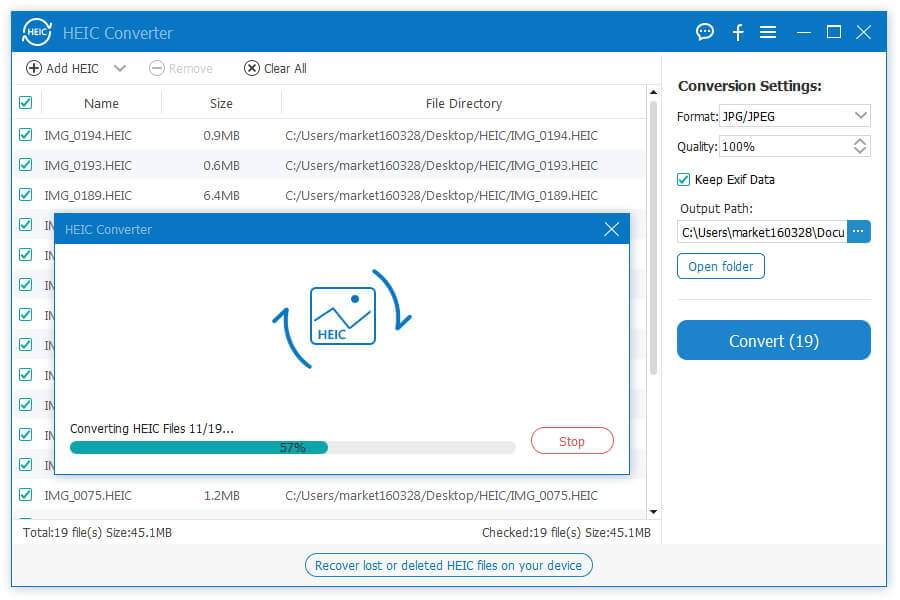 Way 2: How to Convert HEIC to JPG Online
Some people do not like to install software on their disk due to the limited storage. Aiseesoft Free Online HEIC Converter is the best alternative solution. Firstly, it enables you to convert HEIC to JPG online without installing any software. Moreover, it is free and does not require signup. The automatic converting functionality makes it a good choice for beginners.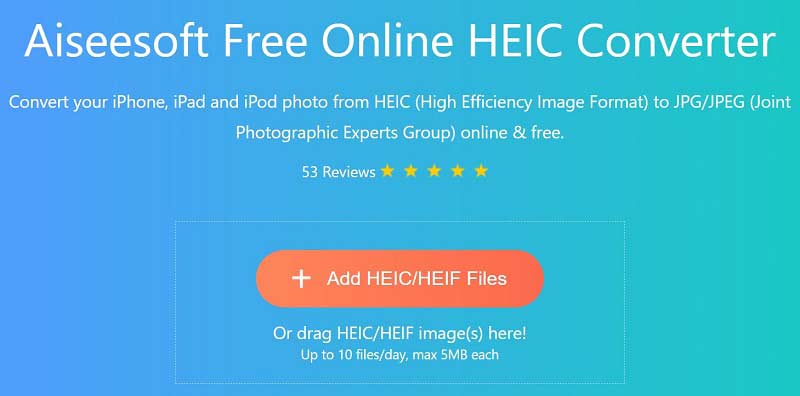 Step 2:
Once uploading is done, the web app will initiate converting automatically. There is no extra custom options or set-up process. When it finishes, click the
Download
button to get the JPG files one by one.

Part 4: FAQs about HEIC
Why are my photos HEIC instead of JPG?
In order to save space and store more photos, Apple has introduced HEIC image format into iOS 11 and later. Compared to the old JPG format, HEIC generate smaller file size with better quality.
Can I convert HEIC to PNG?
Yes, it is possible to convert HEIC to PNG. With a HEIC converter, you can transform HEIC images to PNG format. However, the file size will become larger. The benefit is keeping the transparency in HEIC photos.
How to open HEIC on Windows?
On Windows 10 April 2018 Update, you can open HEIC in Explorer window directly. For earlier versions of Windows 10, you have to install MS's HEIF Image Extensions for opening HEIC. If you are using Windows 8 or earlier, a third-party HEIC viewer is the only choice.
Conclusion
Now, you should understand what HEIC is, the benefit and disadvantages, and how to open HEIC photos. As a high efficiency image format, HEIC performs very well. It helps you save space and store twice photos on iPhone. Of course, you still need to convert HEIC to JPG or PNG with Aiseesoft HEIC Converter before uploading to social media. If you have more questions related to HEIC, please feel free to leave your message below this post and we will reply on it quickly.

Leave your comment and join our discussion