MP4 Video Editor for Windows 10/8/7/XP and Mac
(Free, Online and Professional MP4 Editor)
Summary: Want to edit MP4 videos and look for a free MP4 video editor? This post recommends 7 great MP4 editors for you to edit videos on Windows 10/8/7/XP and Mac. Moreover, you can get a free MP4 editor online site.
Nowadays, you can easily edit photos with all kinds of apps to make your pictures look better. Similarly, when you want to edit MP4 videos, you can also rely on some MP4 editor apps.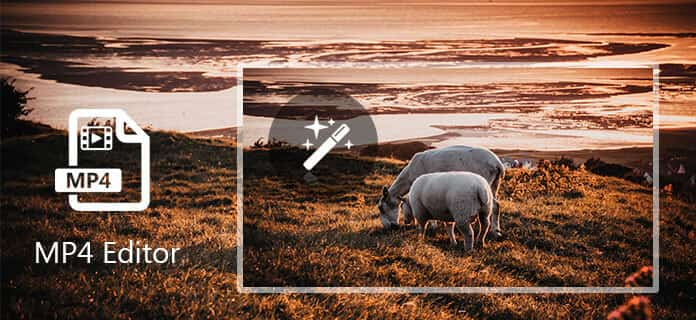 It is a social media era, you might want to share your idea or run your business through video in virtual communities and network. With H.264 being packed in MP4, and the continuing shift to H.264 implementation, you might need an MP4 video editor to get better video effect. You might find various MP4 editors with different features, even free MP4 editors. Some programs only provide limited functions, when you turn back for more functions, you might find it cost you more than you realize.
This post will show you some great MP4 video editors to help you make your videos look better. Whether you need a free online MP4 editor, or a professional video editing software, you can easily find what you need in this page.
Best MP4 Editor
Surely, we will show you the best MP4 video editor at the first part. This powerful video editor carries many frequently-used video/audio editing features like clip video, crop video, rotate video, merge video segments, adjust video effects, add 3D effects, enhance video quality and more. You can free download it and have a try.
Aiseesoft Video Converter Ultimate
For Mac
The best video editing app for Windows and Mac uers. The program provides all-in-one solution for editing and converting video files with high quality and fast conversion speed.
You are able to trim, merge, crop the video file, as well as extract audio track from DVDs or videos.
Adjust video and audio effects and enhance the output quality.
With the download function, you can download online HD and 4K videos to your computer and convert them to background music.
Support over 1000 formats converting, including MOV, MP4, AVI, WMV, FLV, MKV, and more.
Support adding external audio track and multi-audio track to your video easily.
How to edit videos with this MP4 editor
First, you should free download and install the professional MP4 editor on your computer.
Step 1 Load MP4 video(s)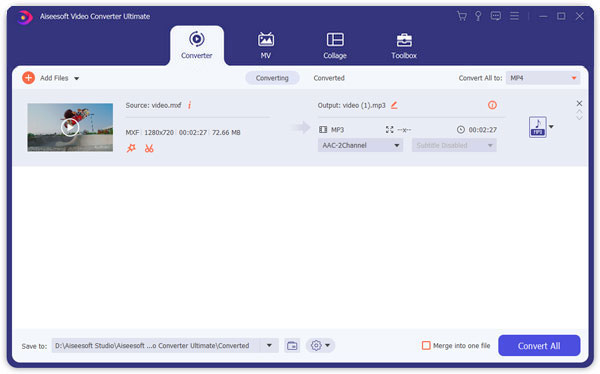 Click "Add File" button on the menu bar, you can load MP4 files or folder to this MP4 editor. If your video files are not in MP4 format, you can convert the video to MP4 (As to the converting, please refer to the next step).
Step 2 Convert any video format to MP4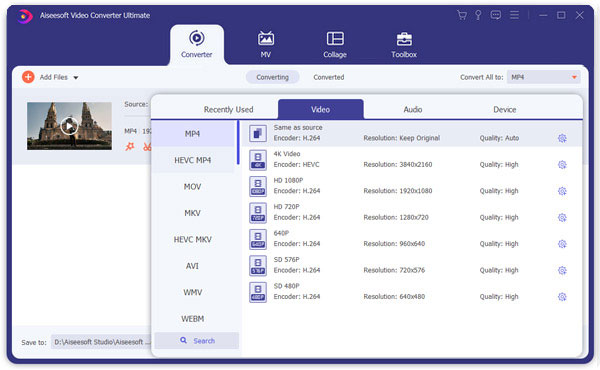 Aiseesoft MP4 Video Converter allows you to convert any video format to MP4. Hit the "Profile" column, the default settings will convert the selected video into MP4 file. The provided list for popular devices can help you choose the format compatible with your device.
Step 3 Clip video and merge MP4 segments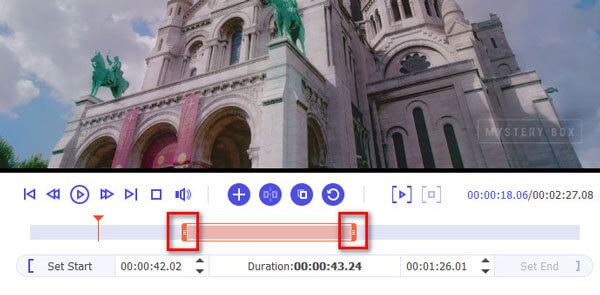 Select the MP4 video file and click the "Clip" option to cut the MP4 video into certain parts. You can merge selected video clips into one MP4 file either from the main interface or the "Clip" menu.
Step 4 Adjust the audio/video Effect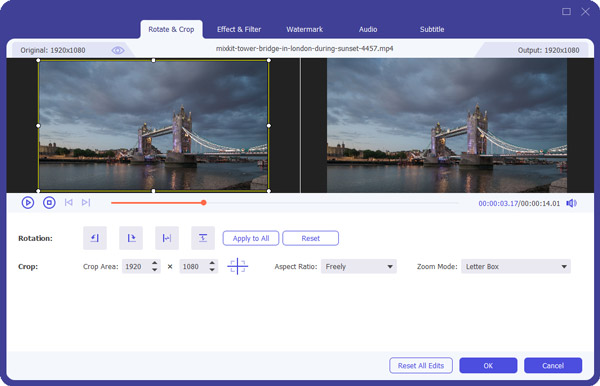 Depending on the type of devices, you can adjust the video output settings to display video at a desired resolution, frame rate, or video bitrates so as to play video smoothly and get better image quality. You are also able to change parameters including audio encoder, video encoder, aspect ratio, sample rate, channels and audio bitrates. The "Deinterlacing" feature of the Windows version converts an interlaced video to a higher quality progressive one.
If you find the video effect unsatisfying, check the video and click the "Edit" option. You can easily adjust video brightness, saturation, contrast, hue and volume by dragging slide bars in "Effect" window to retouch your videos and eliminate jaggedness from interlacing videos. You can trim video clips, add text or picture watermark, crop or merge video files as the other MP4 video editor.
Step 5 Rotate/crop MP4 video and add 3D effects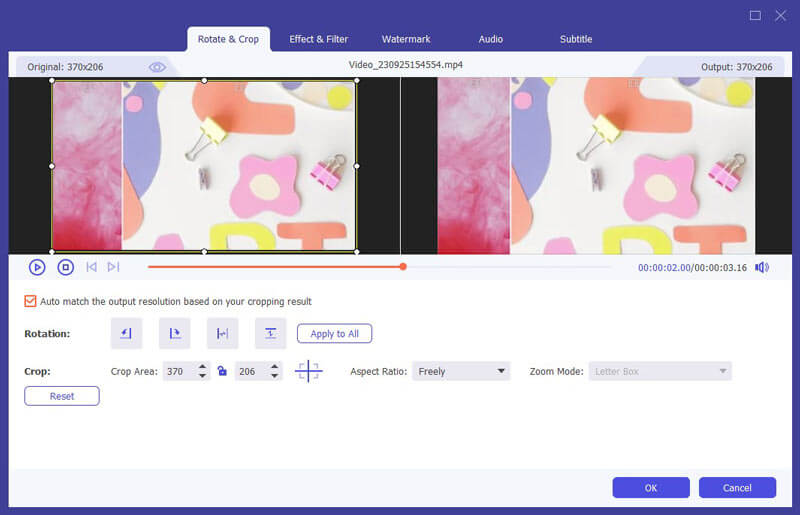 This MP4 editor provides many basic video editing functions, you can handily rotate video and crop video to remove the black edge. In addition, you are allowed to add 3D effects to normal 2D video to get a fantastic visual experience.
Step 6 Enhance video quality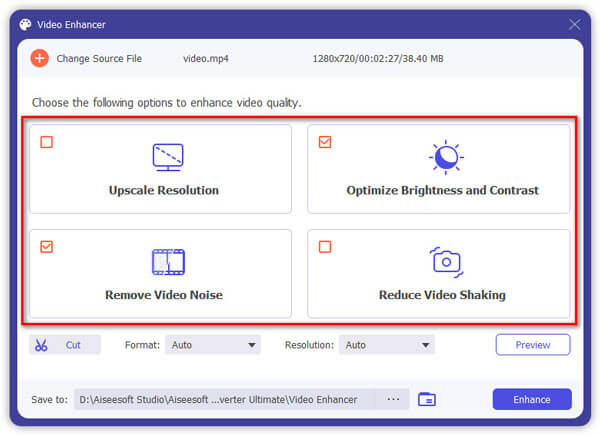 MP4 video editor can help you enhance the output video quality. You will find four different ways to enhance your video quality. You are able to upscale the video resolution, optimize video brightness and contrast with only one click according to your different requirement. And for your downloaded or recorded shaky video, you could reduce the shaking with simple click.
Step 7 Save or Share the edited MP4 file
After the above settings have been done, click the "Convert" button to start the conversion. As a fully-featured MP4 video editor, it enables you to convert any video/audio to your preferred output format.
Top 6 free MP4 video editor for Windows and Mac
MP4 video editor - Free Video Editor
Free Video Editor is a professional MP4 video editing program which can rotate, clip, crop, watermark, add effects and convert MP4 video files on your Windows or Mac. This free video editing software cannot only edit MP4 files but also support editing MKV, MOV, AVI, MTS, MP3, AAC, WAV, etc. and even 1080p HD and 4K video. With its simple and easy-to-use interface, edit MP4 on Windows 10/8/7 or Mac OX S is a piece of cake for you without extra cost.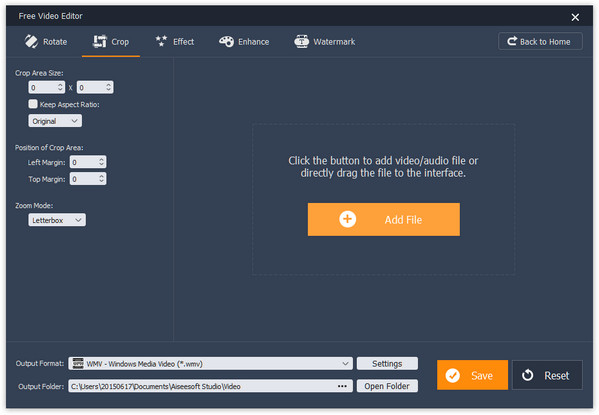 Pros:
Support various video formats editing;
Easy-to-use;
Support both Windows and Mac platform.
Cons:
Not support timeline editing mode;
Lack of strong editing function.
MP4 video editor - Windows Movie Maker
Windows Movie Maker has been a great video editing program for Windows users. Besides support MP4 video editing, it can also support video formats like MOV, AVI, WMV, M4V, etc. With Windows Movie Maker, you can easily put your MP4 video together with photos, add sound or music to the video slideshow, add effects and transitions and move videos and images around according to your needs. However, Microsoft has already stopped supporting this program, so you cannot find newer version rather than 2015 version now.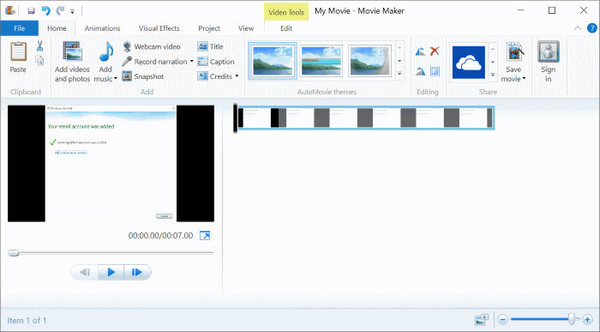 Pros:
Support various video editing options;
Easy-to-use;
Various output options including uploading to social network.
Cons:
Easy to crash;
Only support Windows OS;
Lack of product updating and upgrading.
MP4 video editor - iMovie
iMovie is a good MP4 editing software for Mac OS X. This video editing program supports importing MP4 or other video files (MPEG, MOV, AVCHD, DV and HDV) from external devices or directly from your computer. With its streamlined design and strong video editing functions, you can arrange your MP4 video on the timeline, drop titles, effects and sound on to the part of the video you wish to edit and preview the results.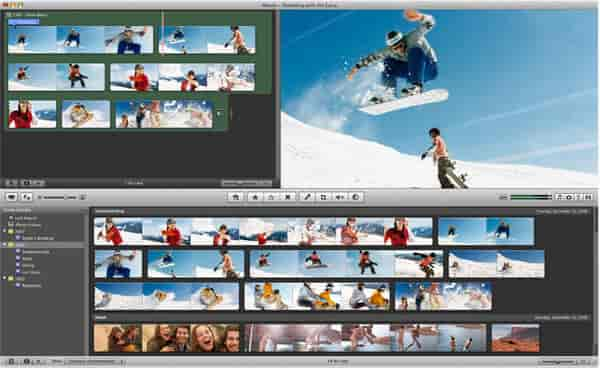 Pros:
Intuitive Multi-Touch gestures;
Support audio editing;
Easy-to-use;
Cons:
Not support font or color altering;
Easy to mess up videos and audios;
Take up much storage while operating.
MP4 video editor - Avidemux
Avidemux is a free open-source MP4 video editing program for Windows, Mac OS X and Linux. Besides supporting MP4 video files, it can support video formats like AVI, MPEG, MKV, ASF and more. With this free MP4 video editor, you can cut, add filter, encode or decode MP4 videos. You can also convert video formats, cut unwanted video clips, resize file, correct colors and use many other video editing functions. Avidemux also has the function to make tasks automatically using projects and job queue.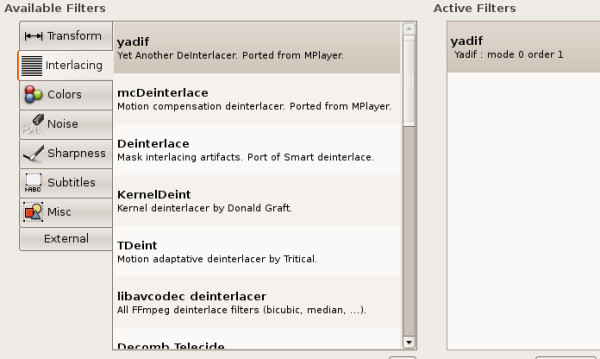 Pros:
Easy-to-use;
Support various of computer system;
Offer various of editing functions.
Cons:
Very old fashion interface;
A little complicated for operation;
Not support linear video editing.
MP4 video editor - Lightworks
Lightworks is a professional non-linear editing software with Pro and free version. With its free version, you can easily import, trim and seamlessly weave MP4 file and audio together with a few clicks. It also supports resolutions up to SD, and HD high to 1080p video and making real-time effects with presets and multi-cam editing. Besides MP4 video files, Lightworks also supports AVI, MOV, MPEG and other formats.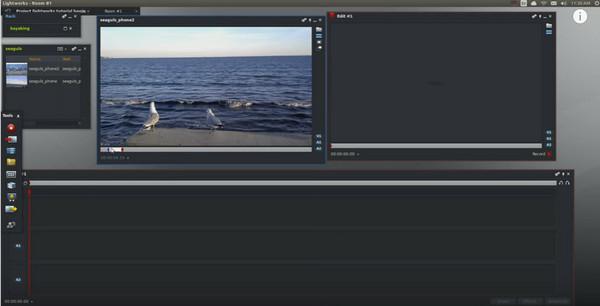 Pros:
Customizable screen operation;
Various video editing functions;
Support high quality video output.
Cons:
Difficult to use;
Easy to crash.
Online Video Cutter - MP4 editor online
If you don't want to install any new MP4 editor on your computer, you can also use online video editor, especially when you just do some simple editing works.

Online Video Cutter is a very popular MP4 video editor online. It is more than just a MP4 video cutter, it also can help you crop video, rotate video, convert video formats and more. But one thing you should know first, it will take more time to complete the video editing process.
We mainly talk about MP4 editor in this post. We show you 7 best MP4 video editors for you to choose from. Whether you want to edit videos with free MP4 editor, online or professional editing software, you can easily find suitable video editor. If you have any better recommendation, you can leave us a message.