10 Solutions to Fix iPhone Bluetooth Not Working
If your iPhone won't connect to Bluetooth devices or iPhone Bluetooth not working, don't worry since there are plentiful effective solutions you can use to fix this problem. Bluetooth issues are common on iPhones. You may want to learn what is causing them. The reasons why an iPhone cannot pair with Bluetooth speakers, Apple TV, Apple Watch or other devices include software glitch, compatibility, and so on. Compared to causes, ordinary people are more concerned about how to fix iPhone Bluetooth not working. Therefore, we are going to show you multiple solutions about this problem below. If your iPhone Bluetooth stop working, you can try these solutions one by one to get rid of iPhone faulty effectively.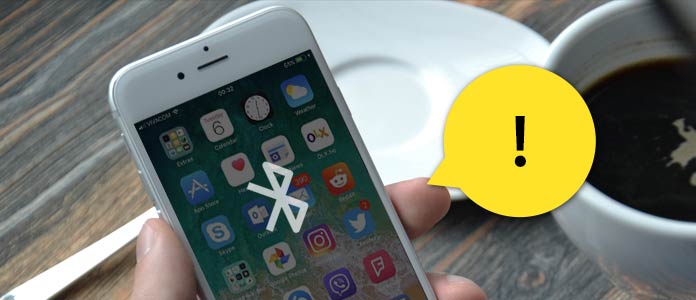 iPhone Bluetooth not Working
Part 1. Common ways to fix iPhone Bluetooth not working
Before you start fix iPhone Bluetooth not working, you should fully charge your iPhone device.
Solution 1: Re-toggle Bluetooth
This is the simplest way to solve this issue.
Step 1 Go to "Settings" > "Bluetooth", turn it off and wait for a few seconds.
Step 2 Turn on Bluetooth by toggling the switch to right.
Step 3 If your Bluetooth device has connected to other gadget, disable Bluetooth on it and turn it off.
Hopefully, Bluetooth connection will be established after this process.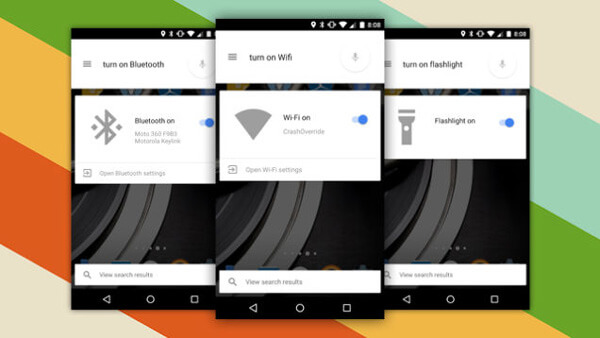 Solution 2: Restart your iPhone and Bluetooth accessory
In case of software blockage, full reboot could clear cache data out, to fix iPhone Bluetooth not working and make iPhone works as usual.
Step 1 Hold down the "Sleep/Wake" button on left side until the power off screen appears.
Step 2 Toggle the slider to turn off your iPhone.
Step 3 When your iPhone screen turns black completely, press the "Sleep/Wake" button again until the Apple Logo shows on the screen.
Step 4 Restart your Bluetooth gadget as well. Then try to connect your iPhone to the gadget via Bluetooth again.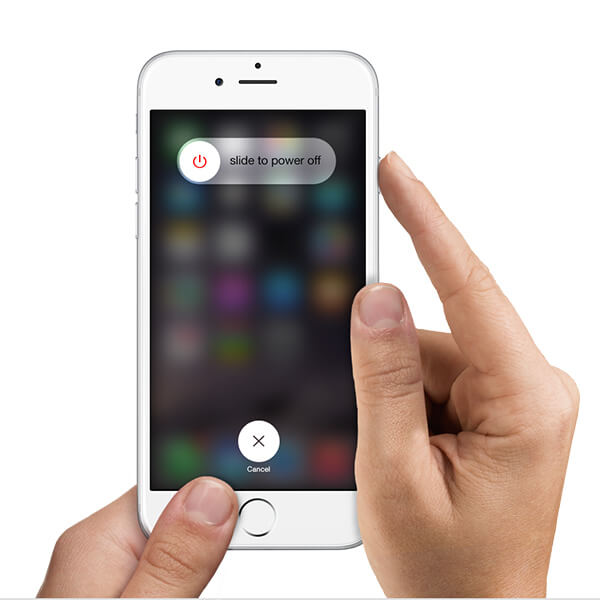 Solution 3: Turn off Wi-Fi connection
Sometimes, you can fix the problem of iPhone Bluetooth does not work by turning off the Wi-Fi and Airplane mode.
Step 1 Swipe upward from bottom of the screen to open "Control Center".
Step 3 Touch the Wi-Fi connection icon to turn it off. Wait for a few seconds and then turn it on. If Bluetooth does not work, turn off Wi-Fi completely and try Bluetooth connection again.
Step 3 If toggling Wi-Fi did not work, open Control Center and tap on the Airplane icon to turn it on. Then turn it off and try Bluetooth pairing again.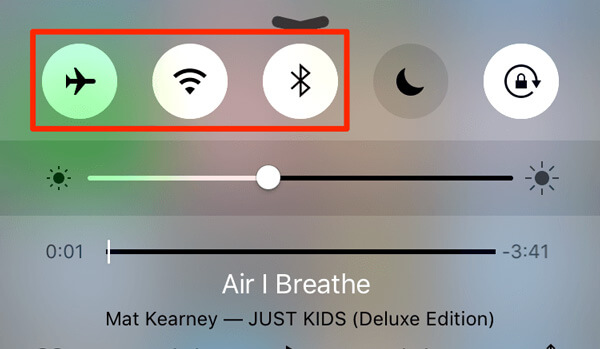 Solution 4: Forget the Bluetooth device
As I said before, iPhone Bluetooth not working problem is common. No matter which iPhone model you are using, you may face this issue. One of the operations that could solve this issue is to forget the Bluetooth and pair again.
Step 1 Launch the "Settings" app and go to "Bluetooth" settings screen.
Step 2 Find the gadget you cannot connect with from the list of Bluetooth devices and tap on the info button.
Step 3 Tap to "Forget" this gadget and pair it to your iPhone via Bluetooth again.
This solution is effective and simpler than it may sound.
Solution 5: Update software
In most cases, iPhone Bluetooth stop working issue can be repaired by software update. iOS 9.3.4 update, for example, address the problem that some Bluetooth accessories could experience audio quality issues when paired to iPhone SE.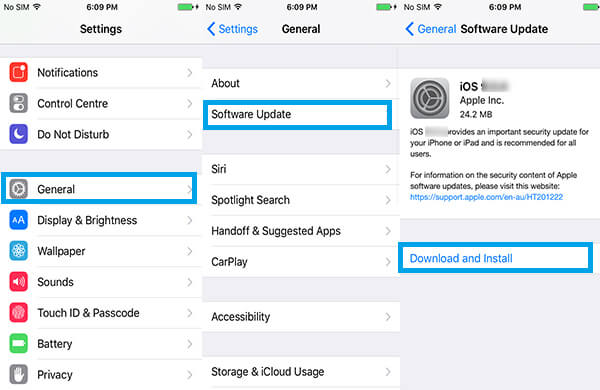 Step 1 Connect your iPhone to a fast Wi-Fi network.
Step 2 Navigate to "Settings" > "General" > "Software Update".
Step 3 Check the available iOS update and tap on "Install Now" to download it.
Step 4 Follow the onscreen instruction to finish software update. Then you can try Bluetooth connection again.
Solution 6: Reset all settings
The feature of reset all settings will wipe all personal setting from your iPhone. This way could solve iPhone Bluetooth stop working problem caused by settings conflict.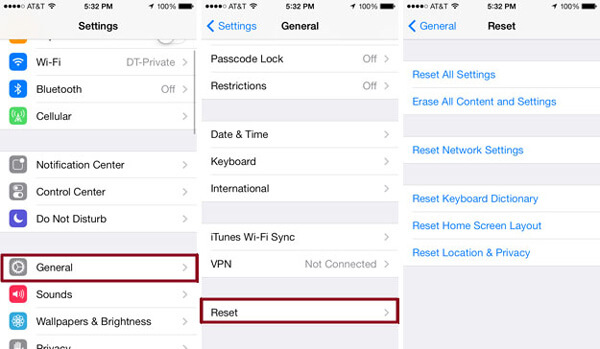 Step 1Open the "Settings" app and go to "General" > "Reset".
Step 2 Choose "Reset all settings" option on the list.
Step 3 Enter your password and press "Reset all settings" to start resetting factory defaults.
Solution 7: Factory reset
If the solution above does not work, you can try erasing all settings and restoring factory defaults.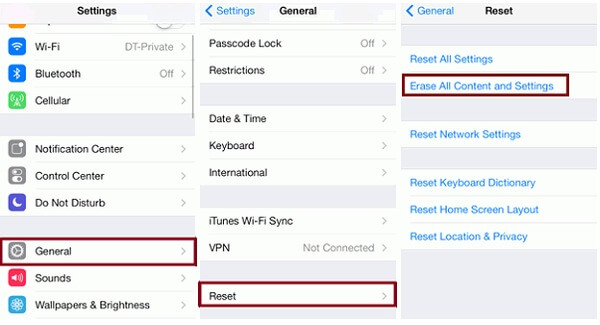 Step 1 Go to "Settings" > "General" > "Reset and choose Erase all content and settings".
Tip: This way will wipe all personal data and settings from your iPhone, so you'd better backup your phone first.
Step 2 Input your password and tap on Erase iPhone again.
Step 3 When it is done, you can set it up as a new device.
Solution 8: DFU restore
Device firmware update could fix various issues of iDevices, including iPhone Bluetooth not working. Before that, you should backup your iPhone to iCloud or iTunes.
Step 1 Connect your iPhone to your computer via USB cord and launch iTunes.
Step 2 Hold down both the "Power" and "Home" buttons for a few seconds. Then release the Power key and keep pressing the Home button until iTunes detects your phone in recovery mode.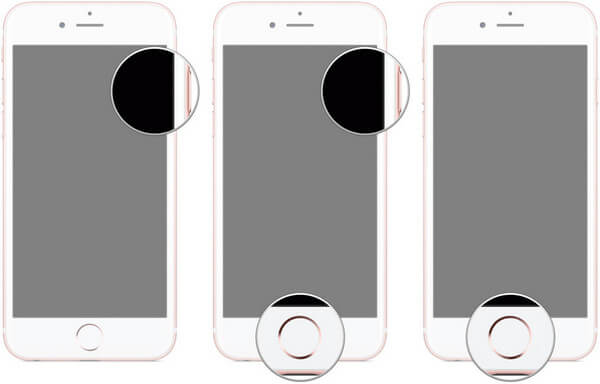 Step 3 Then click on "Restore iPhone" and follow the onscreen instruction to complete firmware update
Step 4 After restore, you can try pairing Bluetooth accessory again.
Solution 9: Apple Support
If you have tried solutions above and iPhone Bluetooth still not working, you have to contact Apple technical support or visit the nearest Apple store. iPhone normally has a one-year limited warranty and 90 days of technical support by telephone calls for free.
Part 2. Ultimate way to fix iPhone Bluetooth not working
Another way to fix iPhone Bluetooth is to use a professional third party tool, like iOS System Recovery, especially when iPhone Bluetooth stop working or iPhone is frozen for some reasons. Moreover, iOS System Recovery simplify the process of iPhone repair. Its key features include:
1. iOS System Recovery is a security way to repair iPhone bugs and errors since it uses USB connection and works without internet.
2. It offers multiple modes to repair and iPhone under different situations, including recovery mode, DFU mode and more.
3. You do not need to worry about compatibility problem when your upgrade your iPhone, because it supports all iPhone models.
4. And this iPhone recovery tool is compatible both Windows and Mac OS X.
5. More importantly, it is able to help you get rid of various iPhone bugs in one click.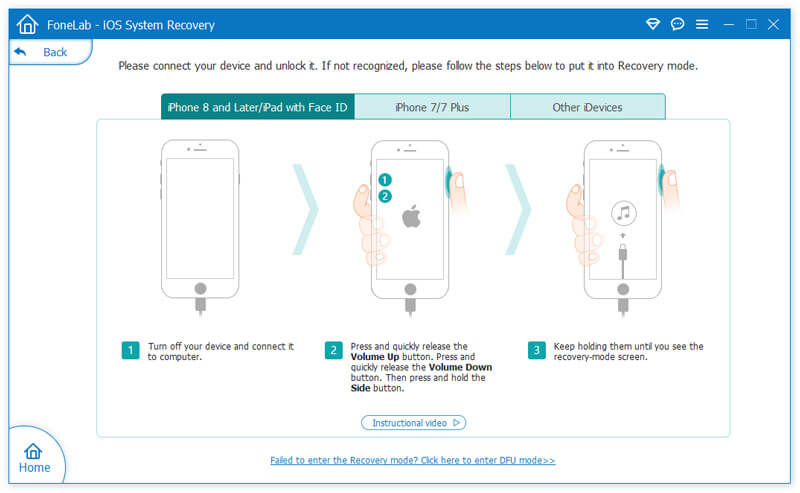 You can watch the video to learn more about iOS System Recovery: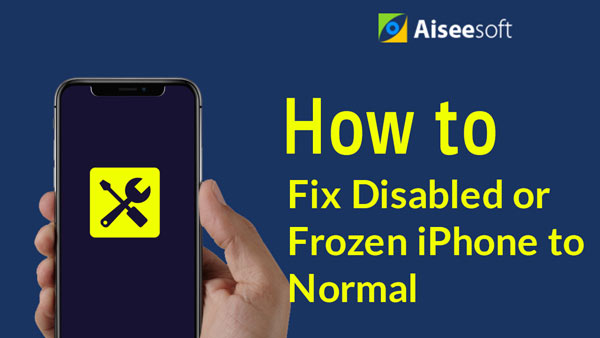 You may need: How to fix bluetooth not working on Mac.
In this tutorial, we have discussed how to fix the problem of iPhone Bluetooth not working in details. According to our research, there are ten solutions to repair iPhone Bluetooth. If you suffered some problems of Bluetooth connection between your iPhone and other gadget, you can try these solutions. As you can see, it is not simple to fix the high technology device, iPhone. So, we recommend an Ultimate way, iOS System Recovery, to help you repair your iPhone easily and quickly. It may help you get rid of iPhone Bluetooth not working with one click, so even beginners could use it easily.