How to Fix iPhone Camera Not Working
How to fix iPhone camera not working?
iPhone is not only the tool to communicate with people, but also an easy-to-take digital camera to record everything in high resolution. You can take a photo within 10 seconds by running iPhone, opening camera roll and hit the shoot icon. Though iPhone has been the top choice among the worldwide market of smart phones, there are still many iPhone camera not working issues.
No matter whether you use the earlier version like iPhone 5/5s, or the new iPhone X/8, iPhone camera problems are common. So this article aims to explain how to fix iPhone camera not working issues in detail.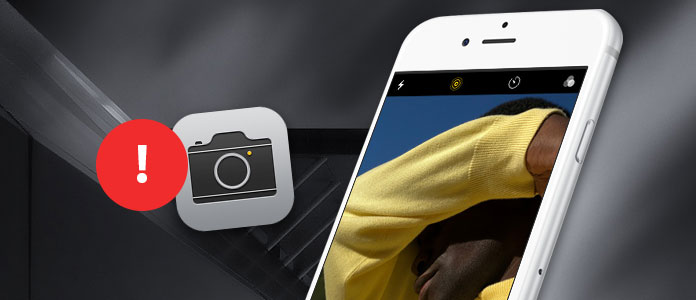 iPhone Camera Not Working
Part 1: iPhone Front/Rear Camera Freezes or Shows Black Screen
To take selfies with friends, using the iPhone front camera is the frequent choice. And if you wanna take photos of the starry sky, the iPhone rear camera can work better. Here are some simple but useful solutions to fix the iPhone camera not working.
Solution 1: Close Camera APP and Restart
Just press the home screen and return to home screen is not the correct method to close camera app. You need to double tap the home screen until the App Switcher appears. All the running applications on your iPhone have displayed. Swipe the Camera app to force close it. Later, go back to your home screen to open Camera app again. Check whether your iPhone camera can work or not.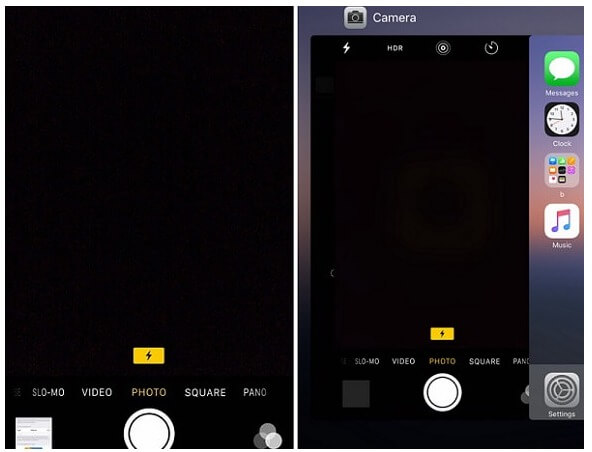 Solution 2: Reset iPhone Settings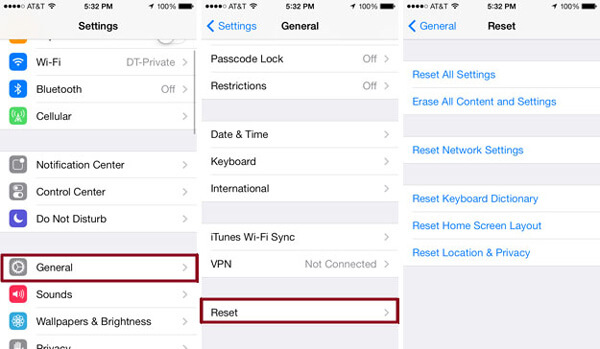 You can reset iPhone settings to remove the previous iPhone preferences of camera shootings. Your taken photos will not be deleted. Find "Settings" to find "General", hit "Reset" and select "Reset All Settings" to see the iPhone camera not working problem can be solved or not.
Solution 3: Force Restart Your iPhone
It should be the versatile solution for issues occurred from all digital devices. Press and hold the home button and the power button until the Apple logo appears. (For users who use iPhone 7/7 Plus, iPhone 8/8 Plus, iPhone X, press volume down and power buttons instead.)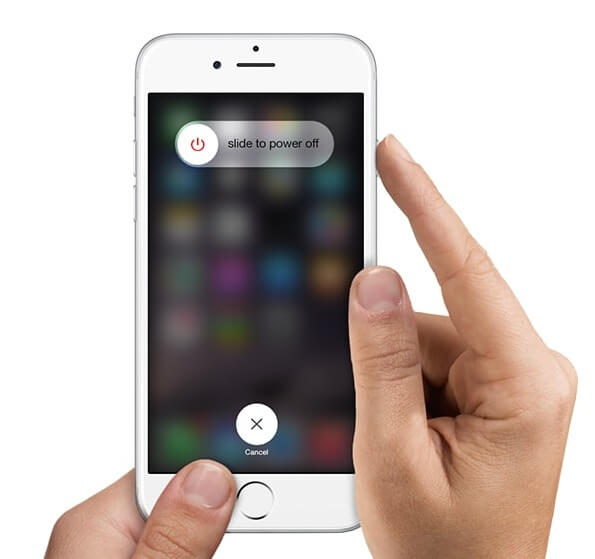 Solution 4: Factory Reset iPhone
Think twice before iPhone factory reset and backup your iPhone in advance. All your iOS data will be removed totally. Click "Settings", "General", "Reset" and "Erase All Content and Settings" button in order.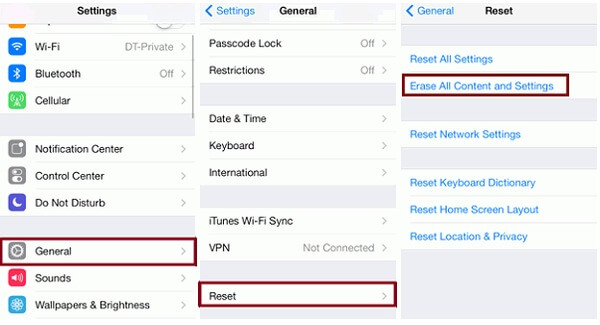 Part 2: iPhone Keeps Displaying 'Cannot Take Photo' Error
Sometimes the notification occurs of 'Cannot Take Photo' when you open Camera app. It is mainly because there is no enough available storage to shoot and save photos.
Solution 1: Clean Unnecessary Files and Free Up iPhone Storage
If you free up iOS storage space regularly, you can get rid of many other potential problems. Open "Settings" to get "General". Click "Storage & iCloud Usage" and then choose "Manage Storage" to check the used and available iPhone storage space. Later, free up iPhone manually to make space for Camera app.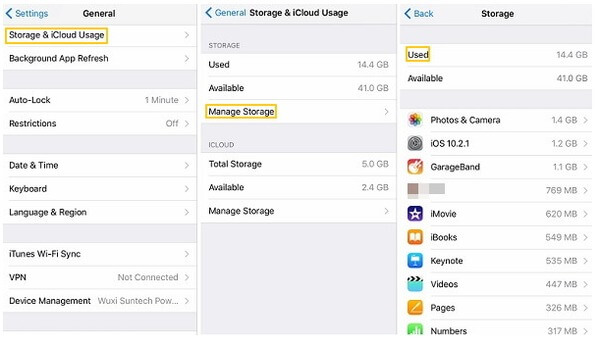 Solution 2: Use the Third-Party APP to Take Photos
Or you can install a new application to take photos with instead of the default Camera app, like Instagram, VSCO and etc. it may fix iPhone camera not working for a while. But if the cause is the shortage of iPhone storage, then you should free up enough space to make Camera app work fluently.
Part 3: iPhone Camera Flash Not Working
The flashlight plays an important role during photo taking in the dim night. So you are not able to shoot pictures of nightmares if the iPhone camera flashlight not working.
Solution 1: Repeat Tapping on Flashlight Icon
Open iPhone Camera app and tap the flashlight icon for more times to make sure you have turn on the flashlight button.
Solution 2: Test LED Flash
Swipe up to access Control Center, and then tap the flashlight to see whether the LED light is on. If flashlight is not on, then you can clean the Flash Len or other operations to remove the coverings on the lens.
Solution 3: iPhone Overheating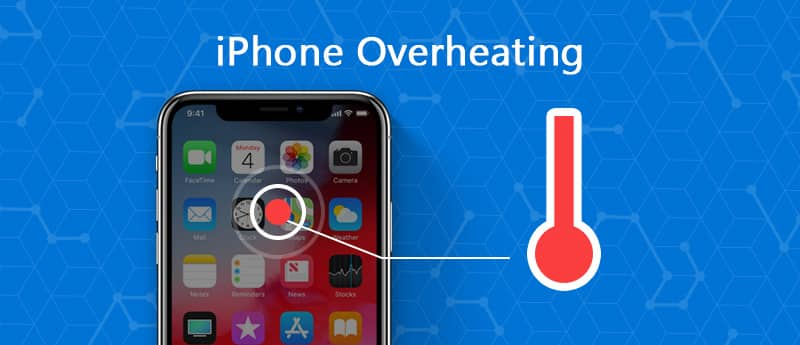 If you use the iPhone to take videos with the flash on for a long time, or the iPhone just get too overheated, then the iOS device will be unable to work until your iPhone cools down.
Solution 4: Disable Location Service
Choose "Settings" and get "Privacy", find "Location Service". choose "Never" from "Camera" to disable location services.
Solution 5: Restart iPhone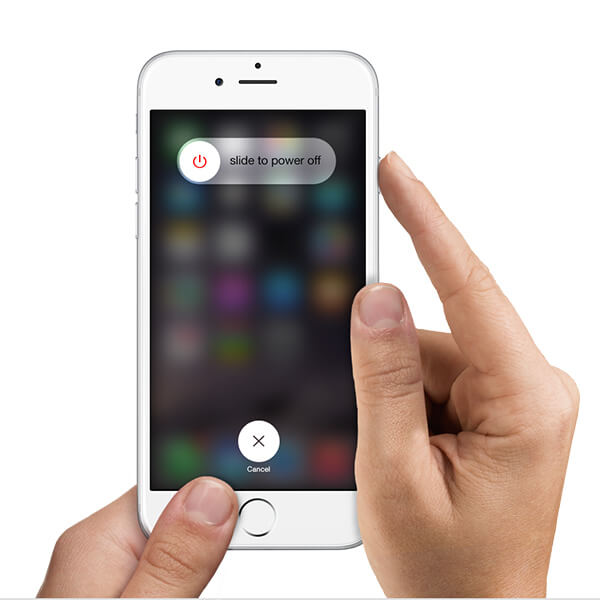 You need to press the power and the home buttons together to restart iPhone to fix non-working camera app. (For iPhone 7/7 Plus users, long press power and volume down buttons until the Apple logo appears.)
Part 4: iPhone Camera Won't Focus
The iPhone rear camera fails to focus and outputs blurry photos. To fix iPhone Camera not focusing issue, you can operate with following solutions to fix iPhone camera not working.
Solution 1: Restart Camera APP
Quit the Camera app if the iPhone got black image appeared, or the screen shows a closed lens. Quick press the home button twice, access Camera application from recently used apps and swipe up to close. Later, restart iPhone camera to check.
Solution 2: Get Off The iPhone Case
Check whether the back camera lens is scratched. If it is physical damages and cannot be fixed manually, you have to send the repair service to get the lens replacement. Or you can wipe with toothpaste in one direction tor remove scratches.
Solution 3: Press and Hold The Camera Button
You can press and hold the camera button until the photo becomes clear during shooting. The iPhone may take a while to detect the focus of the photo automatically.
Solution 4: Lock The Auto Focus
Sometimes you just wanna set different focus to get pictures with specific photo effects. Then you can turn off auto focus and tap the focus on the photo manually to set focus as well.
Solution 5: Restart iPhone
Turn off your iPhone ad then turn it on to fix small glitches, and which may be the main cause of iPhone camera not working. You should not forget this powerful solution no matter which digital issues you meet.
Solution 6: Factory Reset iPhone
It is the final method you take to enable iPhone Camera app work again. All your previous files will be removed, you'd better back up important iPhone files before. In spite of water damage and other bad damages, you can get iPhone camera not working fixed here.
iOS System Recovery
For Mac
Fix iPhone to normal state from DFU mode, recovery mode, Loop restart and etc.
Support all iOS devices to get professional iOS system recovery including iPhone X, iPhone 8, iPhone 7, iPhone 6s, iPhone 6s Plus, iPad Pro, iPod and more.
Easy to use interface and safe tools without data loss.
In this article, we mainly show you how to solve iPhone camera not working issue. If you have any other good solution, welcome to tell us.