Tutorial to Fix iPhone Touch Screen Not Working on iPhone X/8/7/6/6s
It is frustrating and challenging when iPhone touch screen not working or responding to touch. Today, we rely on our mobile phone to do almost everything, make phone calls, listen to music, watch movies, send text messages, chat with friends, monitor sports and so on. All these actions are on the touch screen and executed with touch feature. After iPhone 5 launched, iPhone touch screen not working became an issue, often reported by iPhone users. According to our research, iPhone touch screen problem arises due to LCD screen. Anyway, we are going to talk about what factors cause this problem and how to fix it in this post.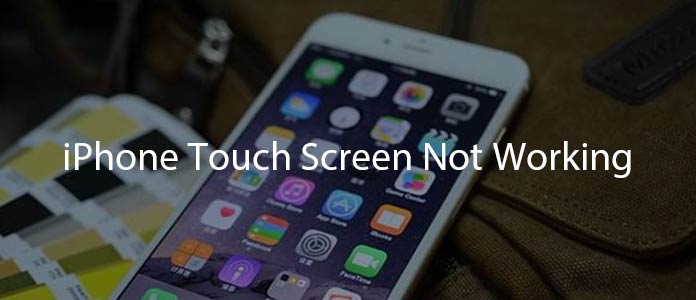 iPhone Touch Screen not Working
Why iPhone touch screen is not working
We have tested various iPhone models and discovered that there are several factors could cause iPhone touch screen not working.
1. Too many apps running at the same time causing mobile phone overheating. When you open an app and switch to another, the former is not close, still running in background. Then there are many apps in background using your traffic and CPU. Your iPhone will have no resource to respond to new command.
2. Screen or fingers are wet. Dry skin or callouses do not matter and not cause any problem with iPhone touch screen, but wet hands could lead to issues.
3. Screen protector. To protect iPhone screen, many people attach a screen protector on iPhone. If the screen protector is too old or littered with scratch, you will need to change it.
4. Faulty touch screen control. All gestures are detected by touch screen control and then send to CPU. If there is something wrong in touch screen control, you will face iPhone touch screen not working.
5. Touch screen damaged. When a touch screen is broken or smashed, it will be unresponsive.
6. System problems. Many system problems could result in touch screen not respond, like system outdated and more.
Common ways to fix iPhone touch screen not working
For the factors above, there are several ways to solve the problem of iPhone touch screen not working.
Way 1: Keep your hands and screen clean
Before you try the further troubleshooting techniques, you should test your phone microphone with Siri, voice memo and FaceTime first.
It is important to clean up your touch screen and hands. Keep your fingers clean and dry while using your phone. And clean up your touch screen with a soft cloth regularly.
Way 2: Close background apps and cool down your phone
Cache, website data, cookies, documents and apps data continue to seize iPhone resources. That not only slows down your iPhone but also creates various problems, including iPhone overheating and touch screen freezing.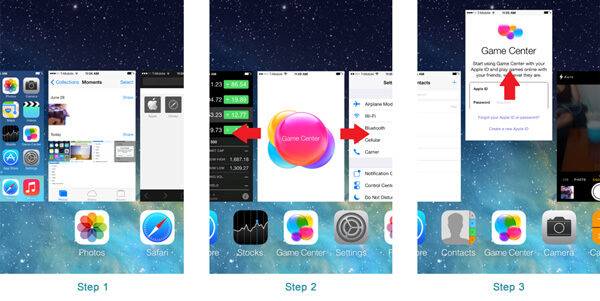 To close background apps, you can double touch the "Home" button to go to the multi-tasking view. Then swipe upward the screenshot of each app you want to close.
Way 3: Check touch screen control and adjust 3D Touch Sensitivity
Each iPhone has both primary and secondary touch screen control ICs. Check and make sure they are working as usual. To adjust iPhone 3D Touch Sensitivity, you can go to "Settings" > "General" > "Accessibility" > "3D Touch" and move the slider to select an appropriate sensitivity level.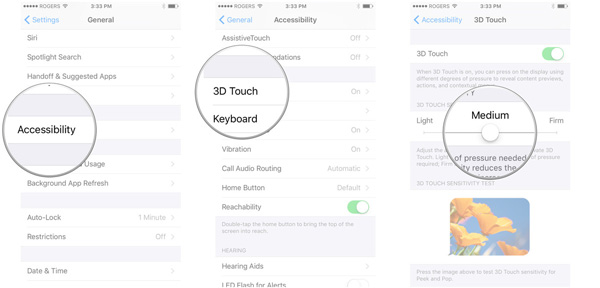 Way 4: Restart iPhone
Restarting iPhone is a useful action to solve various iPhone problems, like iPhone touch screen not working. It will help your iPhone get rid of app congestion and device overheating quickly.
Step 1 Press Sleep/Wake button until you see the power off screen. Swipe the slider to right and power off your iPhone.
Step 2 After the screen became black totally, wait for a while. Then press the Sleep/Wake button again until Apple logo shows up.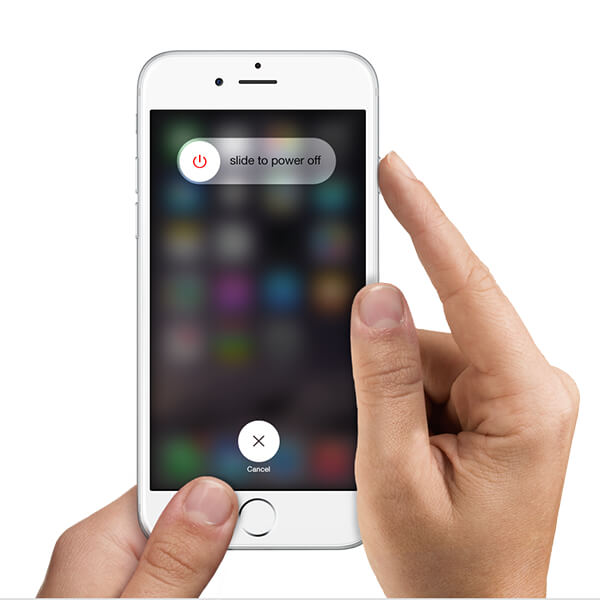 Way 5: Reset iPhone settings
If the solutions above do not working on your phone, you can try to reset iPhone settings to get rid of iPhone touch screen not working or respond slowly.
Step 1 Go to "Settings" > "General" > "Reset" and touch the "Reset All Settings" option.
Step 2 When confirmation message prompted, touch Reset to start restoring factory settings on your phone.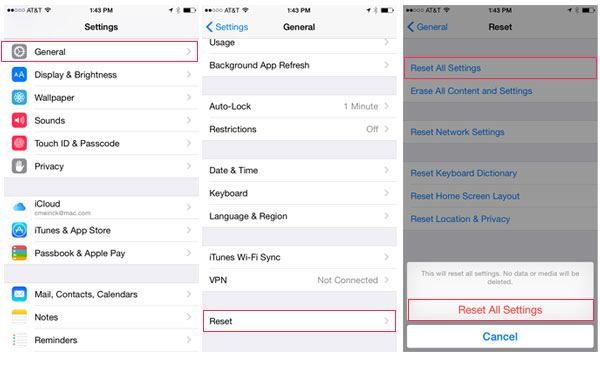 Ultimate way to fix iPhone touch screen not working
As you can see, there are several ways to fix iPhone touch screen not working. And when you do not know what factors cause touch screen freezing, you have to try these solutions one by one. At this time, you may want to get a smart way to solve iPhone screen problem. FoneLab iOS System Recovery could meet your demands. Its key features include:
1. It has the ability to fix iPhone touch screen freezing in one click.
2. Though you do not know what causes iPhone touch screen issue, the program could diagnose system and software problems automatically.
3. This iPhone toolkit works on all iPhone models running iOS 12/11/10/9 and earlier.
4. You can decide to repair your iPhone software problems under recovery mode or DEU mode based on your situations.
5. It is compatible with Windows and Mac OS X.
How to fix iPhone touch screen not working with iOS System Recovery
Step 1 Install iPhone touch screen fix tool to your PC
Download and install the latest version of FoneLab to your PC. Connect your iPhone to your PC with a USB cord. On program's preview window, choose iOS System Recovery tool.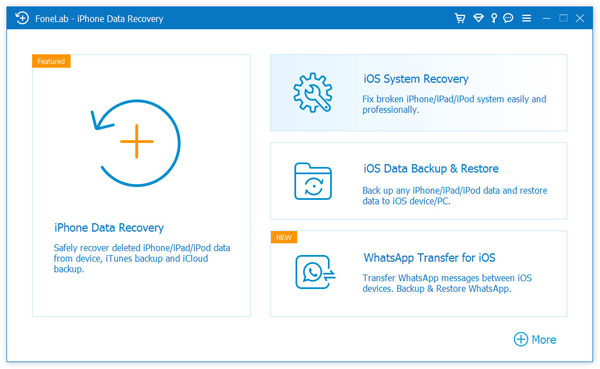 Tip: If you use Mac, you should install FoneLab for Mac.
Step 2 Scan your phone to discover the system problem
Then click on the Start button to scan your entire phone. When the result prompted, hit the Confirm button to diagnose what system problem cause iPhone touch screen stops working.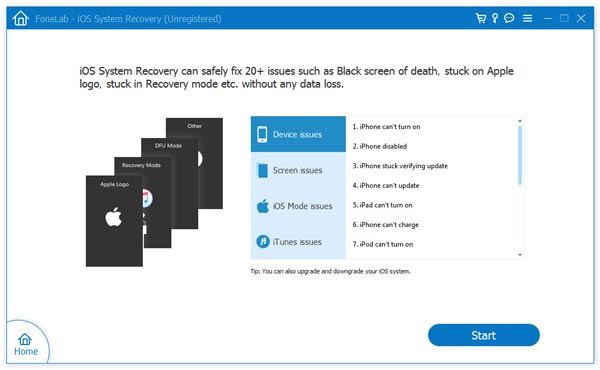 Step 3 Fix iPhone touch screen problem in one click
After diagnosis, you only need to click on the Repair button. Then the program will fix your iPhone touch screen problem automatically.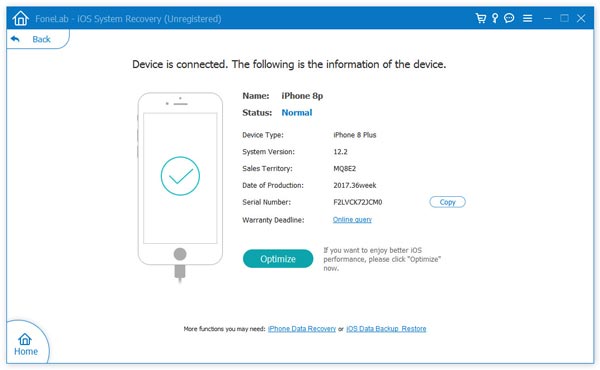 Step 4 Download firmware and fix
Then the firmware will soon be downloading. Quickly, your iPhone touch screen issue will be solved with iOS System Recovery.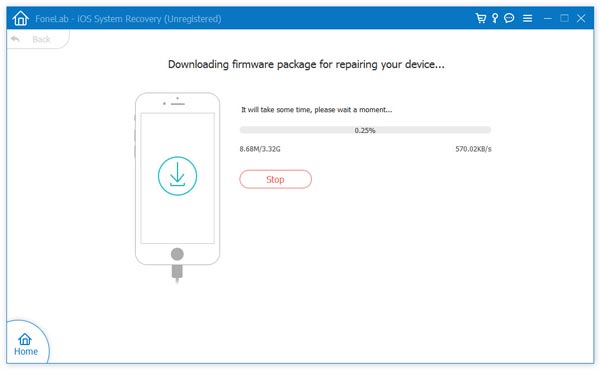 You can watch the video to learn more about iOS System Recovery:
Conclusion
In this article, we have discussed how to fix iPhone touch screen not working. Apparently, when this problem happens, nothing happens even though you touch the screen, swipes will be ignored, taps do not do anything. The nonworking touch screen problem could be caused by several factors. Some are related to software, others are involved with damages to screen and other hardware. We have shared a helpful series of troubleshooting solutions above. You can try them one by one. Or if you need an easier way, we recommend FoneLab iOS System Recovery. It could help you fix iPhone touch screen not working in one click.