How to Enlarge GIF Without Losing Quality with Best GIF Enhancers
You may have GIFs that you wish to upload online but are too small to notice. They are primarily present on social media platforms to deliver funny messages or "memes." No worries, you can resize your GIFs to improve and enhance their quality. It is only considered persuasive and funny when the quality is excellent.
This tutorial blog will give you everything you need to know, especially how to enlarge your GIFs. To help you, we researched the best GIF enlargers you can use. Learn further by reading below.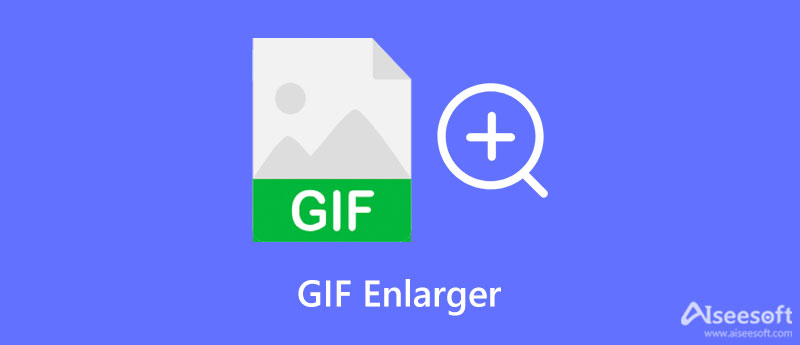 Part 1. Why You Need to Enlarge a GIF
There are many factors why you need to enlarge a GIF. In fact, most GIFs have low quality synonymously. However, that does not mean that it should be so bad that elements in it cannot be recognized anymore. That said, here are factors you may need to consider why GIFs are of low quality.
One is that GIFs may be corrupted due to the transferring process where the device is infected with a virus. Another is there are just way more colors in the GIF to handle. As a result, the GIF becomes low in quality. Due to these reasons, you may need to enlarge a GIF to improve and enhance its quality.
Part 2. Is There any Way to Enlarge a GIF Without Losing Quality
If you are looking for ways to enlarge your GIF files, you may consider the programs we will introduce below.
1. Ezgif
Another web-based application that enables you to enlarge GIFs is Ezgif. Apart from enlarging, you can also use the program to directly create and edit GIF files from the web page. Using this tool, users may change the image width and height by entering values. Alternatively, you can do this operation in percentage. There are available cropping options to suit your needs. You can employ center and crop to fit, stretch to fit, and force the original aspect ratio. In other words, the program has a lot to offer. If you wish to learn further about this tool and enlarge animated GIFs, follow the walkthrough below.
Step 1:
Go to the site of EZGIF with a browser you commonly use. From the main page, select
GIF Resizer
, and you will arrive at the upload page.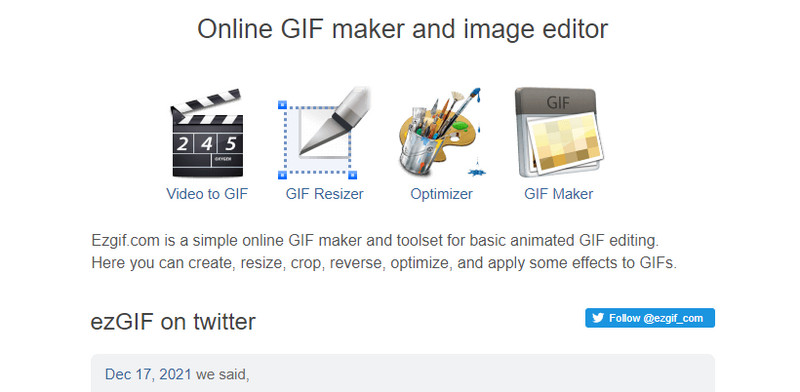 Step 2:
On the next page, hit the
Choose File
button and upload your target GIF file. After that, hit the
Upload
button.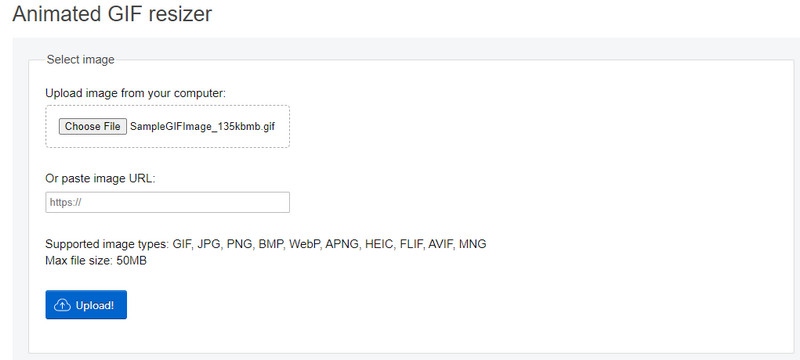 Step 3:
Now, enter the new dimension or percentage. You can also select the resize method depending on your needs. Next, tick on the
Resize image
! button.
Step 4:
Finally, click the
save
button to accept the changes and download the output.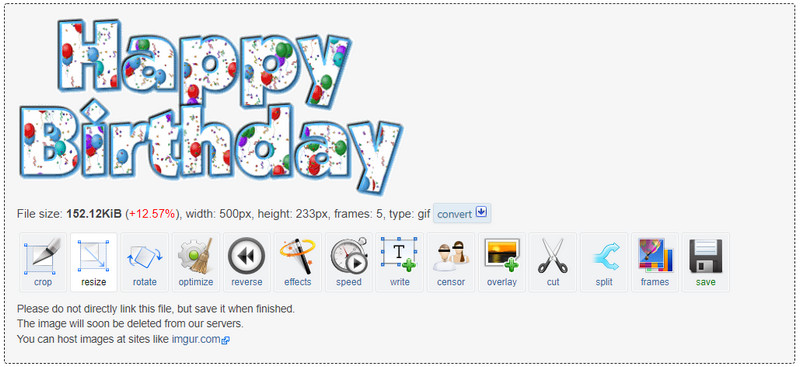 2. Photoshop
Photoshop is the most renowned photo editing tool developed by Adobe Systems. It comes with powerful functionalities, especially for editing and enhancing photos. This program enables you to improve the image quality by adjusting the colors, basic effects, filters, and other elements. On the other hand, you may do as follow to enlarge a GIF without losing quality.
Step 1:
Launch the Photoshop app on your computer and upload a GIF you wish to enlarge.
Step 2:
Once you get to the editing interface, go to
Image > Image Size
. Then, a dialog box will appear.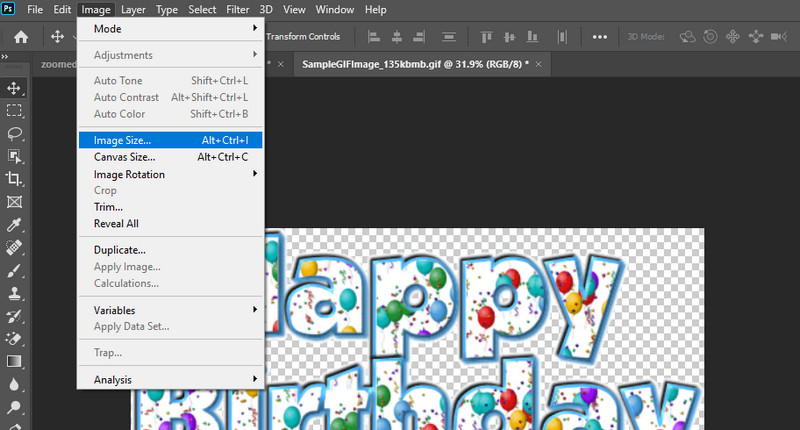 Step 3:
Next, change the image dimension by entering values for
Width
and
Height
. For the resolution, you can set it to
300
. Then, make sure to select
Preserve Details
for the
Resample
option. Hit
OK
to accept the changes.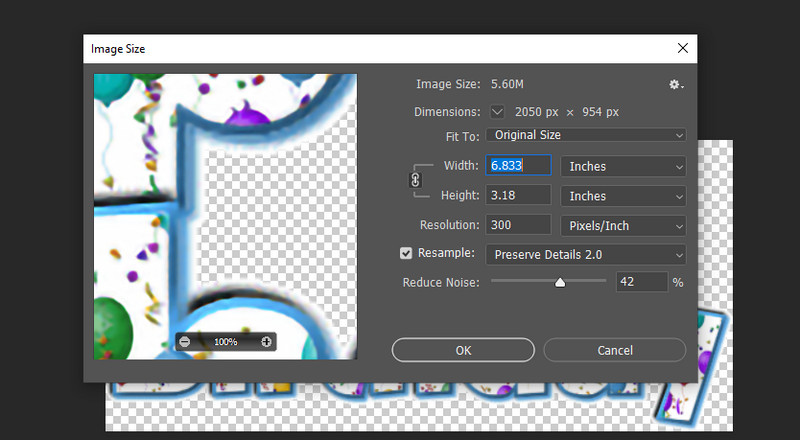 Step 4:
Lastly, save the editing GIF by going to
File > Save As
. Then, select a location where you wish to save it.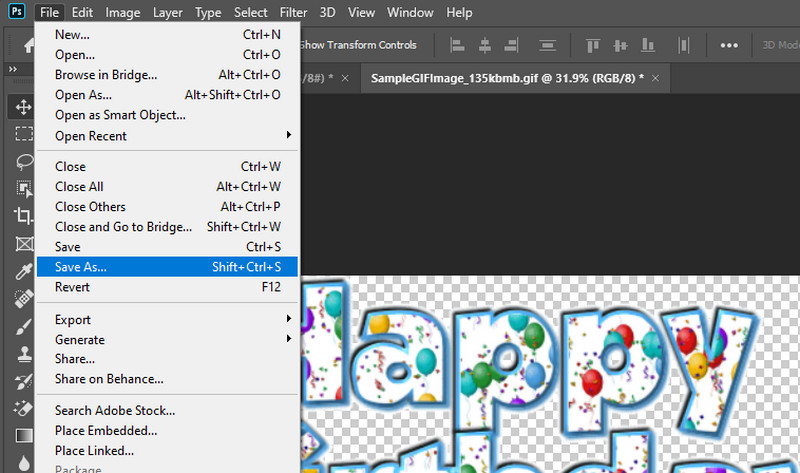 Part 3. Best Image Upscaler for JPG/PNG/BMP
From the name itself, Aiseesoft Image Upscaler Online is a browser-based program that enables you to upscale images while keeping the animation and quality. It is equipped with an AI technology that helps recover the lost pixels, textures, and colors caused by different factors. The tool is 100% free, and there is no need for you to download anything on your device to enlarge your images. This program can also help you enlarge photos up to 800% for a better experience. It can give you four results, allowing you to choose between 200%, 400%, 600%, and 800% with quality perfectly preserved.
Key Features:
Best for printed and web images.
Give four image enlargement results: 2X, 4X, 6X, and 8X.
The program is equipped with artificial intelligence technology.
It offers a preview of the before and after results.
Various image formats are supported, including JPEG, PNG, BMP, etc.
Part 4. FAQs About Enlarging a GIF
Can I make the GIF bigger?
Yes. Enlarging GIFs is possible. However, resizing a photo like a GIF to a large size could affect the quality, making it look blurry. Hence, you need to find a photo resizer that will allow you to enlarge GIFs while keeping the quality.
Is it possible to edit my GIF?
Yes. You can edit any GIF using GIPHY and EZGIF. There are also mobile apps available on your app store.
Can I resize a photo on Mac?
Yes. Mac comes with an inbuilt photo viewer named Preview. Besides, it could help you resize images quickly and easily.
Conclusion
This post offers the best GIF enlargers to help you improve the overall look of your GIFs and quality. Bonus, there is an efficient solution you could use to enlarge photos while keeping them high quality. Examine each program and see which works for you best.

Leave your comment and join our discussion