Top 5 Video Capture Alternatives to Fraps
I like to play games and want to record gameplay on PC to share on YouTube. I download Fraps to prepare to capture the game screen. But when I launch Fraps, I find no button or options that let me start to record video game screen. Did I miss something?
Fraps is one of my favorite screen recording software, but there is one problem that I cannot pause to record streaming video. That is really a trouble. Are there any Fraps alternatives to help me record online videos?

We cannot let time go back, but we can playback it by recording. Video capture is the great way to relive the past and share your creativity to your families, friends, or others. As game players, you are familiar with Fraps, a game recorder to record games. As movie goers, you may download Fraps with full version to record free videos. However, as some of you, Fraps is the emptiness of your head. What is Fraps? Keep reading to get it.
Fraps
Fraps, short of frames per second, is a benchmarking, screen capture and screen recording utility for Windows. It can capture from software that uses DirectX and OpenGL, such as PC games. In this article, we will talk about its features as a screen recorder. Login www.fraps.com to download the safe video recorder to your PC, install and run Fraps in your Windows computer (It does not support Mac version presently).
The simple interface enables you to make settings easily before recording desktop with Fraps. You can adjust FPS with Benchmarking hotkeys and settings. Before you capture videos, you can make settings in your movies menu. In its limited 30 seconds' free trial, you are able to take screenshots with default BMP format. If Fraps does not record any video, then you can click its help service to get the Frap tutorial. Frap is proprietary and commercial software with $37. It is good use in helping record realtime. You can throw away VCR, forget DV camera, and pay attention to recording a 1080p HD video, even 8K video.
But you can hear the complaints from Fraps users. Some new fresh hands think Fraps is not easy to operate, because they do not find where to find the start button. Some complain that the recording file size is big. When recording a gameplay, the recorded single video game is up to 3.95G. And still some think they do not want to record the whole movie, but some clips, however, there is no pausing button to help them. Also some may think the recorded AVI video is not compatible with the player, and they have to turn to Fraps video converter to get the ideal MP4 video. Such complaints from users may push you to find Fraps alternatives to record your video. In the following description, we will share five top alternatives to Fraps for helping you record videos.
Top five alternatives to Fraps
Bandicam
Bandicam is an alternative to Fraps. Bandicam is PC screen & game recorder software developed by South Korean software company Bandisoft. It can capture real-time game and streaming videos with the DirectX/OpenGL window mode like Fraps. Surely, you can choose a rectangle on a screen to record a certain area video. During its free of charge version, you can download and record videos with limited 10 minutes in length. But you will find the watermark in its unregistered version. Bandicam can record video at resolutions up to 2560 × 1600 in size.
The recorded video is saved in AVI format, and the screenshots support PNG, JPEG, and BMP savings in your Windows computer. At this point you can use Bandicam as an alternative to Fraps. But it has some disadvantages in recording.
The recording system audio quality is low, and you are not capable of recording your voice by microphone. And there is no editing tool for you to edit the recorded videos. You have to download other software to edit or convert your Bandicam videos.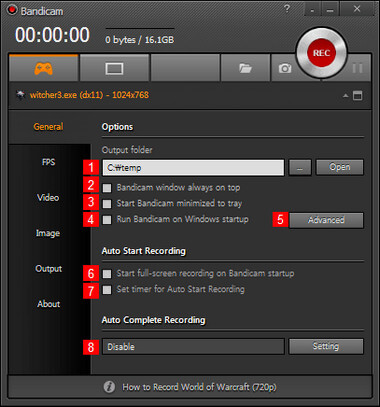 HyperCam
HyperCam is a screencasting program made and created by Hyperionics and Solveig Multimedia. The latest version enables you to capture overlay videos and re-record movies and video clips in your Windows computer. For example, you are allowed to record videos playing in Windows Media Player, RealVideo, QuickTime, etc. In its unregistered version of HyperCam 2 and HyperCam 3, you could free download it to record videos with watermark on your recorded video.
And if you want to eliminate the watermark, you need to pay $39.95. HyperCam creates the recorded video in AVI, ASF or WMV. More than a Fraps alternative, you are able to trim and merge the recorded video files with its built-in editor. Moreover, you are able to set screen area freely. Such two advantages make it superior to Fraps.
It is easy to set hotkeys, sound and other options. Hyperionics has now made HyperCam 2 a permanent free download, but some users complain about the plugs-in ads in this version. And the audio is recorded automatically if a microphone is connected to the PC. If you want to record system audio only, then you will fail to do that.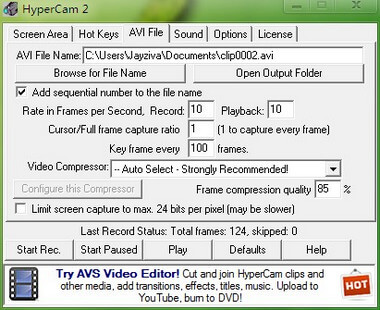 Screencast-O-Matic
Screencast-O-Matic is a video recorder without any installation. You just visit its site, screencast-o-matic.com, and start to record online videos in your enabled java browser. That is the easiest way to record videos. If it fails to record videos in your browser, you are able to download this app in your Mac or Windows computer and record videos up to 15 minutes.
After recording the videos, Screencast-O-Matic provides you an option to upload the recorded videos to YouTube selectively and safely. If you need the details, you can visit its site to follow the tutorial. At this point, Screencast-O-Matic is an alternative to Fraps to help you record videos.
But Screencast-O-Matic also has its disadvantages. When you record video, you must connect the internet. Otherwise, you will fail to record videos. And If you want to record sound from microphone, you have to get the Pro recorder on your Windows Vista or later. With limited features in its free trial, you will get pretty awesome functions for $15/year. Not satisfied? Just find Screencast-O-Matic alternative.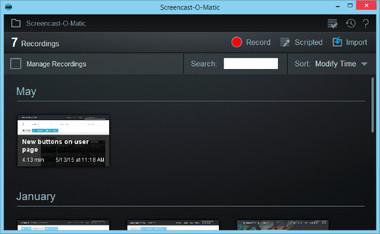 BSR Screen Recorder
BSR Screen Recorder is the software to capture video, sound and pictures of anything showing in your screen. It enables you to record online meeting, favorite games, and videos.
It also makes you record audio from the computer system and microphone. Featured 2D and 3D zooming recoding, it saves your recorded videos in the format of AVI, WMV and SWF. You can get a free downloading on your Windows computer, and pay $49.95 to get one user license.
If you want to edit your captured video frame by frame, then you have to pay more money to purchase BSR Movie Lab. This software is able to capture screenshots and save them in JPG, PNG or BMP format. And if you like, you could record system audio only to save music from live radio. By now, it is a good choice as a Fraps alternative. But the high price is the most unacceptable one for users.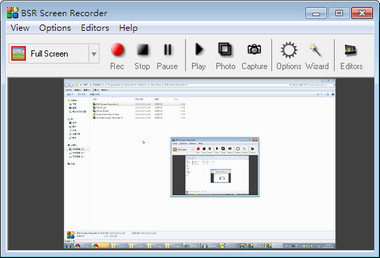 Aiseesoft Screen Recorder
Aiseesoft Screen Recorder is a professional video recorder to record your desktop. It enables you to record any videos showing in your screen for achieving the goal of "downloading" Twitch online videos. Also, you could choose to record audio from system or microphone optionally.
Aiseesoft Screen Recorder
Aiseesoft Screen Recorder is professional screen capture software which can capture online videos, games, podcast, webinars, lectures, presentations, Skype calls, online conference, webcam videos, etc. in full screen or customized screen size with ease.
Record game for sharing.
Screencast webcam videos.
Support capturing pictures from screen.
Record streaming audio, online audio, microphone voice with high sound quality.
For example, you can turn on both system and microphone audio to record Skype calls for a future preservation. Additionally, you could turn on system audio only to "download" Pandora music. Moreover, it makes you select recording area to customize your recording process. You can also use its full screen to record Diablo 3 Gameplay when you play it, which is more than a Fraps alternative.

If your Windows computer sets an HD higher resolution, then you are allowed to record an HD video, even 4K video. If you play Blu-ray movies, this video recorder app will also record a video with a Blu-ray effect. Most importantly, this program is safe enough to record your local videos or DVDs without internet connection. The recorded video is saved in WMV/MP4 format, which will take a smaller size file than Fraps with AVI.
Before your record a video, you are capable of making setting changes according to your preferences. One disadvantage is that, this software disables you to edit videos. So you need to download a video converter to convert WMV to MP4 or other formats, even enhance video quality. And its price is costing with $27.30.

Screen recorder does a great favor to help you playback live videos or "download" music from some sites that do not supporting downloading. Choose the best one to get an alternative to Fraps according to your needs.
You may want to know: How to record audio or video on Chromebook.
You can learn the steps from the video below: