Best Screen Capture Software to Help You Record Windows/Mac Screen
Summary: Want to record video on Mac or PC? All you need is a screen capture. This post gathers some best screen recording tools to help you screen capture on Mac and Windows 10/8/7/XP computer.
Do you often have the need to record your computer screen?
Actually, in many cases, you will need to screen capture your PC or Mac. For instance, you may want to create a video tutorial to help using a program, record a video gameplay, or prepare a presentation.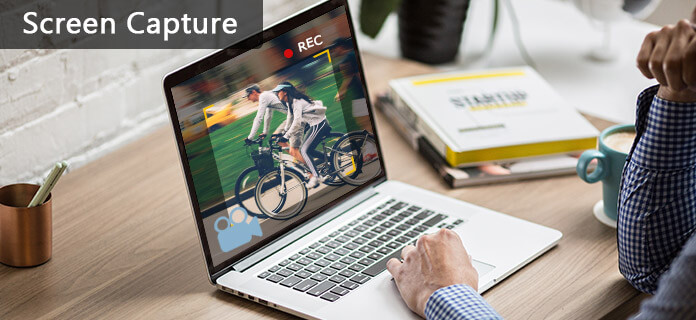 With screen capture software, you can handily record and share footage straight from your computer. What's more, recording is a good alternative way to downloading. It enables you to screen capture any activity on your PC/Mac.
We list some great screen recorder tools for you to choose from. Whether you want to screen capture on Mac or record video on Windows PC, you will find a suitable screen capture tool. Moreover, we also leave you clues to find Android and iPhone screen capture apps.
Screen Capture

Aiseesoft Screen Recorder is a professional screen capture tool to help you capture any image or sound on computer. This screen capture has the capability to keep exactly the original video quality. In addition, it allows you to record audio from system audio and microphone. So you won't lose any important sound. With this screen capture, you can grab online movies and radios, capture games, make video tutorials, record webcam videos, take screenshot, etc. on Windows 10/8/7 PC with ease. Moreover, you are allowed to capture screen.
Aiseesoft Screen Recorder
Aiseesoft Screen Recorder is professional screen capture software which can capture online videos, games, podcast, webinars, lectures, presentations, Skype calls, online conference, webcam videos, etc. in full screen or customized screen size with ease.
Record game for sharing.
Screencast webcam videos.
Support capturing pictures from screen.
Record streaming audio, online audio, microphone voice with high sound quality.

Learn how to screen capture on pc, you can check the following video.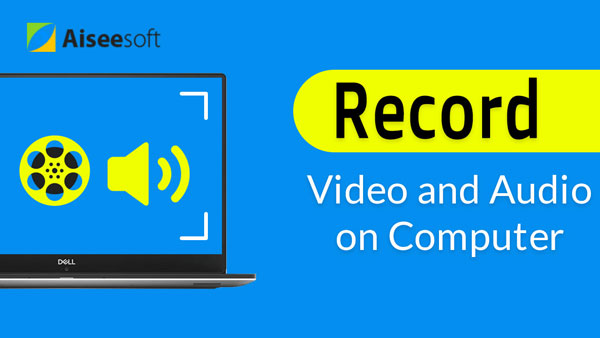 Screen capture software for Windows 10/8/7/XP
Besides the best screen capture software above, we will also introduce you with three free screen capturing apps for Windows 10/8/7/XP PC. When you need to screen capture video, you can pick any of them and start the video recording.
Apowersoft Free Screen Recorder
Free Online Screen Recorder is a very popular screen capture app which enables you to record a presentation, software demonstration or tutorial online. Though it seems like you can directly use this free screen capture without downloading and installing it, well, you are still required to download a launcher application for the full page screen capture.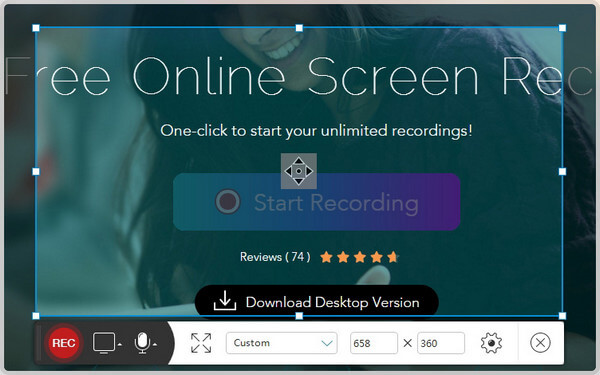 Pros: Free Online Screen Recorder is a freeware for you to make video screen capture. It works well on both Windows PC and Mac. It is equipped with a user-friendly interface. This free screen capture offers many output formats including MP4, WMV, AVI, MOV and more.
Cons: This free screen capture relies on internet to work. That means you can't use it offline. You need fluent internet access or Wi-Fi environment to record video screen and create your video tutorials. As a free screen recorder, it also has many limitations to push you upgrade to the paid version.
Screencast-O-Matic
Screencast-O-Matic is one of the most famous screen capture tools which can help users to record video screen. With it, you can capture your favorite videos and record Skype chats, movies, online meetings, gaming videos. It provides both online and offline versions for you to select from. Moreover, it works with both Windows and Mac OS X. So it is also a good Mac screen capture.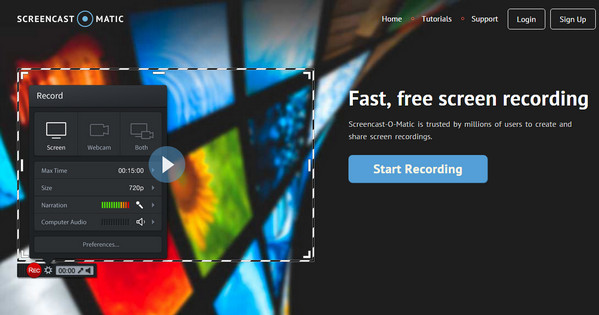 Pros: Screencast-O-Matic enables you to screen capture videos on computer easily. The feature of web-based makes it very convenient. Just like other screen capture software, it can keep and save any activity on your computer screen.
Cons: Even though Screencast-O-Matic can be used for free, the free edition comes bundled with a small watermark and a 15-minute recording cap. To get a better experience, you need to get the Pro subscription for $15 one year.
Jing screen capture
Jing screen capture is another popular video screen capture software which created by Techsmith. This free screen recorder can record anything displayed on the screen. Now Jing screen capture is named Snagit and designed with more features. It allows you to edit the recorded video and screenshots, share the captured video/picture to others quickly. But you need to get the paid version.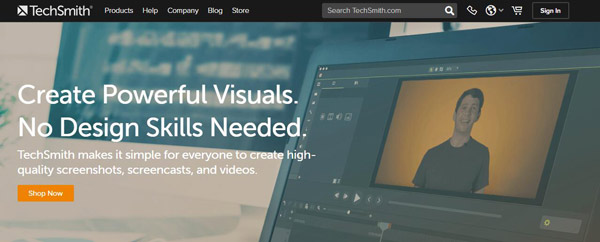 Pros: Jing screen capture enables you to capture video from screen. It is the only screen capture software with built-in advanced image editing and screen recording. So you can easily create high-quality images and videos all in one program.
Cons: You can't record for more than 5 minutes or annotate your videos. Jing screen capture only gives you the ability to add basic visual elements to your screencasting and share them fast. If you need more functions, you need to pay for the pro version.
Note: Wonder how to record videos on iPhone, iPad and Android device? You need to rely on Android/iPhone screen capture app.
How to screen capture on Mac
How to take a screenshot on your Mac? How to record videos on Mac? You can check the detailed steps below.
Screenshot on Mac
Press Command + Control + Shift + 4
Press Shift + Command (⌘) + 3
Free screen capture on Mac
Step 1Launch QuickTime Player on Mac.
Step 2Click File on the menu bar and choose New Screen Recording from the drop down list.

Step 3Click Red button to start capturing video from Mac screen.
Step 4Click Stop Recording or hit Command + Control +Escape to stop the screen recording.
When the video screen recording is finished, the captured video will be opened in QuickTime Player as "Screen Recording.mov". Then you can save it on Mac.
Mac screen capture (apps to record screen on Mac)
With the recommended screen capture software above, you can handily record screen on your Windows 10/8/7/XP computer. What if you are a Mac user? Is there any good Mac screen capture to finish the same job? In fact, some mentioned screen capturing apps above also have Mac version. Beyond that, we will suggest two more screen capture tools in this part.
Movavi Screen Recorder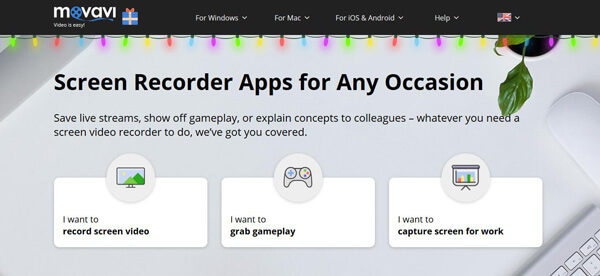 Want to save live streams, show off gameplay, or explain concepts to colleagues? Movavi Screen Recorder is a great option. It can help you screen capture videos on Mac. Movavi Screen Capture Studio provides both Mac and Windows versions. So besides a Mac screen recorder, it also allows Windows users to capture video from screen.
Movavi Screen Recorder enables you to screen capture pictures from video. But one thing you should is that, it is not a free screen capture. You have to pay for $59.95 for this software.
TineTake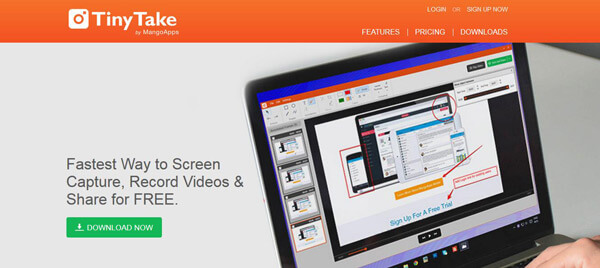 TinyTake is a free screen capture and video recording software for Mac and Windows PC. With it, you can capture images and videos from computer screen, edit and add comments on pictures, share them with others and more.
Even though TinyTake claims that it is a totally free screen capture, it is still not a free recorder as we thought. There are many limitations in this Mac screen capture tool. After all, you only get a free trial.
Screenflow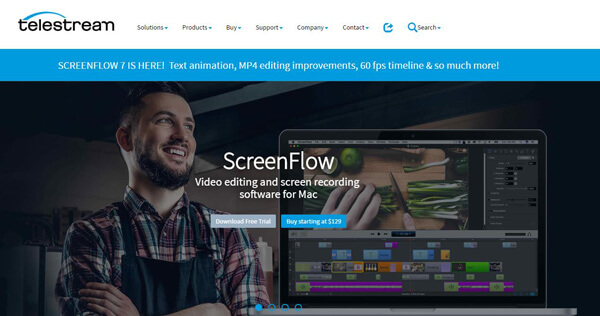 Screenflow is powerful screencast software which only applies to Mac OS X computer. It's fast and attractive with elegant interface. With its new technology, it can guarantee you a fluent and high-quality image recording. More than just a screen catcher, it provides some basic editing functions.
You have to admit that Screenflow is a good screen recorder. But, it charges high price for $99 for lifetime. Compared to other same kind of tools, Screenflow is no longer a good choice.
There also other video screen recording apps like ShareX, VLC Screen Capture and 3DS Screen Capture, you can download it and give a try.
We mainly talk about screen capture in this page. We list several screen capture tools for Windows PC and Mac. You can pick your preferred one to capture videos or images from screen. If you have any better recommendation, please leave us a message.