A Comprehensive Review Of FastStone Photo Resizer With Tutorial
When browsing the internet, you will find many photo resizers available. The thing is, not all of them work efficiently and deliver outstanding results, especially in resizing images. Moreover, some programs lack additional features. Now, if you are looking for popular and deliver efficient results, FastStone photo resizer should not leave your options.
This desktop program offers the necessary features and functions you will need for amending photo issues. Should you resize a photo using this tool? Yes! It is one of our recommended tools. Yet, there are some things you need to look out for from this tool. Get to know more about FastStone photo resizer by reading the following parts.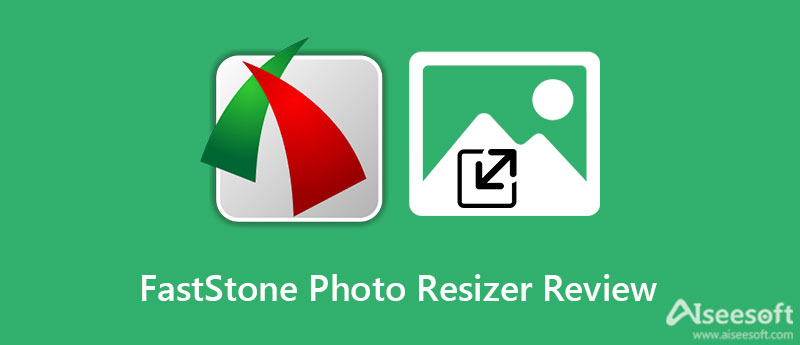 Part 1. Does FastStone Resize Photos?
If you are asking, does FastStone resize photos? Yes. FastStone comes with various apps for editing photos. It offers an image viewer, capture, max view, and photo resizer. Each program is fully functional and multipurpose. You can expect that it does what it says while offering great additional features for a complete user experience.
On the other hand, the FastStone Photo Resizer allows you to resize photos. In addition, you can use this tool to convert images to your desired image format. Aside from that, it also enables you to crop, change color depth, and add watermarks to the image. Over and above, it supports batch processing to save effort and time when dealing with multiple photos simultaneously.
Part 2. How to Resize Photos In FastStone
The FastStone photo resizer is a helpful tool, especially for changing the size of your photos. Additionally, it offers features like conversion, preview, and file renaming. Also, it supports multithreading, folder, and non-folder structure. The tool comes with a portable that you can carry around on a flash drive for easy migrating the files. Let us learn how to use the FastStone photo resizer by reading the simplified guidelines below.
Step 1:
Obtain the program from its official website. After getting the app's installer, install and launch it on your computer.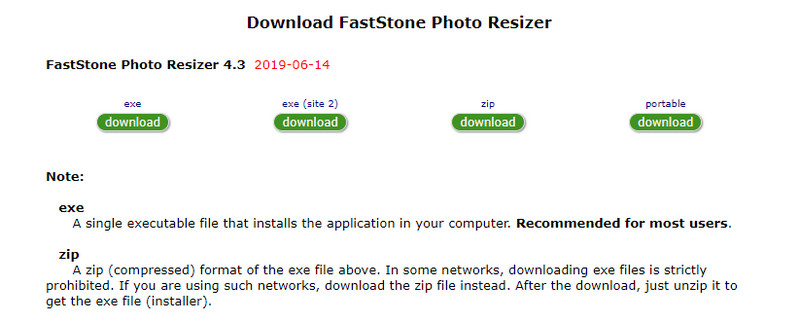 Step 2:
When the tool is launched, the main window should appear. From here, you will see the folders you can access from your computer. Now, browse and select your target photo to resize.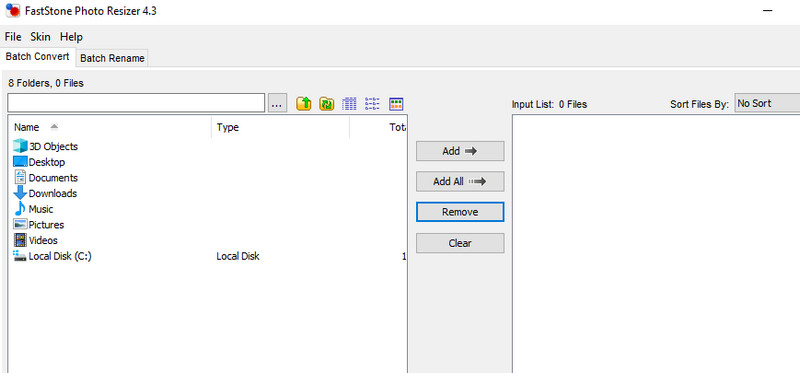 Step 3:
After selecting an image file, hit the
Add
button, and it will appear in the Input
ist
section on the right-side panel.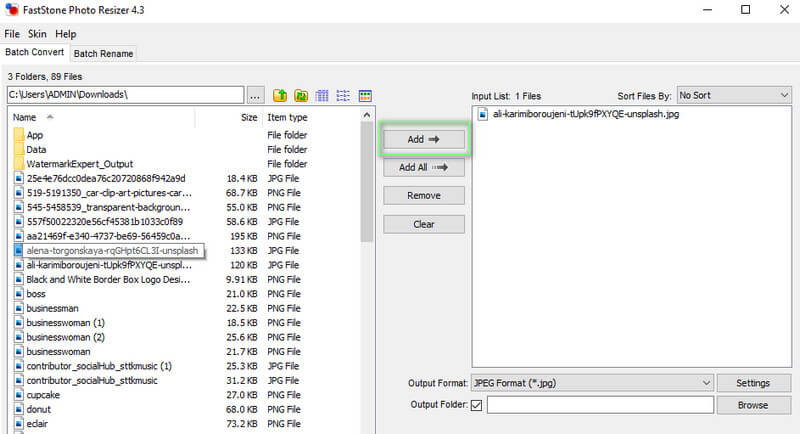 Step 4:
Now activate the resizer by putting a checkmark on the
Use Advanced Options
below the Input List. Then, smash the
Advanced Options
button to open the menu.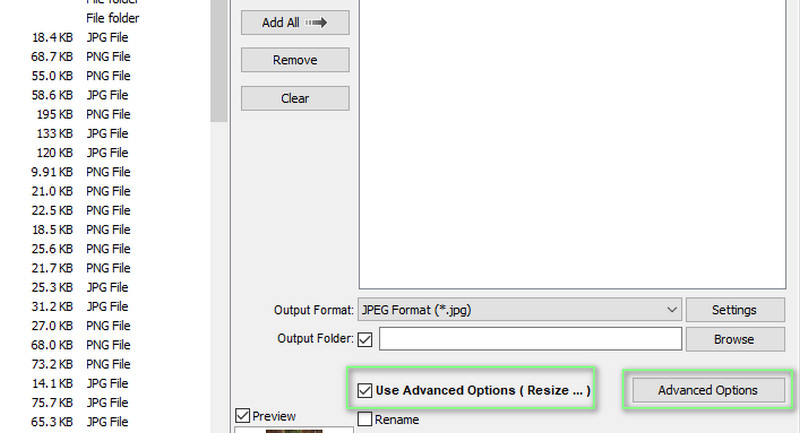 Additional: If you want to resize the image automatically, the Auto option presented above will automatically resize the image. If that is not the dimension you want to achieve, you can tap it again to revert the changes.
Step 5:
Then mark the
Resize
checkbox to access the resizer of the program. By then, you can select a resizing method as per your requirement. Just tick on their corresponding radio button, and a list of options will appear. Edit the properties accordingly and hit
OK
to confirm the settings.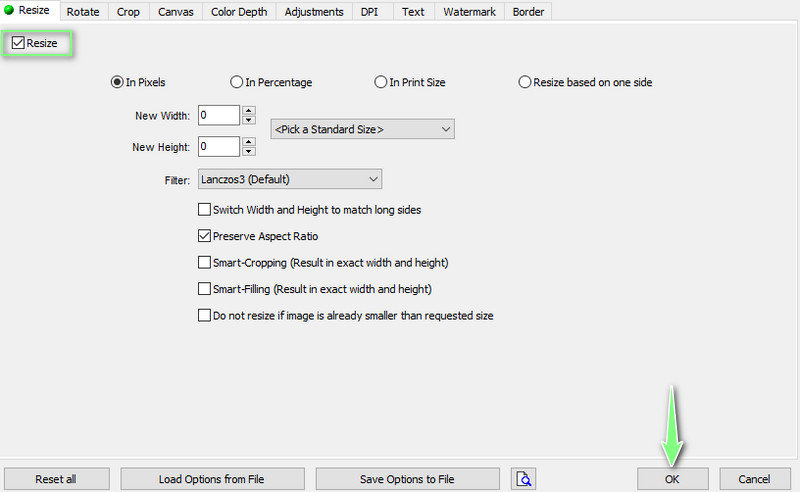 Step 6:
You can preview the result by double-clicking on the photo from the Input List tab. Select an output format and hit the
Convert
button to finish the process.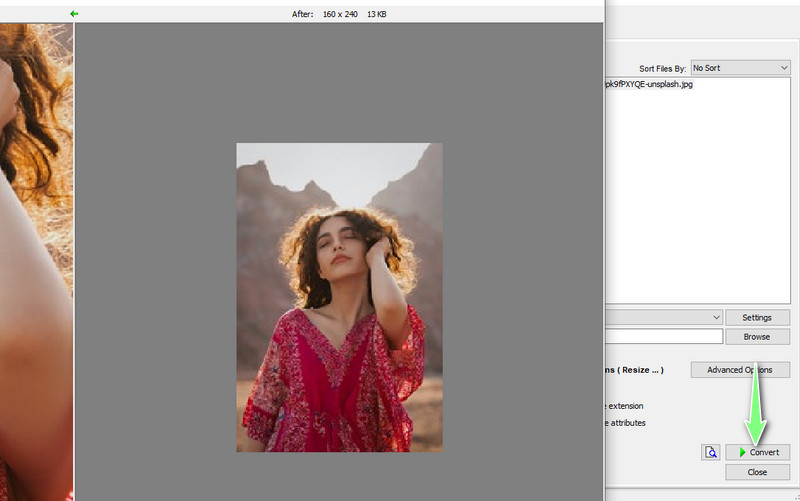 Part 3. FastStone Photo Resizer Not Working
There are times when the tool is not working due to the corrupt or missing executable file. In other words, the problems are present in the program's EXE file. That is the reason why you cannot go through the startup. You can do the following ways to fix these problems.
Replace the file by downloading a new EXE file from its official website.
Optimize your Windows registry to prevent invalid EXE file path references.
Set a correct file path directory for the EXE file.
There are also instances where some FSResizer.exe files are not found in their record. In this case, they can request that it be recorded in their database or contact FastStone Soft for further assistance.
Part 4. FastStone Photo Resizer Alternative
If your main purpose for resizing a photo is to make it sharp and high-quality, Aiseesoft Image Upscaler Online is an excellent alternative to FastStone photo resizer. With its complex adjustments, enhancing photos and fixing blurry images is possible. The tool can recover lost textures, colors, pixels, and details from the photo. What is great about this tool is that it is famous for such a process, which is refining photos both for printing and web.
Furthermore, various image formats are supported by the tool. That includes JPG, BMP, JPEG, TIFF, etc. Besides, the tool works well with various browsers. It is also adware and malware-free if you are concerned about the safety of your device. On the other hand, here is an alternative to the FastStone photo resizer tutorial you may refer to.
Step 1:
Access the web program
First off, launch any available browser on your computer. Then, navigate the program's main interface by typing its link on the browser's address bar.
Step 2:
Load a picture to resize
After that, click the Upload Image button from the main window and browse your file folder. Once the image is located, double-click on it to load to the program. Optionally, you can select a magnification level before the process starts.
Step 3:
Adjust the output to your desired outcome
Upon uploading the photo, the program will automatically resize and upscale the photo according to the set magnification beforehand. If the result is unsatisfying, you can modify the magnification level until you get your desired outcome.
Step 4:
Save the edited photo
After following the above steps, download the edited photo by clicking the Save button. The output can be found in the download folder of your computer.
Part 5. FAQs About FastStone Resizer
Is FastStone image resizer free?
Yes. FastStone image resizer is free but not entirely. It comes with a trial day; when it ends, you will need to pay to continue using the program.
Can I use the Faststone photo resizer on Mac?
Unfortunately, FastStone products are only available for Windows users. It does not have Mac versions yet.
Does Windows 10 have an image resizer?
Yes. Numerous programs can be utilized for resizing images on Windows 10. You can use tools like Pain and Microsoft Image Resizer.
Conclusion
When you need to reduce or increase the size of your photo, FastStone photo resizer is an excellent program you can rely on. You can learn above its functions, features, and problems you might encounter to ready a solution in advance. And perhaps you want to share high-quality photos online. That said, Aiseesoft Image Upscaler Online is a practical program you may utilize.

Leave your comment and join our discussion