What Should You Do to Customize iPhone Themes
iPhone theme is a reflect of someone's personality, it can also affect our emotion, for example, if you have chosen a suitable theme, you may be willing to use iPhone frequently. So it is important for you to set a beautiful iPhone theme. What are the best iPhone themes? How do you customize your own iPhone theme?

The article will show you the 10 best iPhone themes, as well as 5 iPhone theme programs you can choose the desired theme you like. After reading this article, you will be able to choose an iPhone theme you like easily.
Part 1: Top 10 iPhone Themes
In order to use these elegant iPhone themes, you might need to jailbreak iPhone first. After that, you can download these themes for your iPhone. The article will introduce colorful and amazing iPhone themes.
Top 1: Aeyris Theme
Aeyris Theme is a wonderful iPhone theme, which can be used in iPhone X/8/8 Plus/7/ 7 Plus /6s/6s Plus as well as the other iPhone types. The iPhone theme is made of pink, blue and yellow, which looks soft, and makes users feel relaxed. It has been used for several years, but it's still in fashion, and thousands of people still love it. This is a mature iPhone theme, 300 icons included.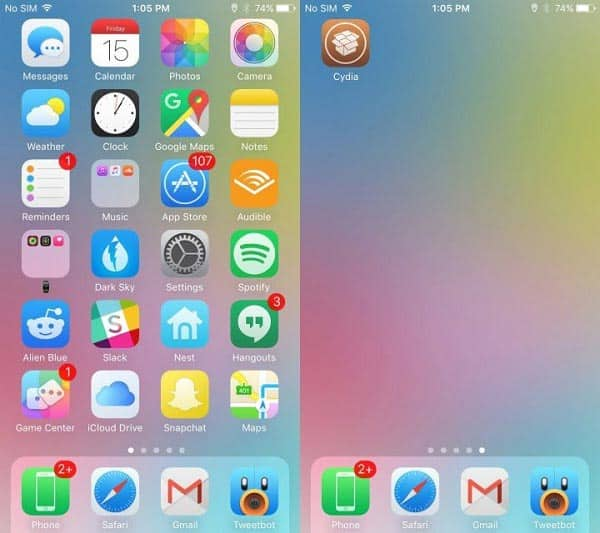 Top 2: Flat6
Flat6 is an excellent iPhone theme, which you can download for free. Themes the icons in a way that make them look appealing to the eye, which has 130 new icons are included in this theme. What is more, it makes your device covered with black, and it makes you calm down. In order to make sure the iPhone theme to work, you will need to install icon bundles from Cydia as well.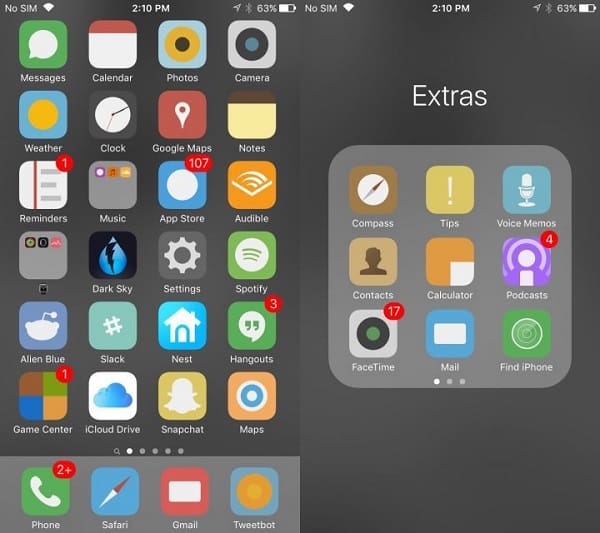 Top 3: Insight
Insight is a no-charge iPhone theme but it looks great. It offers over 100 icons, keyboard sound and icon mask. These icons have slightly new shapes, and look fashionable. It offers you a new keyboard sound as well. You can find the default icon with something altogether more calming. Just download the iPhone theme to find whether it satisfied with your requirements.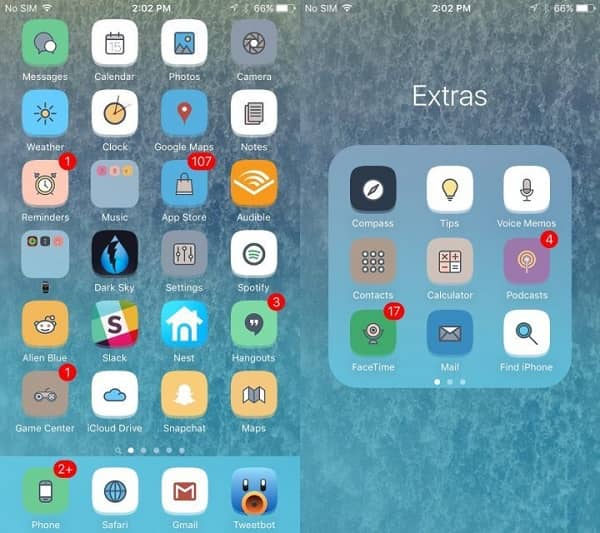 Top 4: Obscure 7
Obscure 7 is a black and white theme, which looks concise and aesthetic. All you can find is a black background and a white logo. Whenever there is a new application from iPhone, the iPhone theme updates from time to time to fix its problems. After buying this theme, you can also get a same one for iPad and other iOS devices.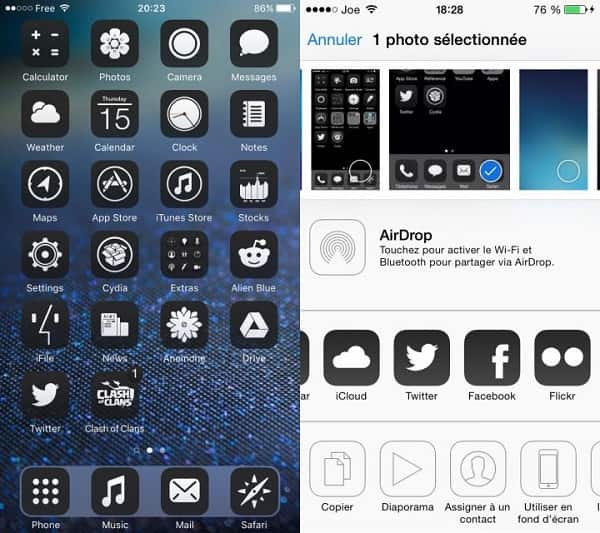 Top 5: Ace El Cap
The style of Ace EI Cap is familiar with OS X El Capitan on Mac. Compared to the other iPhone theme, you can find over 250 icons are included in Ace EI Cap. These icons are designed as rounded ones. If you want to change for a round iPhone theme, it should be the theme you need to take into consideration.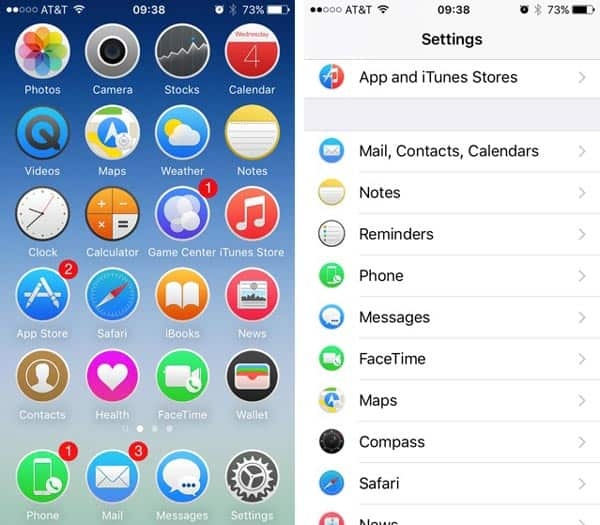 Top 6: Axla 3
It is another bright and colorful iPhone theme for different types of iPhones. Axla 3 has more than 400 redesigned app icons and redesigned setting icons. It comes with both a default mask and circle mask that can be enabled optionally through WinterBoard. What is more, you can also make subtle changes to the user interface.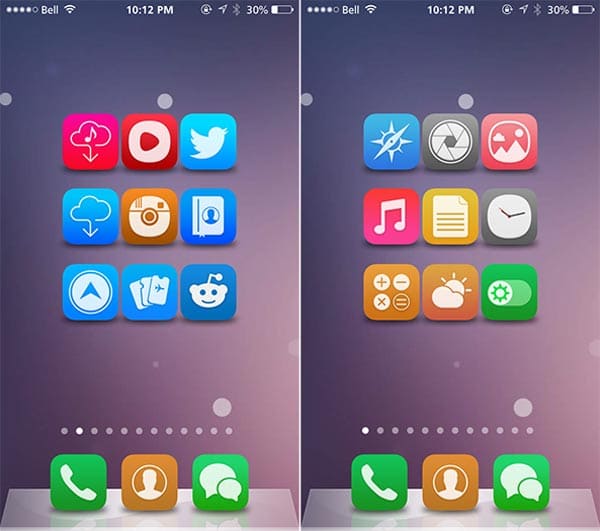 Top 7: Veexillum
Veexillum is designed very simple, but looks beautiful. The main color of this iPhone theme can be chosen by yourself. There are seven total background colors, consisting of black, white, yellow, green, blue, red, and purple. It uses the colors of the small icons to change the overlook. There are over 700 icons included, and all be designed specially.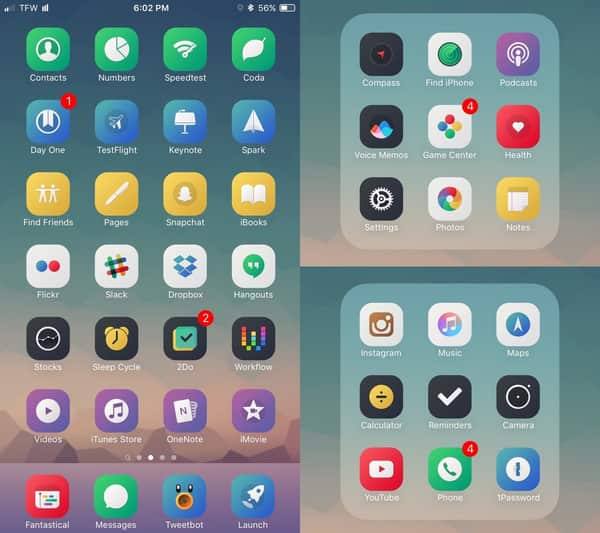 Top 8: Amor
Amor is the iPhone theme is designed focusing on "love". Amor helps make a warmer look for your iPhone with a strict grid pattern as well as unique glyph with a folded shadow. There are several beautiful color scheme and come with custom icons, mask, classic badge, control center, boot logo & 2 icon osmotic.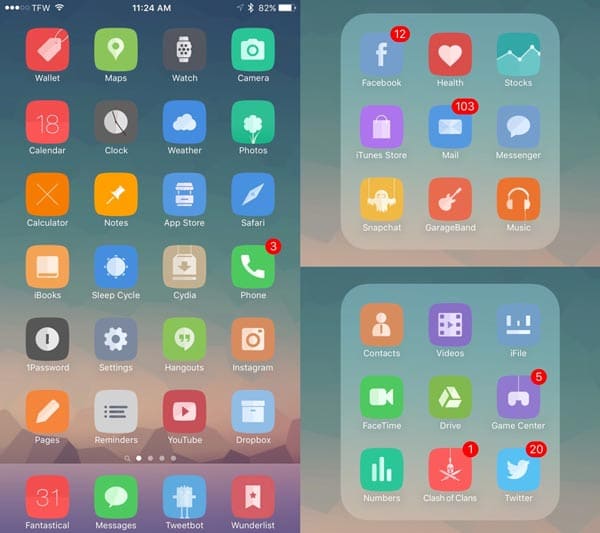 Top 9: Flatish
Flatish is primarily iOS 8 but was developed initially on iOS 7. The iPhone theme provides you unique look, with multiple shadows. The iPhone theme features icons containing multi-level layers that cast different levels of shadows. It just provides fascinating interface to iPhone users compared to the other themes.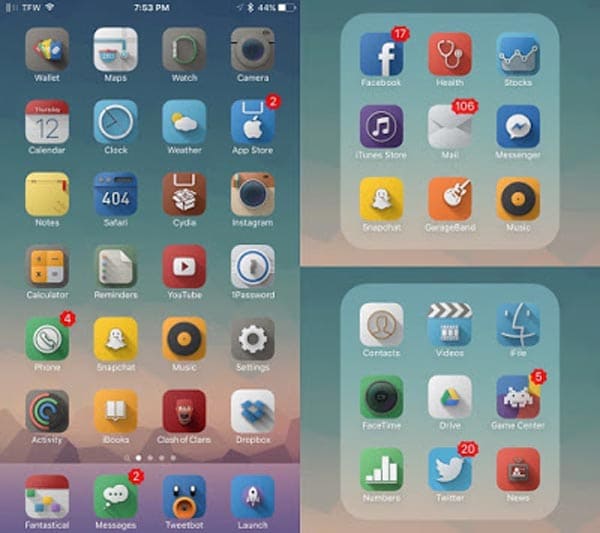 Top 10: Amury
When you need to find some familiar theme, Amury is the desired iPhone theme with bright color which can makes you astonished. What is more, you can find the color palette used in Amury attractive with 12 stunning wallpaper as well as UI redesign. There are more than 320 icons, setting icons, alternative icons and more.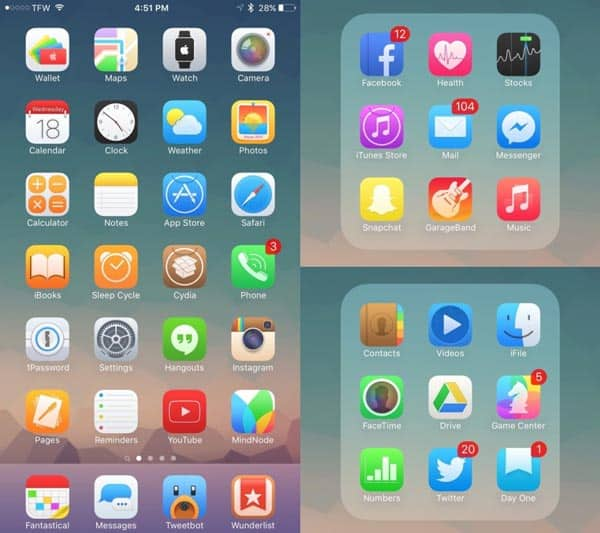 Part 2: Top 5 iPhone Themes App
What should you do in order to customize iPhone themes? When you want to know how to download and customize these themes. Just check out the 5 excellent program now.
Top 1: iSpirit
iSpirit is a software designed for windows. With this software, you will be able to install apps, install themes for your iPhone. What's more, it's use to use, all you should do is upload the software on your computer, and download the iPhone theme you like to the connected iPhone devices.
Besides of downloading the theme, it can also fix the problems of your iPhone. In a word, once you have connected the device to this software, it can make great difference to your life.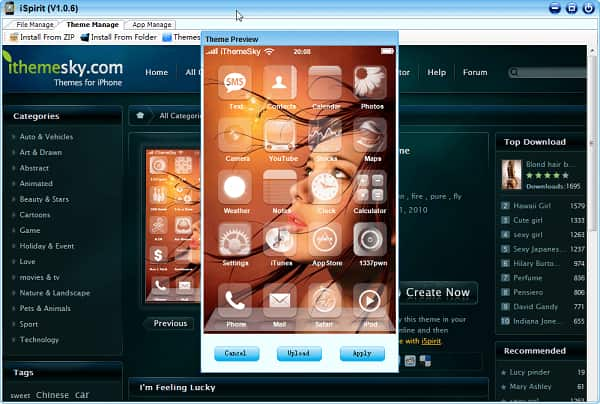 Top 2: iTheme
iTheme is an app designed for both iPhone and iPad, in this app, each of the iPhone themes consists of a lock screen and a home screen, you can download all the images to your gallery, and install them as a lock screen and a home screen. In this app, more than 1000 themes can be downloaded, you can choose a favorite one to be yours, and decorate your iPhone. What's more, according to the users' desire, iTheme won't change your icons.
Top 3: Space & Galaxy Wallpapers
If you are interested in the space and galaxy, then it will be a wonderful choice for you. Space & Galaxy Wallpapers aims at explore new world, and in this app, you can download thousands of amazing artwork of space and set them to be your iPhone themes. This app can be downloaded to many iPhone device, for example, iPhone X, iPhone 8, iPhone 6, iPhone 6 Plus and so on.
Top 4: Great Wallpapers Non-Stop
Great Wallpapers Non-Stop is an app, which contains thousands of beautiful themes, which allow you change you iPhone theme everyday according to your emotion, and bring more color to your iPhone and to your life. In addition, all the themes in this app are of high quality, you can have a wonderful experience with it.
Top 5: Pimp Your Name 2
Do you want to show your own personality? If so, never be hesitating to download this app. This iPhone theme app aims at creating new backgrounds with your name. Besides, you can choose the design fonts and lettering styles yourself!
FoneLab - iPhone Data Recovery
For Mac
Recover deleted photos from iPhone and iTunes/iCloud backup.
Restore and back up contacts, call logs, videos, audios, pictures, etc.
Support any iOS device like iPhone X/8 Plus/8/7 Plus/7/SE/6s/6s Plus/6 Plus/6/5s/5c/5, iPad Pro/Air 2/mini 4, iPod touch 6/5/4.
Conclusion
What should you do when you need to customize your own iPhone theme? The article introduces the most frequently used iPhone theme as well as the program to customize the themes with ease. If you have any other query about the themes of iPhone, you can share more detailed information in the article.
Extended Reading: Customize Message Themes on iPhone/Android