iPhone Hotspot - Turn on Hotspot to Get Tethering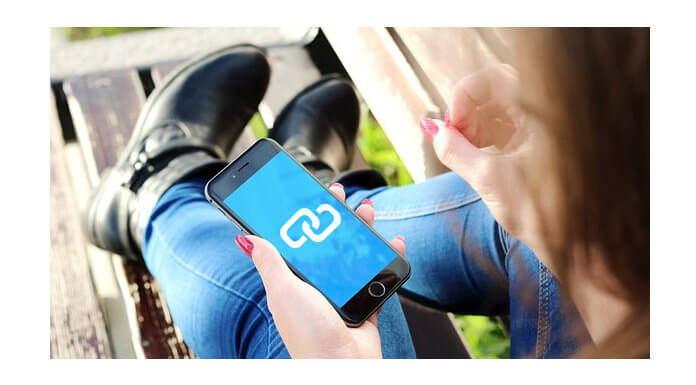 What is a Personal Hotspot
Maybe you have heard of iPhone personal hotspot, but what is a personal hotspot? How to use iPhone as hotspot? And other questions about hotspot on iPhone are bothering you for a long time.
Now, we will show you almost everything about personal hotspot.
First, iPhone personal hotspot is a function of iOS. And you can view your iPhone as wireless router that shares wireless data connection with other nearby devices through Wi-Fi/USB/Bluetooth connection. Generally speaking, this is iPhone tethering.
Second, iPhone hotspot can be used to anything that can connect to Wi-Fi, such as iPad, iPod, MacBook, Windows computer, Android devices, etc.
Third, hotspot helps you connect to Internet even if there is no Wi-Fi along with you. As long as you turn on your iPhone 3G/4G data connection, and open hotspot, get it! You can log in your mailbox to check the information.
How to Use iPhone as Hotspot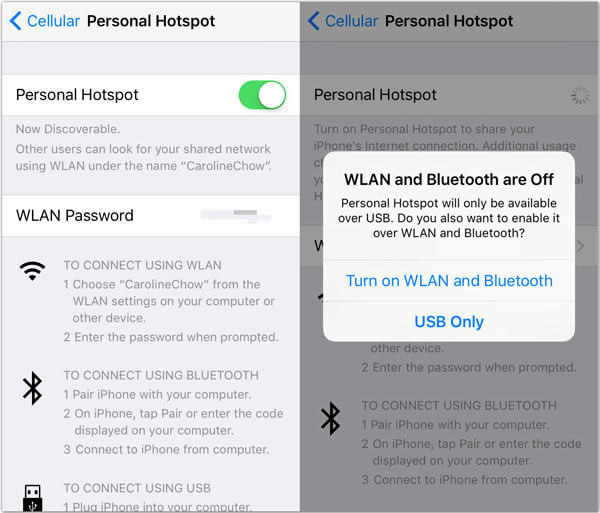 Step 1 Go to "Settings", tap "Cellular" > "Cellular Data" to open your iPhone data connection, and tap "Personal Hotspot" to set up.
Step 2 Turn on hotspot.
After enter "Personal Hotspot", tap "Personal Hotspot" to turn on it.
Step 3 Turn on WLAN/Bluetooth.
When you tap "Personal Hotspot", a popup will remind you to turn on Wi-Fi and Bluetooth or over USB only. (If you have opened Wi-Fi, only Bluetooth reminded). So you can choose which one to be turned on according to your need.
Step 4 Create a WLAN password.
You can create a hotspot password using at least 8 characters. And others will connect your shared Wi-Fi by this password. Also, if you changed your hotspot password, all connection have been established will be interrupted.
Step 5 Connect iPhone hotspot.
You can share your iPhone personal hotspot with other devices over Wi-Fi, Bluetooth or USB. Over Wi-Fi, just find your iPhone name under WLAN connection, and enter the password; using Bluetooth, you need to pair other devices with your iPhone; with USB, connect your iPhone with computer and choose iPhone from the list of network services in your settings.
If your iPhone hotspot is not working, you need to reset and fix it.
Now, you can have an overview of iPhone hotspot and know how to make iPhone as a hotspot. Also, there are some tips provided for you:
◆ iPhone hotspot only runs on iOS 4.3 and higher
◆ If you cannot find "Personal Hotspot", maybe because your cellular carrier does not allow hotspot feature in your cellular data. Perhaps, you can get this by paying money.
◆ The tethering data is limited even if you have unlimited data, so just ensure the carrier won't charge extra.
◆ Don't forget disconnect your iPhone hotspot when you don't need iPhone tethering, or you will lose many cellular data or money.
FoneLab - iPhone Data Recovery
For Mac
Recover deleted iOS data like contacts, call logs, videos, audios, photos, notes, messages, etc. from iPhone/iPad/iPod.
Back up all types of iPhone data to PC/Mac.
Support iPhone X/8/7/SE/6/5/4, iPad, iPod and more.
Extract files without backup from iPhone directly.
Instead of hotspot, you cna also use Wi-Fi to make internet connection. Wi-Fi can not connect to iPhone, jump to How to fix iPhone won't connect Wi-Fi.