6 Best Solutions to Fix Issues for iPhone Alarm
iPhone alarm should be one of the most important applications of iPhone, which not only wake you up, but also remind you important data and meetings. iPhone alarm is also a personal software, you can choose a music you like as the ringtone, as for the case, you will not be frustrated with the alarm. Therefore, when iPhone alarm doesn't work, you must be confused about what you should do. In this article, you can find the 6 best solutions to fix the issues.

Sometimes, iPhone alarm may be quiet, and it can't wake you up. This situation may be caused by the iOS System, even if the problems are caused just because of some little problems of your iPhone, you can find basic solutions from the article.
Part 1. How to Solve iPhone Alarm Problems without Data Loss
What should you do wheniPhone alarm does not work due to system problems? In this condition, Aiseesoft iOS System Recovery is the best choice you need to take into consideration. It is very simple to use, and helps you solve a large amount of system problems, such as blue screen, Apple logo, headphone mode, frozen, and more, including the problems of iPhone alarm. What is the most important, it will not cause any loss of data, that's to say, you can fix the problem without afraid of losing important data.
Step 1 Launch iOS System Recovery
Download and install the latest version of iOS System Recovery. Connect iPhone to computer via USB connector. You can click the "More tools" on the left column to choose the "iPhone System Recovery" on the popup window.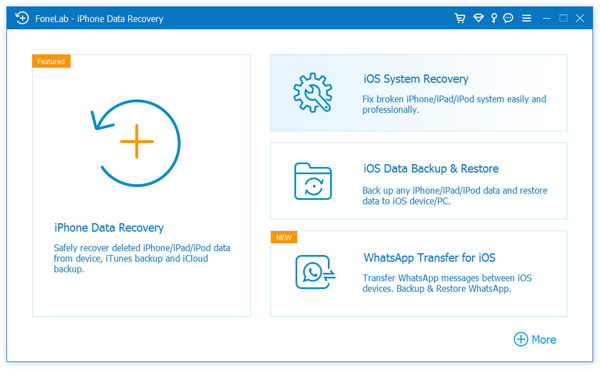 Step 2 Enter the recovery mode
Aiseesoft iOS System Recovery is able to recognize the issues for iPhone alarm automatically. When you get the information for the results, you can click the "Confirm" button, which will enter to the Recovery Mode.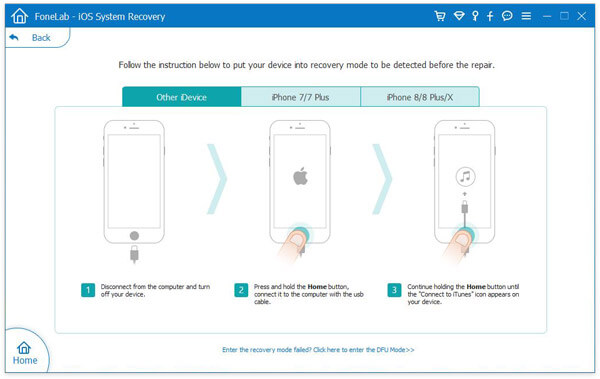 Step 3 Fix iPhone alarm issues
You should click on the "Repair" button, which computer will download a firmware according to your iPhone alarm problem. It takes less than than 10 minutes, your iPhone will be completely a new one.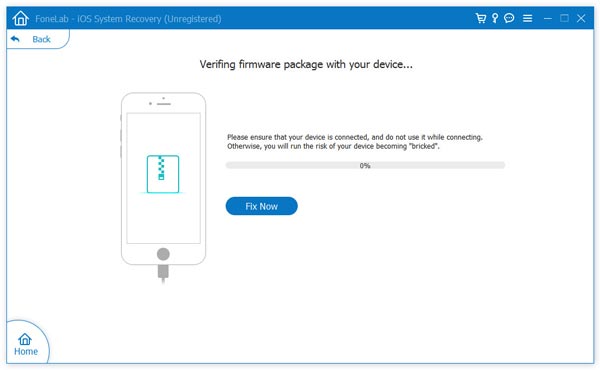 After that you can restart your iPhone, and check your iPhone alarm to see whether it works. If the problems are related to system issues, you can get rid of the problem without problem.
Part 2: Basic Ways to Fix iPhone Alarm Problems
Of course, you can also find other solutions to fix iPhone alarm problems. Just check out the detailed process to get rid of the related problems with 6 frequently used methods as below.
Method 1: Reset iPhone Alarm
Just as the solutions for most of the hardware issues, you can restart the iPhone alarm and reset all settings for iPhone alarm, including the date, the time, the ringtone and so on. Of course, you can also restart the iPhone to fix the problems. It should be one of the most efficient methods to get rid of the problems.
Method 2: Check iPhone Alarm Settings
When your iPhone alarm does not work this morning, you should also check whether you have set your alarm for one day or for everyday. That's to say, when you set iPhone alarm for one day, but forget to change its repetition for everyday, you may be woken up the next day. However, the next time, this alarm will not work. And following are some steps for you to check the settings.
Step 1 Open the iPhone alarm, and choose the alarm setting you want to check.
Step 2 Click on the button "Repeat" to change the repetition from one day to everyday.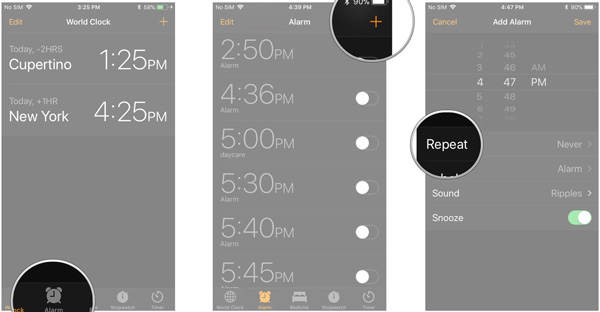 Method 3: Check the iPhone Sound Settings
Sometimes, iPhone alarm doesn't work may just because you have turn off or turn down the sound, so it is necessary for you to checkthe iPhone sound working.
Step 1 Open the iPhone alarm app, and choose an alarm you want to check.
Step 2 Click "sound" to see if the sound has been turned off, and you can choose a new ringtone and then check whether this new alarm works well.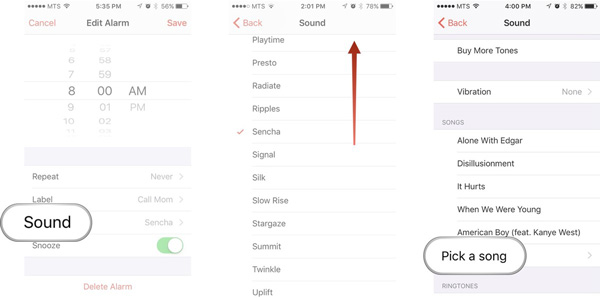 Method 4: Check Volume and Mute Button
When you are having a meeting, you may keep the iPhone mute so that you will not be puzzled, but you may forget to turn on the sound after the meeting, even before you sleep. In this way, your iPhone alarm may be quiet next day morning. Therefore, never forget to turn on your phone's sound.
Step 1 Click the floating window of iPhone, and then you can see two different volume option, ringer volume and media volume. The ringer volume is for ringtone, alerts, and alarms, and the media volume is for music videos and games.
Step 2 Keep the ringer volume on. Of course, you can also set the iPhone alarm to one minute later or so to check whether iPhone alarm works.
Method 5: Reset iPhone settings
What should you do if above solution does not work for iPhone alarm? It is recommended to reset iPhone setting and restore to a previous status. Make sure you have backed iPhone back first. After that you can reset iPhone to factory settings as below.
Step 1 Launch the Settings app from iPhone home screen.
Step 2 Go to "General", and then click "Reset" option.
Step 3 Choose "Reset All Settings", which might ask you to reenter the passcode.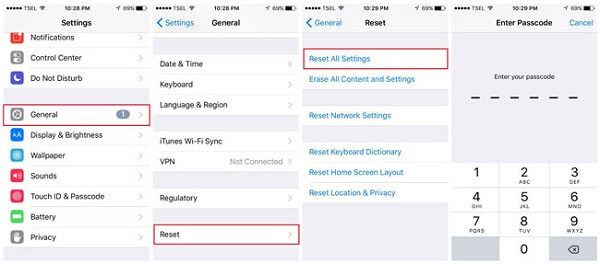 Method 6: Update iOS
If you don't update iPhone system, there may be some bugs in your device. Therefore, updating iOS may be an effective way to solve the problem that iPhone alarm doesn't work.
Step 1 Go to "General", and click on "Software Update".
Step 2 Select "Download" button, you can update the iOS of iPhone with the passcode.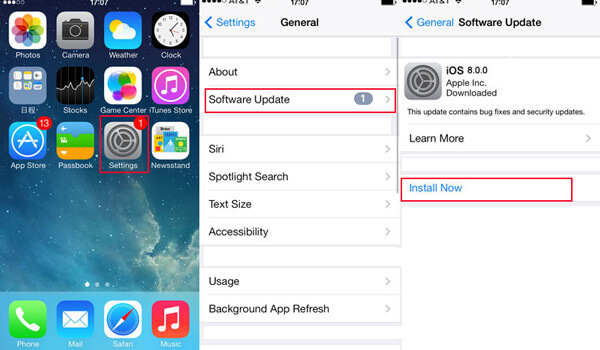 Method 7: Ultimate Erase iPhone with FoneEraser
Is there an ultimate solution as for the case? Of course, if your iPhone does not response or you lose of patient, you can also use FoneEraser to solve the problem within few clicks. It will remove all the data and erase iPhone, which turn out to be a brand new one. As for the case, your issues for iPhone alarm will no longer exists.
Step 1 Connect iPhone to computer with an USB cable.
Step 2 Choose the erasing level, such as "Low", "Medium" and "High".
Step 3 Click "Start" to erase all the data.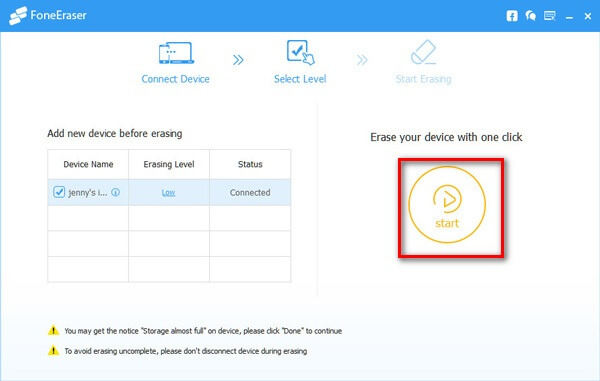 Conclusion
When iPhone alarm does not work, you might not be notified for some important appointment. As for the case, you should check the settings for the iPhone alarm first. Besides this, you can also check out the ultimate solutions to the alarm of iPhone from the article.