Why Won't iPhone Screen Rotate and How to Fix
iPhone screen won't rotate? How to fix?
Summary: This post explains to you why iPhone screen won't rotate sometimes and all the possible solutions for iPhone won't rotate issue. If you are going through such problem, read on and learn how to fix.
"My iPhone 5s occasionally refused to rotate screen. This normally happens when I watched videos or use Photos. When I turned my iPhone sideways before, the screen would rotate into landscape mode. But now it doesn't. Does anybody know why my iPhone screen won't rotate? What should I do to fix it?" – From Apple Communities
As great-to-use as your iPhone is, there are some bugs that bother people. iPhone screen rotation issue, for example, is a common complaint we received from Apple users. Every once in a while, an iOS device or app will get stuck in the wrong orientation, unresponsive to rotate the device and it either stays in portrait or horizontal mode, despite every effort to rotate the device any which direction. You may wonder: why won't my iPhone rotate? And how to resolve iPhone screen won't rotate issue? In order to help you with this question, we have collected all useful information you need. Continue to read and find the answers.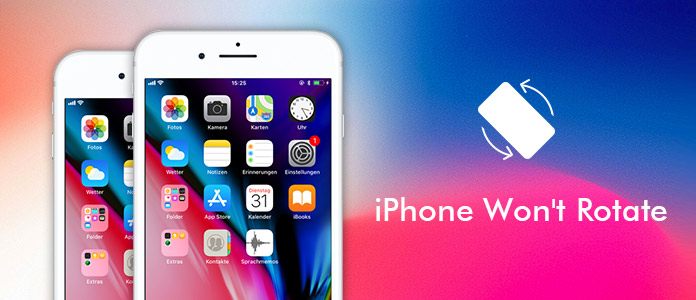 iPhone Won't Rotate
FoneLab - Fix various iPhone issues For Mac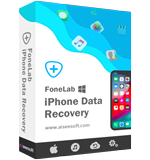 Fix various iPhone issues like iPhone won't rotate with ease.
Fix iPhone frozen on Apple logo, iPhone won't rotate, iPhone stuck on Recovery mode or DFU mode, etc.
Easy to use and safe enough to cause no data loss.
Support all iOS devices like iPhone 14/13/12/11/XS/XS Max/XR/X/8/8 Plus/7, iPad Pro/Air/mini, iPod and more.
Check video below to learn how to fix iPhone won't rotate: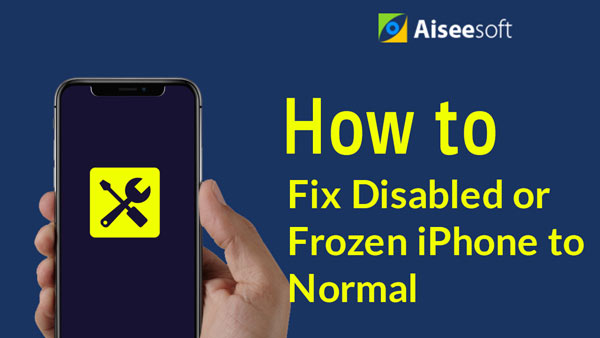 Part 1. Best way to fix iPhone won't rotate with iOS System Recovery
iOS System Recovery is an advanced program that enables you to fix all kinds of iPhone issues, including iPhone frozen, iPhone won't rotate, iPhone stuck on Recovery mode or DFU mode, etc. It's very easy and safe to use. No professional knowledge needed, you can fix iPhone to normal with a few simple clicks.
iOS System Recovery is compatible with all iOS devices like iPhone 14/13/12/11/XS/XR/X/8/8 Plus/7/7 Plus/SE/6S Plus/5s/5/4, iPad, iPod, etc. and it can work on both Windows computer or Mac.
Now free download this program and follow the steps below to learn how to fix iPhone won't rotate.
Step 1 Launch iOS System Recovery
Launch the iPhone fix tool on your computer and connect your iPhone to it with USB cable. Choose iOS System Recovery option, then you will see the "iOS System Recovery" window.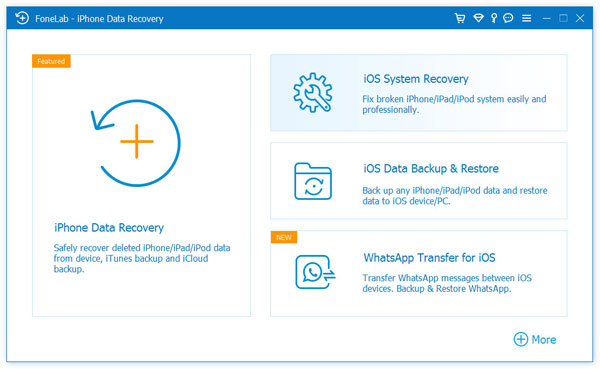 Step 2 Start to fix iPhone screen won't rotate
Click "Start" to continue.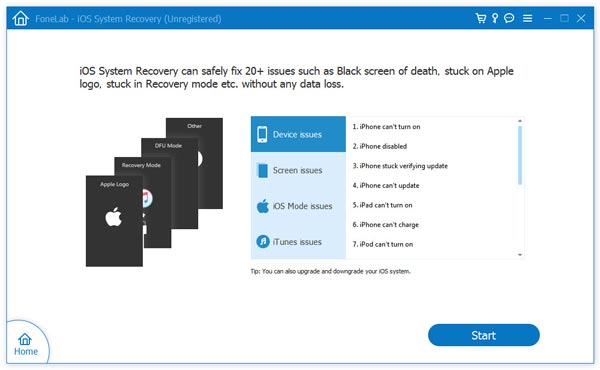 iOS System Recovery will detects your iPhone status, and marked it as Normal, Recovery mode, DFU mode or unknown.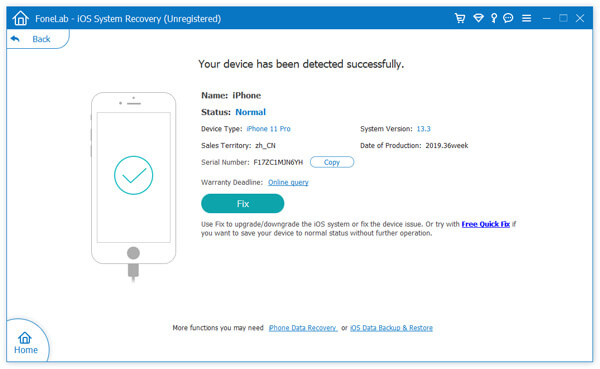 Step 3 Free quick fix iPhone
Here you can try "Free Quick Fix" to force restart your iPhone and you can see if the issue of iPhone screen not rotating is fixed. If not, just select the "Fix" button.
Step 4Select repair mode
In the pop-up window, select the fix mode from "Standard Mode" or "Advanced Mode".
Then click "Confirm" to proceed.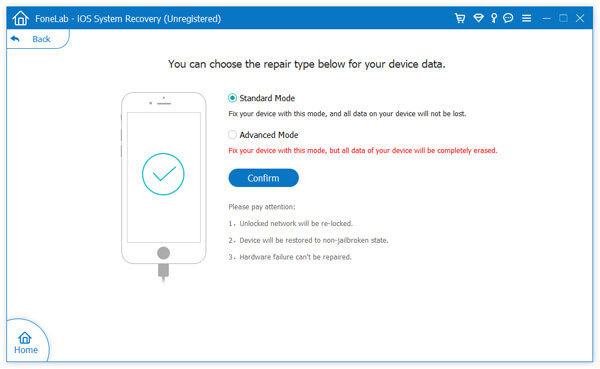 Step 5 Fix iPhone not rotating now
Now, all your information of your iPhone will be loaded. Modify it if it is not correct. Moreover, you can choose the iOS version that you want to install on your iPhone, and finally, click "Repair" to start the repairing process.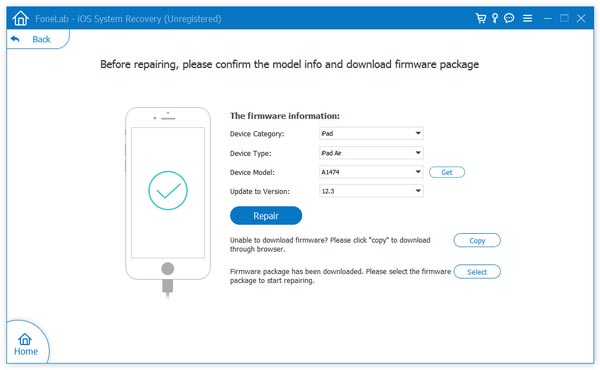 Part 2. Regular ways to fix iPhone won't rotate issue
Solution 1. Disable Portrait Orientation Lock
One of the most common mistakes for "iPhone won't rotate" issue is not checking the screen rotation status on the device. There are lots of users who keep the screen rotation locked as their preference. Though, after a while, they simply forget to check the screen lock status of their device. Obviously, if the Portrait Orientation Lock is on, then the screen won't rotate.
To disable the Portrait Orientation Mode, simply swipe up from the bottom of your iPhone screen and you'll open Control Center. From the control center, tap Portrait Orientation Lock on the upper-right corner and make it turn off. If you have an iPad with a Side Switch and don't see the Rotation Lock icon in Control Center, make sure that the Side Switch is off.
After this, go back to where you start, and try to rotate iPhone screen to see if the problem is solved.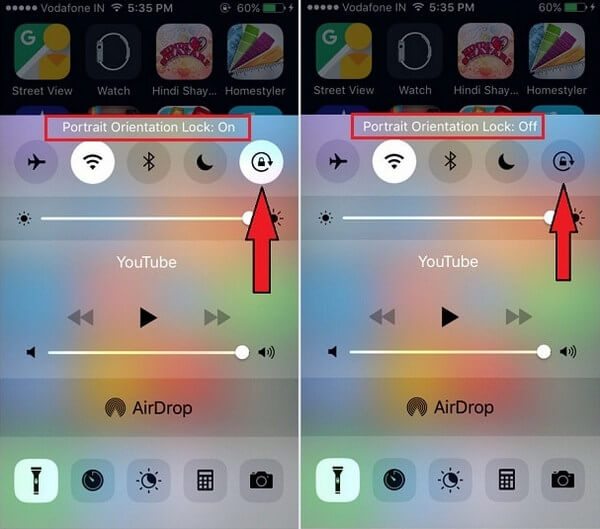 Why won't my iPhone screen rotate - Disable Portrait Orientation Lock
Solution 2. Turn off Display Zoom settings
Some users turn on Display Zoom feature to enhance the overall visibility of apps on their device's home screen, as the icon size would increase and the padding between icons would reduce. However, with Display Zoom turned on, it might affect the natural rotation of your iPhone screen. Therefore, try to turn Display Zoom and see if it can fix iPhone won't rotate.
Go to "Settings" > "Display & Brightness", tap "View" under "Display Zoom", then select Standard mode.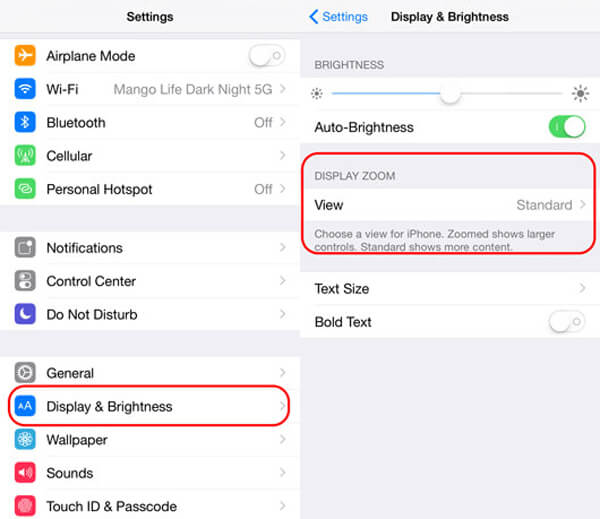 My iPhone screen won't rotate - Change Display Zoom settings
Solution 3. Force restart the application or iPhone
Sometimes, it's the application itself that is not responding when you want to rotate iPhone screen. If your find iPhone won't rotate only when you open a specific app, then this is the most likely reason. In this case, force close the application might help.
Double tap the Home button to bring up the multi-task tray, locate the app you want to quit, swipe up on the app's preview to force close. Restart the app to see if it works now. What's more, you can also try to restart iPhone to get a fresh start.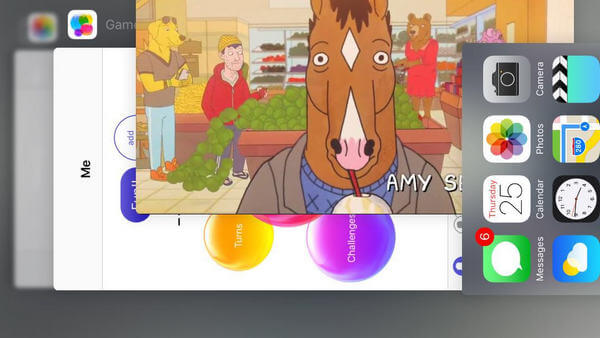 iPhone app won't rotate - Force close app
Solution 4. Update iOS system
There are possibilities that iOS system gets a bug that stops iPhone from rotating. Back in iOS 8.0.2, Apple has admitted that the iPhone screen stopped rotating because there was a bug. This has been fixed in iOS 8.1 (and the newer version). So, when your iPhone won't rotate, see if any iOS update is available and install that update.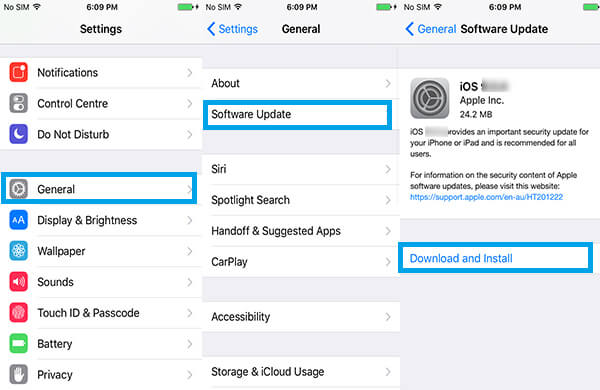 iPhone screen won't rotate - Update iOS system
Solution 5. iPhone still won't rotate: hardware problem
Still not able to resolve the iPhone screen won't rotate problem after following all the above-mentioned solutions, then chances are that there could be a hardware-related issue with your device. Screen rotation on iPhone is associated with the accelerometers, which are devices used to measure acceleration in smartphones, they can detect changes in orientation and instructs the screen to rotate or switch between up from down and vice versa.
When such hardware got issues, there is no way you can fix it on your own. We suggest you to take your iPhone to an authorized Apple store for help.
Part 3. Why won't my iPhone screen rotate
After we find the right solution to fix the screen rotation issue on iPhone, it is also necessary for us to learn why iPhone won't rotate. Generally speaking, display issues in iPhone are either due to hardware damage or software glitches. When your iPhone screen won't rotate, the possible causes lie as follows.
1. Incorrect settings configuration: It is inevitable to make mistakes when you change the default settings, especially for people who don't actually know what the settings are for. And as a result of these errors, iPhone or certain apps may not be able to function as intended. "iPhone screen won't rotate" can come with such case.
2. Application bugs: An app's behavior is sometimes affected by some bugs and corrupted contents that would trigger it to randomly malfunction, like won't rotate screen.
3. Software updates: For people who don't get used to update their iPhone as soon as possible, chances are that iPhone screen gets glitches with old version iOS.
4. Faulty hardware: In worst cases, the main cause lies within the hardware or physical components which might have been damaged from a drop or liquid exposure.
In this article, we mainly introduce you all possible methods you can use to fix iPhone screen won't rotate. Still have more questions? Feel free to leave your comments down below.