How to Record Overwatch Highlights on PC and Game Console
As a vibrant team-based multiplayer first-person shooter game, Overwatch has attracted over 50 million players. You might have fun for 101% while playing, but when it comes to saving some rad moments of gameplay a lot of questions pop up. How to record Overwatch highlights? How to save Overwatch highlights? The highlight system in Overwatch is pretty cool. This article tells you how to save your highlights before they are overwritten by a worse play.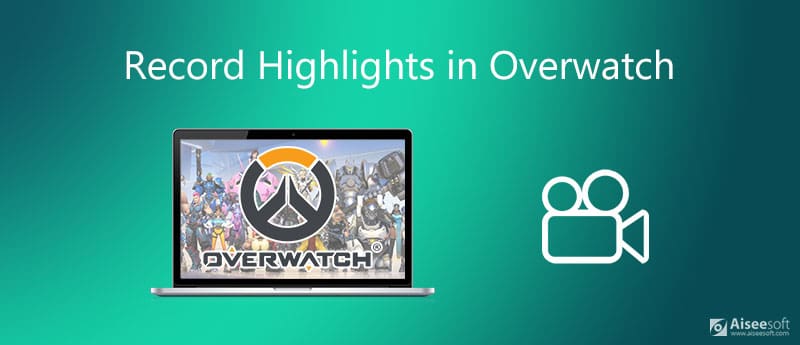 Part 1: How to Save Highlights in Overwatch on Xbox/PS4/PC
After the latest update, the Overwatch continues to collect your highlights and you can save them on both your PC and game console. We share the workflow separately below.
How to Save Overwatch Highlights on PC
Step 1:
When something awesome happens in your game, press
F9
key on your keyboard. Then Overwatch will record the highlights in 12-second clip.
Step 2:
After gaming, go to the
Highlights menu and select

Recently Captured

. Then all highlights will appear. Players can capture up to 3 highlights per round and store up to 36 highlights.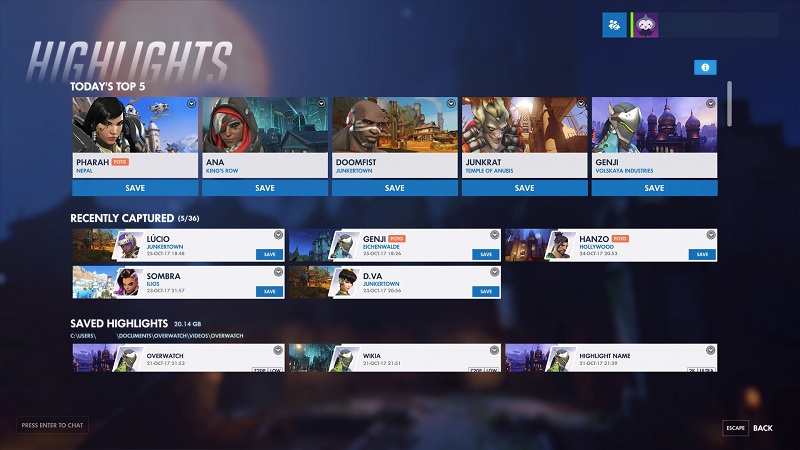 Step 3:
To save an Overwatch highlight, click the
Save
button, set the options and click
Save
again. By default, your highlight recording will be saved in the
Documents
folder in the PC.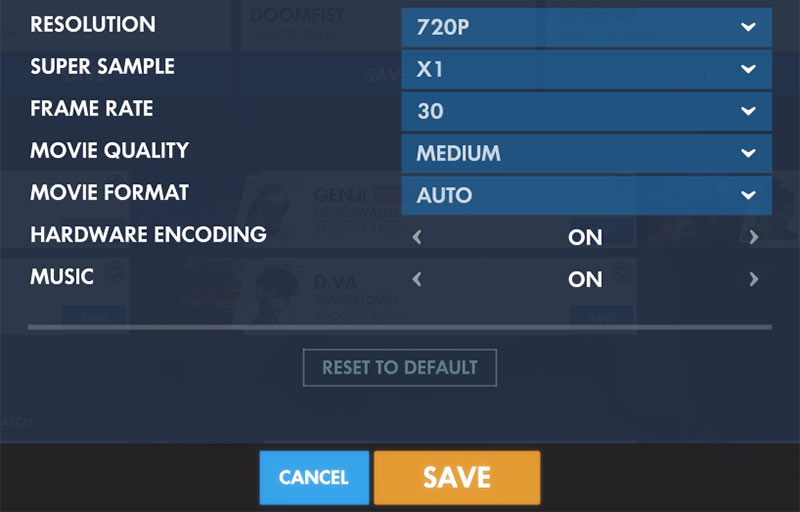 How to Save Overwatch Highlights on PS4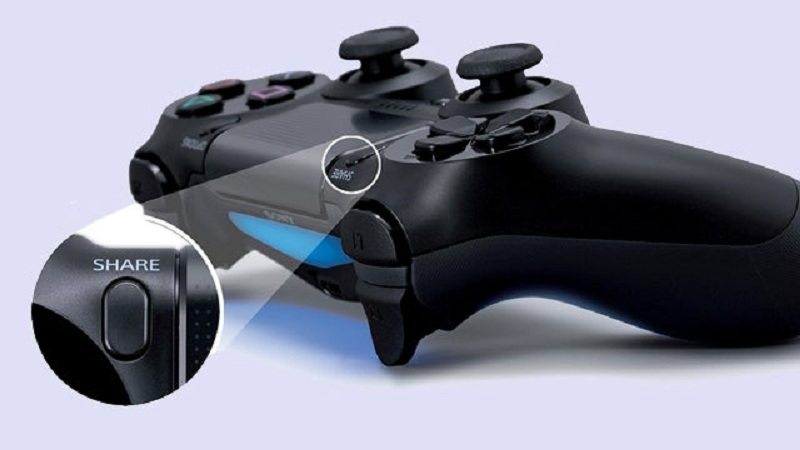 Step 1:
To start recording Overwatch highlight, double-press the
Share
button on your controller.
Step 2:
When it finishes, press the
Share
button and the highlight will go to the
Share
menu. To save it, press the
Square
button.
Step 3:
Then you can view and share the highlight as a video file in
Capture Gallery
in
Dynamic
menu.
How to Save Overwatch Highlights on Xbox One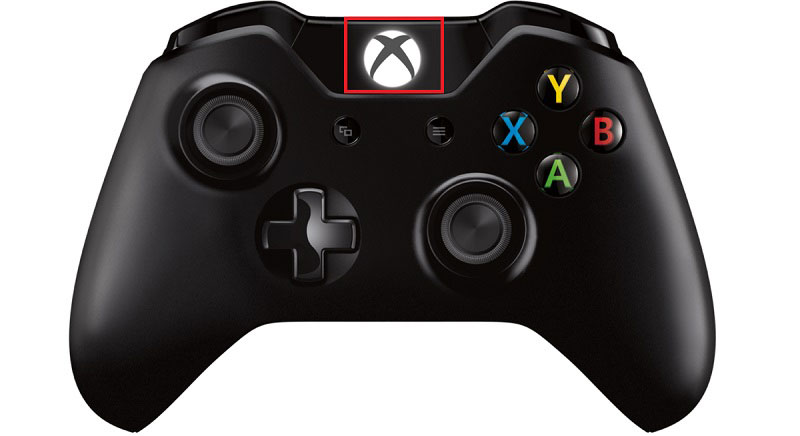 Step 1:
When you reach the gameplay that you want to save in Overwatch on Xbox One, press the
Xbox
button on your controller.
Step 2:
Now, you will be lead to the
Guide
menu. Press the
X
button to save the recent highlight in Overwatch as short video clip.
Step 3:
To see the video, press the
Xbox
button, select
Broadcast & capture
, and choose
Recent captures
.
Part 2: Best Way to Record Overwatch Highlights
The highlights feature in Overwatch is a simple way to save your gameplay and important moments, but it is not the best choice. Firstly, it has length limit and cannot save the whole game. Moreover, you can only make 3 highlights for a round. Another downside is that you cannot add your reactions to the image. That may be why you need a powerful alternative, such as Aiseesoft Screen Recorder.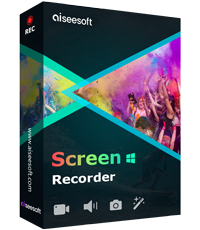 Downloads
In short, it is the best way to record Overwatch highlights on PC and Mac.
How to Create Overwatch Highlights without Limit
Step 1: Install Overwatch recorder
The best Overwatch recorder offers two versions, one for PC and the other for Mac. You can install the right one according to your system. Then launch it and choose
Video Recorder
. The
Audio Recorder
will only capture sound and
Screen Capture
will take screenshots. In the main interface, click the
Settings
menu if you want to adjust the options related to
Output
,
Hotkeys
, and more on the
Preferences
dialog.

Step 2: Record gameplay
There are four sections in the main features:
Display
: Turn it on and set the recording region, such as
Full
screen or
Custom
region. For Overwatch highlight, we suggest you to select
Full
.
Webcam
: As long as you turn this option on, the recorder will add your face and reactions to the highlight through your webcam.
System Sound
: Enable it, so that you can record Overwatch highlight along with audio. You can also adjust the volume.
Microphone
: To add your voice and comment to the gameplay, enable it; otherwise, keep it disabled.
There are two ways to record Overwatch highlight:
Automatic way: Click
Take Schedules
at the bottom, hit
Add
and set up the schedule. Then the recorder will work automatically.
Manual way: When you need to record Overwatch highlight, click on the
REC
button to initiate it.

Step 3: Preview and save recording
During recording, you can edit the highlight and take screenshots with the buttons on the toolbar. When you need to stop recording, click the
Stop
button. Then the preview window will pop up. Here you can check your Overwatch highlight and remove unneeded clips. Finally, click on the
Save
button to save the highlight to your hard drive.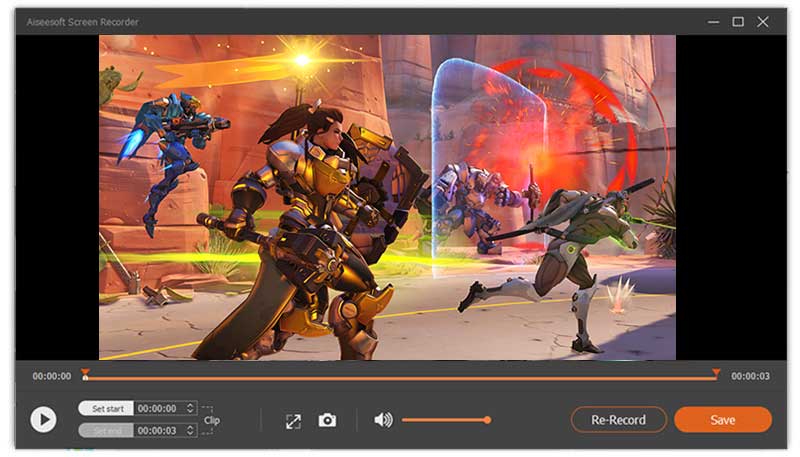 Note: The Overwatch recorder does not have limit on length or other aspects.
Part 3: FAQs about Overwatch Highlights
How to change Overwatch highlights location?
Step 1: Close Overwatch, press Windows key, type %Documents% and go to \Documents\Overwatch\Settings.
Step 2: Open Settings_v0.ini file with your text editor, locate the MovieExport section.
Step 3: Add VideoPath = "new location directory" under the line. Save the file.
Why I cannot save my Overwatch highlights?
Firstly, make sure that your highlights are not overwritten. Plus, once you log out, your highlights will be gone. In such cases, you cannot save Overwatch highlights anymore, unless you use a third-party game recorder.
How do I save Overwatch highlights in 1080p?
As long as you click the Save button under the desired highlight, you will be presented several options. Click the Resolution option and you can select your favorite quality. Then hit Save button again, Overwatch will save the highlights in 1080p.
Conclusion
This guide has shared a complete guide to help you save Overwatch highlights on PC, Play Station 4 and Xbox One. The built-in highlights feature lets players save important gameplay as short video clips on both PC and game console. If you believe the highlights feature is too simple, Aiseesoft Screen Recorder is a great alternative to save your gameplay to hard drive easily. You can use it to to record Diablo 3, Pokemon, LoiLo, or other games. If you encounter other troubles, please feel free to contact us.

Leave your comment and join our discussion