How to Record Your CSGO Gameplay like Professionals
CSGO, stands for Counter-Strike: Global Offensive, is the fourth game in the Counter-Strike series. Since released, it has become one of the most popular first-person shooting game on market. There are also a lot of gameplay videos on Twitch, YouTube, Facebook and more. Sometimes, you may want to record your own gameplay and share it with your friends. However, can you record CSGO gameplay. The answer is yes and this guide tells you two best methods to do the job in detail.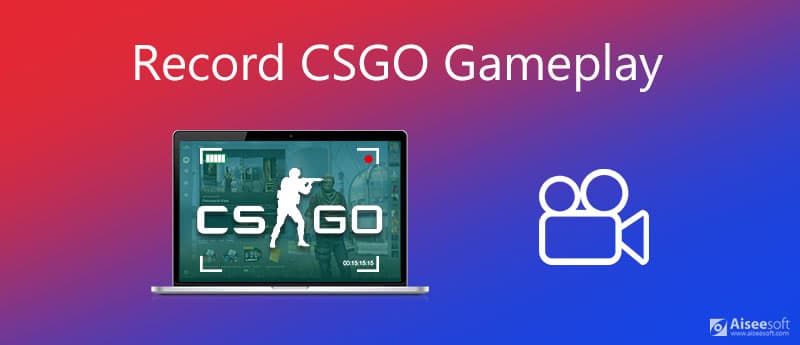 Part 1: Best Way to Record CSGO
For beginners, an easy to use game recorder is necessary to record CSGO on Windows or Mac. There are a lot of game recorder software, but only a few of them can simplify your job. Aiseesoft Screen Recorder is one of the easiest game recorders.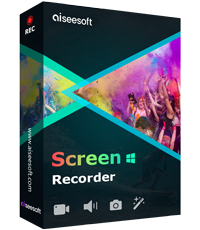 Downloads
Aiseesoft Screen Recorder – the Easiest CSGO Recorder
Record CSGO in full screen or capture specific region in one click.
Add your reactions and voice to gameplay recording.
Draw on the game recording in real time.
Preview gameplay videos with built-in media player.
Needless to say, it is the best recording software for CSGO players.
How to Record CSGO like a Professional
Step 1: Install CSGO recorder
The best CSGO recording software is compatible with Windows 10/8/7 and Mac OS X. You can download and install the proper version according to your system. Launch it and choose
Video Recorder
to enter the main interface when you need to record CSGO gameplay.

Step 2: Record CSGO gameplay
There are four options in the main interface,
Display
,
Webcam
,
System Sound
, and
Microphone
. To record CSGO, turn on
Display
and choose
Full
. That will capture your entire screen. If you just want to capture an area, choose
Custom
and select the desired area. Turn on
System Sound
and adjust the volume.
If you need to add your reactions to the recording, enable Webcam and Microphone; otherwise, keep them disabled. Press the Gear icon to open the Preferences dialog. Here you can set output format, destination, hotkeys and more. Click on the REC button and start playing CSGO. After the countdown, recording will begin.

Step 3: Edit recording
During recording CSGO, you will be presented a toolbar. The
Pause
button lets you skip unwanted moments. To edit the gameplay recording, click the
Edit
icon. Then you can add text, painting, and various shapes to the recording in real time. To draw on the recording, for example, select the
Pen
icon, adjust the color and size, and do it directly. The
Camera
icon on the toolbar lets you take screenshots at important moments.

Step 4: Preview and save gameplay
When game recording is done, click on the
Stop
button to open the result in preview window. Then you can play the CSGO gameplay and remove unwanted frames by resetting the start and end points in
Clip
section. Finally, click on the
Save
button to export the recording to your hard drive.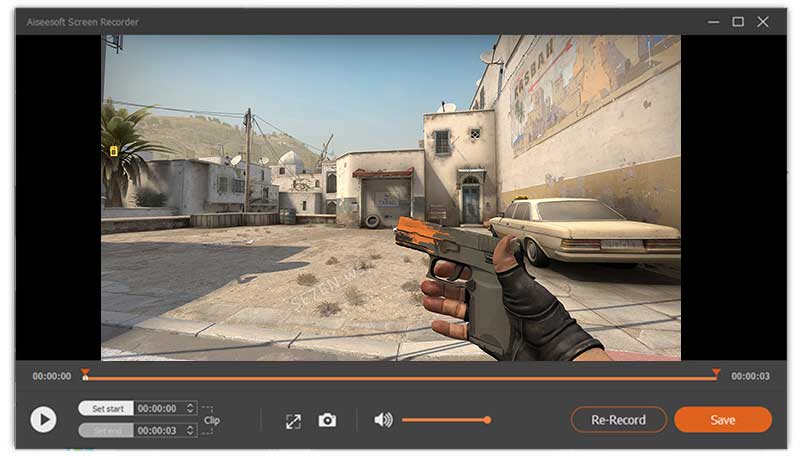 Part 2: How to Record CSGO for Free
Freeware is attractive since it lets you do the job without paying a penny. However, it has a lot of downsides as well, such as difficult to configure, crash issue, and more. OBS is the most popular freeware to record CSGO gameplay on Windows and Mac. Here are the steps to help you configure OBS correctly:
Step 1:
Install OBS from the official website if you do not have the CSGO game recorder. It is open source and free to use with any restriction.
Step 2:
Open OBS and click the
+
icon below the
Sources
section at the bottom. Then choose
Game Capture
on the context menu and click
OK
on the popup dialog.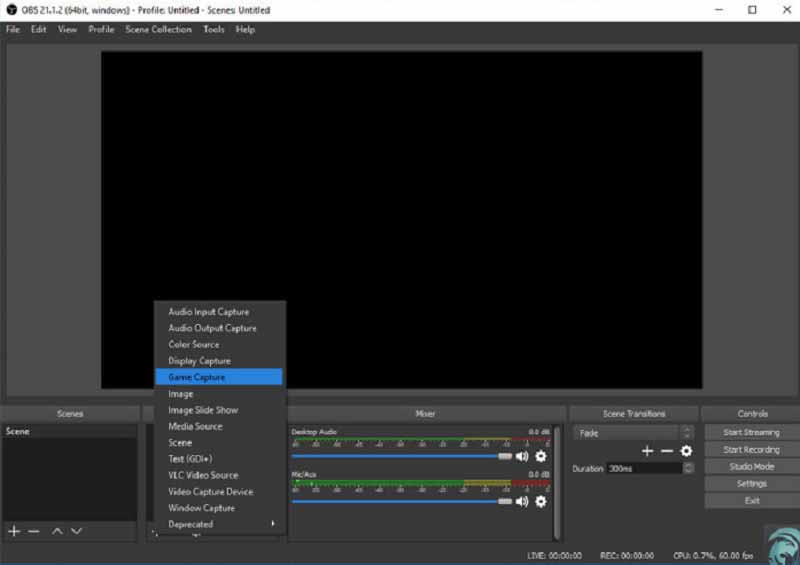 Step 3:
Now, you will be asked to select the capture mode. For recording CSGO, select
Capture any fullscreen application
, and decide whether to
Capture Cursor
. Click
OK
again to confirm it.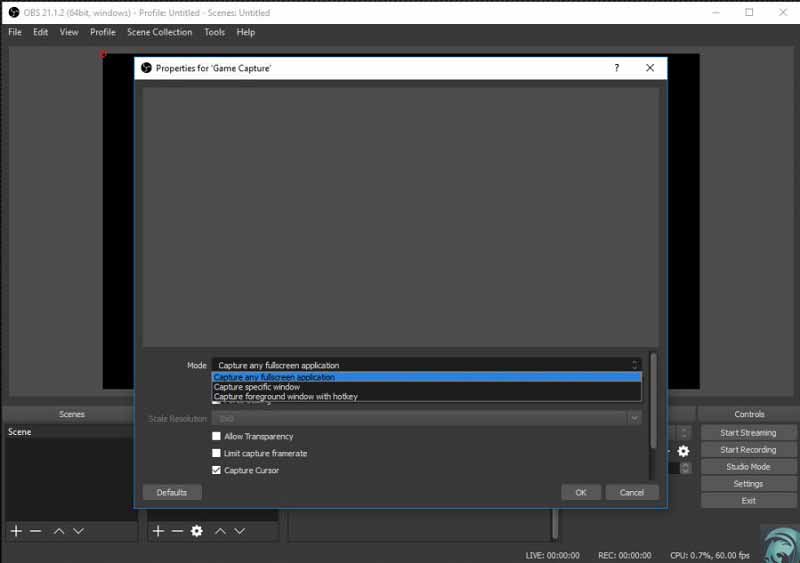 Tip: If you select the Capture specific window mode, make sure that your game is actually running. Then OBS will detect it.
Step 4:
Next, click the
Settings
button at bottom right side to open the
Settings
dialog. Go to the Video tab, select
Advanced
in
Output Mode
, and head to the
Recording
panel. Set the
Recording Path
,
Recording Format
and other options based on your situation. You can also change hotkeys, audio and video options on the dialog. Hit
Apply
and
OK
to close the dialog.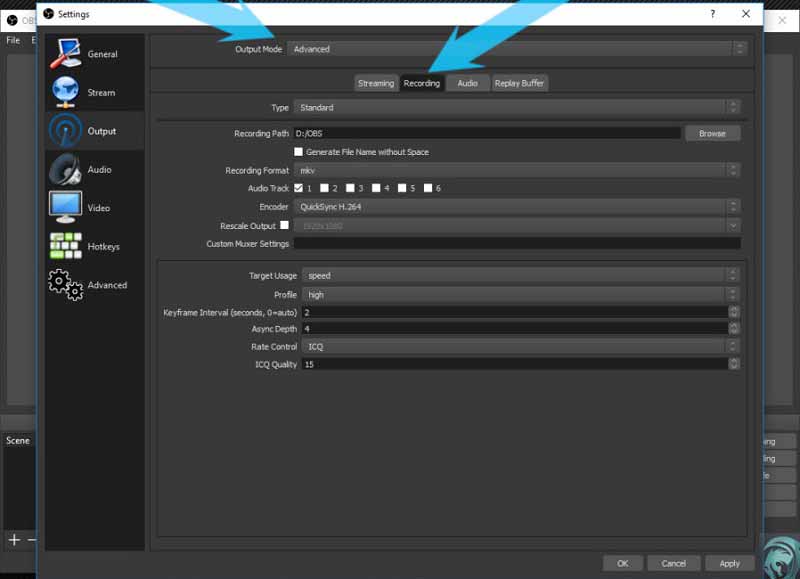 Step 5:
After going back to the main interface, click the
Start Recording
button. Play your CSGO and OBS will record the gameplay.
Tip: If you wish to capture your face via webcam while recording CSGO gameplay, you have to add it in the Scene section.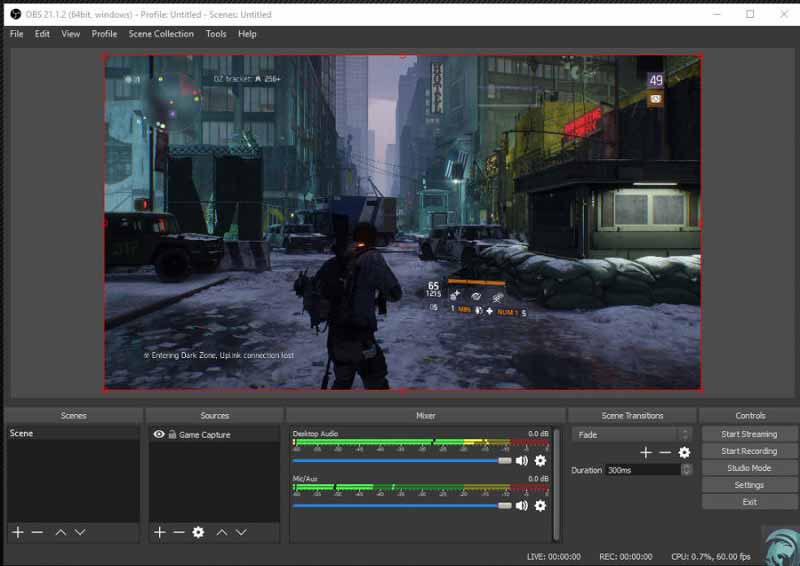 Step 6:
When you want to stop CSGO recording, click the
Stop Recording
button.
Note: Players can no longer use OBS Game Capture after the new CSGO update, but the upcoming patch should fix the issue. According to OBS, they are willing to work with Valve to solve the issue.
Here you may like: Where Do OBS Recordings Go? Find Your OBS Recordings
Part 3: FAQs about How to Record CSGO
Does CSGO offers the built-in recording feature?
No, CSGO does not provide any features related to gameplay recording. To record your gameplay, you have to use a third-party game recorder program.
Is CSGO free?
Yes, CSGO is free to play currently. You can play the full game without paying any penny, but the items and weapons need extra payment.
Where are CSGO matches saved?
By default, the CSGO matches are saved in Steam\steamapps\common\Counter-Strike Global Offensive\csgo.
Conclusion
This guide has shared two easy ways to record CSGO gameplay on PC and Mac. OBS is a popular game recorder among CSGO players, but it is not available since the latest update, although the developer is solving the problem. Aiseesoft Screen Recorder - best game recording software, on the other hand, is more powerful and provides more advanced features in the way that everyone can learn quickly. You can pick the proper method according to your need. If you have other questions, please write them down below this post.

Leave your comment and join our discussion