How Can You Record VR Gameplay in High Definition Videos
"I am working on a virtual reality project, which basically needs to show how immersive VR can be using in our business, to be able to do this, I need to capture the gameplay while playing VR games, but how to record VR gameplay ?"
As a peculiar technology, VR is not something quite like sharing your experiences with others. Though you can enjoy the immersive world, it is hard to share it to your friends. Fortunately, this guide will tell you three ways to record VR gameplay on computer.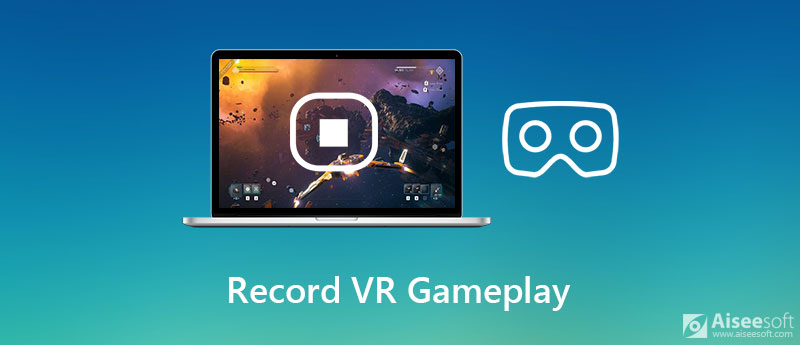 Part 1: Best Way to Record VR Gameplay
When it comes to record VR gameplay on computer, you can do it as simple as capture traditional games if you have a powerful tool. Aiseesoft Screen Recorder, for instance, is an amazing VR gameplay recorder for both PC and Mac.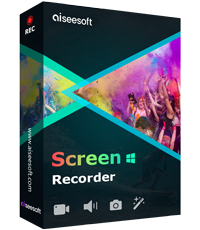 Downloads
How to Record VR Gameplay on PC like Professional
Step 1.
Install VR game recorder
Launch the best VR gameplay recorder once you install it on your computer. Then choose Video Recorder to enter the main interface. Here you can click on the Settings button and reset the options related to output, hotkey, and more.

For VR gameplay recording, turn on Display and select Full to record entire screen. If you just wish to capture a specific area, choose Custom. Enable System Sound and adjust volume. It will record VR gameplay along with audio. Of course, you can overlay your reactions to the recording by enabling Webcam and Microphone too. Next, connect your VR headset, play the game and click the REC button to begin recording it.

Step 3.
Preview and export recording
Whenever you wish to stop VR gameplay recording, click the Stop button on the toolbar. Then take off the VR headset and you will be taken to the preview window. Play the recording in the built-in media player and click the Save button if you are satisfied. If there are unwanted clips, remove them with the Clip functionality. Now, you can share the VR gameplay with your friends or post it to social media.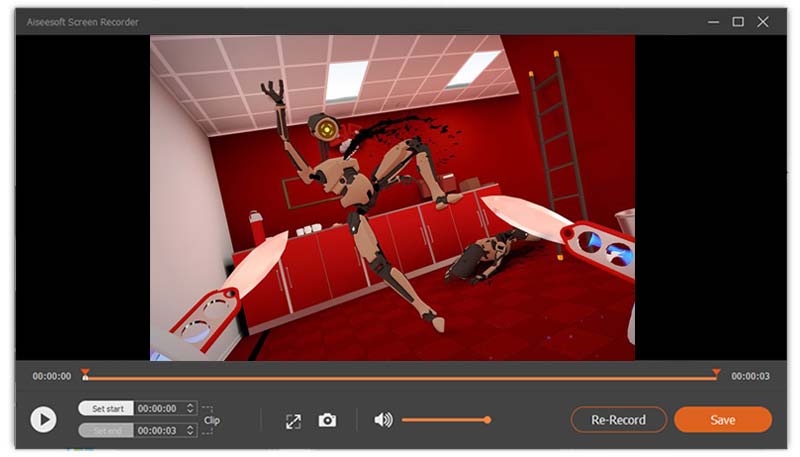 Part 2: How to Record VR Gameplay for Free
Freeware is a great choice to record VR gameplay on PC, although it usually has a variety of downsides. We identify two free game recorders that have the capacity to capture VR game.
Method 1: How to Record VR Gameplay with Nvidia Graphics Cards
Shadowplay is the free VR gameplay recorder program works with Nvidia Graphics Cards. In another word, you can capture your VR game if your PC integrates the Nvidia Graphics Card. Here are the steps below:
Step 1.
Launch the Nvidia Geforce Experience and turn ShadowPlay on in the Preference tab.
Step 2.
Then set up your Keyboard shortcuts to activate VR gameplay recording. Make sure to check the box next to
Alle desktop capture
.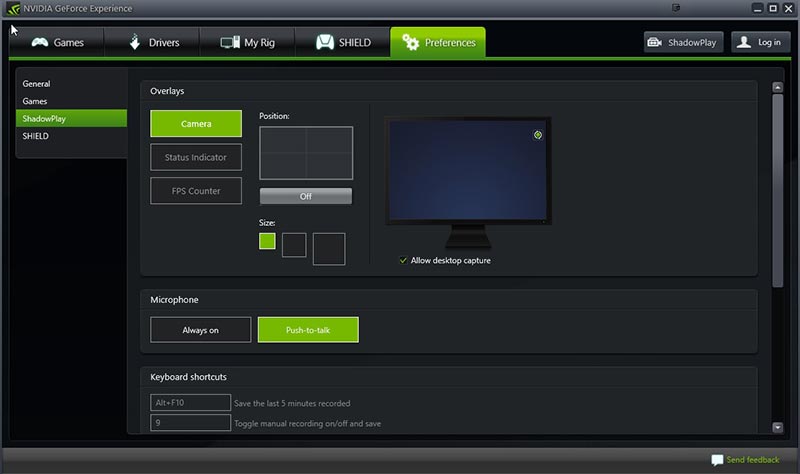 Step 3.
Next, connect your VR headset to your PC and run the VR game that you want to record.
Step 4.
Minimize the Geforce Experience window and click the
Fullscreen
button in the top right of the window to capture full screen. Then start recording.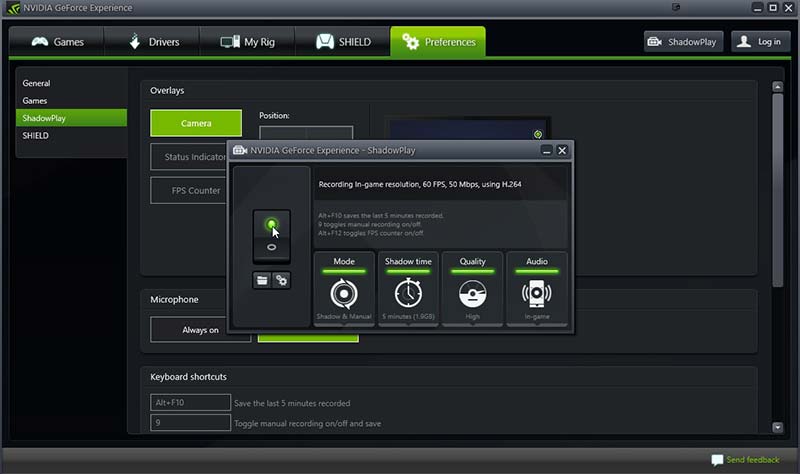 Method 2: How to Record VR Gameplay by OBS
If you are someone who cannot afford a separate PC for recording VR gameplay, ShadowPlay might just illusion for you. Open Broadcaster Software is an alternative solution. As a long-time screen recorder, OBS is popular among vlogger and gamers around the world. Unlike ShadowPlay, OBS is available to most computers and laptop. However, the main shortcoming is the complicated setup process. We share the basic steps here.
Step 1.
Run OBS, go to the Scenes section, click the
Add
button, enter a name and press
Enter
key.
Step 2.
Locate the
Sources
section, click
Add
button and select
Windows Capture
. Select
Create New
on the popup dialog, leave a name and hit
OK
. You can try OBS's Game Capture source, but it might not work on every VR game.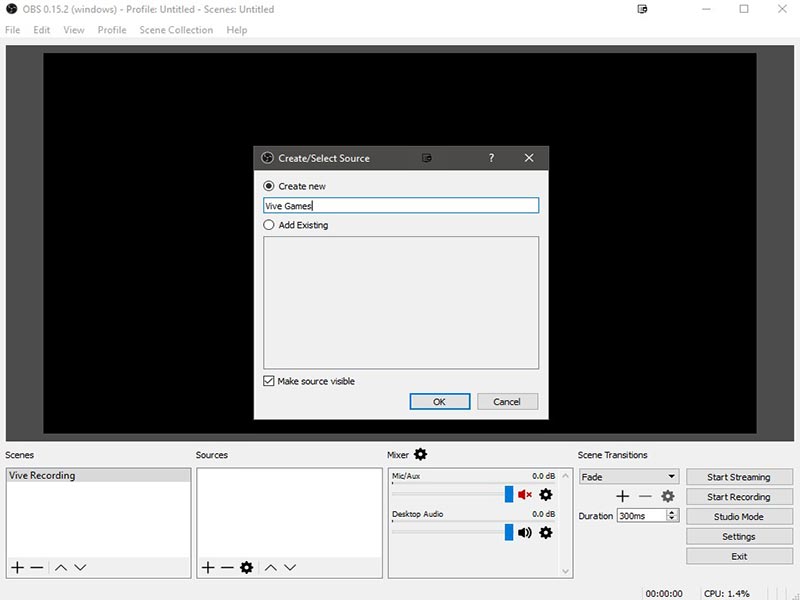 Step 3.
Decide the audio source in the
Mixer
section.
Mic
will capture your voice through microphone and
Desktop Audio
is used to record gameplay sound.
Step 4.
Click the
Settings
button on the right side to open the
Settings
dialog. Expand the
Output Mode
and choose
Advanced
. Then go to the
Recording
tab and set the options. Click
OK
to confirm it.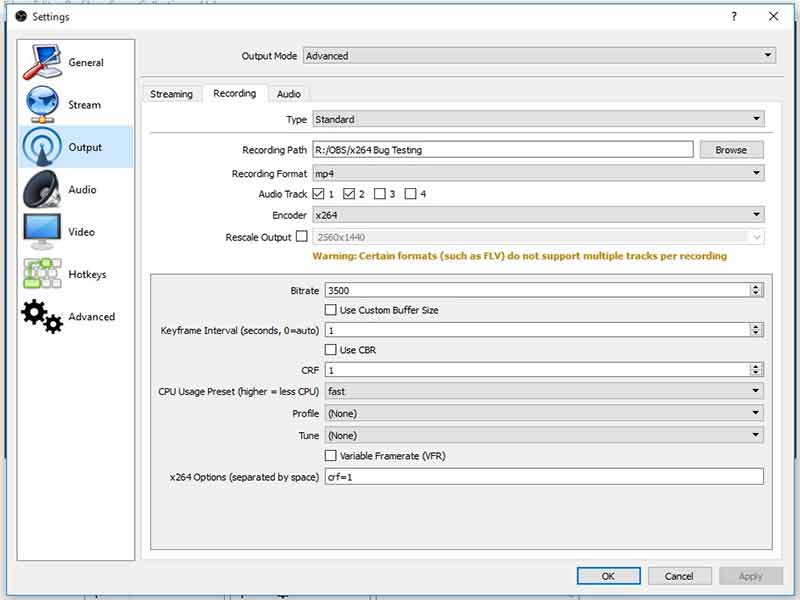 Step 5.
Now, open the game app and take on the VR headset. Then click the
Start Recording
button to begin recording VR gameplay. When it is done, click the
Stop Recording
button.
Part 3: FAQs of VR Gameplay Recording
Can you record in VR?
Though you can get immersive experience in your VR headset, there is no record feature built-in your device. You still need to do it on your desktop.
How do I record a VR gameplay on Android?
To record your mobile VR gameplay on Android phone, you will need a screen recorder app, such as AZ Screen Recorder, Mobizen Screen Recorder and more.
How to record my voice in Oculus?
When using Oculus on your PC, you can use the Voice Recorder preinstalled on Windows to record your voice. Moreover, you can use any third-party voice recorder software to do the job.
Conclusion
This guide shares three ways to record VR gameplay on PC. Nvidia Geforce Experience is a simple way to capture your gameplay for free, but it is only working with certain Nvidia Graphic Cards. You can read the list in the official website. OBS is another free option to capture your VR game. If you mind the shortcomings of freeware, we suggest you to try Aiseesoft Screen Recorder directly. It is able produce amazing game recordings. If you have other questions related to VR game recording, please write them down below and we will reply it quickly.

Leave your comment and join our discussion