Two Ways of Recording Roblox Game Videos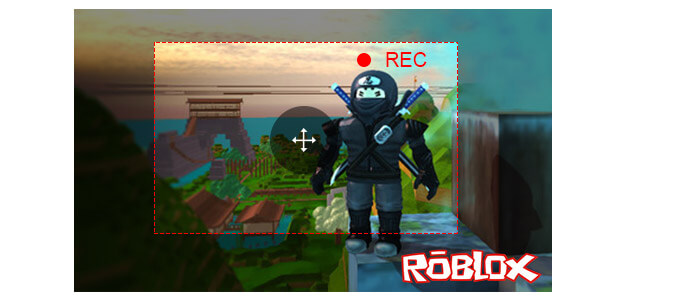 What is Roblox?
As a game player, you cannot be familiar with Roblox more. Roblox is the game powered by players. User-generated MMO (Massive-Multiplayer On-Line) gaming site for kids, teens and adults, Roblox allows you to build your own virtual game world, play it and share it in the public. After signing in Roblox, you could download the interesting games to your desktop, your tablet, or your phone. Creating your own walkthrough, you can play games whether you are at home or on the go after accessing your account, and the Roblox games duration is created as long as you wish. If you want to join "Builders Club", "Turbo Builders Club", or "Outrageous Builders Club", then you need to pay money for them. After you find a game that attracts you, you can click "Play" to download the game app to your device. Then you can begin to create your virtual world to build your castle in Roblox.
Why record Roblox game videos?
Roblox gains a high reputation for letting users do it by themselves. Users can create any gameplay as they can imagine. The powerful interface enables you to choose model and terrain. You can get a tutorial to follow the game. Also you can learn more skills from Roblox blog or forum. For preferred images or video, you can take a screenshot or record a video. And recording Roblox video is very necessary. Sometimes, you may get lost the entire settings before you can save it because of a power-off in your iPhone. Or you want to make some changes for your previous settings, but the huge task may take your mind off the previous gameplay. At this point, you will find recording Roblox video is very important. And for some of you, the screenshots are not enough to express such dynamic game plays as a brave jump off a mountain and into a pool of water. And you may need to record your Roblox video to make a tutorial to share with others in the internet or just want to watcch the amazing moments again and again. Then you may ask: how to capture Roblox videos? Keep reading and find the answer from the following descriptions.
How to capture Roblox game
Capture Roblox game video with built-in recorder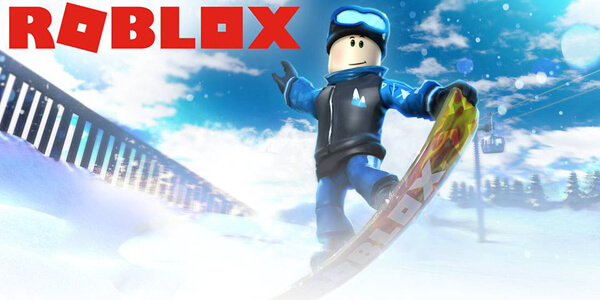 Roblox has its built-in recorder. You are allowed to record Roblox video easily in your device. But kindly note that, Roblox recorder will lag up your 1GB iPad 4 and 512MB other devices when you type and read at the same time. So getting a good recording quality of Roblox video, we suggest you take Roblox game recordings on your PC. Steps are as easy as the following:
Step 1 Go into the game, click the menu button in the upper-left corner.
Step 2 After loading the game, click the "Record" button to start to record Roblox video, and click the record button again to stop recording video. You can find the recorded video saved in your computer in the format of WMV by clicking "My Videos" from the pop-up list.
If you want to edit the recorded video, you can click "Video Settings" to make settings. And you can add/upload it to YouTube or other websites for sharing directly.
This built-in recorder is very easy, right? But still some unsatisfying views about this Roblox video recorder. It only allows you record and stop, but no other options for your pausing recording. And, you can only record game video screen, as for game settings screen, you cannot record them. What's more, when you are recording, you can only find the red frame to capture the whole screen. No mouser cursor to highlight, nor options to choose area to crop video.
Record Roblox game video with Screen Recorder
Considering the disadvantages of recording Roblox videos in the above way, so we share another Roblox video recording app, Aiseesoft Screen Recorder. It enables you to record Roblox game videos with optional recording area. And you can record microphone audio to save voice chat when playing a game. Moreover, you can highlight your mouse cursor to show it in your screen for an easy control. Most importantly, you can pause or resume the recording by pressing the hot keys. You can set the hot keys according to your preferences. Firstly, free download Screen Recorder and install it on your Windows computer. See the following steps:
Step 1 Go to the Roblox game, and launch Screen Recorder.
Step 2 Turn on system and microphone audio, and choose recording area. Play the Roblox game, and click "REC" to start to capture Roblox video. In the recording process, you are allowed to pause or resume the recording.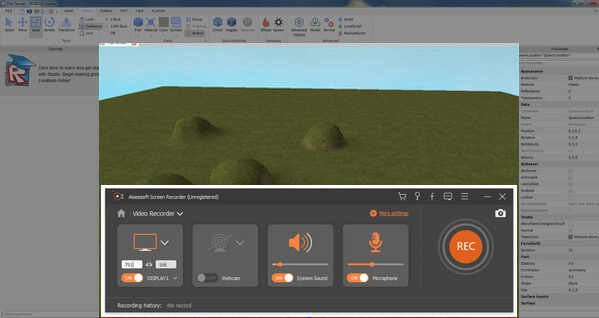 After completing to capture Roblox video, you can click the stop button to watch your recorded video. Then click "Save videos" to download the recorded WMV/MP4 Roblox video to your PC.
FAQs of how to record Roblox videos
1. Is there a voice chat in Roblox?
Yes. Roblox on Xbox has an integrated voice chat system that allows you to chat with your friends and party members.
2. How to record Roblox with OBS?
Download and launch OBS Studio on your Windows computer. Open Roblox and select Settings at the bottom right section. Go to the Scenes box in the bottom-left section, and click Add to add a new entry. Then go to the Sources and click Add to add the source. Select Game Capture and check Add Existing box. In the Window dropdown, select your Roblox game. Then select Start Recording button to capture your gameplay.
3. How to record your voice on Roblox?
You can record your voice on Roblox with Aiseesoft Screen Recorder. Install and launch Aiseesoft Screen Recorder on your computer, and click Audio Recorder in the main interface. Enable both System Sound and Microphone options. Play the Roblox game and click REC to start recording.
In this way, you are able to record Roblox video conveniently with more guided functions to facilitate you. Apart from recording game videos, you are able to turn on system audio only to record Spotify music, which gives you a way to download Spotify music. Also if you attend an online meeting, you could record online meeting to playback it for not missing any important points. But one disadvantage is that, it only allows you to record Roblox video now. If you want to edit, you need to turn to other video ehancement tools.
You can learn the steps from the video below: