How to Watch Your Gameplay Replays on Fortnite and Save to Your Computer
Fortnite replay mode is an important way to view and share your gameplay. If you're aiming to improve your game in Fortnite, for example, often you'll need to question everything you're doing during a match. Plus, you can share your strategies with other playerswith the replays. However, it can be a little cumbersome to set up and find the replays. This guide will walk you through how to access the Fortnite replay mode and other knowledge you should know.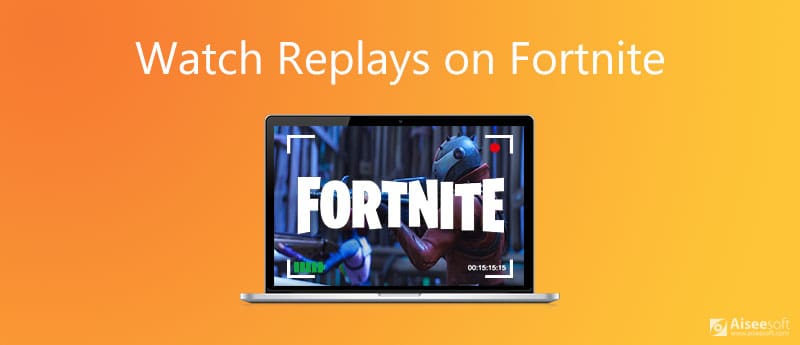 Part 1: How to Watch Replays on Fortnite
Briefly, Fortnite replays are the gameplay recording videos. This feature allows you to watch previous matches. You can also zoom in on specific details, slow down crucial moments, and analyze what went wrong or right. The feature also gives you tools to edit clips. If you want to improve your game or create amazing in-game clips, this feature is a great tool. For people who are not familiar with Fortnite replays, here are steps to watch your Fortnite replays:
Step 1:
Open Fortnite, log in your account and navigate to the
Career
tab from the main menu.
Step 2:
Once you select
REPLAYS
, you will get a list of all Fortnite replays available. Here you can browse the replays by title, date, length and more.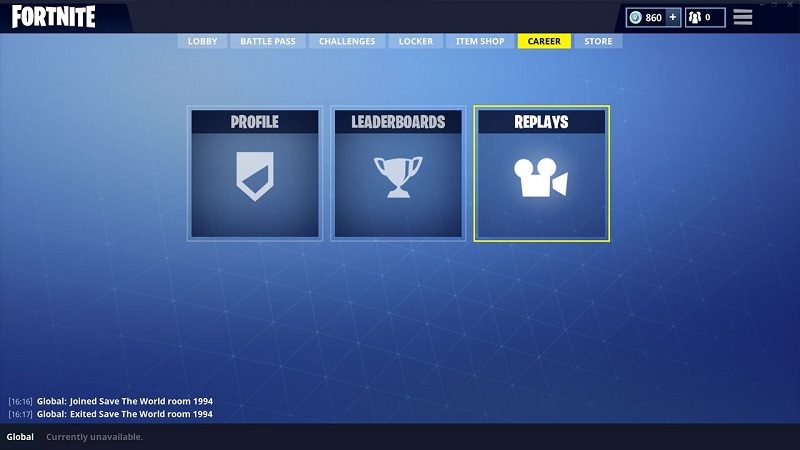 Step 3:
Select a title and click the
Play
button to open it in the media player. The replays are recorded in 360-degree, so you can adjust the angle with the options at the top of the media player. There are several buttons at the bottom and we describe them below:
1. Rewind to the beginning of replay
2. Rewind 15 seconds
3. Play pr Pause
4. Skip 15 seconds
5. Skip to final point of replay
6. Adjust replay speed.
7. Select player.
8. Choose camera type.
9. Bring up the player list.
10. Gameplay options.
11. Turn on/off HUD.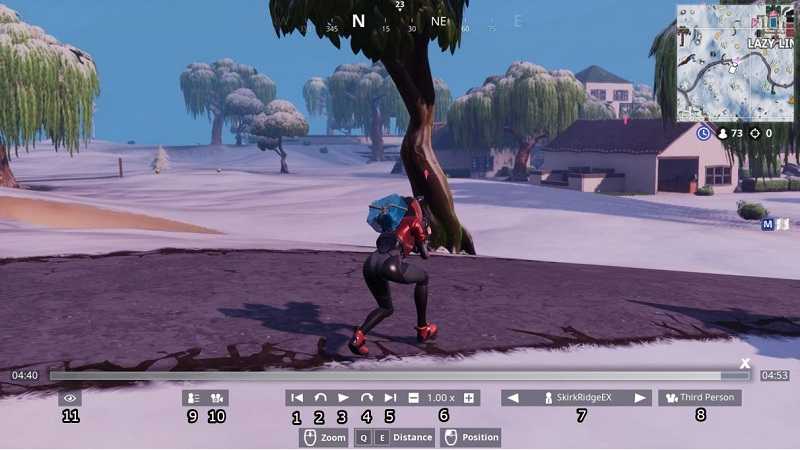 Step 4:
In Fortnite replays mode, you can also use several hotkeys to control the playback. Pressing
X
button, for example, will zoom in the image.
Y
key is used to zoom out the image.
Step 5:
To save a replay to your hard drive, go back to the replay list screen, select the replay and click the
Rename And Save
button at the bottom right corner.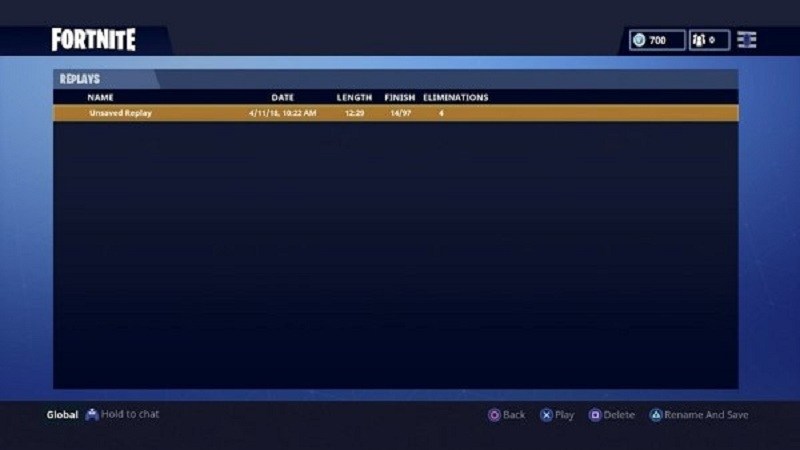 Part 2: Best Way to Create and Watch Fortnite Replays
The built-in replay feature in Fortnite is just a simple way to watch and save your gameplay, but not the best options. Firstly, it cannot add your reactions and face to the recording. Moreover, it won't keep all your replays permanently. Therefore, we recommend Aiseesoft Screen Recorder, the best alternative way to watch and save replays of Fortnite.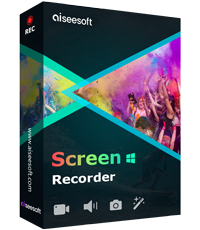 Downloads
How to Save Fortnite Replay to Computer
Step 1: Install Fortnite recorder
Launch the best Fortnite recorder once you install it on your PC. For Mac users, download the version for macOS. Choose
Video Recorder
to open the main interface.

Tip: To record your Fortnite gameplay on mobile device, mirror the screen on your desktop.
Step 2: Record Fortnite replay
Locate the
Display
section and set the recording region. If you play Fortnite in full screen, click on
Full
.
Custom
option lets you to select a specific area to record. Turn on
System Sound
and modify the volume until you are satisfied. The
Webcam
option can add your reactions to the Fortnite replay and the
Microphone
option will capture your voice while recording Fortnite. You can decide whether to turn them on or off according to your need. Click the
REC
button and play your Fortnite. The Fortnite replay making will begin.

Tip: If you want to change the options related to output, hotkeys, and more, click the Settings button and you will find them on the Preferences dialog.
Step 3: Save replay to computer
During recording, you can also add text, paintings and shapes on the gameplay with the
Edit
icon on the toolbar. The Camera icon is used to take screenshots at important moments. When Fortnite replay is done, click the
Stop
button. Then you will be taken to the preview window. Play the Fortnite replay and click on the
Save
button if the recording is okay. The
Clip
function is able to remove unwanted footage.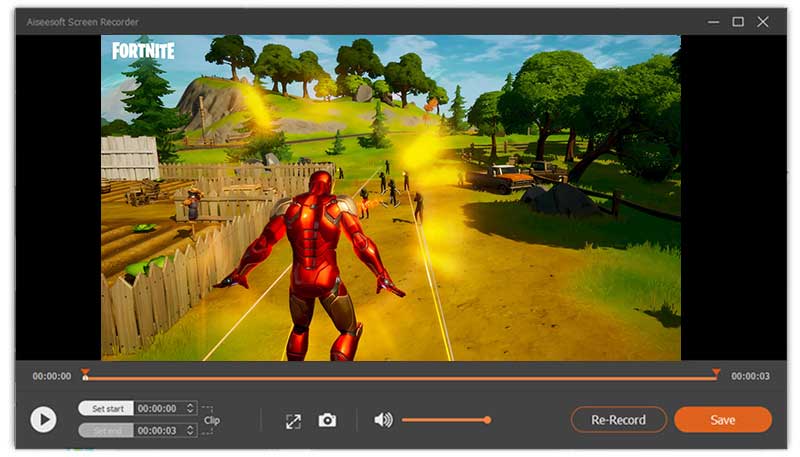 Apart from recording Fortnite replay, you can also use it to record Diablo 3, LoiLo, or other game replays.
Here you may like: The Easiest Way to Record Gameplay on Xbox 360
Part 3: FAQs about Fortnite Replays
Can I watch Fortnite replays on mobile?
The replay mode is only available for Fortnite versions for personal computer, PlayStation 4 and Xbox One. On Nintendo Switch, Android and iOS, this tool is not yet available. So, you cannot watch or save Fortnite replays on mobile devices.
How many replays Fortnite can save?
According to EpicGames, you can watch the last 10 matches on game console. When it comes to PC, Fortnite will save the last 100 replays for playing and browsing. If you did not save them to your memory, the old replays will be overwritten as you play more games. Plus, a replay file that lasts the entire match is about 10MB in size.
Why I cannot find my replays in Fortnite?
By default, Fortnite create replays automatically. However, if you disabled it by mistake, it won't record your gameplay anymore. To fix the problem, go to the Settings screen in Fortnite, select Game , scroll down to Record Replays and toggle it on. Bear in mind that this feature might slow down the performance of your machine.
Conclusion
This guide has talked about how to find, watch and save Fortnite replay feature. As a popular video game, Fortnite has attracted tons of players as well as audiences. In fact, many people prefer watching games to playing. It makes sense that Fortnite released the replays feature. If it is not available to you, try Aiseesoft Screen Recorder directly. More questions? Please leave a message below this post.

Leave your comment and join our discussion