Waifu2x Review and Best Waifu2x Alternative
When you want to scale your images, especially for anime artwork, you will be easily introduced to waifu2x. Thing is, there are many several waifu2x tools offered on the market for you to improve the quality of photos. Which waifu2x you should use?
This post shares a waifu2x review for you to know some basic information about the waifu2x based tools. You can learn the key features and how to use waifu2x. Moreover, we like to introduce you to a great waifu2x alternative in case you want a better image upscaler or image noise reducer.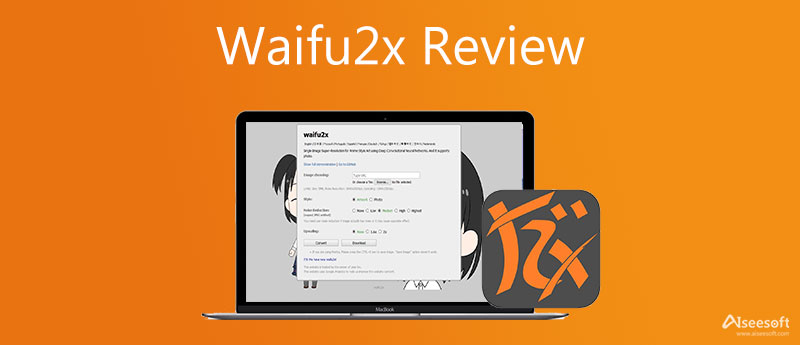 Part 1. Waifu2x Review - What Is Waifu2x and How to Use It
Waifu2x is an online image editor that is mainly used for image scaling and noise reduction. It is originally designed to double the size of anime images and waifu (Japanese pronunciation of wife) pictures. Waifu is an anime slang that refers to a female character to whom one is attracted, and the 2x means two-times magnification. Besides the anime-style art, you can also use it to improve the quality of other types of photos.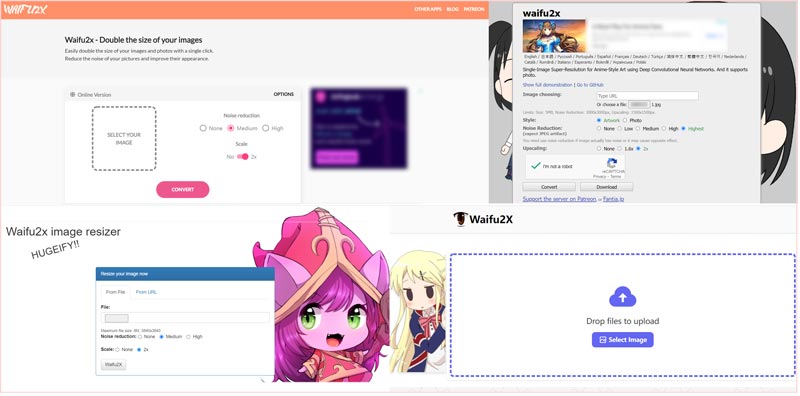 One thing you may notice is that, there are many waifu2x programs offered on the internet, called Waifu2X, Waifu2x, or waifu2x. All these waifu2x based tools, online or offline, carry similar features, noise reduction and upscaling. They specialize in reducing the image noise of fictional girls and women.
How to use waifu2x
After testing all kinds of waifu2x programs, we take the waifu2x.udp.jp as an example to show you how to use a waifu2x based tool, because it can output comparatively the best image quality. When you are using another waifu2x, you can take similar steps.
Step 1:
You can use waifu2x on any web browser like Chrome, Safari, Edge, Firefox, or Yahoo. So first, you should open your browser and go to the waifu2x.udp.jp site. When you get to the page, you can click on the
Choose File
button to upload your image file. Also, you are allowed to add an online picture through its URL.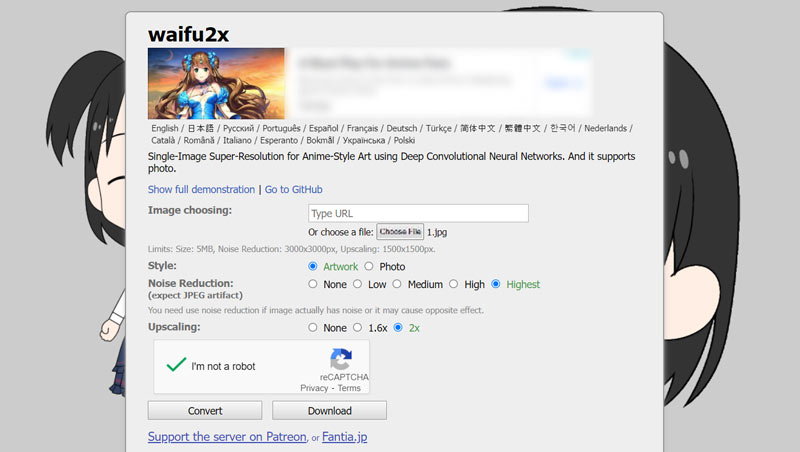 Note that, your uploaded image file size is limited to 5MB, the noise reduction is 3000×3000px, and upscaling is 1500×1500px.
Step 2:
Now you can choose the image style as Artwork or Photo. waifu2x offers 5
Noise Reduction
options, None, Low, Medium, High, and Highest. You can select the suitable one based on your need. During this step, you can also set the
Upscaling
from None, 1.6x, or 2x.
Step 3:
Click on the
Convert
button, you can preview the output photo. If you are satisfied with the result, you can click on the
Download
button to save it on your computer.
As mentioned above, this waifu2x tool can give you relatively the best output image quality. But it can only upscale your image by 2x. What's more, you will see many ads while using waifu2x to resize and upscale photos.
Part 2. Best Waifu2x Alternative to Enhance Quality and Double Image Size
Waifu2x is specially designed for anime images. So, when you use it to upscale other types of photos, it may not output the best results. Moreover, Waifu2x only allows you to upscale images by 2x. If you want a better image upscaler, you can try the popular Aiseesoft Image Upscaler Online.
This waifu2x alternative can easily enhance image quality, and upscale image by 2x, 4x, 6x, and 8x based on your need. It is designed with advanced AI Super Resolution technology to ensure you have the best output image quality. In addition, it can analyze your photo and automatically fill in more details to improve quality. All frequently-used image formats are supported, such as JPG, JPEG, PNG, TIF, TIFF, BMP, and more.
Step 1:
Navigate to this waifu2x alternative site on your web browser. Click on the
Upload Photo
button to select and upload your image file.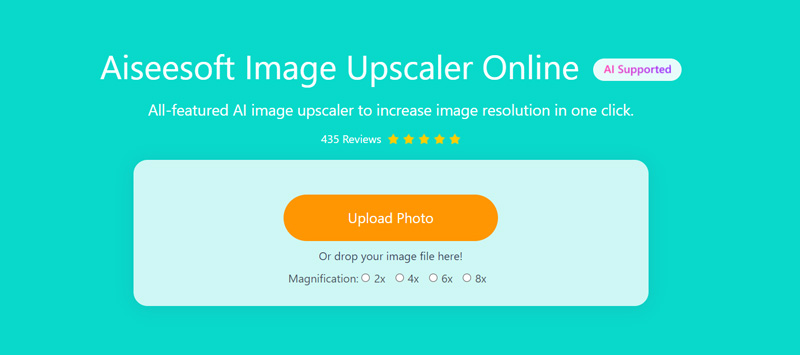 Step 2:
After uploading, you are allowed to preview the output image and select the Magnification as 2x, 4x, 6x, or 8x. Also, you can check the source and output image resolution.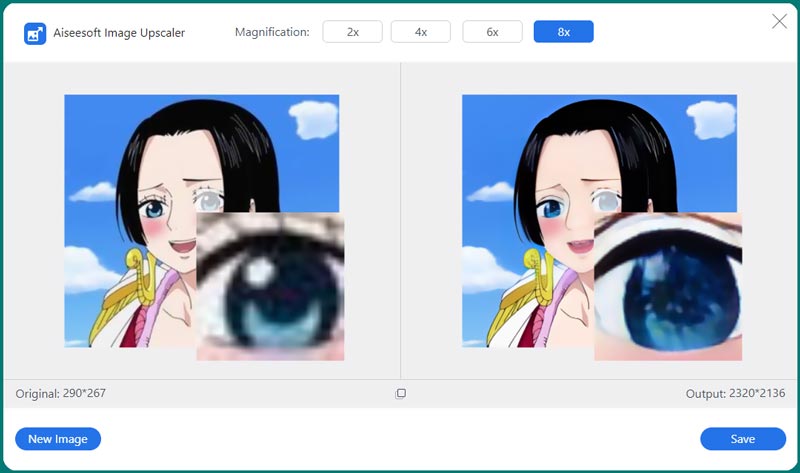 Step 3:
When you are satisfied with the upscaling result, you can click on the
Save
button to store this edited photo on your computer. The output image file won't be inserted into any watermark.
As the best waifu2x alternative, it can also fix blurry images. It will automatically increase the photo resolution online free. It is free to use and requires no account sign in or sign up. What's more, you won't see any annoying ads while using it.
Part 3. FAQs of Waifu2X and Image Upscaler
1. How to increase the resolution of my anime?
You can use a waifu2x tool, the recommended Free Image Upscaler Online, or another photo enhancer to increase your anime resolution and improve JPEG image quality online with ease.
2. How can I double my image file size?
When you need to double the file size of your photo, you can use waifu2x, some professional image editor like Adobe Photoshop, or the introduced Free Image Upscaler Online above.
3. Can I use waifu2x on my Android phone?
Yes, you can use waifu2x on your Android device to upscale a picture. Some waifu2x tools also offer Android apps for you to reduce image noise easily.
Conclusion
When you want to get the perfect image of a waifu, you may turn to waifu2x type tools. This post gives you a waifu2x review and shows you how to use it to upscale your images. Moreover, a great waifu2x alternative, Free Image Upscaler Online is recommended for you to better enhance your photo quality.

Leave your comment and join our discussion