How to Save Individual or Selected Videos from WhatsApp
This guide will show you how to save videos from WhatsApp. According to the new data, WhatsApp has attracted hundreds of millions of users around the world. That makes it one of the most popular messaging platforms. Sometimes, one of your friends sent you a video clip through WhatsApp and you may want to save it to your hard drive or memory. The good news is that you can do it on both iPhone and Android. Moreover, this guide will tell you the easiest way to save videos from WhatsApp to your computer.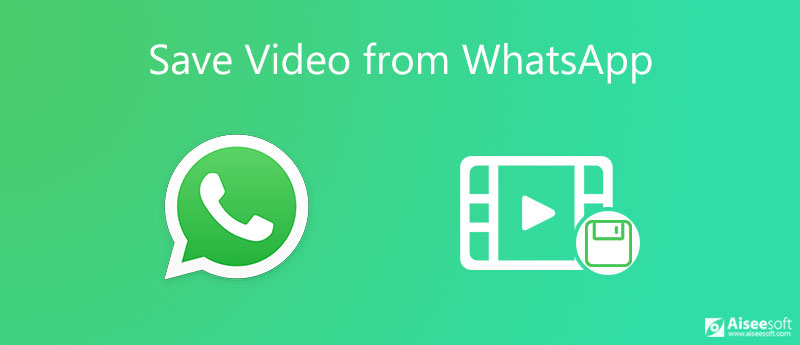 Part 1: How to Save Individual Video from WhatsApp
WhatsApp allows you to send and receive text messages, video clips, emojis, and audio messages. When it comes to save a video from WhatsApp, we talk about the steps on iPhone and Android below respectively.
How to Save a Video from WhatsApp on Android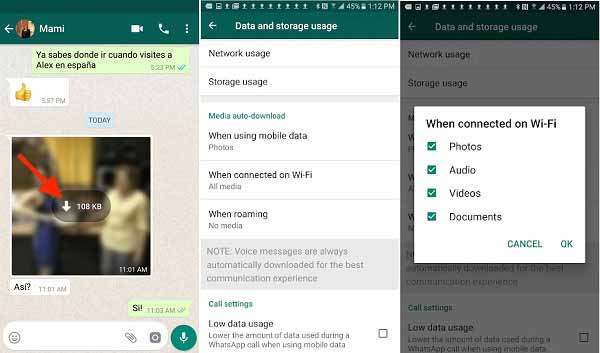 Step 1:
Open WhatsApp app from your app tray, go to the chat and find the video clip that you want to save. Deep press the video to download it from WhatsApp server.
Tip: WhatsApp is able to auto-download videos. Go to Settings and Data and Storage Usage. Then decide whether or not WhatsApp saves videos when using Wi-Fi or cellular data.
Step 2:
On Android phone, WhatsApp will save the video to your Gallery. If you have enabled the automatic download, open your file manager, head to WhatsApp, Media, WhatsApp Video, and you will get the video.
How to Save Individual Video on iPhone
Step 1:
Also, open your WhatsApp app, then tap the desired video to save it from WhatsApp server. Similar to Android, you can set the Auto-Download in the Settings screen.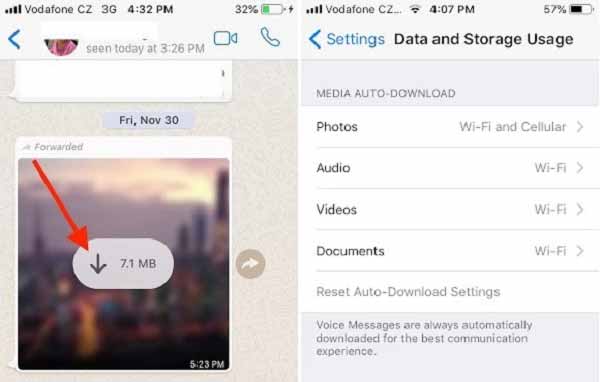 Step 2:
Switch to the Settings app from your home screen, choose WhatsApp, and Photos. Enable Read and Write to give the permission of saving video from WhatsApp to Photos.
Step 3:
Go back to WhatsApp and locate the downloaded video clip. Play the video, tap the Share icon and choose Save. Now, you can find the WhatsApp video saved to your Photos app.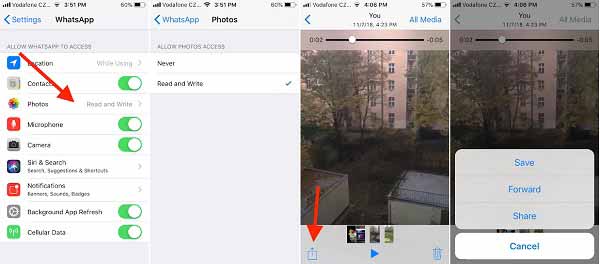 Note: Once you save a video from WhatsApp, you can clean chat history and the video won't be deleted. However, this way is only able to save individual video from WhatsApp. If you have accumulated lots of video clips to download, it will be a waste of time.
Don't miss: How to Save Snapchat Videos on iOS and Android
Part 2: Batch Download Videos from WhatsApp
WhatsApp does not provide the way to save all videos or selected video to your mobile device or computer. That makes WhatsApp video backup complicated. Don't worry! Aiseesoft WhatsApp Transfer for iOS can meet your need.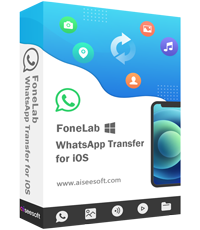 Downloads
How to Batch Save Videos from WhatsApp without Quality Loss
Step 1:
Install WhatsApp Transfer
We use an iPhone X as an example to show you the workflow. Firstly, install the best WhatsApp video saver on your computer and launch it. Choose WhatsApp Transfer for iOS in the home interface.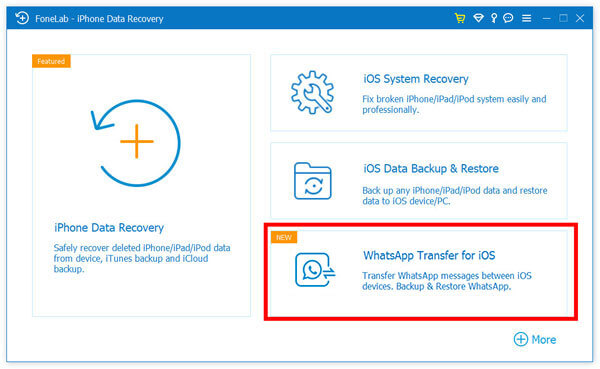 Step 2:
Scan WhatsApp videos
Connect your iPhone to the computer with a Lightning cable and the software will discover your device automatically. Next, click the Backup button in the software to scan WhatsApp videos that you want to save from iPhone to computer.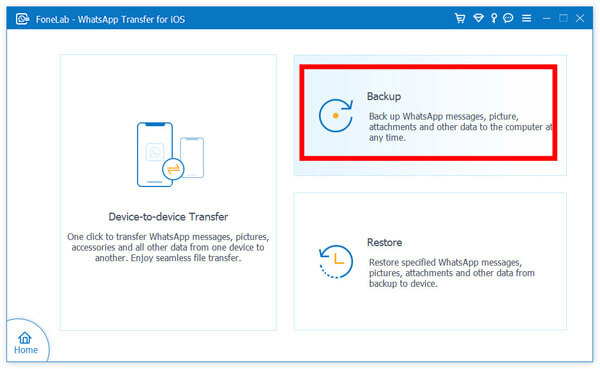 Tip: For iOS 13 and later, you have to enter your password to permit the connection.
Step 3:
Save videos from WhatsApp
Make sure that your iPhone name shows in the Source panel. If not, click the drop-down option and select the proper device. Then go to the right panel and click on the Folder icon if you want to change the destination directory. If you want to prevent others to see your WhatsApp videos, check the box next to Backup encryption under the Source panel. Next, leave your passcode in the popup dialog. Finally, hit the Start Backup button at the bottom to begin saving WhatsApp videos to your hard drive.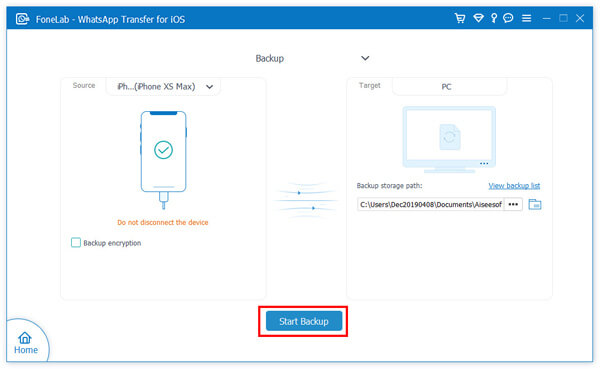 Note: In addition to save WhatsApp videos to computer, WhatsApp Transfer also allows you to restore the video backup to your mobile device at any time.
Part 3: FAQs of WhatsApp Video Save
Why cannot I save videos from WhatsApp?
Firstly, the auto-download feature is disabled in WhatsApp by default. If you want to save videos, you have to turn it on in the Settings screen. Moreover, you must save videos according to your settings. If you set to download videos with Wi-Fi connection, the video won't be saved under cellular data.
Where are WhatsApp videos stored?
The answer depends on the video's status. When you first get the video in WhatsApp, it is saved in server but not your device. Once you download a video, it will go to your Gallery on Android phone. For iPhone, you have to manually save the video to your Photos app.
How do I recover a deleted video in WhatsApp?
Once you delete a video or chat history from WhatsApp, you cannot recover it without backup. Fortunately, you can use the built-in backup feature in WhatsApp or save a single video to your device before deleting it.
Conclusion
This guide has talked about how to save videos from WhatsApp. As a mobile messaging service, WhatsApp is popular and many users share videos with friends and families. To keep the video clips forever, you can save them to your mobile device or computer. If you have followed our guide carefully, you will find it not very difficult. We suggest you to try Aiseesoft WhatsApp Transfer for iOS. It is not only easy to use, but also able to save WhatsApp videos in batch. Also, it also allows you to save photos from WhatsApp. More questions? Welcome to leave your message below this post.

Leave your comment and join our discussion