How to Backup WhatsApp Chats With or Without iCloud
WhatsApp is one of the most popular social instant messaging apps of the present time. It provides you with a simple and convenient way to get in touch with family, friends or other individuals. You can get a free, fast, and secure messaging and calling service from WhatsApp.
Does iCloud backup save WhatsApp messages ? If you are an iPhone user, you may want to backup whatsapp messages, chats and other related files to iCloud. You should know that, WhatsApp isn't a cloud messaging service. You have to rely on iCloud to make the WhatsApp backup.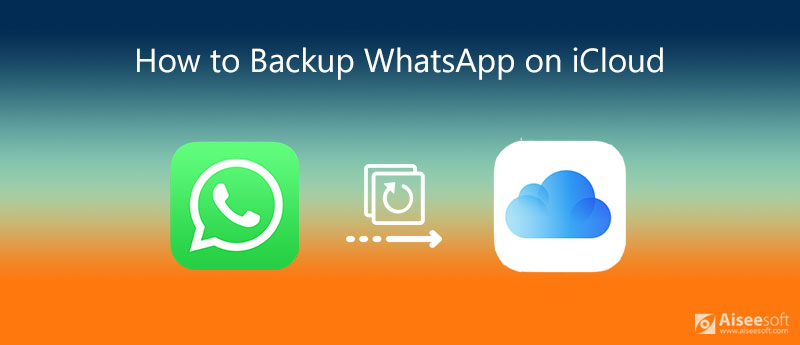 We like to share 2 effective ways to help you make WhatsApp iCloud backup. You can learn a detailed guide to set up regular iCloud backup for WhatsApp messages and conversations. What's more, we will show you how to backup WhatsApp chats without iCloud.
Part 1. How to Backup WhatsApp on iCloud
iCloud allows iOS users to make a quick backup of various WhatsApp data including messages, conversations, chats, images and other contents. What's more, it enables you to restore backup from iCloud when you want to find some WhatsApp files back. This part will show you the common way to make a WhatsApp iCloud backup.
Step 1:
To backup WhatsApp on iCloud, you should first check your iCloud settings. Here you can go to the Settings app on your iPhone or iPad and then tap your iCloud account.
Step 2:
When you enter the main interface of your iCloud account, choose the iCloud option. Then scroll down to locate the WhatsApp. Make sure the WhatsApp is turned to the green On position.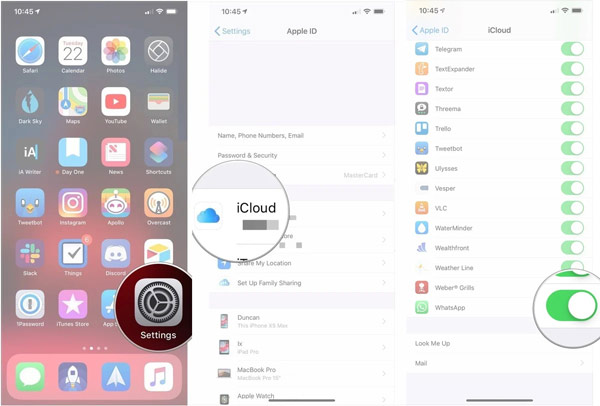 Step 3:
Back to the Home screen and open WhatsApp. Tap Settings icon in the bottom right corner. Then choose the Chat backup option.
Step 4:
Tap Back Up Now to start creating a new WhatsApp iCloud backup. There is an Auto Backup feature offered there. If you want to set up iCloud to automatically back up WhatsApp messages and chats, you can turn on it.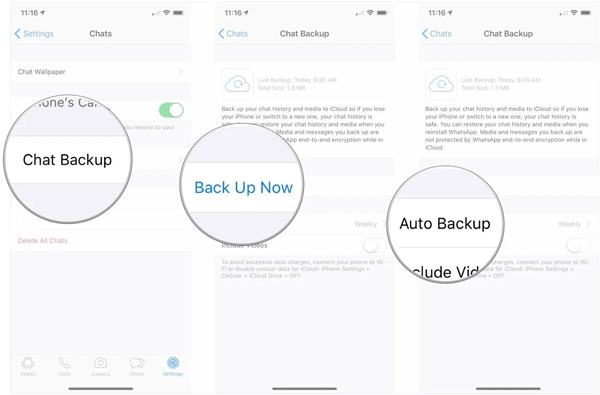 Then you can restore the WhatsApp data to a new iPhone when you use the same iCloud account on a new iPhone.
Part 2. How to Backup WhatsApp Chats Without iCloud
If you prefer to back up your WhatsApp data to computer rather than create a iCloud backup, you can turn to the professional solution. Here we strongly recommend a powerful WhatsApp data backup tool, WhatsApp Transfer for you to backup WhatsApp chats without iCloud.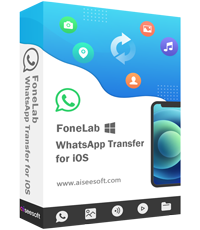 Downloads
Backup all WhatsApp chats, messages, photos, audio and other files.
Keep every WhatsApp backup file individually without overwriting.
Export one or more WhatsApp messages and chats in HTML or CSV.
Back up and restore various WhatsApp data to computer and smart phone.
Transfer WhatsApp messages and chat history from old iPhone to new iPhone.
Step 1:
To backup your WhatsApp data, you should first free install this WhatsApp backup software on your computer. It allows you to create a WhatsApp backup file on either a Windows PC or a Mac. Launch it and then choose the WhatsApp Transfer for iOS option.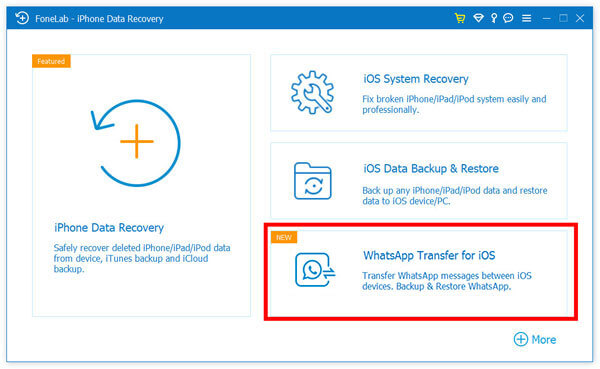 Step 2:
Select the Backup option if you want to make a WhatsApp backup on computer. Here you can also use the Device-to-device Transfer feature to directly copy WhatsApp data to another device. Then connect your iOS device to computer with a USB cable.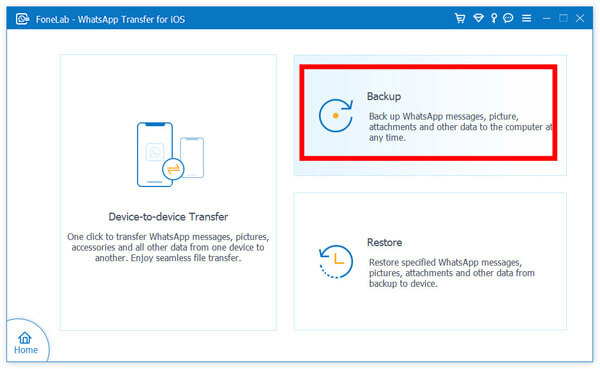 Step 3:
After connecting successfully, click the Start Backup button to start backing up all WhatsApp messages, chats, photos and other files to computer.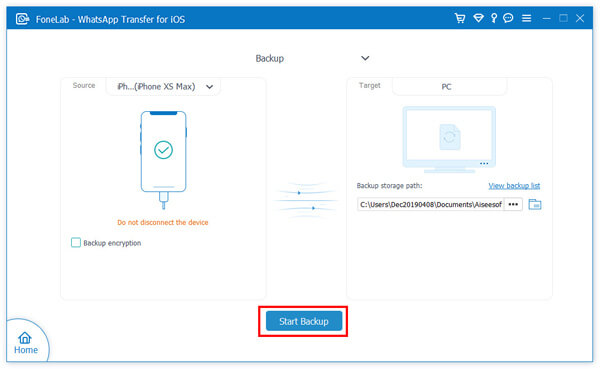 Within just a few clicks, you can handily backup WhatsApp without iCloud. As it mentioned above, this WhatsApp Transfer for iOS also carries a restore function. You can go to the Restore feature to restore old WhatsApp files from a right backup.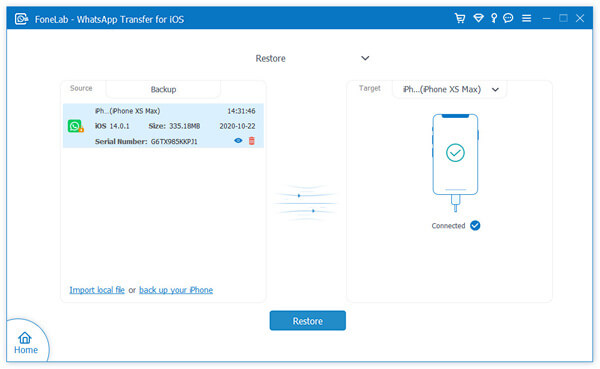 Part 3. FAQs of WhatsApp iCloud Backup
How to export WhatsApp chat?
WhatsApp offers a simple way to export various WhatsApp chats. You can open WhatsApp, tap More options, and More, and then Export chat to export your WhatsApp data. You are allowed to export WhatsApp chat through email. All the WhatsApp chats, messages, conversations will be composed as a .txt document and media files will be added as attachments.
How to backup WhatsApp on Google Drive?
If you are an Android user, you can back up WhatsApp data to Google Drive. Open WhatsApp and then tap Settings in the top right to enter. When you enter the main Settings interface, choose the Chats option. Then tap Chat backup > Backup to Google Drive to start backing up your WhatsApp messages and chats to Google Drive.
Where can I find WhatsApp backup in iCloud?
After backing up WhatsApp data to iCloud, the WhatsApp backup will be stored in a hidden folder of iCloud Drive on your MacBook. You can't directly access it on your iOS device. You have to open your Mac and search for it under the cd ~/Library/Mobile/Documents/. You need to signed into iCloud and turned-on iCloud Drive.
Conclusion
How to backup WhatsApp on iCloud ? After reading this post, you can get a detailed guide to backup WhatsApp on iCloud. In addition, you can get a better way to back up various WhatsApp data to computer or another device. Leave us a message if you still have any questions about the WhatsApp iCloud backup.

Leave your comment and join our discussion