Part 1: How to Save Individual Audio Message from WhatsApp
Firstly, WhatsApp has built in the backup feature, so that you can save voice messages along with text, video clips, emojis and other contents on iPhone and Android. However, it takes your cloud storage and you cannot save WhatsApp audio separately. The alternative solution is to save WhatsApp audio via email. This way is suitable to copy an individual audio message. If you have a lot of voice messages to save, you'd better skip to the next part.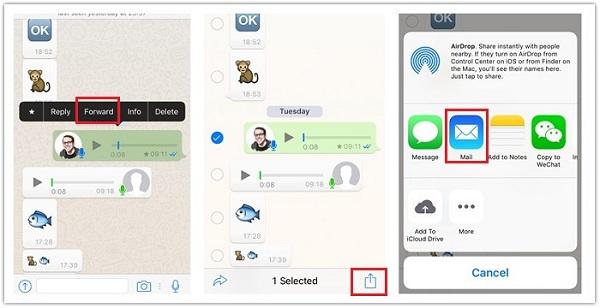 Step 1:
Open your WhatsApp from your home screen or app tray. This way is available to both iPhone and Android phone. Go to the proper chat and scroll down to find the audio message that you wish to save from WhatsApp.
Step 2:
Select the target WhatsApp audio message and hold it. Then you will get several options, like Reply, Forward, Info, and Delete. Tap Forward and tick the checkbox next to the audio message. If you have other voice notes to save in the same chat, check each of them.
Step 3:
Next, tap the Share icon at the bottom to open the toolbox. Choose Mail option to open the new mail screen. Enter your email address into the To box and write down a subject. Once you tap the Send button, WhatsApp audio will be saved as attachment.
Note: Since all email providers have the mail size limit. Gmail, for example processes messages and attachment up to 25MB per mail. If you're your voice message is too large, the mail will fail.
Part 2: Batch Download Audio from WhatsApp
As mentioned previously, the built-in method to copy WhatsApp audio messages has several downsides. Moreover, it is only working with a good internet connection. To avoid these shortcomings, you can try Aiseesoft WhatsApp Transfer for iOS.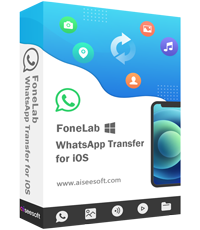 Downloads
Needless to say, it is the easiest way to copy audio from WhatsApp to computer through physical connection.
How to Copy WhatsApp Audio from iPhone to Computer
Step 1:
Install WhatsApp Transfer
WhatsApp Transfer offers two versions, one for Windows 10/8/7 and the other for Mac OS X. Install the right version on your computer and launch it. Choose WhatsApp Transfer for iOS to enter the next interface.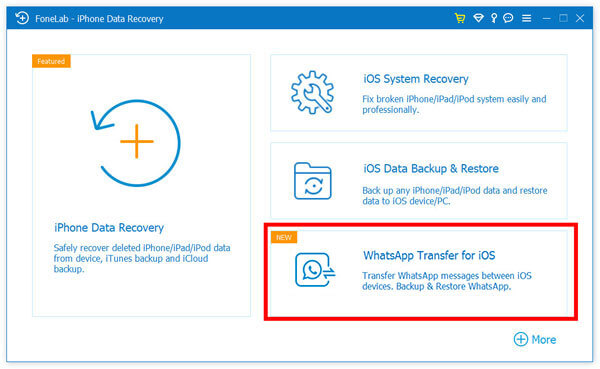 Step 2:
Connect iPhone to computer
Next, plug your iPhone in the computer with the Lightning cable came with your device. Then click the Backup button on the software to detect your device and scan WhatsApp audio messages on your device immediately.
Tip: If your iPhone runs iOS 13 or later, you need to enter the passcode to permit the connection. Moreover, you should keep your iPhone connected during the whole process.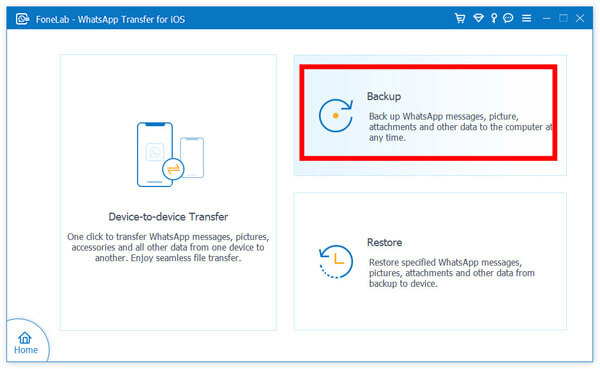 Step 3:
Copy WhatsApp audio
Once the software detects your iPhone, the main interface will pop up. Make sure that your iPhone name shows in the Source panel. If not, click the drop-down menu and select your device. The Backup encryption option lets you add password protection to WhatsApp audio copy. You can decide to enable it or not according to your situation.
Then head to the right panel and hit the Folder icon to set a specific folder for saving WhatsApp audio. As long as you are ready, click on the Start Backup button at the bottom to initiate the process. Now, you can leave the software and your iPhone working alone. When it is done, disconnect your iPhone and quit the software. Now, you can feel free to clean up voice messages and free up space.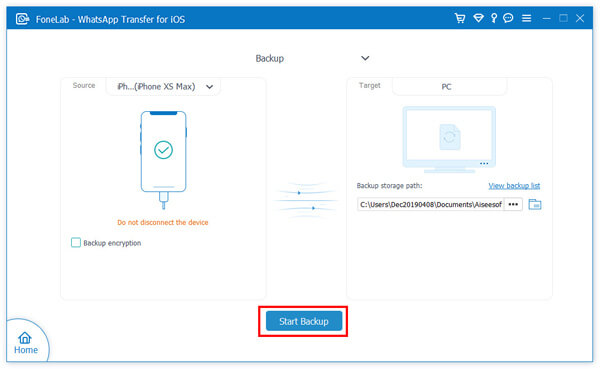 By the way, you can also use this tool to save photos from WhatsApp.