Aiseesoft Released FoneTrans to Save Apple Users Hassles of Using iTunes
FoneTrans Can Transfer iPhone, iPad, iPod Files to and from Your Computer, Transfer Files between These Devices and Backup SMS, Contacts, etc.
Friday, Aug 8, 2014
To provide more convenience to Apple users, Aiseesoft released a new APP related to Apple devices after FoneLab and Mac FoneLab. Unlike the previous data recovery programs, FoneTrans is a transfer program. It makes it easy to transfer music, videos, photos, podcasts, audio books, voice memos, contacts, etc. between your iPhone/iPad/iPod and computer directly without running iTunes. You can also use it to transfer files between different Apple devices.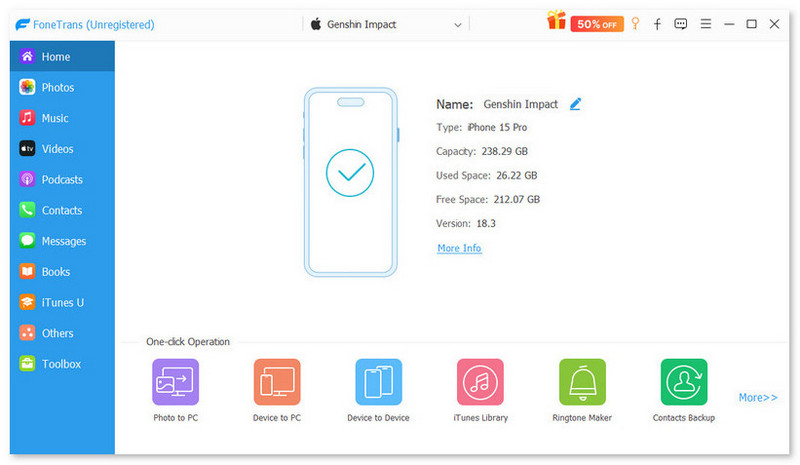 EXPORT DEVICE FILES TO COMPUTER
With FoneTrans, you can export the music, movies, TV shows, music videos, podcasts, voice memos, photos and other multimedia files(13 types in all) from your iPhone, iPad, iPod to computer for playing back or sharing. You are also allowed to export contacts, messages and eBooks for backup or sharing.
IMPORT LOCAL FILES TO DEVICE
To enjoy the music, movies, photos and other multimedia files on your iPhone, or import the eBooks and contacts to your iPhone, you can import these multimedia files to your iPhone, iPad and iPod with the help of FoneTrans. Before you import audio and video files to your device, FoneTrans can detect the format automatically. If the format is not supported by your device, FoneTrans will convert it to the right format for you.
BACKUP FILES IN DEVICE TO ITUNES SMARTLY
When you backup files with iTunes, you may get into the trouble that the original backup files will be overwritten by later backup. FoneTrans provides a good solution to this problem. It allows you to export files in your device to iTunes smartly, which means if the file has been existed in iTunes, it won't be exported. Therefore the existing files in iTunes won't be replaced.
TRANSFER FILES BETWEEN DEVICES
FoneTrans acts as a medium through which you can transfer files from one Apple device to another. You don't have to export files to iTunes then import them to device any more. The whole transfer process is simplified by FoneTrans.
BETTER MANAGE YOUR CONTACTS, PHOTOS & MUSIC
Besides the transfer function, FoneTrans also enables you to manage your contacts, photos, music and other files on your device. You can edit, group and merge contacts, edit, delete the music files and add playlists, delete photos and build photo albums.
FoneTrans is currently available at US $49.95 from the Aiseesoft store. For more information on FoneTrans, please visit https://www.aiseesoft.com/ios-transfer/
About Aiseesoft Studio
Aiseesoft Studio is dedicated to creating the best multimedia desktop applications to help Windows and Mac users easily convert, edit, transfer various video/audio files and recover lost iOS files. Aiseesoft Studio constantly strives to innovating new ideas and implementing the latest technologies to maximize user satisfaction. For more information, please visit: https://www.aiseesoft.com.
Media Contacts
Jonas Walter, Corporate Communications
Great Harbour Software
jonas@aiseesoft.com
Tel: +86-135-5273-7820