[5 Ways] How to Take a Screenshot on Lenovo ThinkPad Computer or Lenovo Phone
Summary: How can you take a screenshot on a Lenovo laptop? The PrtSc key on your Lenovo ThinkPad computer can't help you take a screenshot on Windows 10/8.1/8/7? Or you just have trouble making snapshots on your Lenove phone. Effective methods are offered here to help you take a screenshot on Lenovo with ease.
"I want to take a screenshot on my Windows 10 Lenovo Yoga laptop, and I know the PrtSc key can screenshot the whole computer screen. But after press this key, I don't get any response. Where is the snapshot saved? Any help?"
"I am using a windows 7 Lenovo ThinkPad T430s computer. I want to take a snapshot of customized capture size instead of the whole screen. Is there any simple way to take a screenshot on Lenovo?"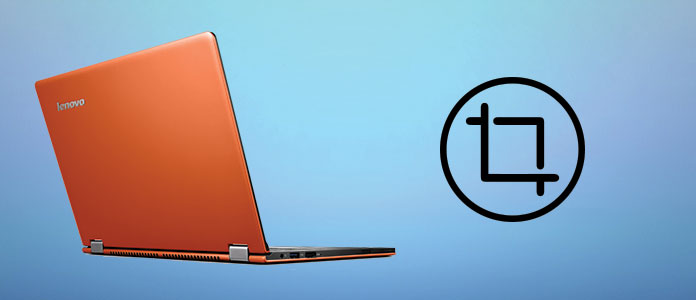 In the daily usage of Lenovo computer or portable laptop and phone, you may frequently have the need to take a screenshot to capture some important information. The question is, do you know how to take a screenshot on Lenovo?
Here in this post, we will show you 5 simple and effective ways to take screenshots on Lenovo. The detailed steps will show you how to snapshot on Lenovo, whether you are using a Lenovo ThinkPad computer or Lenovo Android phone.
Part 1: How to take a screenshot on Lenovo ThinkPad computer
First, we will show you how to capture snapshots on Lenovo computer. If you are using a Lenovo desktop or laptop and want to take screenshots on it, you should pay more attention to this part.
Take a screenshot on a Lenovo with default screenshot key
Every computer is equipped with a default screenshot configuration. While for many Lenovo users, they can't find it on the keyboard. In fact, Lenovo changes the location of this "Print Screen" key. You can check the picture below to find this screenshot key.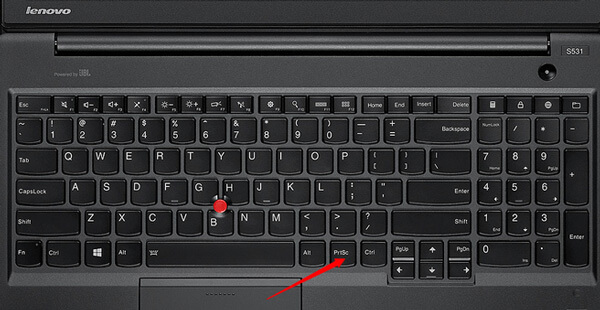 Screenshot on a Windows 10/8 Lenovo
Press both Windows and PrtSc key at the same time to capture the entire screen of Windows 10/8 Lenovo computer. The captured screenshot will be saved in the Screenshot folder. You can find this folder from the Pictures library.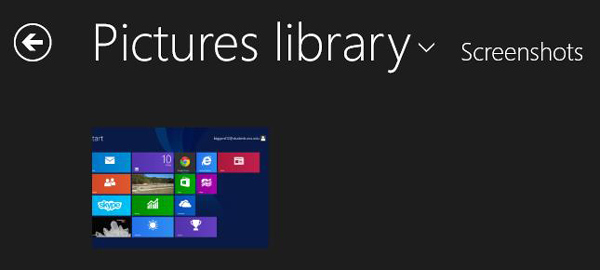 Screenshot on a Windows 7 Lenovo
If you are a Windows 7 Lenovo user, you can take a snapshot with simple click on PrtSc key. But the captured whole screen won't be automatically saved on your computer. You have to paste it to a clipboard.
You can click Start > All Programs > Accessories > the Snipping tool to save the captured image. Or you can open Adobe Photoshop for the screenshot pasting.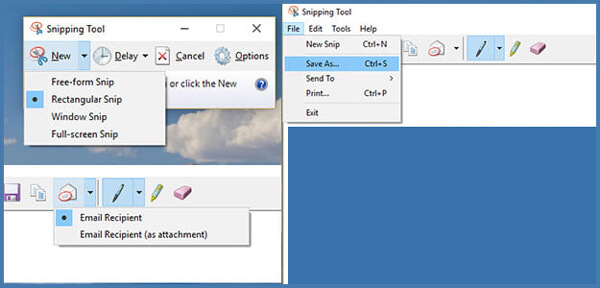 Take a screenshot on a Lenovo with FastStone Capture
There are many screenshot apps on the market enables you to take a screenshot on Lenovo. Here we introduce you with a very popular one, FastStone Capture. It has the capability to capture the full screen or customized size according to your need.
Step 1 Download, install and run this screenshot tool on your Lenovo.

Step 2 Click the first button to capture the whole screen. The second button is to help you capture a specific window or object. If you want to capture a customized screen, you can take the third option.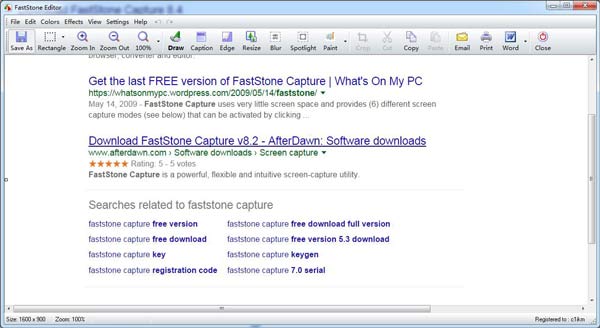 You are allowed to edit the screenshot after capturing, then you can click the Save As button to save the screenshot on your computer.
Professional screen recorder to take a screenshot on Lenovo
With the first two methods, you can handily capture a whole screen or customized screen as you like. But if you want to screenshot a video or add some labels to the captured image, you can try this professional screen recorder.
Aiseesoft Screen Recorder
For Mac
Aiseesoft Screen Recorder is the professional video and audio recording software, which can help you take snapshots and record online videos, podcast, webinars, lectures, presentations, Skype calls, online conference, webcam videos, songs, etc. with high-quality image and sound quality.
Record online videos/audio from YouTube, Facebook, Vimeo, DailyMotion, TED, etc. in full screen or customized screen size with ease.
Provide "Blu-light" real-time HD video encoding technology to ensure excellent image and sound quality for YouTube videos.
Recorded videos can be saved as MP4 or WMV file which would be easy to playback on any video player.
Record streaming audio, online audio, microphone voice with high sound quality.
Capture any sound on your computer from system audio or microphone according to your need.
Support capturing pictures from screen.
Step 1 Click the download button above to free download and install this Lenovo screenshot software on your computer. Open it and then choose the Snapshot option.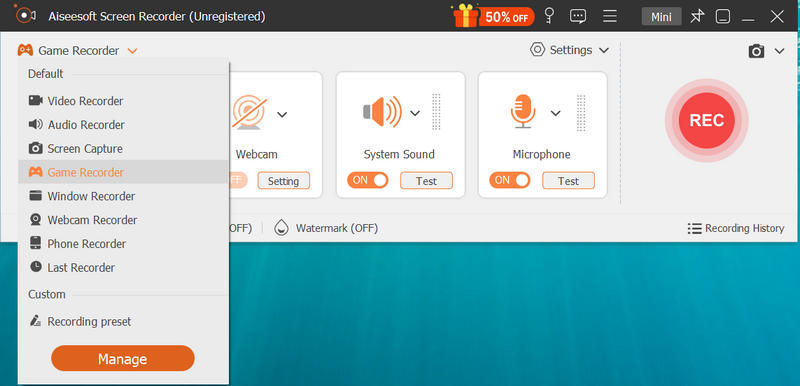 Step 2 Then you can easily adjust the screenshot area to take a screenshot on Lenovo.
Step 3 After capturing, you can add different labels to the screenshot. Then click Save button to save the snapshot on your Lenovo computer.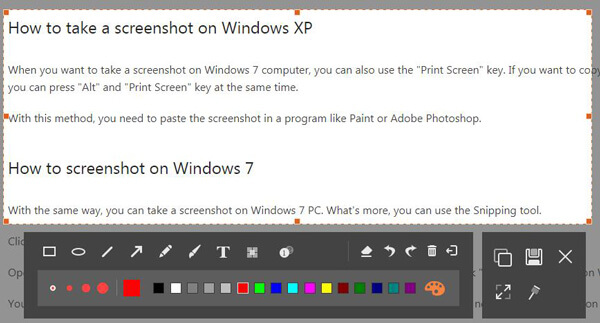 Part 2: How to snap a screenshot on Lenovo tablet and smartphone
Actually, it is much easier to take a screenshot on Lenovo phone. You can easily press the hardware buttons to snap a screenshot.
Take a Lenovo snapshot with hardware buttons
Press the Power and Volume Down button at the same time. You will hear a shutter sound and notice that the screen flash. Then you can edit the captured screen at the Screenshots folder in Gallery app.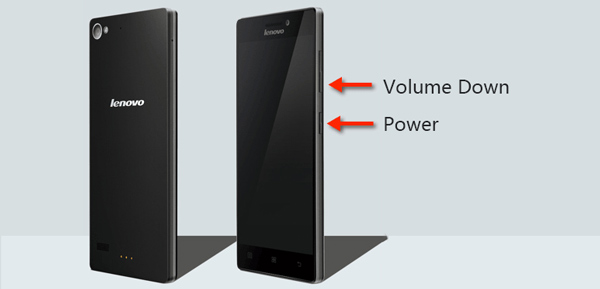 Take a snapshot on Lenovo with UI notification bar
You can easily add the snapshot feature to the notification panel. When you want to take a snapshot on Lenovo phone, you can pull down the notifications panel and tap on the Screenshot icon.
One simple click on the Screenshot icon, Lenovo phone will automatically capture a picture of the current screen. Then you can find the Lenovo screenshot in the Screenshots folder.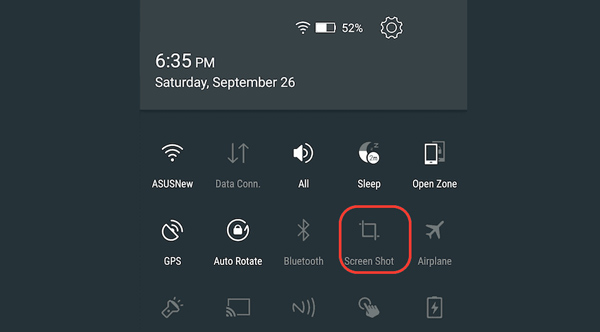 We mainly talked about how to take a screenshot on Lenovo in this page. 5 great solutions are provided to help you capture the Lenovo screen with ease. Whether you want to take snapshots on Lenovo computer or smartphone, you can find suitable screenshot apps here. Even if you want to record a video on Lenovo, the recommended Screen Recorder will help you do it with high image and sound quality. Leave us a message if you still have any puzzle.