Part 1. Best Way to Free Restore Low-Resolution Photos
Whether you want to restore low-resolution photos to high resolution ones, or enlarge small, old, and blurred photos for better quality, you can rely on the free Image Upscaler. As an all-featured AI image upscale tool, it has the capability to increase image resolution online in just one click.
With the adoption of the advanced AI Super Resolution technology, it is able to automatically fill in more details to fix blurry images and detect the blurred space. By doing so, it can easily enhance low pixel pictures. Moreover, it can enlarge the low-resolution images and make them possible to observe more details. The following guide will show you how to free fix low quality images online.
Step 1.
When you want to sharpen a low-resolution image, you can open your browser and go to this free image upscaler site. It is compatible with almost all web browsers including IE, Chrome, Firefox and Safari.
Step 2.
Click the
Upload Photo
button to add the low-quality image to it. It highly supports any popular image format like JPG, JPEG, PNG, BMP, TIF, TIFF, and more. Here you can also directly drag and drop for the photo uploading.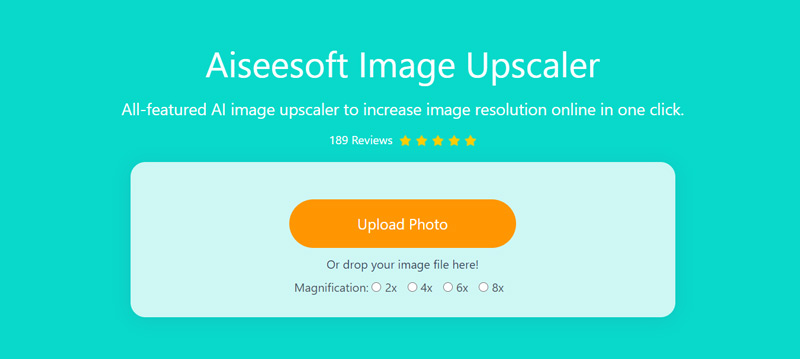 Step 3.
This Image Upscaler will automatically enhance your photo after adding. So, it will complete the uploading and up-scaling simultaneously. During this step, you are allowed to upscale your low pixel picture by up to 200%, 400%, 600%, and 800% while perfectly maintaining the highest image quality.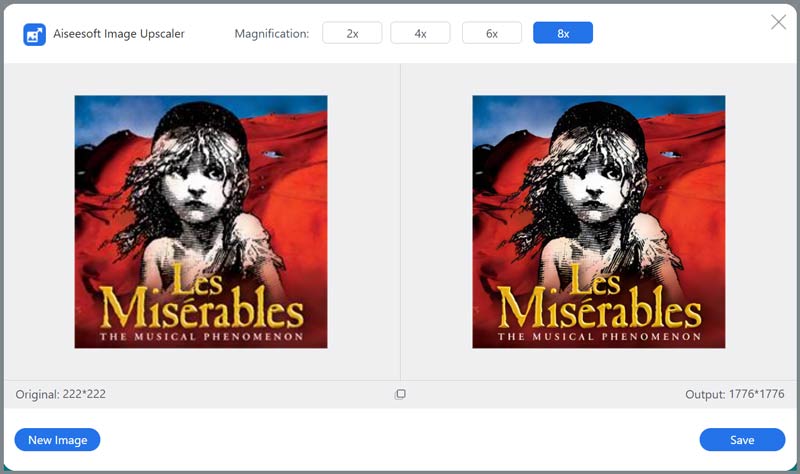 Step 4.
You can see the original resolution and output quality clearly. It is equipped with a magnifying glass feature to help you check details of the enhanced image file. If you are satisfied with the output image quality, click on the
Save
button to download it on your computer.
Image Upscaler requires no account log-in or software download. More importantly, it is totally free and no feature limits. When you need to restore low-resolution photos, you can directly use it.
Part 2. How to Enhance Low Pixel Pictures Online
Besides the online image enhancing software above, you can also use the popular Let's Enhance to fix low quality images. You are required to create and sign in an account to use this tool.
Step 1.
Open your browser and navigate to this Let's Enhance site. Click on the
Try for free
button to create an account or sign in with your Facebook/Google account.

Step 2.
Now you will be guided to the image uploading page. You can click
browse
to add your local image file. Or upload your photo through Dropbox. The file size is limited to 50MB.

Step 3.
After uploading, Let's Enhance will automatically improve the resolution of this photo. Also, you can click
Custom
under the
Size
section to enhance the low-resolution image based on your need.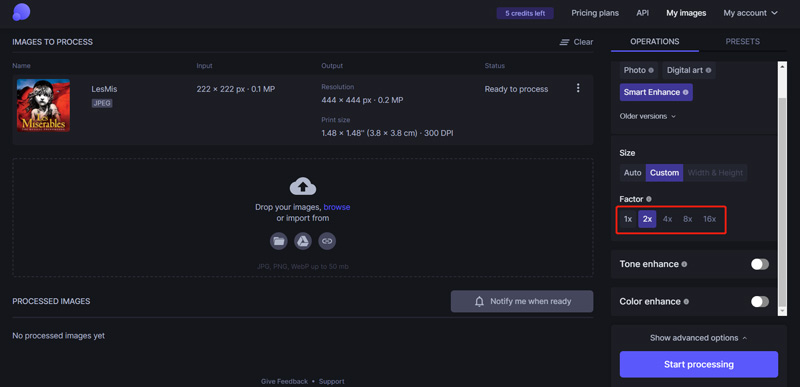 Step 4.
Click the
Start Processing
button on the bottom right. Then you will see the enhanced image on the bottom left part. You can click on the image to download it on your computer. There is no preview feature offered. You have to check the image quality after downloading. Check
20 best blur photo editors
here.
Part 3. FAQs of How to Restore Low-Resolution Photos
Why is my photo resolution so low?
Various reasons will cause you get a low-resolution photo. You may download a small size image file from web, capture it through an old model phone or camera, or you have set the phone or camera to output picture with a small size.
How to improve photo quality on iPhone?
You can directly use the photo editing feature to sharpen a low-quality photo on your iPhone. Also, you can custom the camera settings to capture a higher quality picture. Open Settings app, choose Camera, tap format and then choose the High Efficiency option.
Why are my iPhone photos low resolution?
If you enabled the iCloud Photo Library feature and selected the Optimize iPhone Storage, you will save all your photos to cloud, and replace them with low-res photos on iPhone. You can tap the picture to download it from cloud and get the original high quality one.
Conclusion
We have mainly talked about how to restore low-resolution photos in this post. You can get 2 simple ways to improve your photo quality. If you still have any questions about the low-resolution image fixing, you can leave us a message.

Leave your comment and join our discussion