Adobe Screen Recorder Review and Best Adobe Alternative
Nowadays, screen recording is becoming one common thing while the daily usage of computer and portable iOS/Android device. Whether you want to record professional tutorials or just make a few quick video clips, you need a screen capture tool. You may wonder, does Adobe have a screen recorder?
Adobe does have a screen capture named Adobe Captivate. This Adobe screen recorder offers a professional way to record any activities on your computer.
To help you know more about the Adobe screen capture tool, here in this post, we like to give you a detailed review of Adobe Captivate. You can easily learn all its recording and editing features. What's more, we will share a great Adobe screen recorder alternative for you.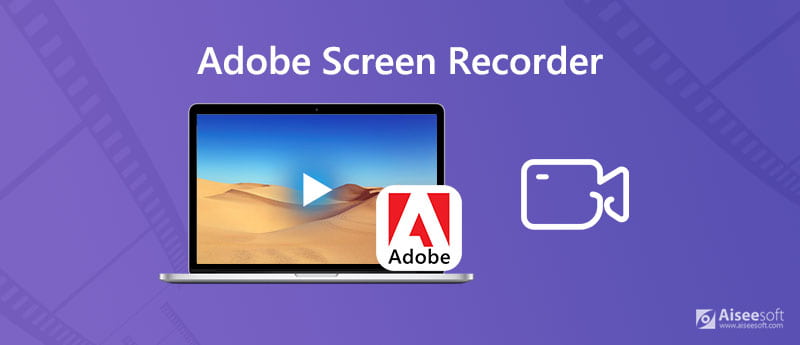 Part 1. Adobe Screen Recorder Review
Adobe Captivate is a professional screen grabber and interactive video maker which allows you to capture your computer screen and save the screen contents as videos. This all-featured Adobe screen recorder is mainly designed for eLearning and tutorials. It enables you to record and export your screen contents as high-quality videos.

Adobe screen recorder can optimize the content for any screen size. It can help you easily define the size and position of screen capture or select the entire screen. Adobe Captivate is compatible with Windows, macOS and iOS devices. After the screen recording, you can save the screen contents as MP4 video and then edit it. This Adobe screen recorder can capture sound from system audio or add narration or audio.
Adobe Captivate allows you to edit your recording and add transitions, smart shapes, audio, and captions to it. What's more, it provides you with a simple way to insert a talking head or another video in a picture-in-picture format. It also gives you a direct way to share your recording to YouTube with ease.
Besides the Adobe Captivate, Adobe also brings the Adobe Premiere Pro CC for you to create films and videos in one seamless workflow and the Adobe Premiere Rush CC to capture footage on your phone.
Adobe Captivate can be the best screen recorder for putting together e-learning courses. But it does not come cheap. You need to pay $1,099 for a full license or pay $29.99 per month with a 12-month contract. One good thing is, this Adobe screen recorder offers a free 30-day trial. You can download it and free capture what you are doing on computer for 30 days.
Part 2. Best Alternative to Adobe Screen Recorder
Adobe Captivate is kind of serious overkill for some simple screen recordings. It is equipped with many professional features and not easy to use. Most users won't use the feature set. And you have to admit that, this Adobe screen recorder is quite expensive. Considering that, here in this part, we like to share a great Adobe Captivate alternative for you to choose from.
Aiseesoft Screen Recorder is a popular and powerful screen and audio recording tool. It carries professional screen recording and editing features to help you capture high-quality videos on your Windows PC and Mac. It has the capability to capture high-resolution video even up to 4K. Similar to the Adobe screen recorder, it also allows you to capture screen contents with entire screen, active window or selected region.

This Adobe screen recorder alternative is specially designed to record anything happened on your computer. It provides a simple way to make the video and audio recording within just a few clicks. Whether you want to record online videos, music, meetings, Skype calls, gameplay or make eLearning and video tutorials, it can be a great choice.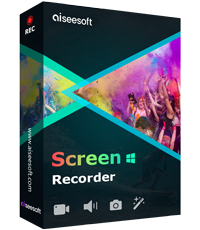 Downloads
Screen Recorder - Best Adobe Alternative
Best Adobe screen recorder alternative to capture computer screen.
Record any online videos, gameplay, calls, meetings and more with real HD image quality.
Capture any activities on computer with full screen, specific window or custom region.
Record sound from system audio card, microphone/speaker, or both.
Powerful editing features and output recording in MP4, MOV, AVI, MP3, AAC, M4A, etc.
This alternative to Adobe screen recorder offers some basic editing features to help you edit the captured video/audio file. While the screen recording, you are also allowed to capture your own face from Webcam. It is equipped with the latest accelerate technology to ensure you record high-quality video smoothly. Just free download it and have a try.
Part 3. FAQs of Adobe Screen Recorder
Question 1. Is there any free way to capture computer screen?
There are a large number of screen recording tools including free online ones shared on the internet that can help you record video and audio on your computer. But you should know that, most of free screen recorders have feature or recording limits. They may also have annoying ads or output low-quality recordings. When you have the need to free capture some video clips, you can give the popular Free Online Screen Recorder a try.
Question 2. Can screen capture be detected?
No. All screen recording programs work the same in that the interaction with the graphics engine to capture the image of the computer screen. There is no way to detect when a screen capture occurs.
Question 3. How to free screen record on a Mac?
To free capture a Mac screen, you can rely on its official screen capture software, QuickTime Player. QuickTime offers a simple way to start a screen or audio recording on Mac.
Question 4. Does Windows 10 have a screen recorder?
Yes. Windows 10 has a pre-installed screen recording tool called Xbox Game Bar. Xbox Game Bar is mainly designed to capture your gameplay on Windows 10 computer.
You can learn all necessary information about the Adobe screen recorder in this post. In fact, you can free download the Adobe screen capture and have a free 30-day trial to decide if you want to purchase it. Surely, you can take the Adobe alternative to record any activities on your computer.

Leave your comment and join our discussion