Top 3 Screen Recorder No Lag for Windows and Mac
To record a smooth gameplay tutorial or live streaming video on computer is easy. The key is to choose the no-lag screen recorder. Whether you record the 1080p HD or the 4K UHD screen, the recorder will do no lag.

Video show becomes the trend in social sharing and the entertainment relax. That leads many of you to record and make the videos. Whether you create a video tutorial, capture gameplay, or record a live streaming video, etc., the nightmare you must have experienced is the lagging and chopping video recording.
To get rid of the annoyed experience, you need a screen recorder without lag.
In this article, we collect the top 3 screen recorder software no lag for Windows and Mac, and gather the practical tips to avoiding the lagging recording.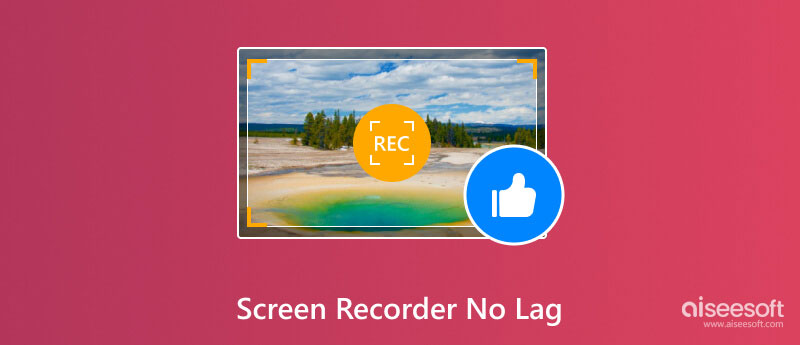 Part 1. Top 3 Screen Recorder No Lag
Aiseesoft Screen Recorder (Windows, Mac)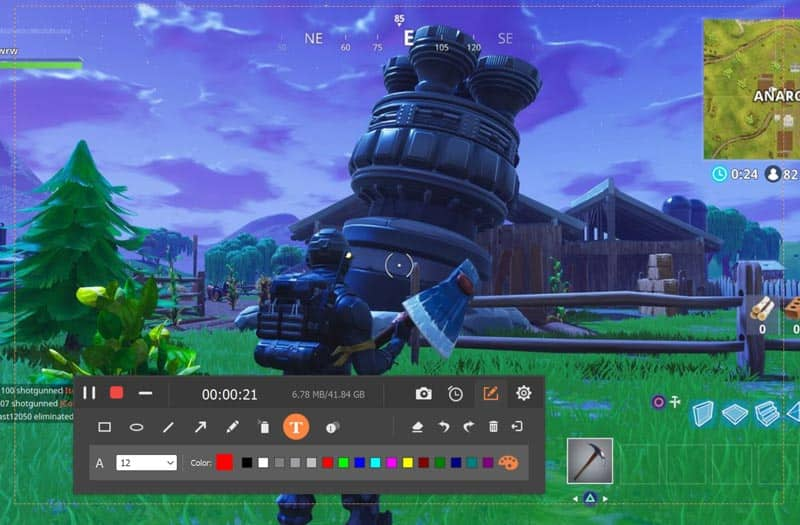 Aiseesoft Screen Recorder is the professional but easy screen recording software without watermark for Windows and Mac computer. It is smooth to record 4K UHD and 1080p HD games, movies, and streaming videos with the audio narration. Whether you want to record the video for sharing online, or record the online movie and music for offline playback, it will be the nice option.
Pros
Record screen in 720p HD, 1080p HD and 4K UHD on Windows and Mac computer.
Record full and selected region or window for recording.
Record webcam to create picture-in-picture recording for both sides.
Task schedule timer to record the screen automatically.
Advanced recorder can lock and exclude window for recording.
Edit while recording the screen.
Cons
Free trial with limited time length recording of 3 minutes.
AceThinker Screen Grabber Pro (Windows, Mac)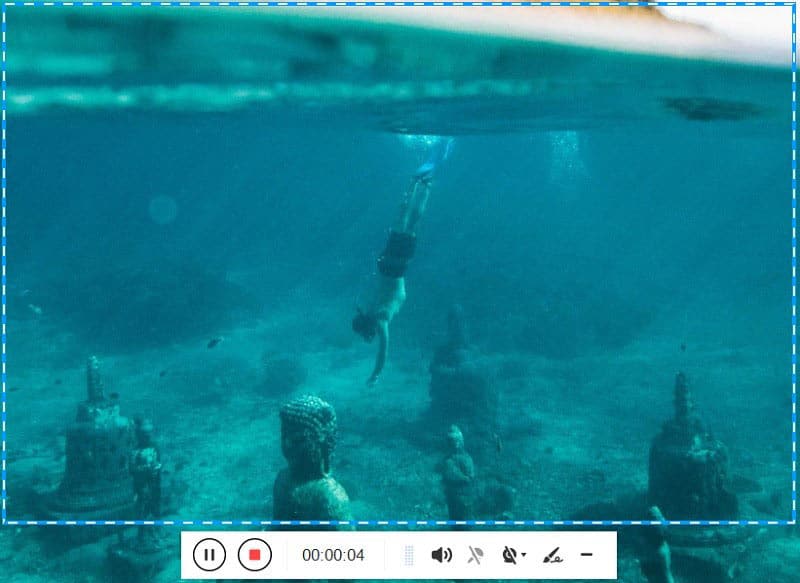 AceThinker Screen Grabber Pro is the desktop capture software without lag. It can record any activity on computer screen and keep the audio recording. While recording the screen, you can use the built-in editor to annotate your video recording easily.
Pros
Multiple modes for recording screen.
Record video and audio simultaneously.
Edit the recording in real-time.
Task schedule recording automatically.
Cons
There is a watermark in the free trial version with 3 minutes recording.
Do not miss the screen recorder without watermark here.
Rylstim Screen Recorder (Windows)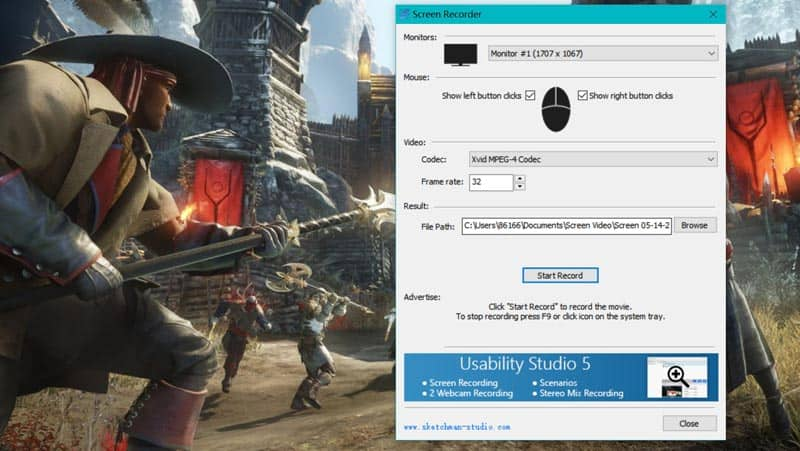 Rylstim Screen Recorder is the free desktop recording software to capture the events on your computer. It can record the monitor activities, including the mouse pointer and clicks, and save the screen recorder as AVI file at the high quality.
Pros
Simple to record the screen on Windows computer.
It supports XviD exporting for HD recording.
Record mouse clicks from left and right.
Cons
It does not support any editing features.
It cannot record sound. (Get more audio recorders here.)
No recording mode options.
Part 2. Comparison of Top 3 Screen Recorder
| | | | | | | | | | |
| --- | --- | --- | --- | --- | --- | --- | --- | --- | --- |
| Screen recorder no lag | Platform | Price | Easy to use | Friendly interface | Record audio | Multiple recording modes | High frame rate | Output format | Editing features |
| Aiseesoft Screen Recorder | Windows, Mac | $31.20/yearly | 9.7 | 9.6 | Yes | Yes | Up to 60 fps | WMV, MP4, MOV, F4V, AVI, TS, MP3, WMA, AAC, M4A, MOV, M4V, GIF, CAF | 9.6 |
| AceThinker Screen Grabber Pro | Windows, Mac | $29.95/yearly | 9.5 | 9.4 | Yes | Yes | Up to 50 fps | AVI, MP4, WMV, WEBM, MKV, 3GP, MPG, SWF, VOB, and FLV | 9.5 |
| Rylstim Screen Recorder | Windows | Free | 9.5 | 9.0 | No | No | Up to 32 fps | AVI | 0 |
From the comparison above, you will notice that if you want a screen recorder without lag for free, then Rylstim Screen Recorder is the best one. However, if you need the screen recorder with powerful features, then Aiseesoft Screen Recorder will be the best one undoubtedly.
Part 3. Tips of Creating Videos Without Lag
For recording the screen without lag, you apart from getting the correct recorder, you should not miss the points here to create a smooth video.
1. Make computer great configuration
If your computer is low-end PC with low RAM space, CPU or graphic card, it is hard to record the no-lagging video. To get an excellent computer with high RAM space is necessary to get a smooth screen recording.
2. Make the proper recording settings
Both Aiseesoft Screen Recorder and AceThinker Screen Grabber Pro can let you make the recording settings. Before starting recording, you need to control the recording file size is not large, and quality is good, not the superb, and more.
● Lower the quality or the size file of recording.
● Change the recording format or codec from H.265 to H.264 to get a no-lagging video quality.
● Change the recording mode: For example, to lock the window recording, instead of the full-screen recording, etc.
3. Run software on a GPU mode, if you have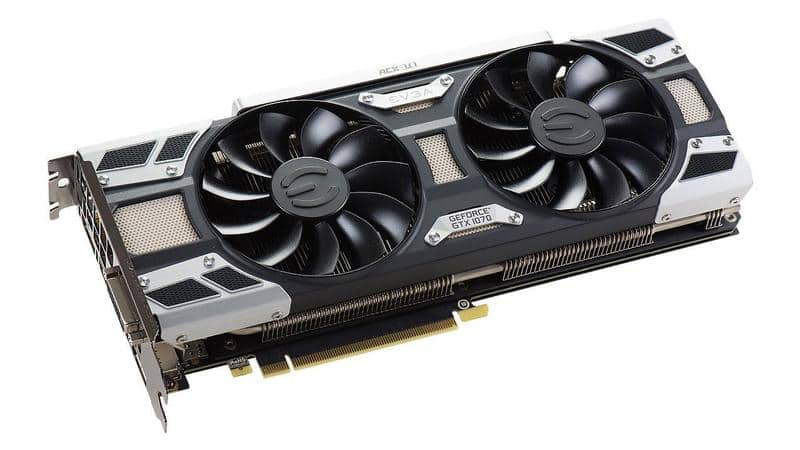 GPU hardware acceleration will let your computer performance smooth, including the screen recording. If your computer supports GPU acceleration, just enable it firstly.
4. Close all of the unnecessary apps
While recording the screen, you had better exit other programs that are not necessary for recording. It can speed up your computer performance greatly.
Just, move the next part to record the computer screen without lag step by step.
Part 4. How to Record Screen No Lag
Here, we will take Aiseesoft Screen Recorder as an example to show you how to record computer screen without lag in details.
Step 1 Run Aiseesoft Screen Recorder
Free download Aiseesoft Screen Recorder on your computer. It also supports the Mac version, and download it based on your computer.
Initiate the window, and select Video Recorder.

Step 2 Make recording settings
Select recording mode: Click Full or Custom to select the recording region on your computer. If you want to record the gameplay window, and exclude other windows, just select Advanced Recorder to lock or exclude the window.

Select recording audio: Here, you can toggle both Microphone and System sound to record the computer audio and your narration. Alternatively, just toggling one of them is OK.

Output settings: Click the settings icon above the microphone image, where you need to go to the Output tab, where you can adjust the video recording quality (Lowest, low, middle, high, highest, lossless ), adjust the frame rate, video codec, video/audio format and audio quality.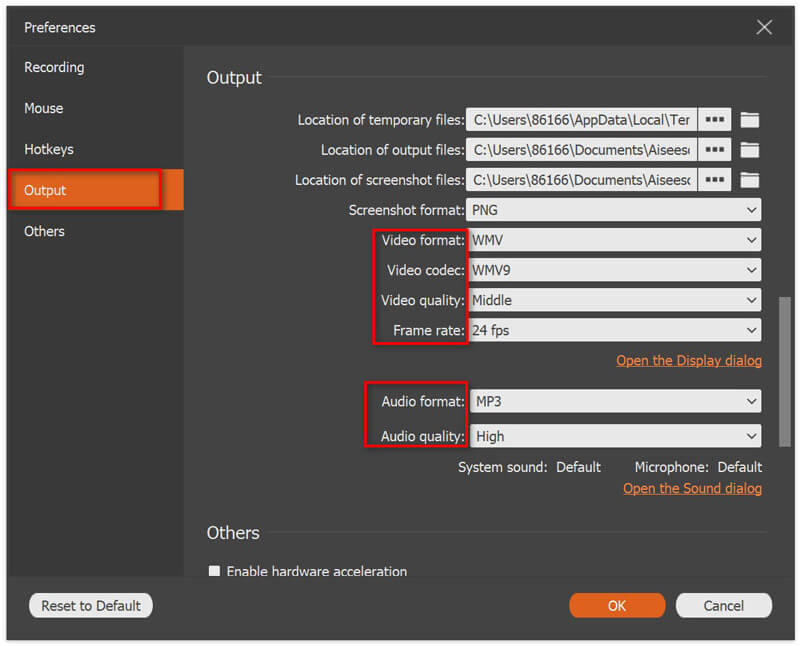 Step 3 Record no-lagging video
After all the settings are made well, just click REC button to start capturing the screen. While recording, the editing icon will let you annotate your video recording in real-time.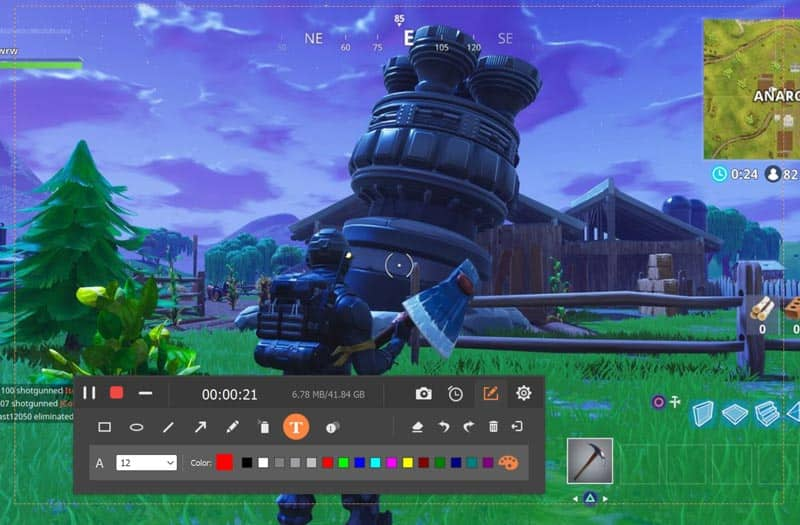 Click the stop button, and you will get the real-time preview window, where you can clip the recording before exporting. Or click Save to export the screen recording on your computer.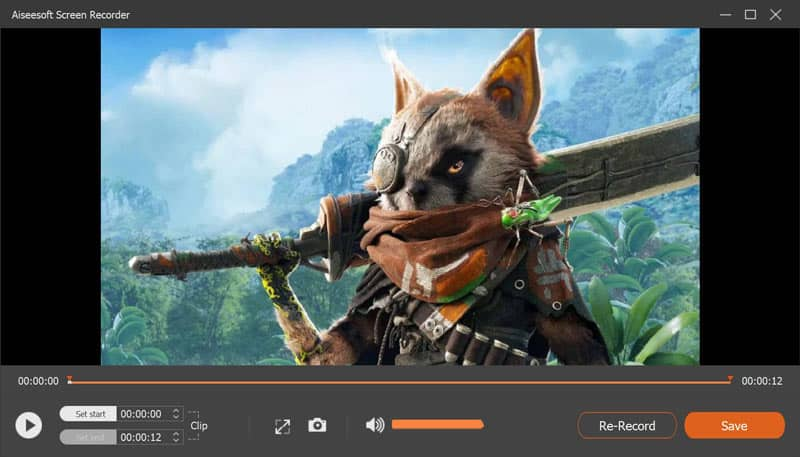 Conclusion
This post shares the top 3 screen recorder no lag for Windows and Mac computer. No matter which software you are interested in, they will create excellent performance without lag. Moreover, equipped with the screen recorder software without lag is necessary, you will also need to follow the tips to create the video recording no lag.
Do you have any screen recorder no lag suggestion?
Do not hesitate to leave your comments below.

Leave your comment and join our discussion