Easy Way to Delete Corrupted and Damaged Files on iPhone Permanently
If a file is corrupted or damaged, it cannot work properly. Your iPhone will stop working or responding due to those corrupted files. But don't worry about that. During this time, you can delete corrupted files manually to maintain iPhone performance. In many people's eyes, it seems to be an easy task. But there are still many corrupted files that can't be deleted from iPhone questions in Apple Community, Reddit, Quora, and many other forums. If you have the same question, you can continue reading and get the best way to delete corrupted media files on your iPhone successfully here.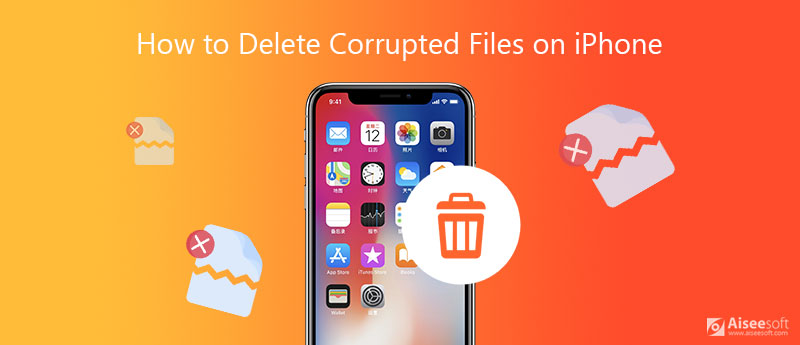 Part 1: Why Files Get Corrupted on iPhone
Before deleting corrupted, damaged, or crashed files, you had better know the reason. What leads to corrupted media files on iPhone? Here are common causes of iPhone media files corrupted. Just read and check if you encounter the same situation. Or you can share your iPhone file corruption experience in the comments below.
Media app errors or system crash lead to iPhone files corrupted.
Sudden power failure during iOS upgrade cause corrupted video and music files on iPhone.
Virus attacks cause iPhone data corruption. Once your iPhone is infected with harmful virus, the previous iPhone media files corrupt.
Unstable Internet issues while downloading or transferring make media files corrupted on iPhone.
Freeze your iPhone during the file transferring or downloading process. It causes corrupted iPhone videos, photos, audios, documents, and many other media files.
Defective or faulty hard drive lead to corrupted system files on iPhone.
Part 2: How to Delete Corrupted Files on iPhone
Before deleting, you need to find corrupted files on your iPhone. Later, you can clean the corrupted files that are impossible to delete with Aiseesoft iPhone Cleaner. Different from traditional iPhone file deleting issues, the program can detect, delete and organize useless files on iPhone smartly. You can find and delete invisible corrupted files from iPhone 12/11/XS/XR and earlier completely. Moreover, you can delete caches, crash logs, junk files, temp files, and other unwanted files to make your iPhone run fast.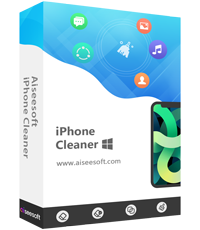 Downloads
Delete corrupted, damaged, unreadable files from iPhone.
Clean up iPhone with low, middle, and high levels.
All deleted iPhone files are unrecoverable.
Remove large files, app data, duplicates, and other media files on iPhone thoroughly.
Manage all iPhone apps and app files, including the corrupted iPhone apps.
Free up storage space on the latest iPhone 12 Pro Max/12 Pro/12/12 mini and iOS 15 devices.
Step 1:
Free download, install and launch Aiseesoft iPhone Cleaner software. Use a lightning USB cable to connect iPhone to your computer. Tap
Trust
on iPhone to enable USB debugging.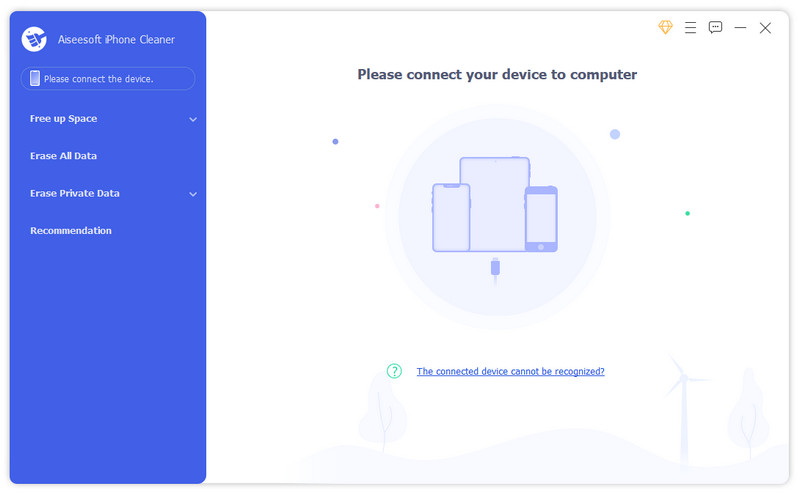 Step 2:
Click
Quick Scan
to do a full analysis. Click
Erase
next to
Erase Junk Files
. Enable checkmark next to
Image Cache
,
iTunes Cache
,
Invalid Files
,
Downloaded Temporary Files
, and
Crash Log Files
based on your need.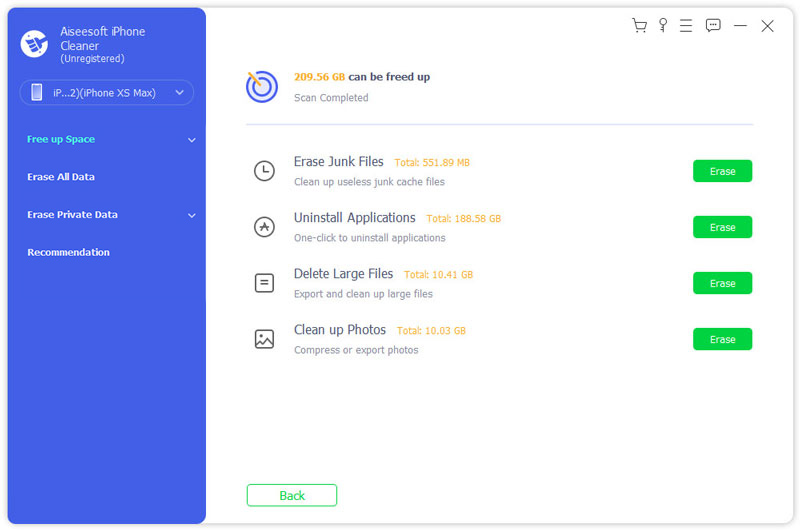 Step 3:
Preview and check which file you want to delete from your iPhone. Click
Erase
on the lower right corner. Later, you can delete corrupted files and folders from iPhone permanently.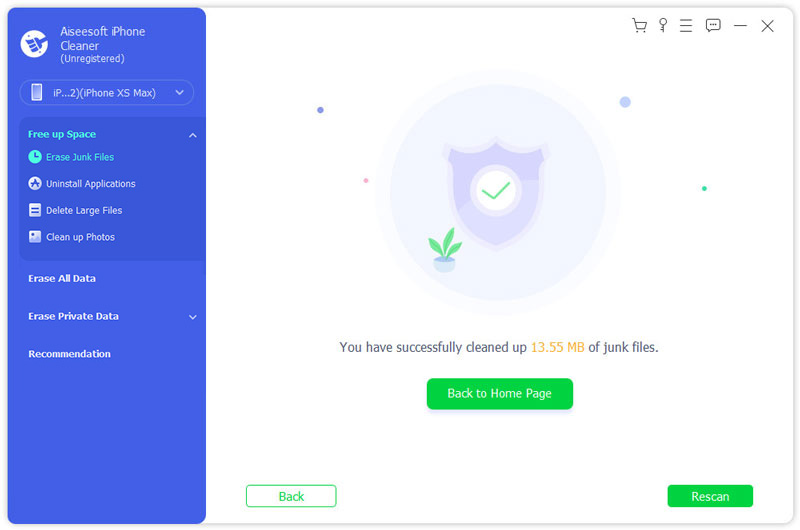 Step 4:
To delete all corrupted files on iPhone thoroughly, choose
Erase All Data
on the left panel. Set the iOS data erasing level as
Low
,
Middle
, or
High
in the
Security Level
. Later, choose
Start
to move on.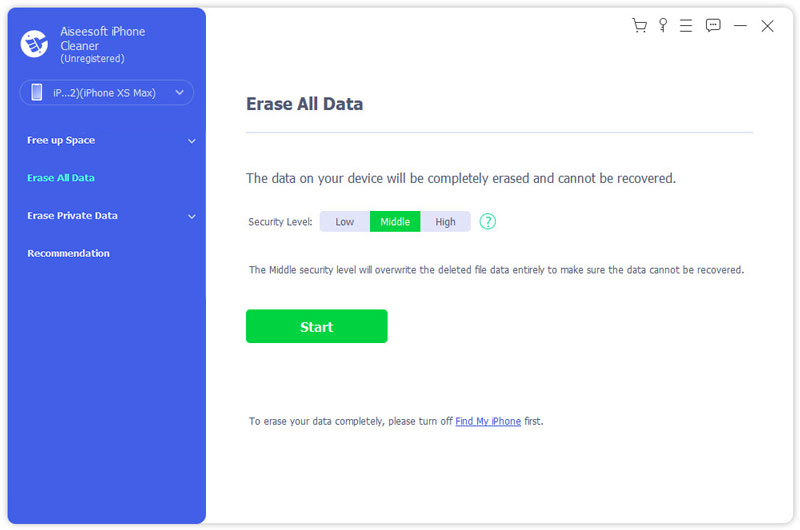 Step 5:
Enter
0000
in the required blank. Click
Erase
to erase iPhone data and get rid of all corrupted files.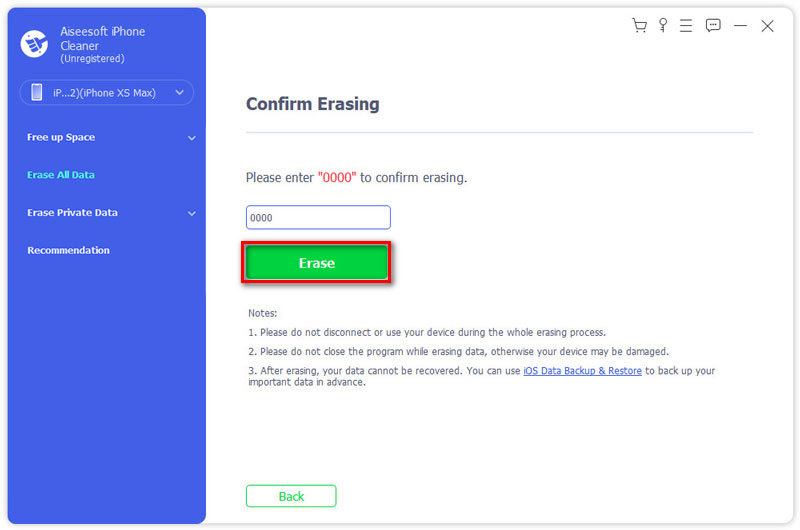 Part 3: FAQs of Deleting iPhone Corrupted Files
Can you recover corrupted files on iPhone?
It depends. If you have backed up iPhone data before, you can restore the latest iPhone backup. The corrupted iPhone files will be replaced by the original files. Or you can use third-party iPhone data recovery software to have a try.
Is a corrupted file a virus?
No. File corruption can happen in many situations. Your iPhone may crash when a file is corrupted. But corrupted files are not dangerous. You can use iPhone antivirus apps to check if your iPhone gets viruses.
How to tell if a file is corrupted?
You can check the file size. Check the file property to see if the file size is smaller than similar ones. If Yes, then this iPhone file may be corrupted.
How to fix a corrupted iPhone backup?
When you are notified with "iTunes could not back up the iPhone ** because the backup was corrupt or not compatible …", you can delete the old iTunes backup and have another try. Or you can make a new iTunes backup folder to fix the iPhone backup corrupt.
That's all to delete corrupted files on iPhone and iPad. You can use Aiseesoft iPhone Cleaner to find and delete any file. Even though some iPhone files are not visible, you can run the program to make it visible again. Therefore, you can delete corrupted videos, photos, music files, app files, caches, and many other iPhone files permanently.
The selectable iPhone data erasing levels can meet all your demand. No matter you want to delete several corrupted files, or you want to delete all corrupted files and speed up your iPhone, you can get a satisfying result. Do you have any other questions about iPhone corrupted files? If Yes, you can leave messages below or feel free to contact us. We are glad to help you whenever you need.

Leave your comment and join our discussion