How to Wipe an iPod Touch/Shuffle/Mini/Nano/Classic Permanently
Before selling your old iPod, you need to delete everything to protect your privacy. That's the most important step to make your iPod ready for resale. The question is, how to erase all the memory off an iPod touch/Shuffle/ Nano/Mini/Classic and earlier model? If you don't know how to wipe an iPod permanently and completely, you just come to the right place. Here're 3 easy ways to erase your iPod touch before selling it. Just read and follow.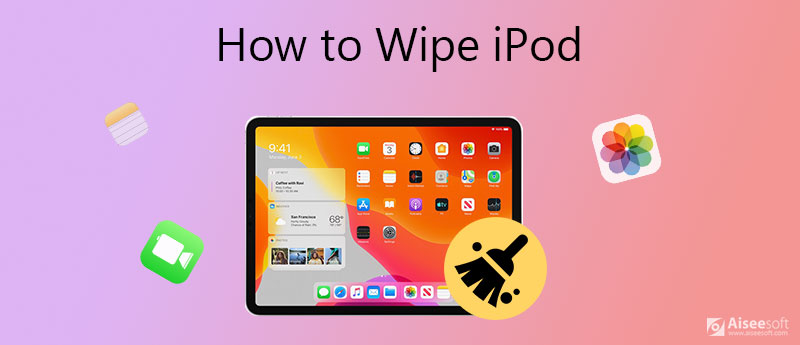 Part 1: Best Way to Wipe iPod Touch 7/6/5/4/3/2/1
Can you completely wipe an iPod touch 7th? Of course, the answer is Yes. To make sure others cannot recover your deleted iPod touch files, you can run Aiseesoft iPhone Cleaner. There are 3 selectable data erasing levels. Your iPod touch will be overwitted for one, two, or three times. Thus, all your deleted files cannot be recovered.
The iPod cleaner software allows users to permanently erase all files and settings from iPod. By wiping an iPod touch 7 generation, your iPod device will be as clean as a new one. Or you can selectively delete iPod touch files based on your need.
Whatever, remember to make a backup of your iPod touch before erasing. In the further software update, Aiseesoft iPhone Cleaner will release the iOS data backup, restore, and transfer functions too.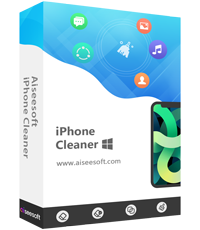 Downloads
Permanently wipe an iPod touch and delete all stored files.
Zero iPod data recovery possibility.
Detect and erase junk files, large files, duplicates, and other useless files from your iPod.
Backup, restore, and transfer data from your old iPod touch to a new one (coming soon).
Delete files on iPod touch 7th, 6th, 5th, 4th, 3rd, 2nd, 1st generation.
Step 1:
Free download Aiseesoft iPhone Cleaner on your Windows computer. Launch the iPod touch cleaner software after the installation. Plug your iPod touch into the computer with a lightning USB cable. You need to tap
Trust
and enter the device passcode on the iPod touch screen to continue the process.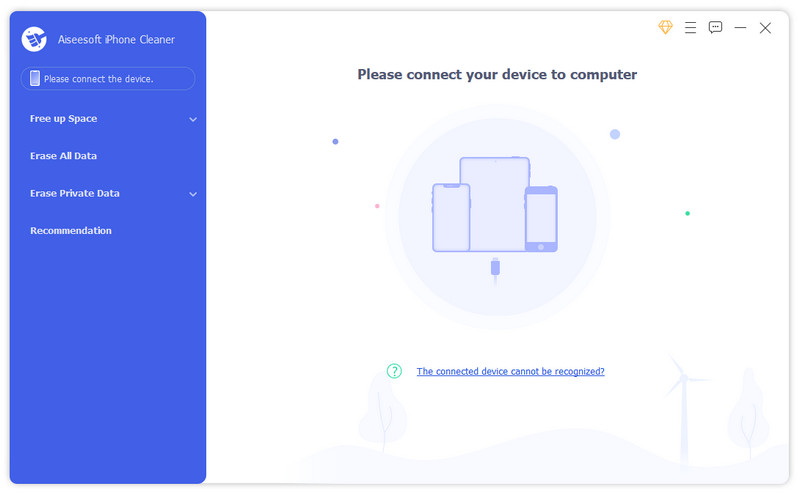 Step 2:
You can view the current iPod touch storage usage on the main interface. Choose
Erase All Data
on the left panel. Set
Security Level
as
High
. Later, click
Start
to move on.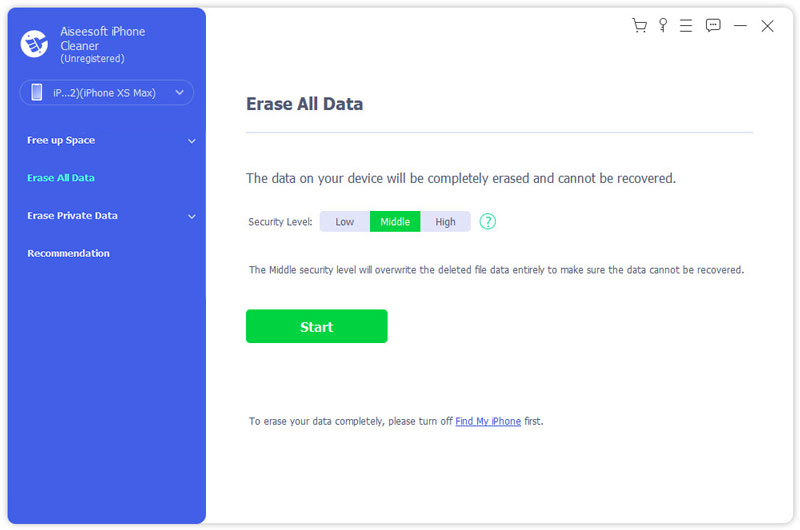 Step 3:
Enter
0000
to confirm wiping an iPod touch. Keep your iDevice connected and don't use it during the entire erasing process. It takes several minutes to completely wipe an iPod touch and delete everything.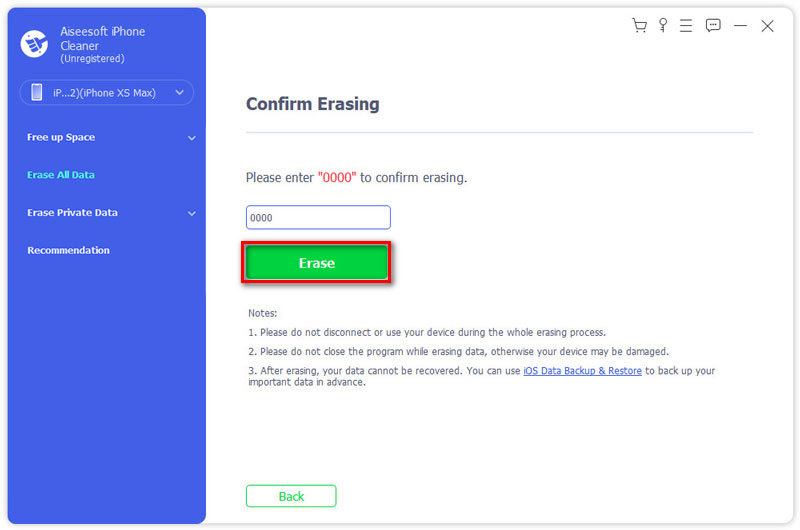 Part 2: Wipe iPod to Factory Settings via Recovery Mode
Apple also allows users to wipe an iPod to factory settings via Recovery Mode or DFU mode. Through this method, you can clear an iPod without entering the iPod screen password. Or you can choose General, Reset, and Erase All Content and Settings within the Settings app to wipe a used iPod without a computer.
Step 1:
Connect your iPod to the computer. Hold and press the
Top
button. Don't release it until the slider appears.
Step 2:
Drag the slider to turn off your iPod. Keep holding the
Volume Down
button until the
Recovery Mode
screen shows. You can see an iTunes logo on the iPod screen. (If you wipe an iPod touch 6th and earlier, you need to hold the
Home
button instead.)
Step 3:
Choose
Restore
and follow the on-screen instruction to wipe an iPod without a password.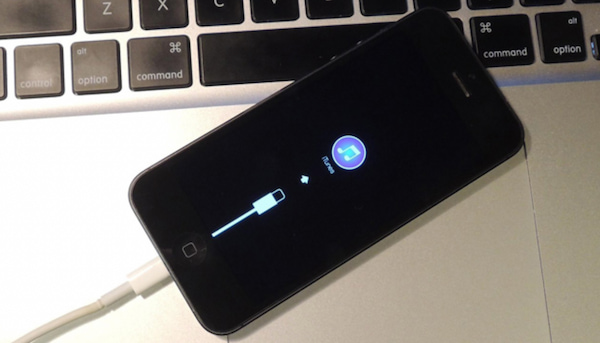 Part 3: Wipe iPod Remotely with iCloud Find My iPod
Here is another way to wipe an iPod without a computer or passcode. Just prepare a digital device that can visit the iCloud website. It does not matter you use an Android or iOS device. The iCloud Find My function can erase your iPod to factory settings remotely.
Step 1:
Navigate to the iCloud official website. Sign in to your iCloud account with Apple ID and password.
Step 2:
Choose
Find My iPod
to erase an iPod when it is disabled, locked, or even stolen.
Step 3:
From the
All Devices
drop-down list, choose your iPod's name.
Step 4:
Select
Erase iPod
to wipe an iPod without iTunes.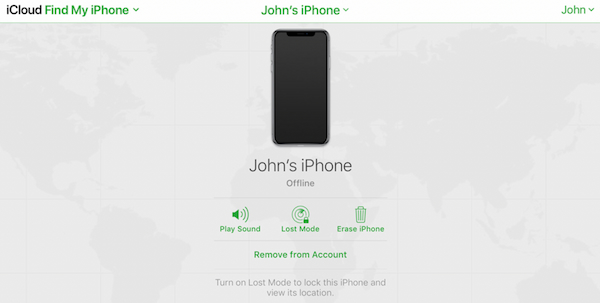 Part 4: FAQs of Wiping iPod
How to erase the iPod touch without Apple ID password?
If your iPod is under the control of the previous owner, you can unlock your disabled iPod with iPhone Unlocker first. Later, you can choose any method mentioned above to erase all data from your iPod.
How to wipe an iPod Shuffle?
You can use iTunes to wipe iPod Shuffle 4G/3G/2G/1G. Plug an iPod Shuffle to your computer with a USB cable. Update iTunes to the latest version. In the Summary section, click Restore to restore iPod Shuffle 4G to the factory state.
How to wipe an iPod nano?
You can use iTunes to restore iPad nano with the default factory iPod nano apps. Don't use any backup file. Later, you can wipe an iPod nano 7th/6th/5th/4th/3rd/2nd/1st and get a "new" iPod Nano generation.
How to wipe an iPod Classic?
iTunes is your iPod Classic reset tool. You can wipe all data and settings by restoring iPod Classic to the default. Be aware that don't sync iPod Classic after restoring.
All in all, you can use Aiseesoft iPhone Cleaner, Recovery mode and iCloud Find My iPhone to wipe an iPod to factory settings. If you haven't enabled Find My iPhone feature before, or iTunes cannot recognize your iPod, you can turn to help to Aiseesoft iPhone Cleaner. It is your first and last choice to permanently erase everything on your iPod.

Leave your comment and join our discussion