Part 1. How to Delete Instagram Account Permanently
If you want to delete your Instagram, you need to log in to your account and request the deletion yourself. But before you start, you may want to download your photos and posts from Instagram first in case you need to keep your memorable time and stories. After that, you can follow the steps below to permanently delete Instagram account.
Step 1.
Since you are not allowed to delete your account within the Instagram app directly, you need to go to the
Delete Your Account
page instead. Please open the browser on your iPhone. Then paste the following link of deleting Instagram account in the address bar and go.
https://www.instagram.com/accounts/remove/request/permanent/
Step 2.
If you have never signed into Instagram on the browser, you may be asked to log in first. Check if you are deleting the right account. After that, you need to pick a reason from the dropdown menu to explain
Why are you deleting your account
.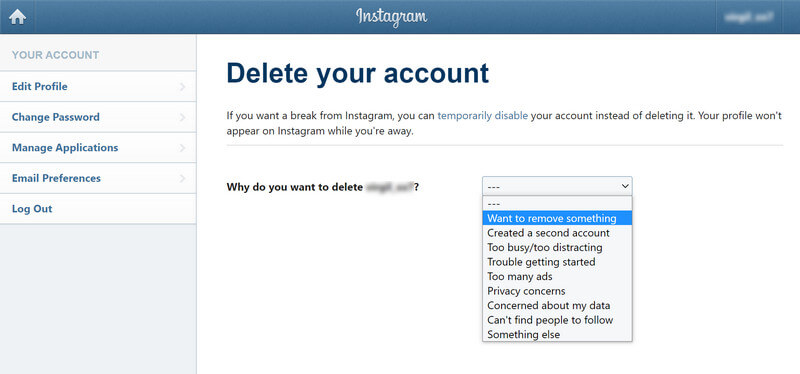 Step 3.
Next, please enter your password and tap on the
Delete [your account name]
button to confirm the deletion. You will have
30 days
to reconsider your decision. Your Instagram profile and account info will not be visible during that time. If you change your mind, just log back in before the final date and select to keep your account.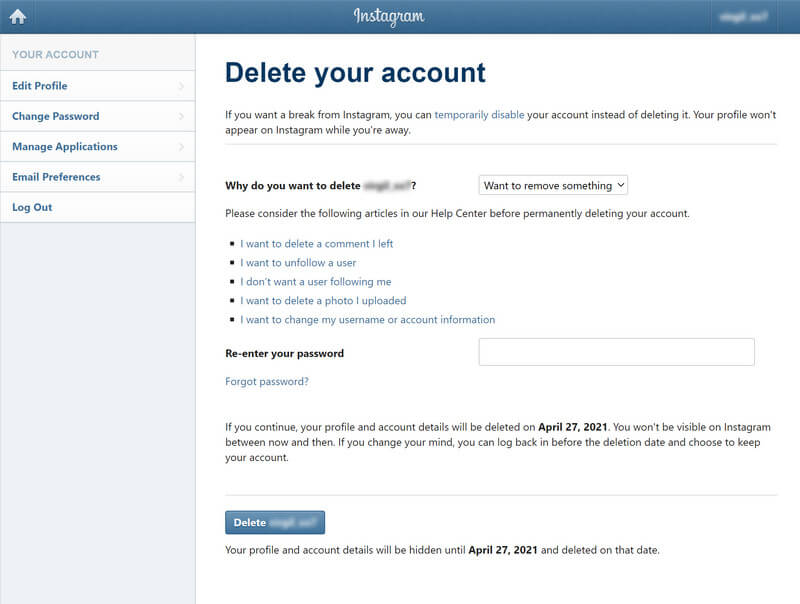 After 30 days of your account deletion request, all your information, including your profile, photos, videos, comments, likes and followers, will be permanently removed and cannot be recovered. So, if you are not sure about that or just want to take a break, you can choose to disable your account temporarily instead.
Part 2. How to Disable Instagram Account Temporarily on iPhone
Unlike deleting your account thoroughly, deactivating your account temporarily only hides your profile, photos, comments and likes instead of erasing them, which means you can retrieve your Instagram information after you reactivate your account. But you can only disable your account once a week.
Here are steps on how to disable an Instagram account temporarily.
Step 1.
Open the browser on your iPhone. Then go to the official site of Instagram: https://instagram.com/
Step 2.
Tap on your profile photo on the top right corner of the screen. Then select
Profile
. Tap on the
Edit Profile
button and enter your profile editing page. Scroll down to the bottom of the webpage. Tap
Temporarily disable my account
.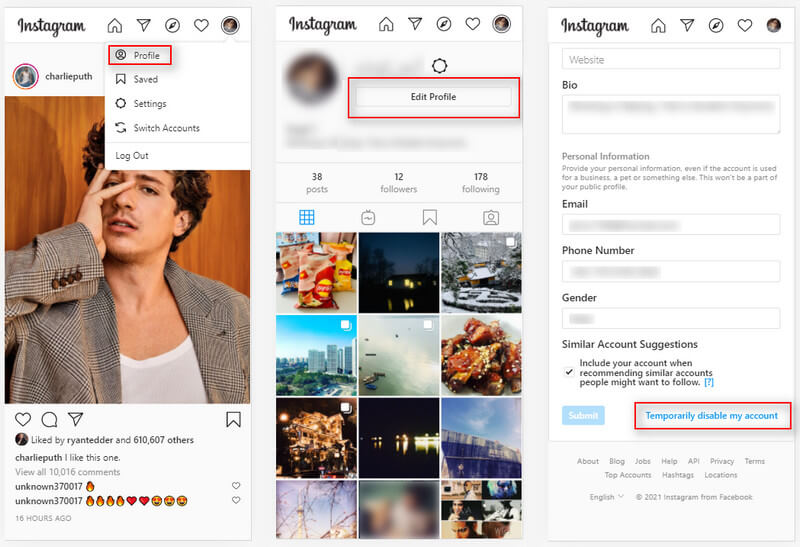 Step 3.
Select the reason why are you disabling your account from the dropdown. Re-enter your password to continue the process. Tap on the
Temporarily Disable Account
button.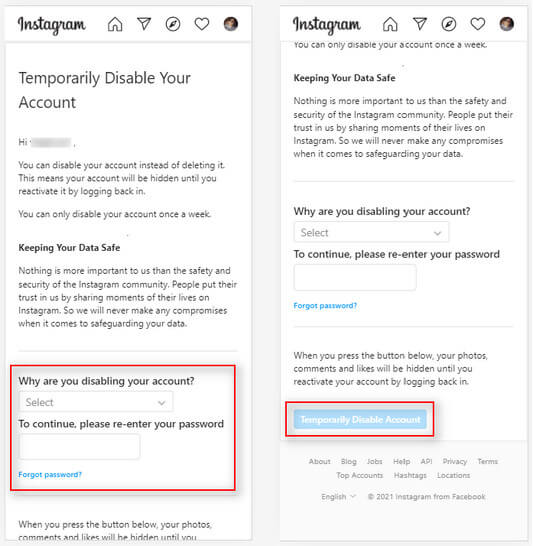 Part 3. How to Clean up Instagram Data Completely and Safely
If you only want to delete the Instagram app instead of eliminating your account, then you can simply long-press the Instagram icon and tap Remove App to delete Instagram on your iPhone. However, this cannot completely delete your Instagram content. So, others may still have the chance to recover your important data. That should be the last thing you want to see. So, you'd better use a professional erasing tool to clean up the entire Instagram app.
iPhone Cleaner is the best cleaner to wipe your data on iPhone. You can easily erase Instagram and other private apps and data safely and permanently so that no one can steal your personal information. And it supports iPhone 14, 13, 12, 11, XS, XR, X, 8, 7, 6, 5 and has the capability to make them faster.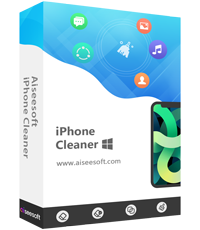 Downloads
Delete apps like Instagram, Facebook, Twitter, etc. thoroughly.
Remove any temporary files, crash logs, junk files and caches.
One-click to wipe all data on your iPhone, iPad and iPod Touch.
Compress/Export photos on iPhone to your computer for backup.
Preview files before erasing them to avoid mistaken deletion.
Step 1.
Free download this cleaner on your computer. Install the program and launch it to start your deletion. Then connect your iPhone to the computer and don't forget to trust this computer on the iPhone.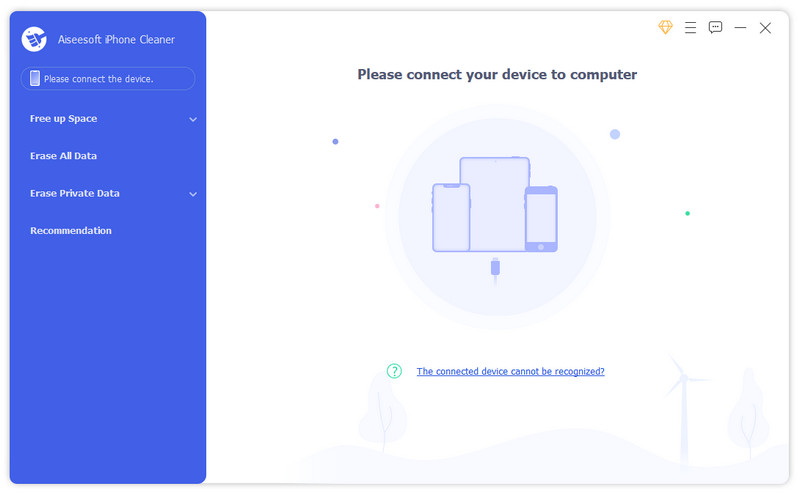 Step 2.
If you want to delete Instagram only, just head to the
Uninstall Applications
tab under
Free up Space
in the left panel. You can also click
Quick Scan
on the right side. Locate the
Uninstall Applications
option and click the
Erase
button behind it.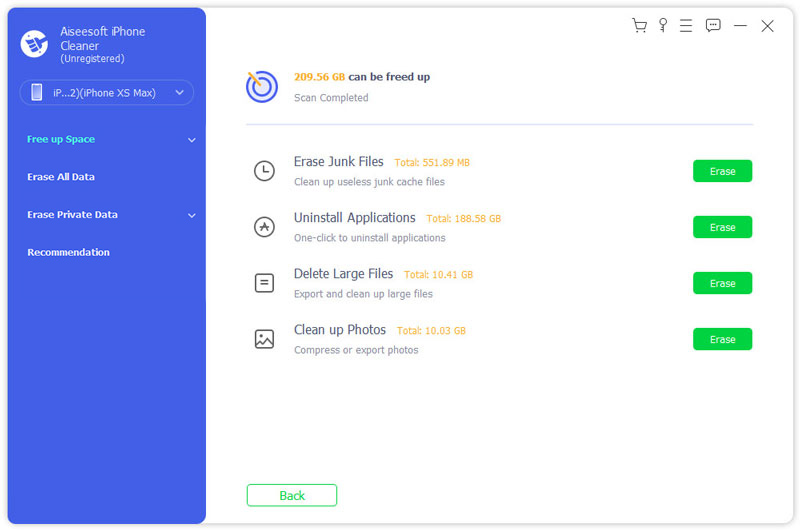 Step 3.
All apps installed on your iPhone should be displayed on the screen. You can also see their program sizes. Find Instagram and then click the
Uninstall
button. Then a prompt should pop up. Please click
Confirm
to start the deletion. Then everything on Instagram will be erased.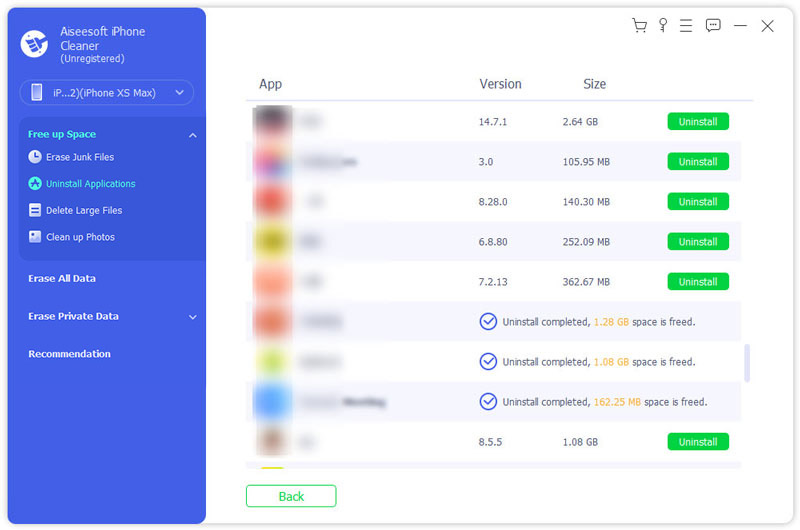 Part 4. FAQs of Deleting Instagram on iPhone
1. How to download a copy of your data on Instagram?
If you want to delete your Instagram account or even delete everything on your iPhone, you need to back up your Instagram data first. Tap the profile icon in the bottom right. Then tap the three-line icon in the top right. Find Settings. Select Security and then Download Data. You need to enter your email address to receive the download link. Tap Request Download. Enter your password and tap Next. Now you are Done. An email will soon be sent to you with the download link. Then tap Download Data and follow the instructions to start downloading.
2. How to delete Instagram account on an Android phone?
It is basically the same. Just follow the above steps of deleting an Instagram account on iPhone. You will soon get rid of your unwanted Instagram data.
3. How to delete a photo on Instagram?
If you want to remove a photo you have posted on your Instagram, then you should tap on the profile icon in the bottom right. Then find the photo you wish to erase. Tap the three-dot icon and select Delete.
Conclusion
So far, you have learned everything you need on how to permanently delete Instagram on your iPhone. Hope you find this post useful. Let's have a quick review. If you are fed up with Instagram, just delete your account. If you only want to take a break, you can disable your account temporarily. You can also choose to delete the app with iPhone Cleaner.

Leave your comment and join our discussion