Is It Possible to Delete Search Suggestions on iPhone Permanently?
Apple's Spotlight search feature powered by Siri provides users personalized search suggestions for searches, Look Up, News, Photos and more based on your app use, browsing history, emails, messages, contacts, media, calendar and other content. This feature makes it more convenient to access the content on your device. However, not everyone likes this feature, because it will remember your search history. Some don't want to others know their recent searches for privacy sake. As for parents, when they give iPhone to kids to play with, they may also don't want the kid to see some content that he/she should not know from the search suggestions. So how to delete the search suggestions on your iPhone? Is it possible to erase the search suggestions permanently? In this post we will give you useful suggestions.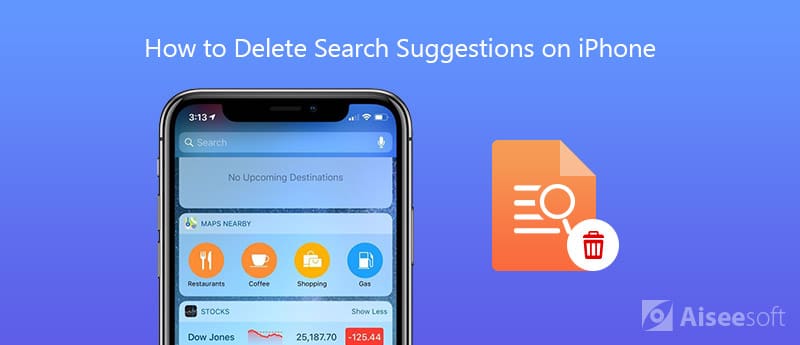 Part 1. How to Delete Search Suggestions on iPhone Permanently
1. Clear Search Suggestions on iPhone Directly
If your iPhone is running iOS 11 or later, it's quite easy to clear the Siri search suggestions on iPhone by following the guide below.
Step 1.
Swipe down from your iPhone lock screen or swipe from left to the Today screen to bring up the Search feature.
Step 2.
You will see the displayed search suggestions. And there is a "Clear" option on the upper-right side of the search suggestions. Tap on "Clear".
Step 3.
Then you'll see a pop up asking whether you confirm to clear the search suggestions. Tap "OK" to confirm.
Note: This method can only clear search suggestions temporarily. When you have new search history, the search suggestions will come up again, you need to clear them from time to time.
2. Disable Spotlight Search on iPhone
If your iPhone 6 or 6s is running iOS 10 or earlier, the method above is not available then. But you can disable the Spotlight search feature on your iPhone Settings thus the search suggestions will not turn up again. Follow the steps below.
Step 1.
Open the Settings app on your iPhone.
Step 2.
Navigate to General > Spotlight Search. For iOS 11 and later, you can scroll down and see the Siri & Search option directly.
Step 3.
You will see the option Siri Suggestions on the top of the screen, toggle it off then all the search suggestions on your iPhone will be cleared. And if you do not want to use this feature, you can keep it disabled all the time. On iOS 11 or later, you can scroll down to turn off the Suggestions in Search and Suggestions in Look Up options.
Step 4.
If you also want to delete Siri app suggestions, just tap each app's name and turn off the Search & Siri Suggestions option.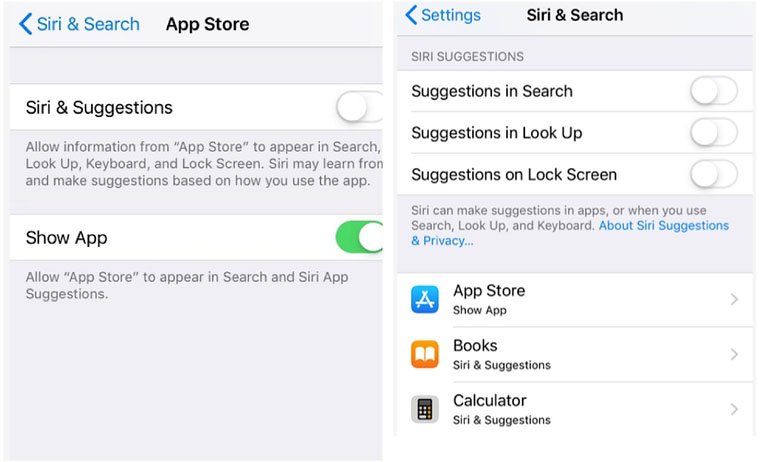 3. Delete Siri Suggestions in Today
You will also find the Siri suggestions on the Today screen on your iPhone, which will list you recent events, recently-used apps and give you search suggestions when you type something in the search box. You are able to delete the search suggestions by editing the Widgets screen.
Step 1.
Form the Today review, swipe up to reveal and tap the Edit button.
Step 2.
On the sto Add Widgets screen, find Siri App Suggestions among your enabled widgets and tap the red minus icon.
Step 3.
Then a "Remove" button will appear on the right, tap on it to delete Siri App suggestions.
Part 2. How to Erase iPhone Search Suggestions Permanently
1. with iOS Erasing Tool
If you want to erase the search history on your iPhone permanently that then Siri search suggestions will not remember your past searches, you need a professional iOS data erasing tool. Aiseesoft FoneEraser does a good job in deleting any kind of data on iPhone/iPad/iPod to protect your privacy. You can use it to fully delete Spotlight search suggestions on iPhone. And the deleted search history is 100% unrecoverable.
Check its detailed feature below: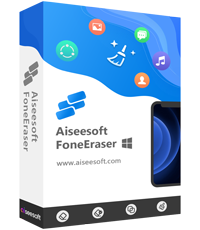 165,617 Downloads
Erase iPhone content and settings like Spotlight search suggestions, search history, Safari bookmark, call history, contacts, messages, calendar, etc. permanently and thoroughly.
Provide three Erasing Levels to clean iOS data on your device. Low Level will erase your iPhone quickly with overwriting one time, Medium Level will mop up device with overwriting twice, and High level will overwrite three times. The higher the level you choose, the safer your data privacy will be guarded.
Support multiple iOS devices (iPhone 15/14/13/12/11 Pro Max/11 Pro/11 included) and compatible with the latest iOS 17.
To delete iPhone search suggestions completely and permanently, follow the detailed guide below.
Step 1.
After launch this iOS data erasing tool on your computer, connect your iPhone with computer via a USB cable. If it's the first time for your connection, you need to tap "Trust" on your iPhone screen when it asks to.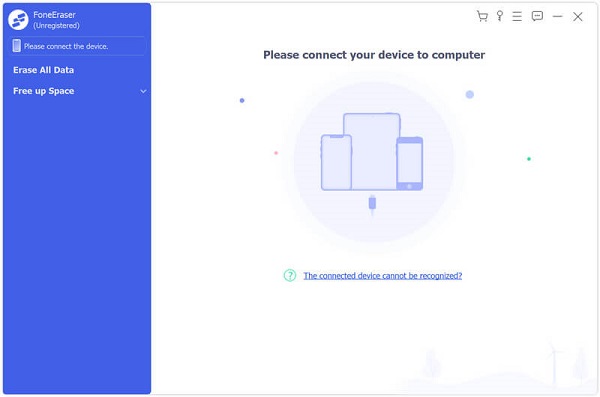 Step 2.
Choose the Erasing level you want and click Start button to erase Spotlight search suggestions and any other data on your iPhone permanently.
That's it, you can delete search suggestions and any search history on your iPhone permanently and thoroughly in two steps.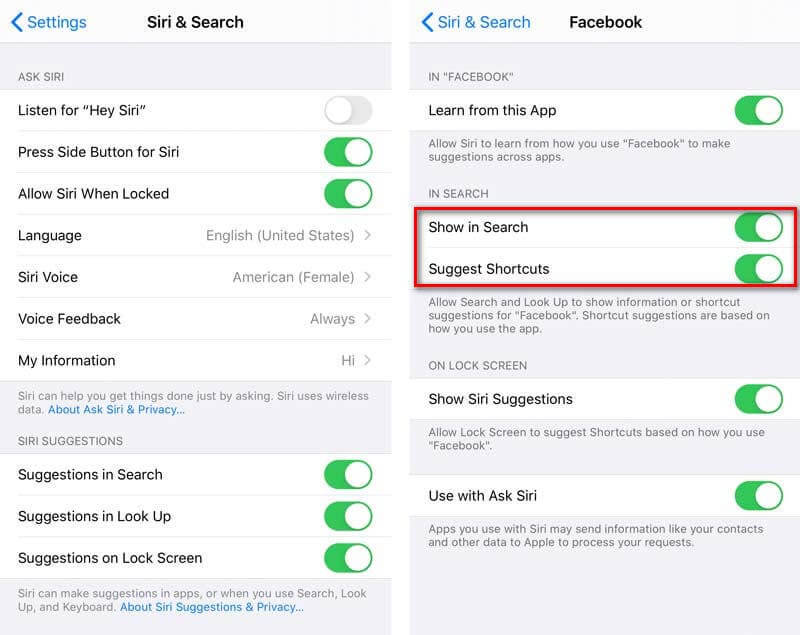 Also, you could turn on Use with Ask Siri to search apps, people or location and more before typing. You could select searching results from the following list:
App Store, Bing Web Results, Calculator, Calendar, Camera, Clock, Compass, Contacts, FaceTime, Find Friends, Find iPhone, Game Center, Health, iBooks, iTunes Store, Mail, Maps, Messages, Music, Notes, Phone, Photos, Podcasts, Reminders, Safari, Settings, Spotlight Suggestions, Stocks, Tips, Videos, Voice Memos, Wallet, Watch and weather.
If you want to use Siri Suggestions, you must make sure your device is from one of iPhone 5 and later, iPad Pro, iPad (4th generation) and later, iPad mini (2nd generation) and later, and iPod touch (6th generation).
Tip 5. Reset Your iPhone
Another way to delete iPhone search suggestions permanently is to reset your iPhone. But meanwhile, you will lose all the data and files in your iPhone after reset since it will wipe all the contents and settings in your device. So please back up the important files from iPhone to computer in advance. After that you can easily reset your iPhone to delete search suggestions.
Step 1.Open Settings app and go to General.
Step 2.Scroll down to find the "Reset" option.
Step 3.Select Erase all Content and Settings, then it will ask you to enter the passcode, just enter your code and tap on "Erase iPhone" to reset.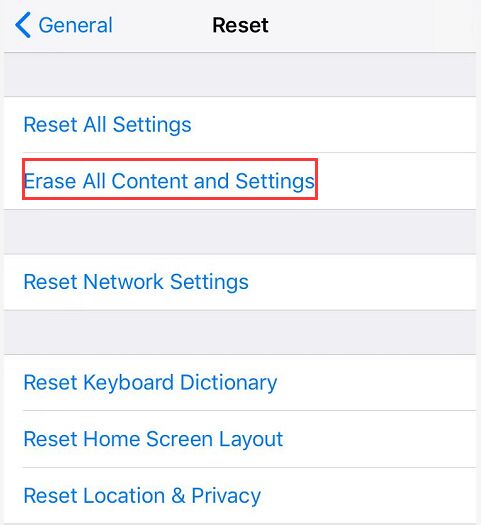 After you reset your iPhone successfully, you can transfer the backed up files from computer to your iPhone with an iOS data transferring tool Aiseesoft FoneTrans. It can help you transfer photos, music, contacts, movies, PDF, ringtones and more from Windows or Mac computer to your iOS device.
Conclusion
There is no doubt that Spotligh search makes Apple users' iPhone more convenient and easier to use. But for those who find this feature brings inconvenience and privacy risk to their daily life, or for parents who want to set parental control on iPhone when their iPhone is in their kids' hands, it would be necessary to delete search suggestions in advance. You can choose to delete the search suggestions temporarily or permanently according to your needs.

Leave your comment and join our discussion