Top 6 GIF Creators to Make Animated GIFs
Compared with still pictures, GIF pictures are more vivid. If you don't know how to create GIF, this article will tell you the way to make your special GIFs with GIF creators. If you are not familiar with the way to make GIF, the program can be the best choice for you. There are several qualified apps on iOS or Android device. You can download one of the most popular GIF creators first. And then you can use the GIF creator to make your own GIF files in a very simple way.

GIF Creator
Part 1: Best GIF creator to convert video to GIF
Aiseesoft Video to GIF Converter is one of the best GIF creators at present. If you want to turn a video into an animated GIF, the program can be the most suitable one. Just check out the excellent features of the GIF creator as below.
1. Compatible with almost all of the video formats including MP4, MOV, AVI, WMV and more to GIF files.
2. Clip the desired part of the video and convert it into GIF, combine different video into an interesting animated GIF file.
3. Adjust the video settings and other parameters, such as encoder, resolution and more with the great GIF creator.
Part 2: Steps to use Video to GIF Converter
As you can see from above, this Video to GIF Converter can be your best choice when you have the need to turn video into GIF file. It can be a great GIF creator to get the job done. You can check the following steps to create your own GIFs.
Step 1 Launch GIF creator and add file
Choose a video file from your computer. First you can upload MP4, MOV, AVI, FLV and many other popular types of video to this GIF creator. Click "Add File" button to add the video file you want to make GIFs. It also can work as a good GIF converter to convert video to GIF file.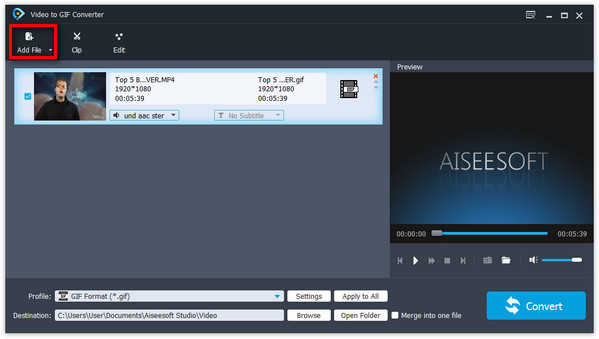 Step 2 Select the desired part of the video
You are allowed to only use the useful part to make the GIF. Click "Clip" button to choose the start point and the end time. But the length of part is limited in order to keep the file size and processing time reasonable.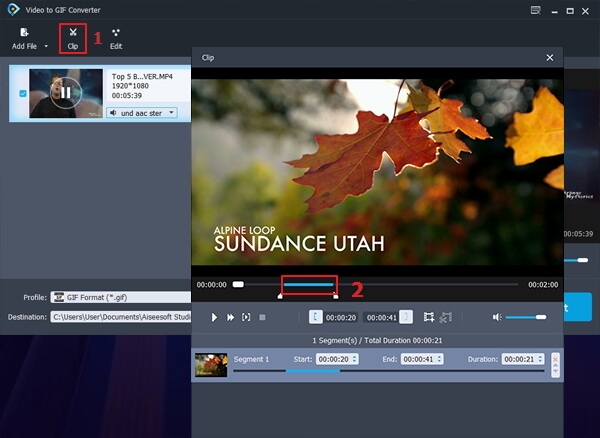 Step 3 Start to create your own GIF
Click "Convert" button and the GIF creator will start the conversion from video to GIF. The process will take some time, especially for those long GIF pictures. If you want to adjust the dimensions and file size, you can use our crop tools on the GIF after finishing the conversion.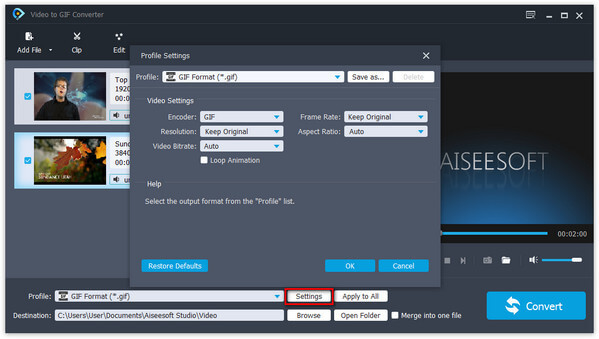 Part 3: Other 5 great GIF creators
If you do not want to download GIF creators, here are another 5 GIF creators, which can help you create your special GIF pictures. They are also user-friendly and are compatible with multiple video formats. You can absolutely find the most suitable GIF creators according to your requirement.
Top 1: GIFPal
GIFPal is an efficient online GIF creator to create GIF files for free. If you want to share your GIF pictures on Tumblr and other blogs, GIFPal should be the right program to share GIF online in few seconds. And it is able to adjust animation speed and frames delay. But pay attention that this GIF creator need Internet access in order to use. Besides, no watermark is allowed on the pictures you want to convert.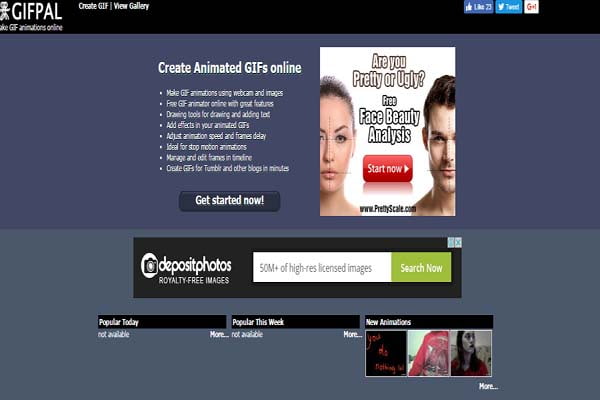 Top 2: Pacision
Picasion is another online GIF creator, which allows you to import photos or videos. It supports many types of formats and it is easy to use. Everyone can use Pacision to produce GIF. Another specialty is that you can make and add your own portrait. However, it also has some disadvantages. There maybe some advertisements on the website. But you can skip those ads if you stay in the right place.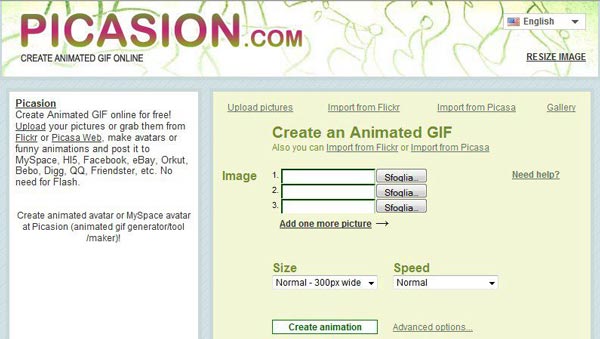 Top 3: Imgflip
Imgflip provides two options to create GIFs, one with the still pictures, and the other with video files. What is more, you can also access to the different customization options for your GIFs. When you upgrade to the pro version, you can upload video files larger than 35MB.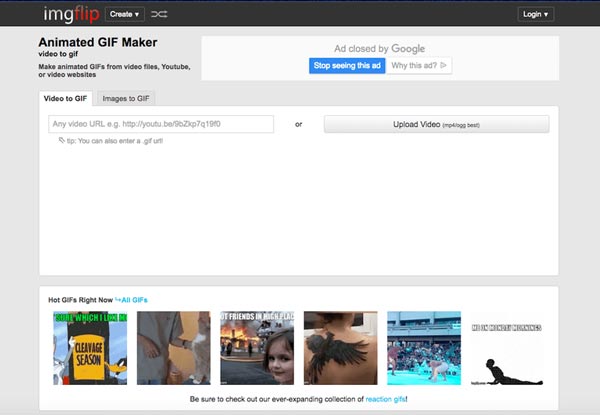 Top 4: Giphy
Giphy allows you create your special GIF pictures using both still picture and video. It supports both iOS and Android devices. The GIF creator is the easiest and fastest way to search, create and share GIF pictures. iPhone users with IOS 10 and up can send GIF pictures from Messages with Giphy for iPhone, iPad and iMessage! And it will add new filters once a week. And we can keep up a feeling of freshness.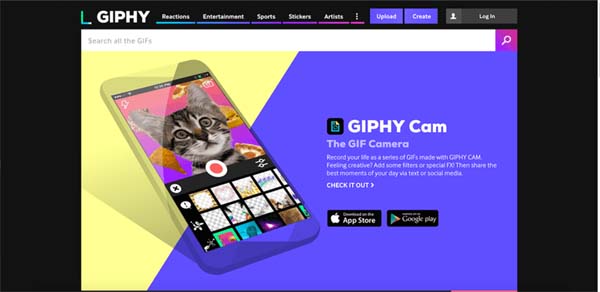 Top 5: GIFtedMotion
GIFtedMotion is a free GIF creator opening to the public. It is available to several languages including English, Deutsch, Polish and so on. With its preview function, we are able to see the GIF pictures before we actually convert. This GIF creator supports the following input formats: PNG, JPG / JPEG, BMP and GIF. Besides, we are able to edit existing images. And it is very convenient to adjust position of images within frames and size of the resulting images.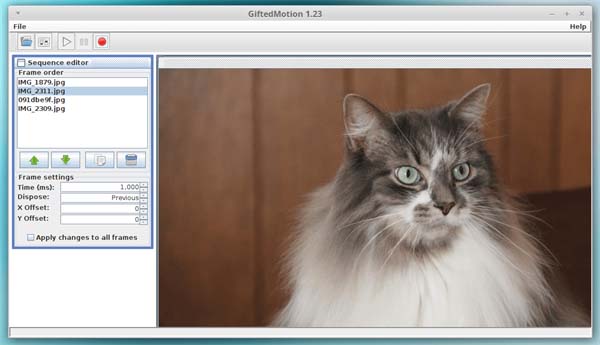 Conclusion:
Following the introduction and summary above, you can find a best GIF creator for yourself. The article lists the top 6 GIF create to make GIFs from pictures and videos. Just well prepare the images or vides beforehand, and then you can choose the above GIF creator to make the desired GIF accordingly. In order to turn videos into GIF, Aiseesoft video to GIF converter should always be one of the best solutions. If you want to learn more information about how to make GIFs or the best GIF creators, you can share your comments in the article.