How to Crop a GIF File without Photoshop
It is easy to crop an image with any photo editor. However, cropping an animated GIF is quite different from common image cropping tasks. But there is no need to worry about how to crop a GIF to a specific size. Here are top GIF copper programs, with which you can shorten GIF files with ease.

GIF Crop
Part 1. Overviews of the Versatile GIF Cropper Software
Aiseesoft Video to GIF Converter is not only a powerful GIF maker but also a GIF cropper freeware. You can get various in-depth video editing functions including cropping, trimming, merging, etc. Therefore, you can convert an FLV video to GIF format using a cropping tool. Being a free GIF cropper, Video to GIF Converter allows users to cut GIF length and width freely. Moreover, you can preview every change in detail to get your best GIF file screen.
How to Crop a GIF with a Safe GIF Cropper
Step 1 Upload an animated GIF file
Download and install GIF cropper software on your Windows or Mac computer. Double click to open the GIF cropper program. Hit "Add File" button to add a GIF file.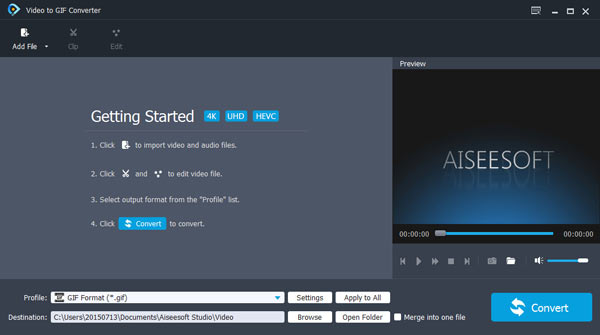 Step 2 Preview and crop a GIF
Tap "Edit" button in the tool bar, and then turn to "Crop" page. You can see original preview and output preview windows display in the main interface. Draw the area you wanna crop manually.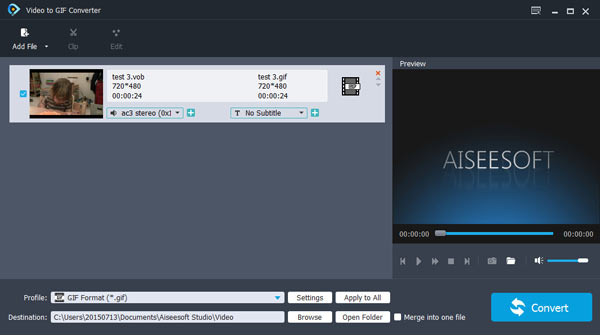 Step 3 Output a cropped GIF on Windows and Mac
Press "Apply" to confirm to crop a GIF animation. Later, set a destination folder and adjust output GIF settings if necessary. After that, press "Convert" to get a resized GIF file with the free GIF cropper.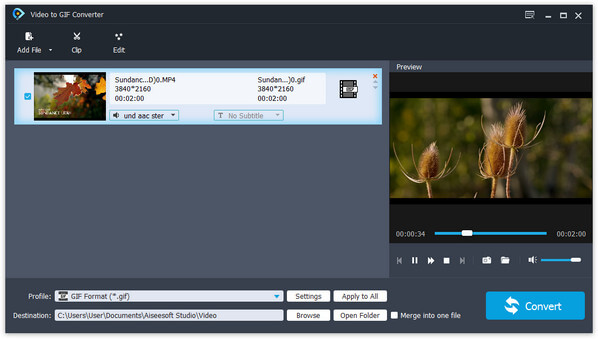 Pros:
Crop a GIF file accurately using a preview window.
Video to GIF Converter is an all-in-one GIF editor that can not only crop GIFs but also do other editing jobs.
It is a comprehensive GIF cropper but free to use.
Cons:
If you just need to crop a GIF image, it might be a little heavy.
Part 2. Top 5 Alternative GIF Cropper Programs Online
Just as above mentioned, using online GIF cropper sites enables users to access a cropped GIF file quickly. And the followings are popular GIF length editors that can crop an animated GIF online in fast speed.
Top 1: Ezgif.com
It offers easy-to-use interface for users to crop GIF, JPG, PNG, BMP, WebP, APNG and FLIF formats.
How to Crop a GIF with Ezgif.com
Step 1 Hit "Choose File" or paste URL to upload a GIF file
Step 2 Tap "Upload" to add the GIF image to GIF online cropper
Step 3 Choose the "Crop" tool and set the image width and height
Step 4 Adjust its aspect ratio and press "Crop it"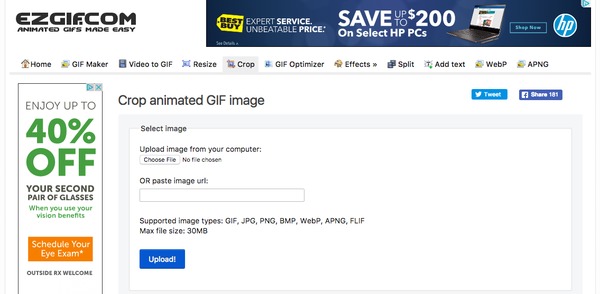 Pros:
You can crop, rotate, adjust speed and manage other settings for free.
Cons:
Cannot share cropped GIFs on Twitter and Facebook directly.
The max GIF file size is 30 MB.
Top 2: GIFGIFs.com
You can upload a GIF animation to GIFGIFs.com, and then crop its length and width in customizable way.
How to Use GIFGIFs.com to Crop a GIF Online
Step 1 Click "Upload GIF" or "Paste Image URL" to import a GIF image
Step 2 Draw the area you want to crop or set its width and height
Step 3 Tap "Crop" button and preview the modified GIF file
Step 4 Choose "Download the result" from the GIF shape cropper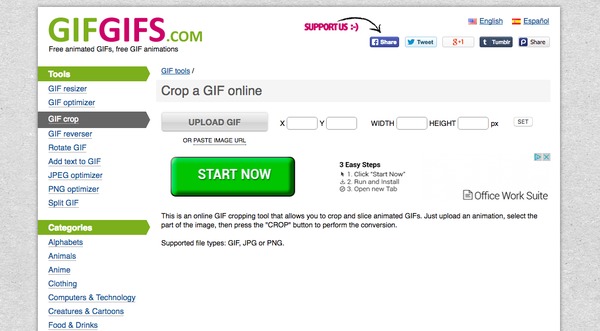 Pros:
Support to crop GIF, JPG and PNG files free online.
Light and easy to crop images.
Cons:
The bad Internet condition will interpret or stop your GIF cropping process.
Top 3: iLoveIMG.com
There are 5 different parts from iLoveIMG online GIF cropper app. To be more specific, you can compress, resize, crop, convert images to JPG and from JPG quickly.
How to Crop an Animated GIF with iLoveIMG.com
Step 1 Click "Select Image" to upload a GIF from desktop, Google Drive or Dropbox
Step 2 Define a rectangle in pixels of your animated GIF file
Step 3 Tap "Crop Image" button and wait for few seconds
Step 4 Get the automatically downloaded GIF or paste its link to share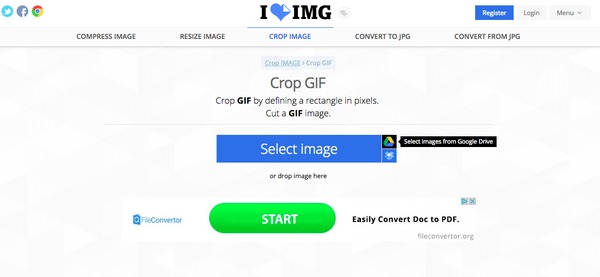 Pros:
It is easy to crop a GIF file using iLoveIMG online GIF resizer.
Well-designed interface with easy-to-use GIF cropping filters
Cons:
No preview window during the GIF cropping progress.
Top 4: OnlineImageEditor.com
OnlineImageEditor offers wide selections of online video-editing tools. Thus, you can customize output GIF animations with the GIF cropper site for free.
How to Crop a GIF Online Using OnlineImageEdior.com
Step 1 Choose a GIF image from your computer or URL
Step 2 Select a "Crop" tool and select the area with the provided red box
Step 3 Resize the red box by holding down the left mouse button
Step 4 Tap "Apply" to download and crop GIFs online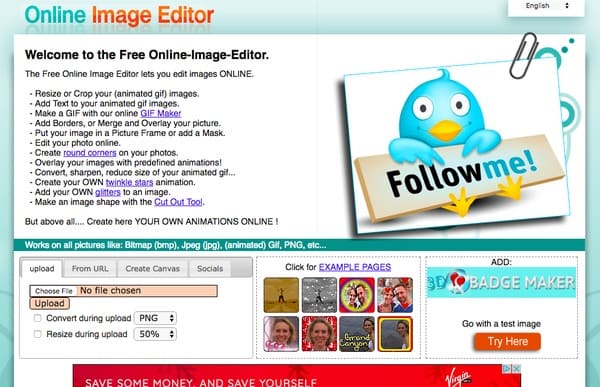 Pros:
Get various video editing filters and edit videos online.
Create and add texts to your animated GIF images.
Cons:
The final output result of GIF cropping is not very accurate.
Top 5: ResizeImage.net
ResozeImage.net offers user-friendly interface, which has divided every step you need to operate in advance.
How to Crop a gif File via ResizeImage.net
Step 1 Hit "Upload an Image" to import your GIF file
Step 2 Select the area you want to crop or write down its accurate width and height
Step 3 Preview and then press "Apply" to save the change
Step 4 Output a cropped GIF file for free via an online GIF cropper safely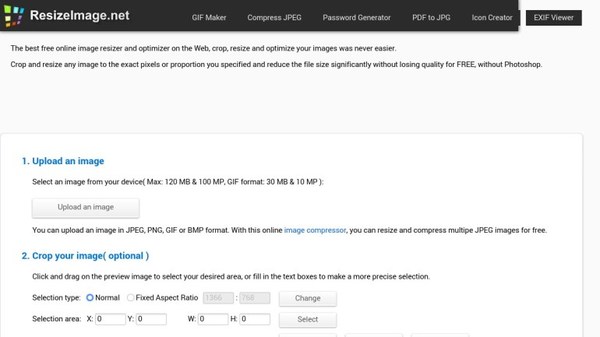 Pros:
Crop and resize any image including GIF files to the exact pixels or proportion.
Reduce the file size and crop animated GIF files with no data loss.
Cons:
The accepted GIF file size varies from 10 MP to 30 MB.
Part 3. Recommendation – Crop GIF Images with the All-in-one Video Software
There is the professional GIF cropper software named Aiseesoft Video Converter Ultimate. You can crop GIF images with more choices than above GIF croppers. Furthermore, the one-stop video software provides many other setting parameters for popular devices. Open "Edit" menu to enter into GIF cropping page. You are able to crop GIFs freely and keep its aspect ratios without distortion. In addition, the output modified preview window and its original window enable users to get better experience. So if you are looking for a comprehensive GIF cropper program, then you should not miss Video Converter Ultimate software.