3 Best Tools to Reverse GIF - Reverse Animated GIF to Make it More Interesting
Similar to reversing video, the reverse GIF is turning to very popular on various social apps. However, most video editors and reversers can't help you reverse a GIF. Now you may wonder, how to reverse a GIF?
If you are looking for ways to reverse animation GIF, you can find 3 reverse GIF tools from this post. Just keep reading and use your preferred method to reverse GIF with ease.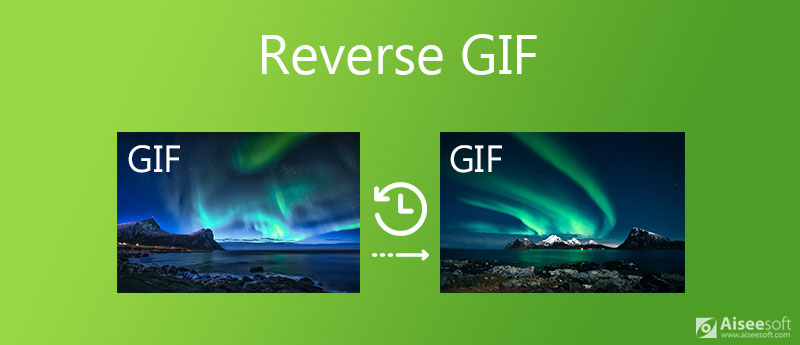 Part 1. How to Reverse a GIF Online and Free
When you Google how to reverse a GIF on the internet, or search for reverse GIF using Safari browser on Mac, you will get many recommendations that linked to online GIF reverser tools. This part takes the popular EZGIF Reverse GIF as an example to show you how to reverse a GIF file directly online.
Step 1:
Open your web browser and go to the
EZGIF Reverse GIF
site. You can go to the EZGIF official site, and then click
Reverse
to locate this page. As you can see, this online GIF reverser allows you to upload an animated GIF file from computer or an online GIF file through its URL.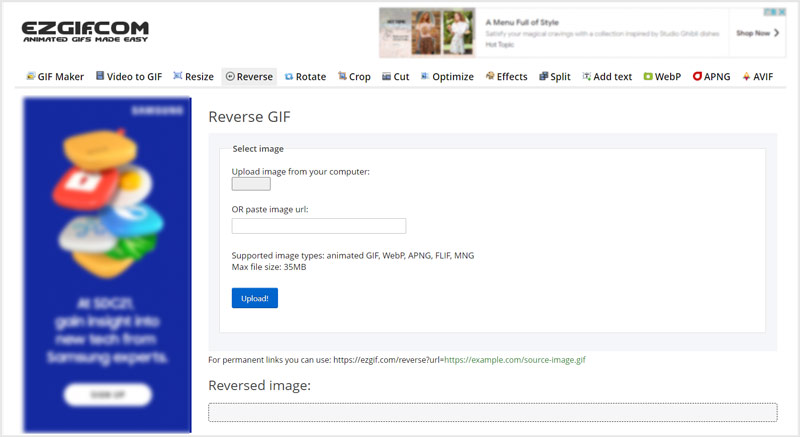 As a free GIF reverser, it supports many image types like GIF, WebP, APNG, FLIF, and MNG. The max file size is limited to 35MB. You will see some ads while using it.
Step 2:
Select and upload your GIF file to it. Now you will be taken to the main GIF editing page. Here you can crop/resize/rotate and optimize GIF, add GIF effect, control GIF playback speed, and do more operations. Moreover, you can see the basic information about your GIF, such as GIF file size, width, height, frames, and type.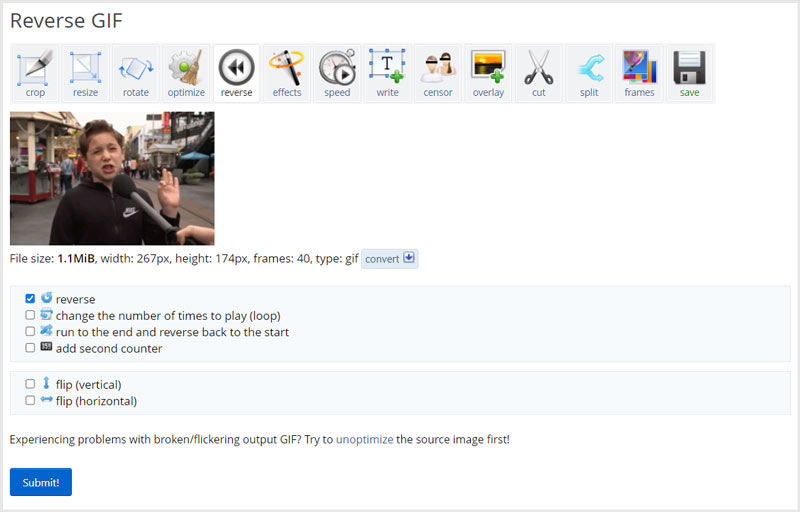 After all your GIF editing operations, you can click on Submit button to save the changes and reverse GIF.
Step 3:
You are allowed to preview the reversed image. During this step, you can edit GIF and check detailed information as above. If you are satisfied with the result, you can simply click on the
Save
button to download the reversed GIF on your computer.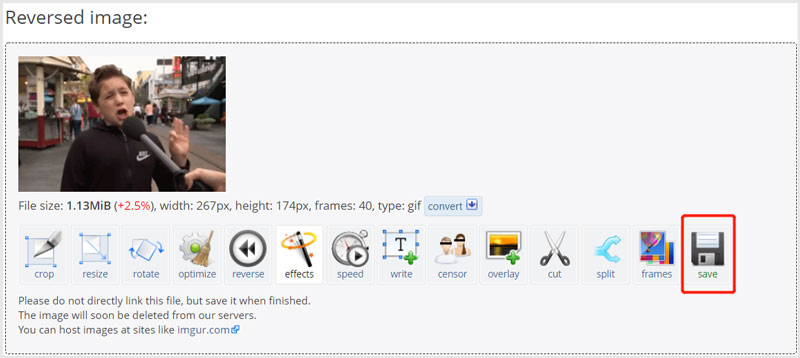 Part 2. How to Free Reverse a GIF Online Using FreeGifMaker
FreeGifMaker is another popular online GIF creating and reversing tool. It is able to reverse a GIF file from the local hard drive or through its URL. Compared with the recommended EZGIF Reverse GIF above, it offers a more straight-forward way to reverse GIF.
Step 1:
Go to the FreeGifMaker website on your browser and then click on
Reverse GIF
feature. Now you can upload your GIF file to it or directly reverse an online GIF.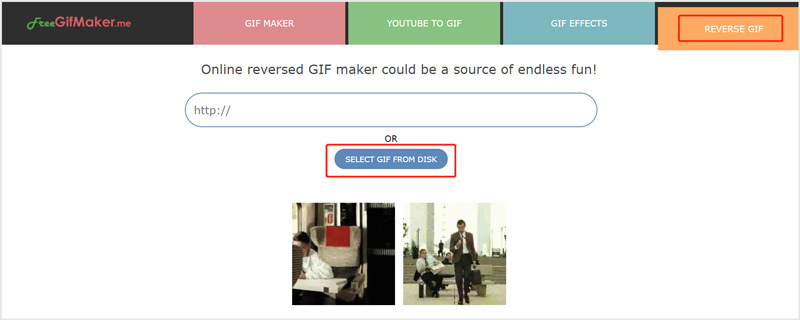 Step 2:
This free online reversed GIF maker will directly reverse GIF for you after uploading. You can view the output reversed GIF effect. After that, you can choose to save to disk, delete it, reverse another GIF, or share the GIF link to others.

Part 3. How to Reverse Video GIF with the Best Software
In many cases, you need to edit and reverse a video clip, and then export it as an animated GIF file. To do that, you can rely on the all-featured video editing and converting software, Video Converter Ultimate. It highly supports all frequently-used video and audio formats. Moreover, it is designed with many editing features for you to edit video, custom effects, and save it as a GIF with high quality.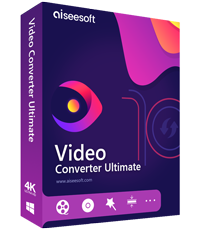 Downloads
Aiseesoft Video Converter Ultimate
Reverse any video and export to GIF with high quality.
Support all popular video formats and carry many editing features.
Apply filters, add and custom effects, and enhance output quality.
Toolbox of GIF Maker, Video Reverser, Video Compressor, 3D Maker, Media Metadata Editor, Video Merger, and more.
Step 1:
Free download, install and open this video GIF reverser on your computer. When you enter it, click
Toolbox
to show more tools. Then choose the
Video Reverser
option and click on it.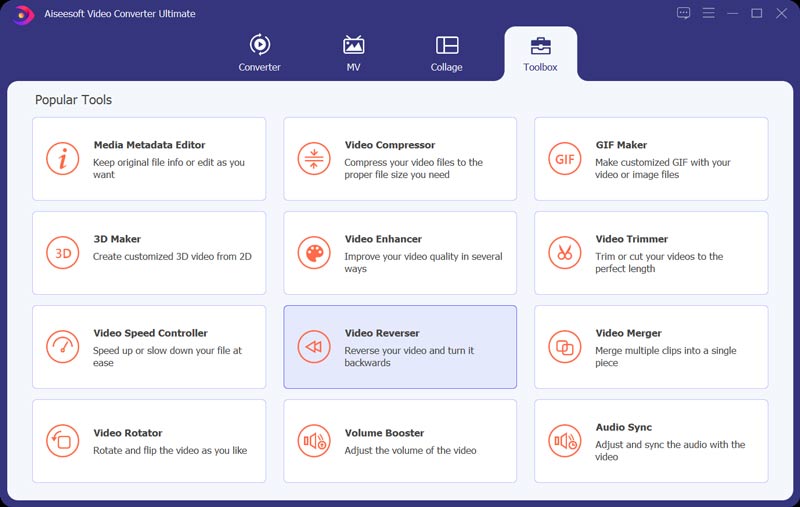 Step 2:
When you enter the main video reverser window, click the big + icon to browse and import the video you want to reverse and export as GIF.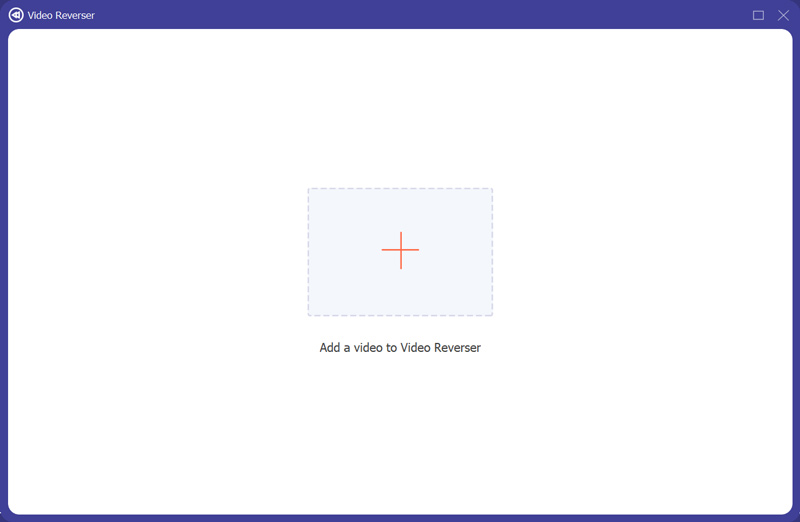 Step 3:
You can move the slider bar or use the time set to choose the useful video content that you want to reverse. Select a suitable destination folder and rename the file based on your need. Then click on
Export
button to save the reversed video on your computer.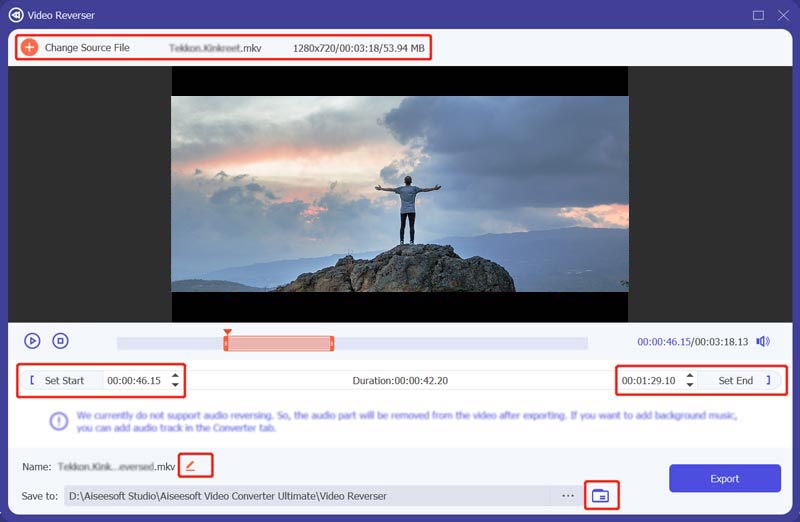 Step 4:
Back to the home window and choose the
Converter
feature. Then click
Add Files
to load the reversed video to it. Select
GIF
as the target format from the drop-down list of
Convert All to
. Now you can custom various output GIF settings according to your need. After all these operations, click on the
Convert All
button on the bottom right to export the reversed video as a GIF file.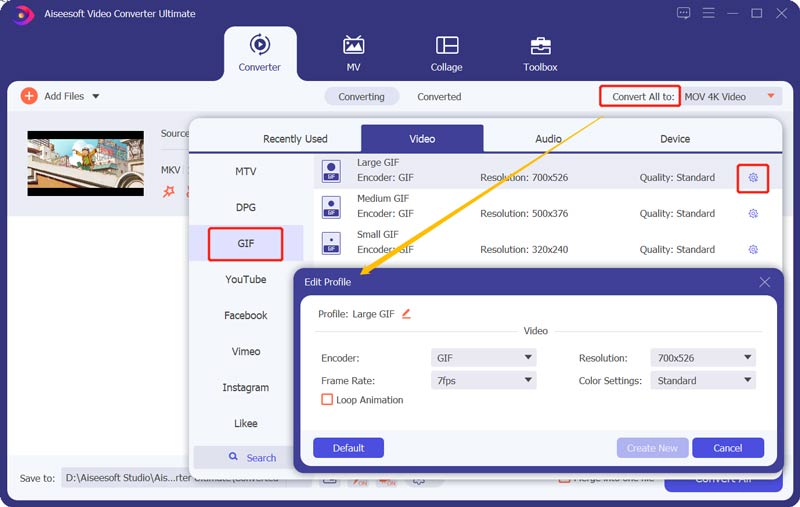 Part 4. FAQs of How to Reverse a GIF
Can I reverse a GIF in Photoshop?
Yes, Adobe Photoshop has the capability to open and edit various image files including GIF. You can view each frame of your GIF file, reverse the frame order, and then export the revered GIF. But the whole process is too complex for beginners. Learn to make GIF in Photoshop.
How can I reverse a video in Snapchat?
Snapchat allows you to reverse a video in its app. You can shoot a new video for reversing or reverse a previous video recording on your phone. Just apply the motion filter and reverse a video in Snapchat.
How to reverse a GIF or live photo on iPhone?
To reverse GIF on iPhone or play a live photo in reverse, you need to rely on some third-party app like Live Photo to GIF Converter to reverse your image file. You can easily install it from App Store.
Conclusion
How to reverse a GIF? This post shares 3 effective methods to help you reverse GIF. You can use any reverse GIF tool to play a GIF file backwards. For more questions about GIF reversing, you can leave us a message.

Leave your comment and join our discussion